We all know the RTX 4090 GPU is an absolute beast yet. But still, it can cause a bottleneck situation with the CPUs. So, are these RTX 4090 GPUs worth pairing with the Ryzen 9 5950X CPU?
Or are there more suitable GPU alternatives that meet different attributes like price-worthiness, efficiency, and lower budget-friendliness?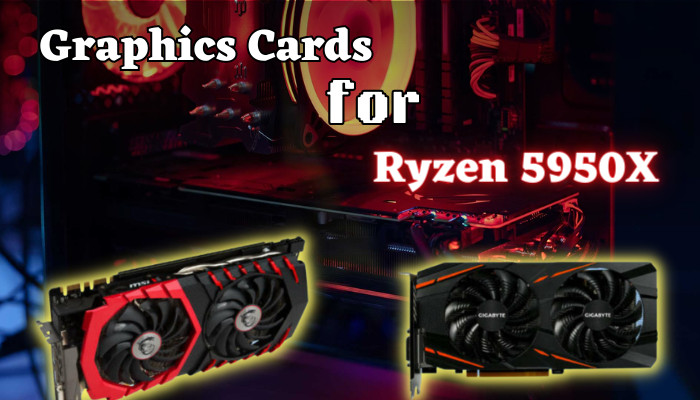 Since I usually deal with a lot of such queries, the answers became a hot topic requiring many details and explanations. I'll describe the best five cards that we elected after tests. But if you're seeking the perfect match, we recommend the RTX® 4080 OC in the first place.
So, stick with the explanations throughout this article to learn about the best matching GPUs for Ryzen 5950X.
Best 5 Graphics Cards to Pair With Ryzen 5 5950x CPU
ASUS TUF Gaming GeForce RTX® 4080 OC -16GB GPU (Best Overall)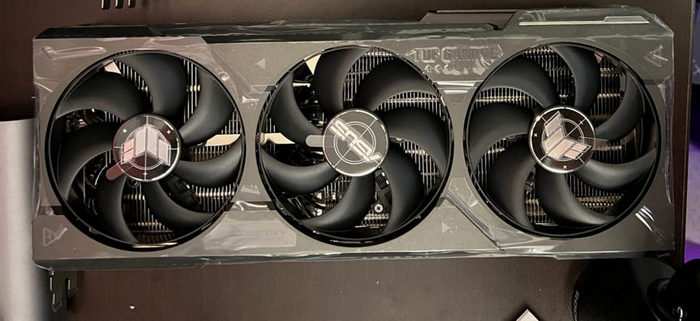 Specifications
CUDA Core: 9728 units.
Max Resolution: 7680 x 4320 (Max 4 Display)
Recommended PSU: 750W (1x 16 pin)
Memory Speed: 22.4 Gbps
Memory Interface: 256-bit
Engine Clock: 2625 MHz(OC) & 2595 MHz(Boost)
REASONS TO BUY
»

NVIDIA Ada Lovelace Streaming Multiprocessors with DLSS3 of 4th Gen Tensor Cores.

»

Factory OverClocked with Auto-Extreme precision.

»

Military-grade Capacitors are durable up to 105℃ for 20K hours.

»

Double Ray-Tracing performance with 3rd Generation RT Cores.

»

Next Level heat dissipation with Metal Exoskeleton adds structural rigidity and vents.
REASONS TO AVOID
»

Still Overpriced.

»

No explicit RGB lighting.
Check Today's Price of ASUS TUF Gaming GeForce RTX® 4080 OC -16GB GPU →
Why We Picked It as Overall Best
Efficiency is the prime reason behind choosing this GPU in the first place. This Graphics unit has shown an ignorable amount of bottleneck in our test. And the price is nearly satisfactory according to the performance it offers. We considered the RTX 4070 Ti as the competitor of the 4080, but its performance at the price is unworthy.
Although the price-to-performance ratio isn't fair enough, the RTX 4080 performance isn't that far from 4090 GPU. Plus, the factory overclocked (OC) GPUs perform a little better.
Who It's For
If you want a GPU with the slightest CPU & GPU bottleneck with the CPU Ryzen 9 5950X, this RTX 4080 Graphics card from the Asus Tuff series is a worthy choice. Plus, only the gamers with 4K resolution screens can squeeze out the true potential of it.
The price point complies with GPU's performance in the current market situation. Besides gamers, professional video editors and animators can enjoy the benefits of CUDA cores for rendering.
What We Liked Most
The Tuff series product lineup is all about stealthy and simply cool-looking design. The ASUS TUF Gaming GeForce RTX® 4080 OC isn't dissimilar to that. On top of that, the GPU unit has a subtle vibe of RGB in a small portion.
Furthermore, we love the design choice and advanced airflow with the big enough heatsink. The military grade looks with superior quality compact power face & circuit design took our attention at first glance after disassembly.
What Could Be Improved
The Armory Crate software with this Tuff series Graphics Card is techie-looking but requires ample hardware resources. The software could be more lite. And the price feels extended compared to the previous generation 3000 series graphics cards.
Verdict
Comparing the price of RTX 4080 with the 4090 cards, it's a more affordable and power-efficient choice for the Ryzen 9 5950X. We consider this the overall best because of the tiny performance gap from 4090 with around 500 bucks less price.
See the ASUS TUF Gaming GeForce RTX® 4080 OC →
PNY GeForce RTX 4090 24GB XLR8 VERTO EPIC-X RGB™ (Best Performance)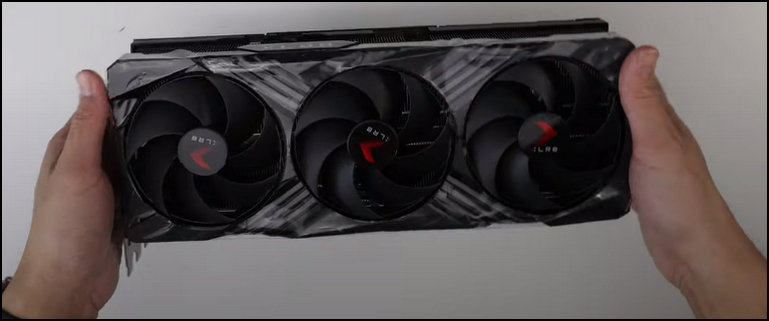 Specifications
CUDA Core: 16384 units.
Display Resolution: 7680 x 4320 @120Hz (Digital)3
Recommended PSU: 850W (One 16-pin to Four 8-pin)
Memory Speed: 21 Gbps
Memory Interface: 384-bit
Engine Clock: 2565 MHz(Boost) & 2235 MHz(Default)
REASONS TO BUY
»

Twice the Ray-Tracing Performance with 3rd Generation RT Cores.

»

The 4th Generation Tensor Cores empower AI performance.

»

Better efficiency with NVIDIA Ada Lovelace Streaming Multiprocessor.

»

Bigger VRAM memory.

»

Top Tier Cooling System.
Check Today's Price of PNY GeForce RTX 4090 24GB XLR8 VERTO EPIC-X RGB™ →
Why We Picked It as the Best Performance GPU
There is no way we can choose different GPUs across the market, whereas this RTX 4090 is considered the absolute beast and has set the flagship standard.
Of course, AMD offers a similar powerful GPU titled 7900X, but it is less stable than the 4090 cards. We tested several games like CyberPunk 2077, Warzone, Valhalla, and more. The results were almost similar; while we got 129 average FPS with 4k ultra settings on 4090, 7900XT merely hit 119 in similar settings.
Moreover, other AAA-type games also resulted in less FPS on 7900X, and the Frame Rates were inconsistent.
Who It's For
It's currently the best that money can buy. There is no further discussion except for the price tag of RTX 4090 GPU. So, professional users like high-res video editors and 3D animators are suitable consumers. For instance, video rendering performs much better after enabling GPU acceleration for AfterEffect.
Eventually, the 4K gamers with big bucks can afford this to achieve the absolute best performance.
What We Liked Most
Almost every aspect of the RTX 4090 is astonishing since this graphics card is the top-tier GPU in the current market. The founder edition RTX 4090 looks so cool with its stealthy look; I wish we could manage one.
But this GPU design from PNY also creates a premium vibe with the shape, architecture, and RGB lighting. Even though the R9 5950X couldn't utilize its full potential during our test, 4K gaming in Ultra settings was smooth and consistent. This GPU should look gorgeous with a good CPU cabinet, ARGB Fans, and lighting strips.
What Could Be Improved
The first deal-breaking matter is the absence of NvLink, though it can outperform any current GPU pairs or set with the NvLink feature. Price is the only drawback of this type of premium product. In addition, the size and weight easily cause a GPU sag, which can bend the GPU's PCIe fin.
Even though the RTX 4090 graphics card is the sole dominator in the current market, the enormous size and TDP requirement are wild. In our test, the total rig might need above the 850W generic requirement if there are many other power-hungry components.
Verdict
Since the R9 5950X can harness the power of RTX 4090, professional users can use its true potential, and the 4K gamers can also count on this GPU if the price isn't a matter.
See PNY GeForce RTX 4090 24GB XLR8 VERTO EPIC-X RGB™ →
XFX MERC 310 AMD Radeon™ RX 7900 XTX – 24GB (Best Performance Alternative)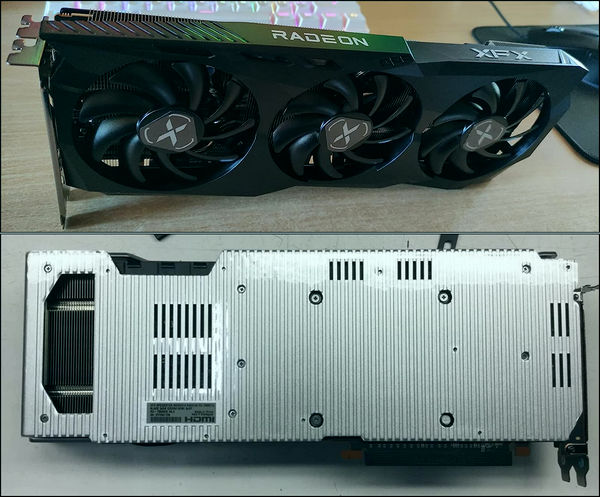 Specifications
Stream Processors: 6144 units.
Compute Units: 96
Max Resolution: up to 8K support (Max 4 Display)
Recommended PSU: 850W (3x PCI-E 8 pin)
Memory Speed: 20 Gbps
Memory Bus: 384bit
Engine Clock: 1855 MHz (Base) & 2615 MHz (Boost)
REASONS TO BUY
»

New generation 96 AMD RDNA™ 3 Compute Units(with RT+AI Accelerators).

»

The Vulkan® Optimized GPU can provide an impressive experience in Gaming.

»

Performance offers at a cheaper price point than RTX 4090.

»

Metal backplate design with enough size heatsink.
REASONS TO AVOID
»

Poor Ray-Tracing performance.
Check Today's Price XFX MERC 310 AMD Radeon™ RX 7900 XTX →
Why We Chose it as Best Performance Alternative
AMD graphics cards usually offer better value with a respective performance. The new RDNA 3 brings more performance and stability at an affordable price.
Considering the price-to-performance ratio, it's a pretty impressive alternative to the RTX 4090 GPU. The RX 7900XTX graphics were capable enough during our gaming test of WarZone and CS-Go, compared to the expensive RTX 4090.
Who It's For
The gaming-focused user and precisely the battle royals & competitive FPS gamers like CS-Go, WarZone, and Valorant players can achieve a lot of FPS like 250-350 or more from this GPU. I played Warzone in 4K ultra settings, and this 7900XTX showed an average of 119 FPS with the R9 5950X CPU.
So, gamers with such requirements and similar genre games can rely on this graphics card to play in 4K ultra with respectable FPS.
What We Liked Most
As mentioned before, 4K gamings with this AMD RX series GPU will provide a satisfactory result to the battle royal or Competitive FPS games; some AAA-type optimized games are also playable at 4K ultra settings except a few.
Worth a choice if you want a gaming performance like RTX4090 at a better value, where you can save around five hundred.
What Could Be Improved
Though the gaming performance of 7900XTX might be impressive under a thousand-dollar margin, some less optimized and excessively resource-hungry games like CyberPunk 2077 perform poorly.
For instance, the RTX 4090 can easily produce a smooth 60FPS at 4K ultra settings, but the 7900XTX is capped under the average 40FPS, and unpleasantly, the 1% low climbs down to 6FPS. Moreover, the high-res video editing with premiere pro and 3D modeling experience was not promising.
Such an experience is horrible, and consistency in gaming is a must while you spend around a grand to play 4K games.
Verdict
AMD's top-tier GPUs are relatively powerful enough to compete with Nvidia's conqueror with a significantly lower budget. Thus RX 7900XTX is a perfect spot for online players who want to focus on gaming only.
See the price of XFX MERC 310 AMD Radeon™ RX 7900 XTX →
MSI GeForce RTX™ 4070 GAMING X TRIO 12G (Best in Budget Performer)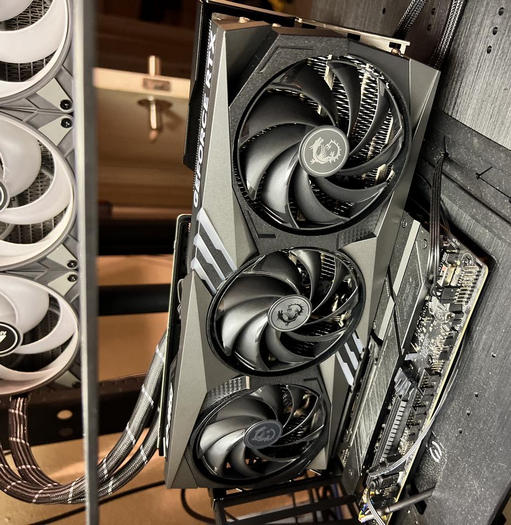 Specifications
CUDA Core: 5888 units.
Display Resolution: 7680 x 4320 (4 Display Max)
Recommended PSU: 650W (16-pin x 1)
Memory Speed: 21 Gbps
Memory Interface: 192-bit
Engine Clock: 2625 MHz(Extreme) & 2610 MHz(Boost)
REASONS TO BUY
»

Fourth-Gen Tensor Cores four Times better performance with DLSS3.

»

Binary ray-tracing with 3rd gen RT-cores.

»

Ada Lovelace Streaming Processor with extended performance.

»

Nvidia Encoder for better streaming.

»

A better fan and copper cooling system with a metallic backplate.

»

Lucrative design with RGB light.
Check today's Price of MSI GeForce RTX™ 4070 GAMING X TRIO 12G →
Why We Picked It as Best Budget Performer
Mid-budget users don't actually care about 4K ultra settings. So we tested several games like Shadow of the Tomb Raider in 1440p and 1080p. We noticed 143 FPS average and 115 FPS minimum in 1440p high settings. Then the AC Valhalla's average FPS was below 60 and 45FPS minimum at high settings 1440p.
But the 1080p gaming was buttery smooth Shadow of the Tomb Raider was showing 185FPS average and 150FPS min. Next, the AC Valhalla could produce almost 70FPS average and 55 minimum.
The ray-tracing-enabled games like Marvel's Spiderman & Miles Morales were terrific. Plus, content creators with high-res video editing requirement is fillable with this GPU.
Finally, satisfactory performance within the price bracket of around 599 dollars is a bang for the buck.
Who It's For
Multipurpose Users is the best shot for this RTX 4070 graphics unit. People who like to play games and stream videos, edit high-res 4K videos, design 3D models, and do moderate research works that need rendering can adequately use this GPU.
With Ryzen 9 5950X CPU, it's not the perfect match, but this GPU is more than enough if you do not desire 4K ultra settings in-game. Instead, 1440p gaming with high settings is decent.
What We Liked Most
The design choice with an aggressive RGB color grabs the attention at first glance. Moreover, the features like Ray-Tracing, DLSS3, and price-to-performance ratio took the place of my favorite place.
What Could Be Improved
This particular GPU is not factory overclocked, and the boost clock speed via the MSI Center app is only 15MHz extra.
Verdict
If you are a cautious user and care about each penny you spend, this RTX 4070 graphics card with the 5950X is a great choice. On top of that, the RGB lighting and overall design are fairly attractive.
See the MSI GeForce RTX™ 4070 GAMING X TRIO 12G →
Radeon™ RX 6750 XT MECH 2X OC – 12GB (Best 1080p Gaming in Budget)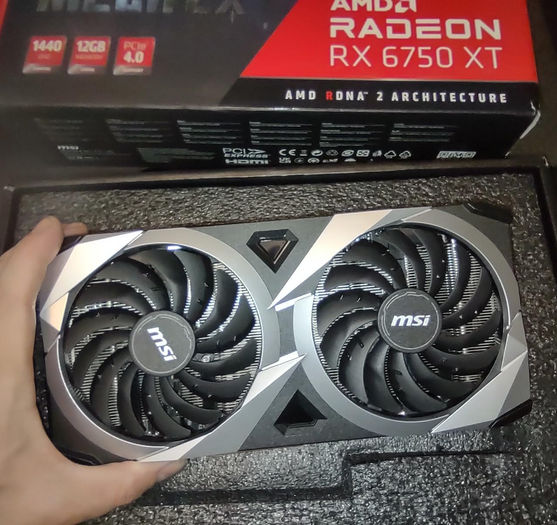 Specifications
Stream Processors: 2560 units.
Compute Units: 40
Max Resolution: 7680 x 4320 (Max 4 Display)
Recommended PSU: 650W (8-pin x 2)
Memory Speed: 18 Gbps
Memory Bus: 192 bit
Engine Clock: 2512 MHz(Base) & 2618 MHz(Boost)
REASONS TO BUY
»

Factory Overclocked.

»

12Gigs VRAM at lower-Price.

»

FRS support.

»

Compact Size.
Check Today's Price of Radeon™ RX 6750 XT MECH 2X OC →
Why We Chose It as Best 1080p Gaming in Budget GPU
The Ryzen 9 5950X CPU deserves a much better graphics unit, but if you are really tight on a budget, the RX 6750XT is at least you should get. The gaming performance is acceptable for 1080p medium settings.
On our test, we recorded an average of 70FPS on CyberPunk 2077, 76FPS for AC Valhalla & same for FarCry 6. Remember, All the games are tested in 1080p medium settings. You can't expect a playable experience in 4K resolution or even 1440p/2K resolution from this budget segment card.
Who It's For
In short, this GPU is only for 1080p budget gamers, and the 5950x is overkill. If your gaming desire is limited to 1080p and you don't even own a monitor above 1080p resolution, you can choose this RX 6750XT.
But if you want better ray tracing and productivity, then GeForce RTX™ 3060 Ti GAMING X 8G LHR can be a better deal at a more affordable price.
The only catch is the gaming performance isn't as good as RX 6750XT. You can also elect Predator BiFrost Intel Arc A770 from these GPUs at this price point. There are no issues using Intel Arch series GPUs with Ryzen CPU. We didn't recommend those because of unstable and relatively new driver support.
What We Liked Most:
The performance it currently offers at 360$ is appreciable. The FHD (1080p) gaming performance it provides is a good deal on this low budget.
What Could Be Improved
The graphics card needs to be more eye catchy, and two fans may not be sufficient for extensive cooling while the graphics card runs on overclocking mode. We noticed audible noise from the fans in heavy load. The design and the cooling system could be better.
Verdict
No doubt, this is for 1080p gamers rather than high-resolution gaming, so if your budget is not stretchable, then this RX 6750XT is the only choice for the best 1080p gaming.
See the Radeon™ RX 6750 XT MECH 2X OC →
How We Chose The Best Graphics Card For Ryzen 9 5950X
The priority in choosing a graphics card was finding a perfect match with the least bottleneck with a 5950X CPU. It's always better to have ample powerful hardware resources rather than overkill or dearth.
Our test process includes gaming performance, video & 3D object model rendering, and synthetic benchmark tests to check GPU bottlenecks.
Later, we measure the overall cooling performance and thermal throttling over time; then, we collect opinions about the design choice, RGB lighting effects, dimensions, weight, and more. It's a laborious process and takes a lot of time & resources.
The findings you are observing in this article, we usually think of many different angles of buying decisions, affordability on various price points, and availability.
For example, we emphasize GPU's dimension because what is the point of buying a GPU if that doesn't fit on your motherboard?
The reviewed graphics cards we mentioned are from different vendors and brands, so the overall test results may vary on your motherboard and chipset, as the motherboard can bottleneck the GPU performance. Even if it does, it's not noticeable.
FYI, we always used the best CPU coolers for Ryzen 9 5950X rather than the stock cooler that comes with it for more accurate results.
FAQs
Does 5950X require a graphics card to show the display?
Yes, AMD's X series CPUs don't have integrated video memory, so a GPU must for bringing the display.
Is Ryzen 9 5950X good for gaming?
The 16-core & 32-thread CPU mostly seems overkill, but R9 5950X is a beast for gaming performance.
What is the Ryzen 9 5950x equivalent to?
The Ryzen 9 5950X is equivalent to Intel Core i9-10900K, although 10 cores with 20 threads aren't similar to R9's 16 cores with 32 threads.
Is Ryzen 9 5950X suitable for video editing?
The video editing performance depends on GPU, but 16 Cores and 32 Threads can significantly push the performance.