Getting a good looking and high performance case fan is important for your DIY PC. But it gets a whole lot better when you can sync your RGB with the memory, case, cooler and other components.
If you are a supporter of the ASRock Polychrome RGB app and looking for an eye catching case fan that syncs with the rest of your PC, this post is just where you should be.
In a hurry? Here's my #1 Recommended RGB fan.
Gear up, as in this post, i will suggest you about the 5 best ASRock Polychrome Sync case fans.
Best ASRock Polychrome RGB Fans Reviewed
Here are the top 5 Best Polychrome Sync Fans:
1. Cougar Vortex RGB HPB 120
The Vortex RGB HPB 120 comes with an unexpected number of 18 LEDs that lights up in every direction, inwards, outwards and frontwards at a total of 180 degrees.
In other words, the LEDs are directly visible through the transparent side of your CPU case, no matter where you look from.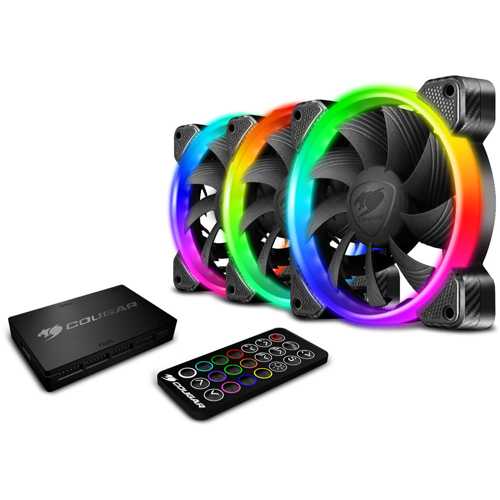 Check Today's Price of Vortex RGB HPB 120 PWM ➜➜
Its specially designed frame creates a vortex that literally sucks out the heat from your CPU and cools it way faster than most other fans.
Although it is supported by Polychrome Sync, this one comes with a wireless remote that allows you to easily change the colours, patterns, brightness and speed.
With the Cougar Core Box you can connect up to 8 RGB fans and 4 RGB LED strips to literally light up your whole build, as well as its surroundings.
The PWM controller and Hydro-dynamic bearing (HDB) ensures automatic speed adjustment and smooth rotation.
This fan really makes sure you get the best cooling experience without the unwanted noise.
Follow our easy guide to fix ASRock Polychrome RGB not working.
2. Antec Prizm 120 ARGB
The Prizm 120 comes with an exceptional convex dual ring design, with 18 LEDs inside it.
You can customize these addressable RGBs to create a variety of lighting patterns in both the front and back ring, lighting up the interior and exterior of your build.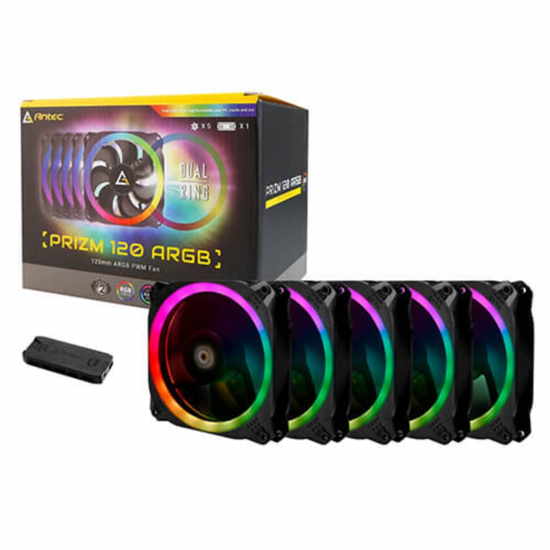 Check Today's Price of Antec Prizm 120 ARGB ➜➜
The rings can unbelievably smoothen out the RGB colours in such a way that you cannot see any gap between the LEDs from the outside.
With the ASRock Polychrome app, you can customize nearly 116.8 million RGB colours.
However, You'll need to connect it with an additional cable to to the Polychrome Sync motherboard.
With its PWM Controller, the Prizm 120 will automatically adjust its speed according to the temperature.
Moreover, The hydraulic bearings ensures you smooth operation and shock absorbing rubber pads on four corners helps keep the vibration low.
3. ID-Cooling DF 12025 ARGB
The DF 12025 ARGB comes with 9 LEDs in the centre and with its light transmitting fan blades and frame circle this fan can create spectacular light shows.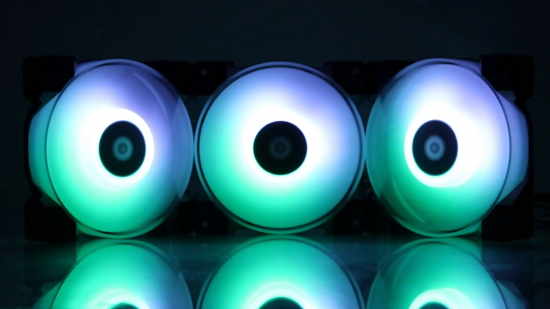 Check Today's Price of ID-Cooling DF 12025 ARGB ➜➜
By syncing it with the Polychrome sync you can choose from numerous lighting effects, including 20 static colours, 22 dynamic colours and speed adjustable blinking or breathing effects.
Besides, You can use a provided remote controller to customise RGB lighting effects easily
The DF12025 ARGB case fan uses 2-ball bearing which gives you unbelievable speed of 2000 RMP.
Its PWM function automatically adjusts the fan speed from 900 to 2000 RPM. But the downside of such incredible speed is that at its max, it can create noise of 31.5 dBA.
Here is our easy way to Download ASRock Polychrome RGB Sync.
4. Cooler Master MF120R
The MasterFan MF120R gives you the brightest addressable RGB with 8 LEDs placed at the center. You can customize them the way you want with the Polychrome RGB.
Thanks to its rifle bearing, the MF120R gives you the smooth performance of a ball bearing with the silent operation of a sleeve bearing.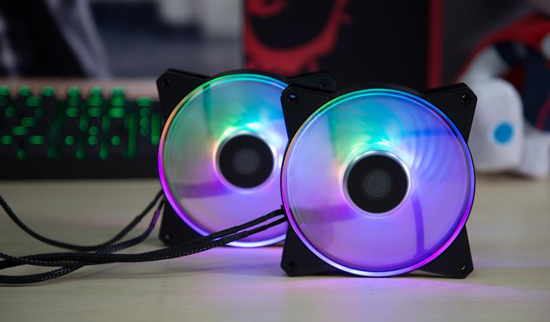 Check Today's Price of Cooler Master MF120R ➜➜
Besides, Its sound absorbing rubber padded corners make sure you enjoy the ambiance even if you're working overtime at your office or replaying you favourite chapter in your room.
The best feature is, Its specially designed hybrid blades, combining jet engine and helicopter blade designs, balances the static air pressure and airflow and ensures you the perfect cooling performance.
One more thing, This fan has a built-in sensor that can shut down the fan if anything gets in the way of the blades. So you don't have to worry about jammed cables anymore.
5. Enermax T.B. RGB AD.
This advanced edition of the T.B. RGB fan brings a futuristic look to your PC with its unique halo arc-shaped frame.
It lights up your build with its stunning 4-ring lighting effects. And you can easily customize them and create your own effects with Polychrome Sync.
Check Today's Price of Enermax T.B. RGB AD. ➜➜
Matter of fact, Enermax LED Lighting Technology brings you really bright and uniform light without any visible dark spot.
With its Twister bearings, the T.B. RGB case fan spins very fast and effortlessly without any friction, thus increasing longevity and reducing noise.
And a useful feature is, The blade is detachable, in case you want to clean them. So you won't have to worry about dust damaging your components.
The shockproof rubber paddings at the four corners of each fan reduce vibration to a minimum.
Enermax's smart PWM controller spontaneously balances the speed in accordance to the temperature and make sure the noise doesn't bother you either.
Buyer's Guide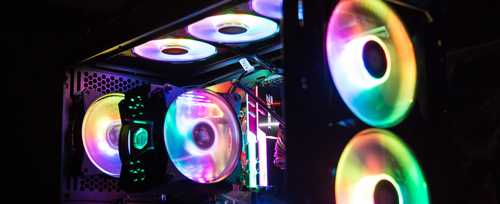 Here are the things you should consider while buying an RGB fan:
1. Fan Speed
If the fan has a PWM controller, then you won't have to worry about the speed, as it will adjust itself in accordance to the temperature. If not, you can use a controller or the BIOS setting to adjust the speed yourself.
Also be aware of the noise level, since most fans create loud noise at maximum speed.
So, Properly look for the perfect speed and noise that suits you
2. Bearing type
The hydro-dynamic and the hydraulic bearings are those that have a layer of fluid material between their moving and stationary part.
Whereas, The twister bearing is a type of magnetic bearing that supports the moving part with magnetic levitation. So the two parts have no physical contact between them and this reduces the friction and noise.
And while, The 2-ball bearing is simply that with two rows of tiny metallic balls between the two parts.
That leaves us with, The rifle bearing, a special type of bearing made from the combination of is smoothly performing ball bearing and a silently operating sleeve bearing
3. LED position and material of the fan blade
The position of the LEDs and the material of the blade are really important when it comes to the looks of your fan. If you like your blades lightened up, look up which fans have LEDs at the center and have transparent or semi-opaque blades.
And, If you like your fans to look like halo rings, choose those which have LEDs on the edge and have black blades.
FAQ
Question: What is polychrome RGB?
Answer: The polychrome RGB is software brought to you my ASRock that interconnects different RGB components in your PC and allows you to synchronise their LEDs' colour, area, lighting effect, speed and brightness all the same way.
Question: How does Polychrome RGB work?
Answer: The Polychrome RGB automatically connects to all other RGB components connected to your ASRock motherboard and shows you a list of all of them. There you will find the option to customize them and create your own unique styles.
Question: What is a case fan?
Answer: The case fan is a hardware device that is used to keep the CPU's temperature low by pulling in cool air, or pushing out the hot air inside, or doing both and in this process, save your components from overheating.
Question: How to set up the fans in the CPU case?
Answer: Here are the steps to setup fans in the CPU case:
 Attach the fans to the PC case facing the proper direction, depending on whether you want to use it as an intake or a ventilator, keeping the cables inside the chassis using the screws provided.
Connect the fans and the RGBs to the controller hub and connect the controller hub to the motherboard and the power supply.
If your fan does not have a controller, connect each fan's male end to the next fan's female end and attach the last one to the motherboard. But you don't need a controller if you use the Polychrome RGB. In that case, you can use a USB hub to connect multiple fans all at once into the motherboard.
Question: How do I change RGB in ASRock?
Answer: Here is how you can change RGB in ASRock:
Open the ASRock Polychrome RGB software and select the individual LED or component and drag it on the colour wheel, where you can change the hue and saturation.
You can also change individual RGB instead by dragging the tab up or down on the RGB sliders.
Final Thoughts
Now that everything is wrapped up, I hope you have a better view on which RGB case fan you're going to get.
Remember to connect all the cables properly according to the user manual, keep the Polychrome RGB software updated and light up your PC with the best RGB case fan and customize it or sync it with the rest of your PC with the ASRock Polychrome RGB.