For thermal exchange of heat in the watercooling loop, you need the finest quality Radiator.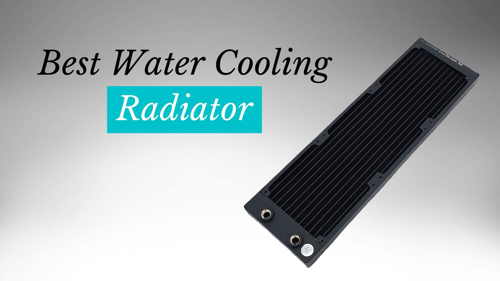 There are several quality heat sinks that can be used for balancing the temperature flow of your cooling system.
In this post, you will get to know about the 5 best water cooling radiators for transferring maximum heat.
So, let's get started.
Leading Water Cooling Radiators
| Rank | Award | Model |
| --- | --- | --- |
| 1 | High Thermal Transfer Rate & Good for Low-Speed Fans | Corsair Hydro X Series XR5 |
| 2 | New generation's Budget Best | XSPC EX360 |
| 3 | Fully Copper Bodied Heat Sink |  NexXxoS XT45 |
Before we begin, do you really need a CPU cooler? Read the embedded article to find out.
Anyway, here the best water cooling radiators:
1. Corsair Hydro X Series XR5
Corsair Hydro X Series XR5 360mm radiator (sizes of 240mm, 280mm also available) can transform your gaming PC into a quiet high-performance system that not only looks cool but, it is cool. This radiator maximizes heat dissolution surface area providing a high thermal transfer rate optimized for Corsair's performance copper water blocks.
This heat-sink has a thickness of 30mm that delivers high air-flow and low-noise fans providing extreme cooling performance.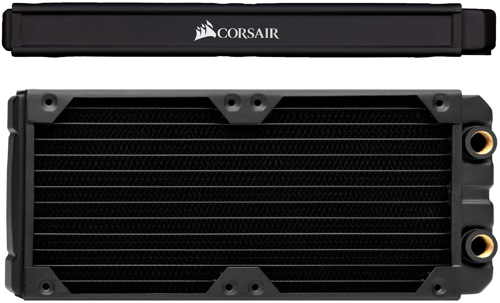 Don't worry about installing the fans in a rough way.
Integrated fan screw guide and in-built screw protection plates will make your fan installation process easier without harming the heater.
Nevertheless, for universal compatibility, this model is equipped with standard G ¼" threads.
As a gamer, I used to have a CPU temperature of 80 degrees. After I installed the Corsair Hydro X Series XR5 in my loop, the temperature ran down to 50 degrees.
In short:
The XR5 360 mm heat-sink stands above all to cool even the most challenging cooling loops to defeat the heat with a high-quality matte black polyurethane coating delivering a flawless finish to match your build.
Overall, it's a solid product and a bang for one's buck. If you want to save some extra cash, you can buy this radiator together with a Hydro X series XD5 reservoir-pump combo and Corsair CX- 9059001-WW Soft line tubing.
2. EKWB EK-CoolStream PE 360
EKWB EK-CoolStream PE Triple Black 360 is a high-performance heat-sink with a minimalistic design.
This radiator has Aluminum plating to give it a nice appealing look and also has brass and tanks and 90% copper core as well as copper fins. Don't worry about the aluminum plating because it doesn't come in contact with water. So, no corrosion issues. Also, the brass and coppers present are good conductors of heat that give you a very good heat dissipation.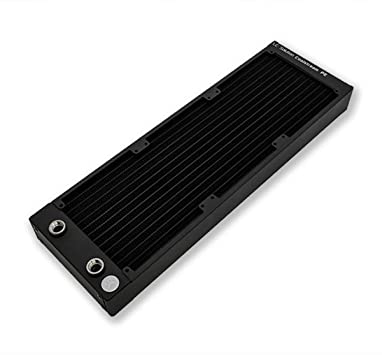 This heat-sink also has a double-stacked fin design. Basically, it is a split fin. EK might not be the first company to offer this. However, there are not many companies that offer a split fin.
You don't need super high static pressure fans or high-speed fans because EK PE 360 has a very low hydraulic retention to push or pull air easily.
Keep in mind that:
This radiator is only for 120mm fans. They don't have a 140mm version yet.
One downside is that it picks up dirt very easily. If you use low-speed fans then, it will pick up less dirt which is a win-win situation all around.
If you want a minimalistic yet stylish look radiator then, EKWB EK-CoolStream PE Triple Black 360 is a favorable deal.
Overall, this heatsink has a very dusty finish. You can have a very silent system without sacrificing any performance of this radiator.
3. XSPC EX360
XPSC EX360 is a new generation performance PC radiator that combines with their low profile RS series design and high-performance RX V1 series.
The heatsink is made up of copper and brass core with a matte black finish. The heater includes split fins, improved soldering techniques, and welded seam tubes.
This product is 395mm long by 121 mm wide by 35.5mm thick. And the length of fins per inch is 20.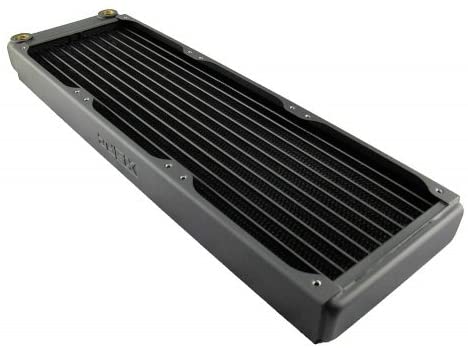 Though the radiator is thick, the core is actually the same to suck out maximum heat.
The XSPC radiator has 11 pipes in total meaning that the pipe in the middle doesn't do anything. Also, the coolant flows down five pipes down and then back up the other five. Although there are fewer pipes, they appear to be a little larger. It means that the total air flow is equalized.
For overclocking usage, the XPSC shows a high-performance profile.
Overall, it is a better deal if you are not working with a really small case. Some might face difficulty installing this cooler in their mini ITX build. So check out our guide on what to do when the CPU cooler won't install.
4. Thermaltake Pacific RL480
For PC enthusiasts, the pacific RL series is the best. This 480mm aluminum 5-port high capacity radiator delivers outstanding water cooling performance.
It has a dual-row 13 set flat tube design with high-density copper fins. Configurations of 120mm, 240mm, 360mm, 480mm, 140mm, 280mm, 420mm, and 560mm are available to provide exceptional performance. The heater is integrated with G 1/4" threads that make it easier to install, while its rigid connection secures leak-resistant measures.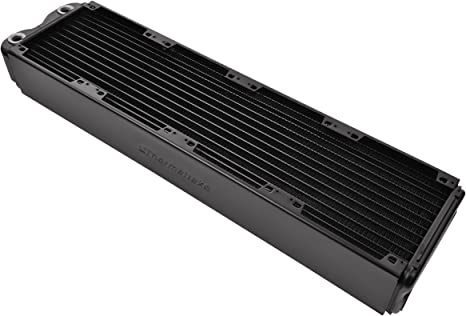 Never worry about the heat dispatching of this radiator.
The Thermaltake Pacific RL480 is optimized for maximum heat dissipation delivering an average heating load of 32-35 degrees on each radiator. After installing, the whole heat transferring process will be uniform.
This heatsink also ensures component reliability by efficiently drawing heat away from the power dissipating components.
Anti-corrosive materials are used to prevent erosion. In this case, if zinc fades away, this protection will gradually decrease.
Thermaltake Pacific RL480 is designed to mount four 120mm fans which shows an outstanding win-win situation compared to other radiators.
Overall, with an ideal mounting, fitting, and flow set-up, the RL480 series meets your watercooling needs all around.
5. Alphacool 14270 NexXxoS XT45
Almost, all radiators are made up of a mixture of brass and copper or aluminum. The fact that keeps Alphacool apart is that this is a full copper radiator. The tubes, tanks, and fins on this heatsink are made up of copper. All unwanted heat can be removed from your CPU because of this full copper body.
The reason it is called XT45 is that it is 45 mm thick. Alphacool 14270 is a pretty thick and pretty heavy radiator because of full-body copper construction.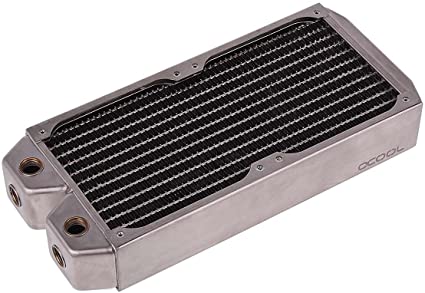 The radiator capacity is 240mm designed for medium and low-speed fans.
On the end tanks, you will see multiple options for mounting barbs (two on the front, two on the bottom, and two on the top). So, no worries at mounting position too.
When it comes to hardware, Alphacool provides full copper mounting screws for your fans.
This radiator is designed for high airflow and you can clearly see through the radiator. So, they are optimized for medium and low-speed fans.
What I like about the Alphacool is that:
There is a plate around the mounting screws that keep you from screwing too far into your radiator tube. This is a very good additional option for people who don't know how deep they should screw the radiator.
Overall, this is definitely a radiator to consider if you are making a full custom loop.
Go through our article to know whether the CPU cooler is working or not.
WaterCooling Radiator Ultimate Buyer's Guide
Radiators get people really all up in arms because they don't know what Radiator Specs means.
There are 4 major stats when it comes to radiators.
Here are the 4 major stats to buy a good radiator for excellent heat transfer:
Number of Fins Per Inch/ FPI
FPI is very important in the case of radiators. It is also called the surface area. The more FPI in the radiator, the more surface area you have for cooling.
A good way to determine FPI is, If you can see through the radiator clearly, then it is effective enough to pass the airflow. if not, then this radiator is not what you are looking for.
In short:
Check for more FPI radiators for maximum cooling potential.
For a normal CPU-GPU loop, it is fine to use low FPI radiators.
Size of the Radiator
There are different sizes of a radiator. However, a 360mm radiator is enough if you are a hardcore gamer like me.
It is true that the more size of the radiator is, the more fans they have. And more fins result in better cooling. But the fact is, you don't want a bulky radiator if you have short case specs.
Some user also uses two radiators in a single loop for better performance. you will notice that those two radiators are not 360mm. They are shorter versions of it. However, you could use 2 360mm radiators too. It's up to your choice.
Ability to Bear Load
If you want to add more components to your PC cooling loop like 2 GPU's then, you should have a perfect radiator to bear the load.
in such cases, it is recommended to buy two radiators because only one radiator cannot take a huge amount of load. Otherwise, the CPU cooler's radiator might get worse over time.
Noise-Reduction
Pushing air through larger gaps means less noise.
As the fins are more compactly arranged, airflow can create noise. In this case, static pressure fans come in handy and act as noise reduction to your system.
However, you may need to run your fans at higher RPM to get through the air.
Overall, it depends on how much coolant you are using in your loop and what you want to cool.
A longer radiator with a lower FPI is very good for reducing unwanted sounds.
Here's our guide to fix the CPU cooler's clicking noise.
FAQ
Question: What is the finest radiator for a watercooling PC?
Answer: Corsair Hydro X Series XR5 is one of the finest heat sinks you can get for a watercooling PC.
Question: Do thick Radiators cool better?
Answer: Yes, heat transfer becomes way too much easier in the case of thick radiators and thus, the system cools better.
Question: Is it better to push or pull air through a radiator?
Answer: A push configuration is efficient to blow air from outside whereas, a pull configuration makes huge sounds that are annoying sometimes.
Final Thoughts
The best water cooling radiator acts as a heat dissipator to your cooling loop.
It is better to buy one of the supreme quality radiators for your loop depending on the criteria mentioned in this post as a buyer's guide.
Remember that, your cooling loop won't cool unless you have a good quality radiator.