Heads up: 10scopes is reader-supported. When you purchase through links on our side, we may receive a small commission at no extra cost to you. Learn more.
AIO cooling solutions are always a viable option for optimum cooling performance. Their superb efficiency attracts most gamers to add them to a gaming rig.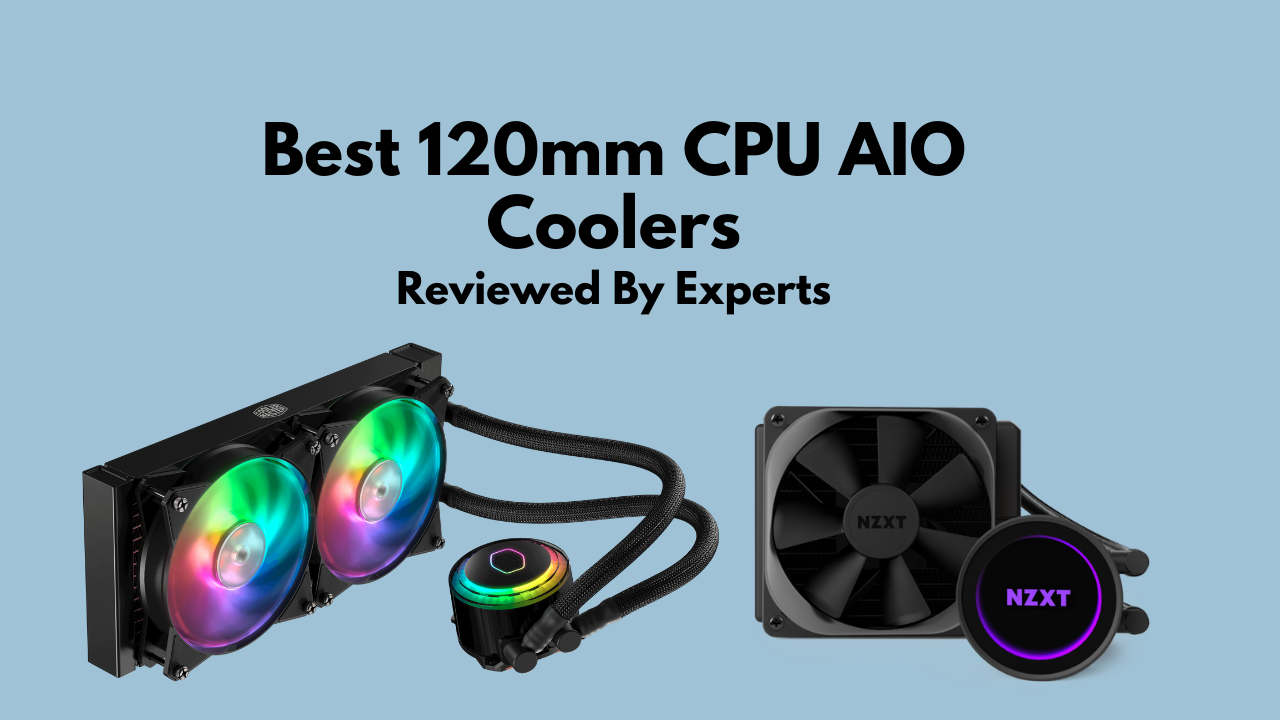 120mm AIO coolers are famous for their inexpensive, compact, aesthetic, enough cooling solution for mid-range processors. But which 120mm AIO will serve the best to your gaming needs?
For keeping your system cool, we have tested & gathered some of the best 120mm AIO choices on the market right now and found that CoolerMaster MasterLiquid ML120L RGB V2 is the sole winner among the coolers. But you can also check out our other best recommendations depending on your requirement.
Best 120mm AIO Cooler You Can Get Right Now
Information Disclaimer: The price and availability of the listed products are subject to change. As tons of product snoops in the market continuously, we update our list when necessary.
The 120mm All-in-One CPU coolers are compact and relatively silent while operating. Other than a few ultraslim builds, they fit most low-profile PC cases.
Now, not every 120mm AIOs will be the right choice. You need a cooling solution that appropriately manages heat, bringing better aesthetics and value to the table.
Here's the list of the six best 120mm AIO coolers:
1. Editor's Choice: CoolerMaster MasterLiquid ML120L RGB V2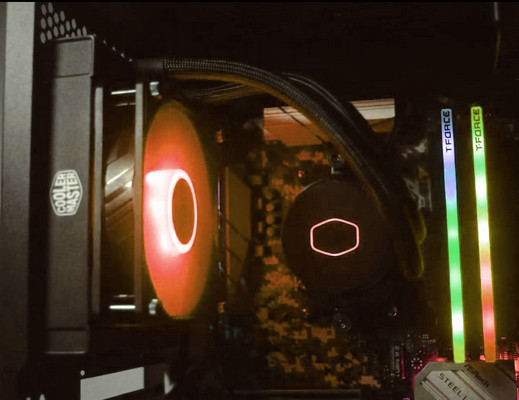 Specifications
Radiator Dimensions: 157mm x 119.6mm x 27.2mm | Fan Speed: 650 ~ 1800 RPM +/- 5 % | Noise Volume: 15 ~ 27 dBa | Warranty: 2 years
REASONS TO BUY
»

Perform better while quieter.

»

Attractive RGB lighting.

»

Support most relevant CPU sockets.

»

Quick and easy installation.
REASONS TO AVOID
»

2-year warranty.

»

RGB controller runs off MOLEX.
Why We Picked It
If you are looking for the best 120mm liquid cooler, this model from Coolermaster is worth a shot.
While supporting newer CPU sockets, CM MasterLiquid ML120L RGB V2 boasts RGB lights which will make your PC aesthetically look cool. But we are not paying for an aesthetic look, we demand performance with it too, and at this price point, the performance makes this AIO an attractive bargain.
With fastening some screws, you can quickly plug and play this AIO. By providing a tube of thermal paste for CPU, CM makes the installation process easier for the users.
We tested the MasterGel Pro, and it is one of the best thermal pastes of CM out there. We tested Ryzen 3700X at 3.7GHz all cores, and under the stress test, the CPU reached only ~60 °C. The AIO is compatible with almost all current sockets but lacks support for LGA775 and LGA1366.
While it has RGB lights and the vibrancy of the lighting spectrum that is created is unmatchable, we found it sleeker without RGB for the matte finish. Besides aesthetics, it competes with larger coolers and provides enviable performance with having only a 120mm radiator.
As a cooler, MasterLiquid ML120L possesses a dual-chamber design in the pump, which plays a huge part in improving its cooling efficiency. But to maintain that performance, the fan gets noisy for the high RPM to achieve efficiency. The overclocking performance is better than what we expected for this reason.
Who It's For
If you are looking for a compact 120mm AIO that can offer performance while being cheap and aesthetic and compatible with all recently released processors, this can be a perfect pick. If the 2-year warranty doesn't bother you, you should definitely get this beast for your mid-tier CPU.
Check Today's Price of CoolerMaster MasterLiquid ML120L RGB V2 →
What We Liked Most
In our testing, we noticed CM increased the surface area by lengthening the fins better to fill up the space in the radiator's frame.
We loved it cause now it's more compact between the frame and the fins. We also liked the SickleFlow 120 RGB fan, which is capable of putting a higher air pressure. Not to say this is crucial for a radiator.
What Could Be Improved
We are a little disappointed with this cooler for its lack of controlling RGB controller if installed in a case. Another thing we noticed is that AMD mounting was a bit intricate, which is not the case for Intel.
Verdict
In short, Cooler Master MasterLiquid LC120L RGB V2 is one of the best, with only a 120mm fan, and competes with some premium air coolers while being pocket friendly. Despite having a short warranty period, good performance and compatibility with most modern chips overcome this.
See the CoolerMaster MasterLiquid ML120L RGB V2 →
2. Runner-up: NZXT Kraken M22 120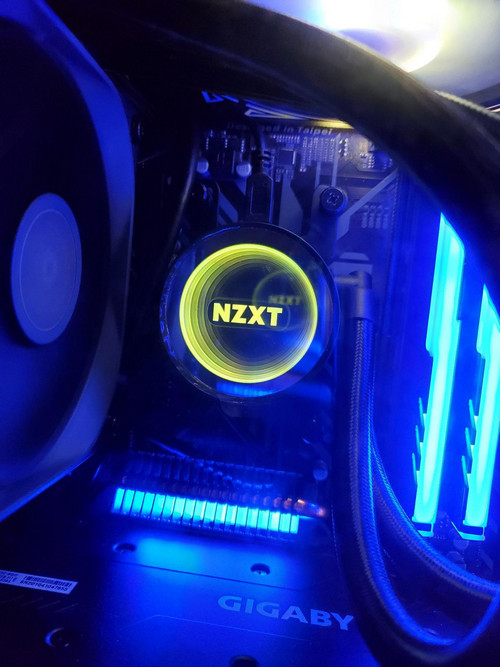 Specifications
Radiator Dimensions: 152mm x 120mm x 32mm | Fan Speed: 500 – 2000 ± 300RPM | Noise Volume: 21 ~ 36 dBa | Warranty: 3 years
REASONS TO BUY
»

Build quality is high.

»

Nice RGB lighting.

»

Integration with NZXT Cam.

»

Sleek design.
REASONS TO AVOID
»

Noisy.

»

Thicker radiator can cause compatibility issues.
Why We Picked It
The list of best AIOs for a gaming rig will be incomplete if we don't include a cooler from NZXT. Almost all gaming enthusiasts trust their Kraken series of coolers. NZXT Kraken M22 is the best 120mm AIO among NZXT AIO coolers for smaller builds that we can't avoid and put in our runner-up list.
This cooler does justice to the series it belongs to. It has an impressive design, which will attract most gamers to buy it.
The CPU block is stunning in terms of looks and offers a fully-customizable RGB logo atop. Another main element of this design is the infinity mirror-type look on the pump head. When the RGB LEDs light up the pump, you'll be left stunned by the vividness of the lighting.
In addition, you can mount this AIO on the latest LGA 1700 and AM5 sockets. So you won't have to deprive of this beauty for CPU socket compatibility issues.
But the radiator with this beast is 32mm thick, quite a broad rad, and we find some installation difficulties in smaller PC cases. However, the extra thick radiator allows more fin and is connected to the CPU block with 400mm long tubes to aid in keeping the CPU cool.
The fan that comes with this AIO is Aer P 120mm which has a max RPM of 2000 and airflow of 73.11 CFM. We tested 5800X in gaming, and the temp didn't go over 55°C. Impressive stats for dissipating heat away, but it comes at the cost of 36 dBA noise. This is the reason we rate this AIO as the runner-up.
Who It's For
NZXT is well known for other PC parts too. If you have a case, motherboard, and PSU from NZXT, this cooler can put the last piece to match the rest of the build. The 3-year warranty can assure you keep relaxed. If you are satisfied with the non-RGB fan, this is absolutely a pick for you.
Check Today's Price of NZXT Kraken M22 120 →
What We Liked Most
Flexibility is essential, and the 400mm tube that comes with this AIO provides easy installation, which we loved. We used NZXT CAM, which is easy to navigate and helped personalize the look.
What Could Be Improved
The fan noise is a bit loud, which could be improved in our opinion. Besides, the lack of RGB in the fan can be bothersome to some users.
Verdict
Overall, this beauty with beast AIO is an alternative for the Cooler Master ML 120L if you have other parts from NZXT and want to pair with them. Though it has some noise issues, you can lower the fan RPM, and if you are a headphone user, it won't be a headache at all.
The look of the Infinity RGB with a 3-year warranty can make it a worthy investment.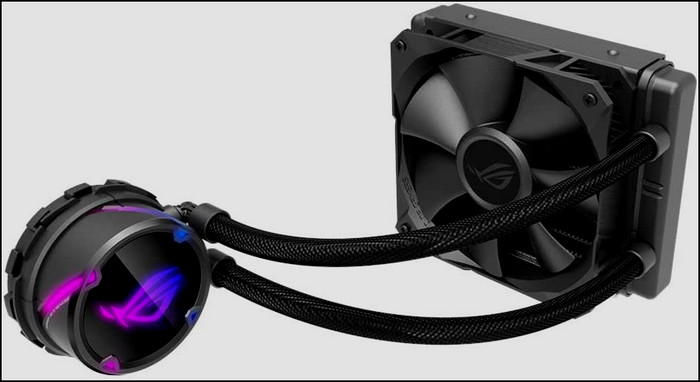 Specifications
Radiator Dimensions: 150mm x 122mm x 27mm | Fan Speed: 800 – 2500 RPM +/- 10% | Noise Volume: 37.6 dBa | Warranty: 5 years
REASONS TO BUY
»

Great cooling solution.

»

Nylon-sleeved rubber tube.

»

Fan with massive RPM speed and CFM.

»

Vivid RGB illumination
REASONS TO AVOID
»

Pricey for a 120mm AIO.

»

Noisy.
Why We Picked It
The ROG series of products are always one of our first choices while building a gaming rig. That said, while looking out for 120mm AIOs, we found an option from this series that will perfectly suit your mini-ITX build.
ASUS ROG Strix LC 120 is one of the most stylish and sturdy-looking cooling solutions that you can avail of.
Its modern outlook and excellent cooling potential easily make it one of the top picks. And being a ROG product line, this AIO comes as expensive. Hence, we put this in the best premium category. But it is worth every penny, given its performance and RGB inclusion.
We can easily give a high score to this AIO for the looks. The customizable RGB lights on the pump head are stylish and modern. The tabbed design of the pump head looks like a gear, and when the Republic of Gamers logo gets illuminated when the lights are on, this very logo is exquisitely blissful. The other components are coated in glossy black, though.
Besides aesthetics, ASUS ROG Strix LC 120 is made entirely of aluminum, while the cold plate is highly-conductive copper. So quality-wise, there is no compromise. Like, the AIOs mentioned above, this one supports almost all CPU sockets, including the latest one.
Along with looks and build quality, this AIO also beats other 120mm All-in-One coolers in performance. In our test with an Intel i7 chip, it was only 4°C warmer than Lian Li Galahad's 360mm cooler. But to get this performance, the fan had quite a load, and not gonna lie, it was pretty loud.
Who It's For
If you own a powerful rig with a small case and find difficulty installing a larger cooling solution, this AIO is your best bet to eliminate the issue.
If you have other ASUS components, like mouse, RAM, or GPU compatible with aura sync, you can also synchronize RGB effects with this cooler.
Check Today's Price of ASUS ROG Strix LC 120 →
What We Liked Most
Installing this AIO is relatively easy. It took around 10/12 minutes for us to install the AIO in our rig.
Another thing we loved is the 380mm long sleeved-rubber tubing. It stretches the aesthetic look.
What Could Be Improved
2500RPM fan speed with 38dBa is pretty loud and quite noticeable during our testing. Though with FanXpert you can control the fan speed to reduce noise, performance may get a hit in extreme cases. Besides, even though it is a premium product, it is  expensive for a 120mm AIO.
Verdict
Overall, I am quite sure that you'll like this cooler for its top-end performance and vibrant lighting profiles. It might be a bit pricey, but still, this is one of the best 120mm AIO coolers you can get for your high-end rig.
See the ASUS ROG Strix LC 120 →
4. Best RGB: DeepCool Liquid Cooler LS320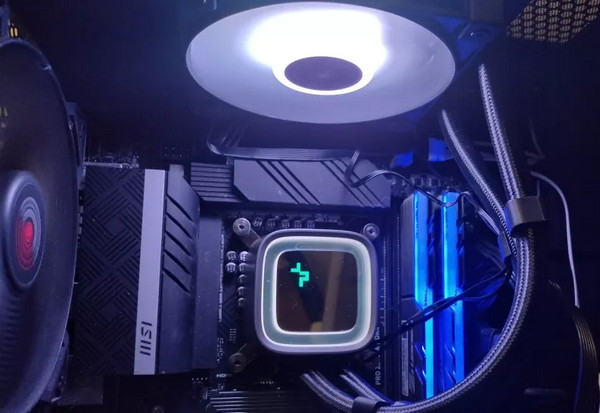 Specifications
Radiator Dimensions: 159mm x 120mm x 27mm | Fan Speed: 500~2250 RPM±10% | Noise Volume: 32.9 dBa | Warranty: 5 years
REASONS TO BUY
»

Eye-catching RGB.

»

Quick installation.

»

Quality performance.

»

Customizable face plate options.
REASONS TO AVOID
»

Lacks fan-controlling software.

»

At high RPM, pump noise can be noticeable.
Why We Picked It
DeepCool is gaining trust for CPU cooling options, like with their Assassin III or AK620, which are considered some best air coolers. But they didn't bind themselves with only air coolers and offered us in-house designed LS series AIOs.
LS320 is one of the LS lineups for 120mm AIO with great cooling performance and we were impressed that it handled even Intel's Core i9-12900K very well.
The installation part was easy as it had pre-applied thermal paste. Though Asetek, a Danish company, designs and develops liquid cooling solutions, and the majority of liquid coolers are based around their designs, DeepCool incorporates the latest generation in-house design for their LS320.
The provided FC120 fan has stronger airflow and static pressure of 85.85 CFM and 3.27 mmAq respectively. The fan has a max 2250 RPM speed, which is sufficient for the radiator to cool the CPU.
That being said, it can produce a max of 32.9 dBa. But to reduce the noise, we tested with 50% fan speed and 140W power limit for the i9-12900K, and it reached only around 60°C in the OCCT's small set stress testing.
Now, we picked LS320 for its vivid RGB lights. The fan is ARGB which is an advanced form of RGB lighting offering unique customizability and aesthetics with lighting sync software. The new infinity mirror pump face design offers a user-customizable face plate.
Who It's For
DeepCool Liquid Cooler LS320 can be your perfect pick if you want an AIO with stunning RGB and a user-customizable face plate for your newer CPUs in an SFF case. Not only the aesthetic but the performance talks itself to pick this affordable AIO.
Check Today's Price of DeepCool Liquid Cooler LS320 →
What We Liked Most
The center logo plate is removable and rotatable. We liked the feature because we won't have to worry about the logo being sideways or upside down.
In addition, while most companies just tag their logo in the CPU block, LS320 comes with a blank CPU block plate to put your own design on the block. This is very exclusive.
What Could Be Improved
We found that the water tube is only 310mm which can be a bit short compared to NZXT Kraken M22's 400mm.
Verdict
Overall, LS320 is a great AIO on its budget, offering your build an outstanding performance and aesthetic look. Though it can get noisy under heavy load for a high RPM fan, the performance matters, and LS320 won't compromise it and is worth its value.
See the DeepCool Liquid Cooler LS320 →
5. Best White: Thermaltake TH120 ARGB Snow Edition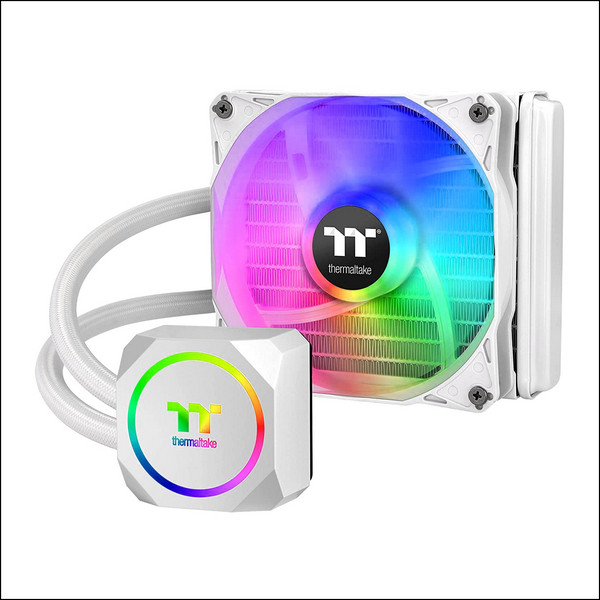 Specifications
Radiator Dimensions: 153mm x 120mm x 27mm | Fan Speed: 1500 RPM ±10% | Noise Volume: 28.2 dBA | Warranty: 3 years
REASONS TO BUY
»

Snow white design for a white build.

»

Stunning RGB lighting.

»

Affordable price.

»

Less noisy.
Why We Picked It
Like most other 120mm cooling solutions, this model from Thermaltake is way lighter. In fact, I would say it's lighter than many top-end air cooling options available in the market. And not only that, we chose this snow edition to perfectly match a white build.
Colored with clean white, the Thermaltake TH120 A-RGB snow edition is sufficient, on par with higher-end coolers.
The fan provided with the cooler has a speed of 1500 RPM, an air pressure of 1.31 mm-H2O, and a maximum airflow of 59.28 CFM. With this performance, it produces only 28.2 dBA noise, which is reasonably quiet.
The thickness of the radiator is 27mm, and RAM and PC casing clearance are quite impressive. The slim profile is ideal for a smaller casing.
Despite being slim, the performance didn't get any hits in the stress test and at idle. The water block has a pre-attached thermal pad. We wanted to change it to Arctic silver thermal paste, but the provided pad was quite well. With an overclocked i7, the temp was ~27 degrees Celsius at idle and ~58 under load.
Aside from performance, this 120mm water cooler possesses some freakish RGB elements.
We were impressed with the vivid lighting performance when we tested this cooler in our build. The best part is you'll get a pool of 16.8 million colors to add multiple flairs on the fan and pulp head.
Also, you don't need to worry about installation. It would be an overly simple task. Also, along with the fan, the water block is also decorated with a white finish to match the rest of the cooler.
Lastly, Thermaltake TH120 ARGB is compatible with AMD and Intel's latest sockets, so there is no need to query another cooler for your snow-themed build.
Who It's For
If you are looking to put the last piece to finish your white build, this white AIO is definitely a pick for its top-notch performance which also will not break the bank. RGB lighting and a quieter operation is absolutely worth the pick.
Check Today's Price of Thermaltake TH120 ARGB Snow Edition →
What We Liked Most
The cooler's slimmer build with a stunning white finish is absolutely eye-catchy. We also loved the quieter operation, as we lean to AIO for a noise-free operation.
What Could Be Improved
Although the fan performs well at low noise, it lacks PWM functionality, which is a bit disappointing for us.
Verdict
Overall, this AIO is an excellent pick if you intend to build a white rig. Along with aesthetic looks, the performance is also great. Though it lacks the PWM feature, we picked this AIO for the best white CPU liquid cooler for its well-constructed white design and cooling performance with a pocket-friendly budget.
See the Thermaltake TH120 ARGB Snow Edition →
6. Best Budget: EVGA CLC 120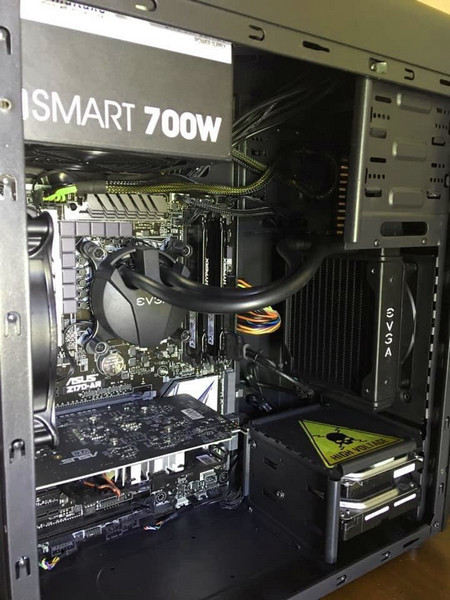 Specifications
Radiator Dimensions: 156mm x 122mm x 28mm | Fan Speed: 1800RPM +/- 10% | Noise Volume: 32.1 dBA | Warranty: 5 years
REASONS TO BUY
»

Inexpensive.

»

Satisfactory airflow.

»

Decent build quality.

»

5-year warranty.
REASONS TO AVOID
»

Only for Intel.

»

No support to control Pump speed.
Why We Picked It
Now, if you feel you have wasted enough money on your build and want to settle with a budget AIO, here's the best option. Cooling solutions from EVGA are often the most affordable ones. This EVGA CLC 120 AIO is one such of them. It's highly competent as a cooling solution for a budget build.
The design is quite minimalistic, like most other budget coolers. It's not flashy like some of the more RGB-accompanying coolers. Also, the cooler doesn't sport any RGB elements, nor in the fans or pump. It's just a simple AIO, but for that, the quality won't disappoint you.
Coming to the fan, it is actually of good quality. Especially the top-notch bearings that make it long-lasting. The fan's bearings are also made of Teflon, making them highly resilient.
However, the fan isn't also devoid of issues. When we pushed the fan to 1800 RPM, it got loud. When we lowered the speeds, it somewhat affected the cooling performance, and the temp increased by almost 8-10° C. Note that this AIO is only compatible with Intel LGA2066/2011/2011-v3/115X/1366 sockets.
Aside from performance, from the pump to the radiator and tube, it is the same flat black color. The AIO has an elegant wiring system that helps us the cable management to keep the build tidy. It lacks RGB, so don't expect vivid lighting from this AIO. But many users don't like RGB, and this is a perfect deal for them.
Who It's For
If you have an Intel build, have no intention of overclocking, are looking to purchase a first AIO, and are slightly strapped for cash, this AIO with decent performance can be your absolute pick.
The 5-year warranty improves the cooler's total value, and the simplicity of its design won't disappoint you.
Check Today's Price of EVGA CLC 120 →
What We Liked Most
This 120mm AIO is the cheapest yet well-performing cooling solution in terms of pricing. We also loved the hefty amount of airflow. EVGA's 5-year warranty is another great deal, which is exceptional for such a low-priced AIO.
What Could Be Improved
We are disappointed with the noise issue. It's a bit loud with max speeds, and throttling down the fan speed cost cooling performance.
There was also no pre-installed thermal paste. But with such a low price, we have to go along with it. Besides that, it lacks RGB and most importantly, only supports Intel sockets. So for AMD processors, check the aforementioned AIOs.
Verdict
In conclusion, this AIO with a highly irritating fan and absence of bundled thermal paste, can be your best pick for its highly affordable pricing. With a minimalistic look without RGB, this cooler offers decent cooling performance and is ideal for installing in miniature PC builds where an air cooler can't be fit.
FAQs
Should I go for 120mm AIOs?
If you want a maintenance-free and silent experience without worrying about RAM and air-cooler height clearance, 120mm AIOs are worth it to give an aesthetic look with better performance for your rig.
Should I go for an air-cooling solution or AIO?
Air coolers for your CPU need RAM and casing clearance. Though they are noisy, they require very minimal maintenance. On the other hand, AIOs provide enhanced performance with plentiful clearance. It is also a better pick if you intend to overclock and in that case 240mm AIO is preferred.
Is a Push-Pull Radiator worth it?
The push-Pull system provides a slightly better cooling performance and can reduce noise. However, it can cost extra and require more space to install. The casing should have the space to support the push-pull radiator.