AIO cooling solutions are always a viable option for optimum cooling performance. Their superb efficiency is what attracts most gamers to add them to a gaming rig.
But which 120mm AIO will serve the best to your gaming needs?
Or, read on to check out my review on some high-performing liquid coolers.
That said, if you want to build a mini gaming PC, then the 120mm AIOs would be the right choice for keeping your system cool.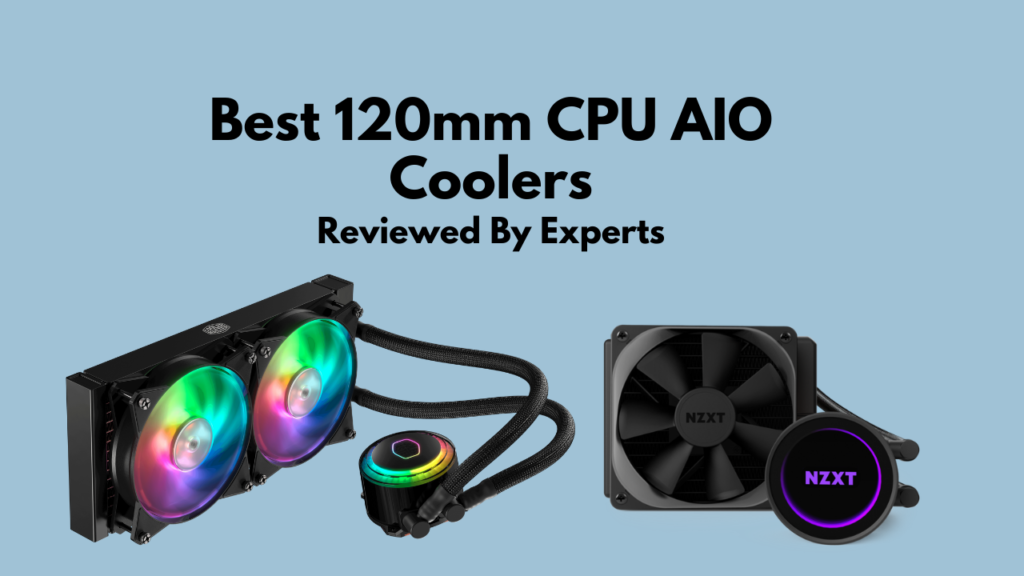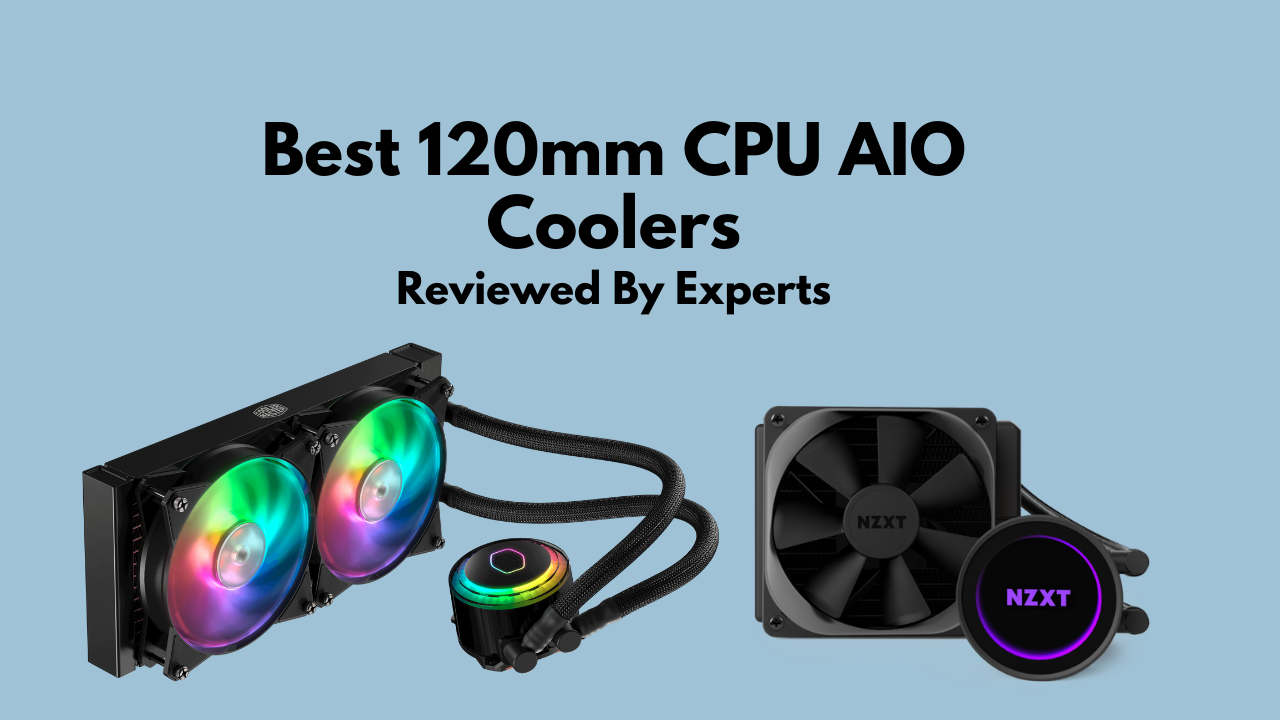 7 Best 120mm AIO Reviewed
The 120mm liquid coolers are quite compact and relatively silent while in operations. Other than a few ultra-slim builds, they are a fit in most low profile PC cases.
Now, not every 120mm AIOs will be the right choice. You need a cooling solution that properly does heat management.
Here's the list of the seven best 120mm AIO coolers:
1. Thermaltake TH120 ARGB Sync
My top pick under the 120mm AIO category is the Thermaltake TH120 ARGB Sync.
This liquid cooler sports the following features:
LED Water block design
Fan Speed: 1200-1500 RPM
Noise level: 25.2-28.8 dBA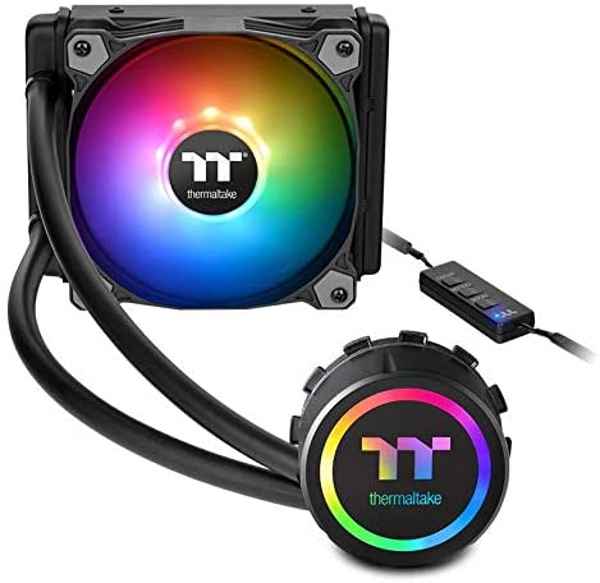 Check Today's Price of Thermaltake TH120 ➜➜
Just like most other 120mm cooling solutions, this model from Thermaltake is way lighter. In fact, I would say it's lighter than many top-end air cooling options available in the market.
Design-wise this cooler is pretty straightforward. Nothing very much extravagant. However, the pump head has a sleek implementation.
I found the fan having a simple design. But it gets better when the best rig comes to life.
That said:
This 120mm water cooler turns out to possess some freakish RGB element.
When I tested this cooler in my build, I was pretty impressed with the vivid lighting performance. The best part is, you'll be getting a pool of 16.8 million colors to add multiple flairs on the fan and pulp head. Also, you don't need to worry about installation. It would be an overly simple task.
Ending up, what I feel is this cooler is the best you can get. Be it performance or price, or even simplistic installation; this cooler gives you the chance to be a winner in every scenario.  Want to know which CPUs are best for RTX 3000 series GPU?
2. ASUS ROG Strix LC 120
ROG series of products are always one of my first choices while building a gaming rig. That said while looking out for 120mm AIOs, I found an option from this series that will perfectly suit your mini-ITX build.
This model from ASUS comes with the following specs:
Fan Speed: 800-2500 RPM
Noise Level:37.6 dBA
5-year warranty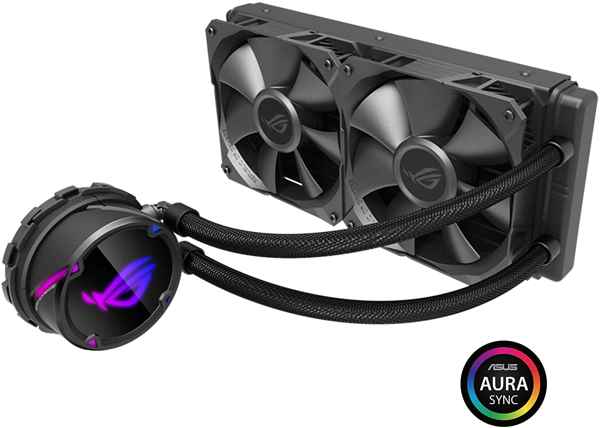 Check Today's Price of ASUS ROG Strix LC 120 ➜➜
This water cooler from ASUS is one of the most stylish and sturdy-looking cooling solutions that you can avail of. Its modern outlook, along with excellent cooling potential, easily makes it one of the top picks.
At first glance, you'll notice its pump head, which bears the ROG logo printed on it. When the RGB LEDs present in the pump are on, this very logo exquisitely blissful.
On top of that:
The cooler's entire texture is given so well that whenever the RGB LEDs reflect, it creates a vibrant explosion of colors inside the rig.
This cooler also sports a single fan possessing an optimized design. It runs quite well at decent speeds. The best part is that you don't need to run it at full speeds to keep things cool inside the system. Check out some awesome AM4 socket-compatible cpu coolers.
As for installation, it would take at best 10 minutes for you to set this AIO cooler in your rig. Also, the wide range of socket support from both Intel and AMD platforms makes it highly compatible with modern processors.
However, if you plan to run the fan at max speeds, possibilities are there that it might get loud. That's why I suggest you keep speed levels moderate.
Overall, I am quite sure that you'll like this cooler for its top-end performance and vibrant lighting profiles. It might be a bit pricey, but still, for your high-end rig, this is one of the best 120mm AIO coolers you can get.
3. NZXT Kraken M22
The list of best AIOs for a gaming rig will be incomplete if I don't include a cooler from NZXT. Almost all gaming enthusiasts trust their Kraken series of coolers.
This model from NZXT's Kraken series attributes some fantastic specs:
Fan Speed: 500-2000 RPM
Pump Speed: 2700-3000 RPM
6-year warranty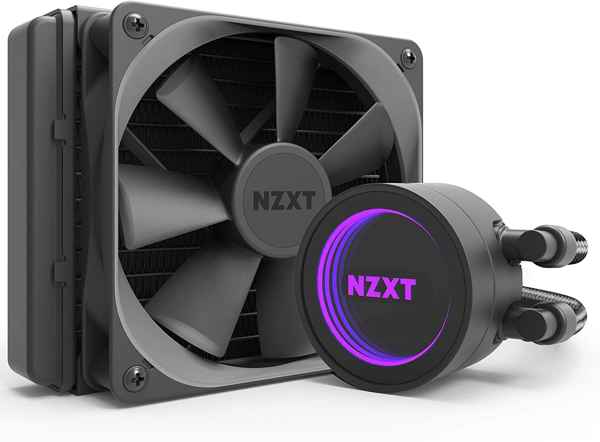 Check Today's Price of NZXT Kraken M22 ➜➜
This cooler does justice to the series it belongs to. It has an impressive design, which I feel will attract most gamers to buy it.
One of the main elements of this design is the infinity mirror type look on the pump head. When the RGB LEDs light up the pump, you'll be left stunned by the vividness of the lighting. This is the reason why I rate this AIO as the Cooler with the best-looking pump.
It gets better as the lighting flairs in the pump head are highly customizable, thanks to NZXT's CAM software.
This cooler also sports a single fan whose noise level varies around 21-38 dBA. The rubberized housing meant for it makes it less noisy, even at max RPM. The only downside about the fan is that it's non-RGB, something which I feel should've been there.
Apart from this non-RGB fan thingy, this cooler is excellent, in my opinion. And with the  6-year warranty it boasts, I feel it's a reliable option to pair up with a high-end CPU.  Check out the award-winning best nzxt aio cooler this month.
4. Corsair Hydro Series H60
As a brand, I always prefer Corsair for PC peripherals. And in the market of cooling solutions, they are a big fish that everyone admires.
That said, this liquid cooler from them offers some superb features:
Fan Speed: 600-1700 RPM
Noise level: 28.3 dBA
5-year warranty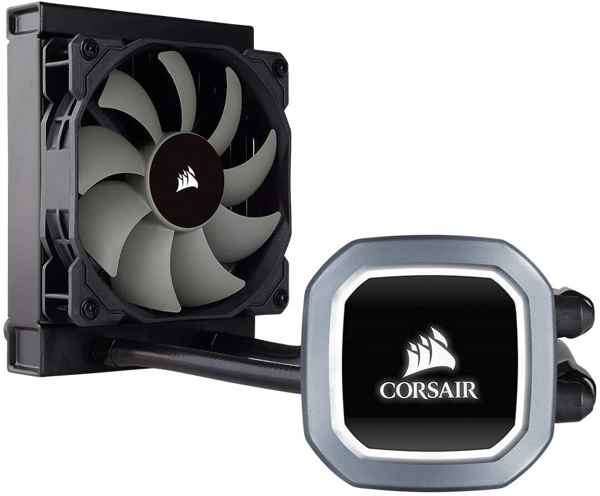 Check Today's Price of Corsair Hydro Series H60 ➜➜
This cooler from Corsair isn't something over the top when it comes to design. The black and white texture pretty much sums up that this cooler is quite simplistic.
Its pump head looks pretty cool, which has a touch of elegance. The radiator also looks neat and tidy.
The best part about this liquid cooler is its fan and pump. They are almost near silent.
Even at full settings, when the fan is running at a rampant speed, there's no noisiness present.
Now, the cooling potential is also something to talk about. In my testing, this water cooler was able to handle high temps with not much effort.
But there are things that I didn't like. Like the fan doesn't have any RGB elements, and also, you can't turn off the light in the pump.
Other than these, I was also disappointed with the process of configuration of this cooler. You need to do this via BIOS, which might seem a bit complicated.
To sum up, this isn't your go-to flashy cooling solution with dazzling RGB. It is simplistic in nature, offering a good performance.
As a mid-range option, it's the best 120mm water cooler to consider.
5. Coolermaster Masterliquid ML120L
If you are looking for the best budget RGB 120mm liquid cooler, this model from Coolermaster is worth a shot.
The Coolermaster Masterliquid ML120L comes with the given specifications:
3rd Gen dual-chamber pump
Noise level: 15-27 dBA
2-year warranty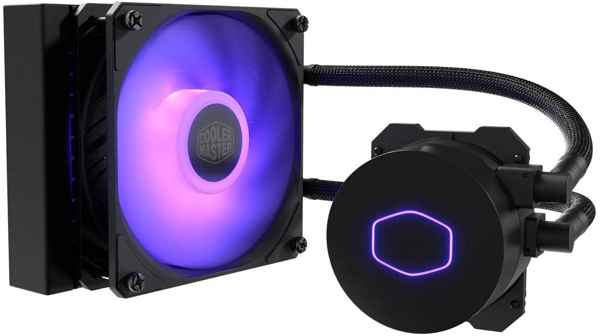 Check Today's Price of Masterliquid ML120L ➜➜
Trust me, you won't get any better RGB cooler at such a lower price. In my opinion, the RGB implementation in this model is far better than most other high-end solutions.
Check out more, some of the best RGB CPU coolers and RGB CPU AIO coolers you can buy right now!
As a cooler, Masterliquid ML120L possesses a dual-chamber design in the pump, which plays a huge part in improving its cooling efficiency. The pump head has a subtle mirror finishing, which creates a glowing situation inside the rig. As a result, the vibrancy of the lighting spectrum that is created is somewhat unmatchable.
The fan of this water cooler sport are pretty decent. It can hit max speeds without any major obstacles that too maintaining low noise levels. Also, check out our tested quietest cpu cooler for your PC.
I personally liked the proper airflow that this fan ensures, which is a rarity in most budget cooling solutions.
Performance-wise it is just like ten other budget water coolers. Although, the overclocking performance is better than what I expected.
The price isn't something to be worried about. For a cooler whose main element is RGB, it's priced in a much affordable way compared to other options with RGB extravaganza.
6. Silverstone PF120
In comparison to other brands on the list, Silverstone is quite underrated. And this cooling solution from them can prove to be a decent buy.
This model from Silverstone sports the following specs:
Fan Speed: 600-2200 RPM
Noise level: 7.4-35.6 dBA
10 RGB lighting modes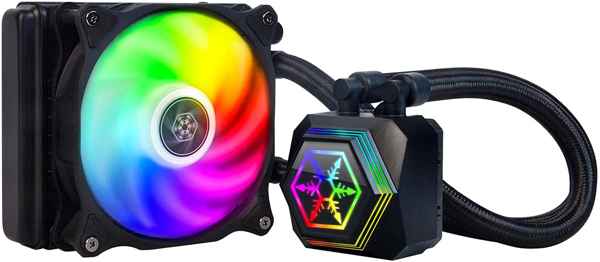 Check Today's Price of Silverstone PF120 ➜➜
Despite not having much popularity, Silverstone as a brand is making great strides. This liquid cooler from them is by no means anything less than most other options in the market.
It offers excellent thermal performance that can ensure that your gaming rig stays stable. This performance is also backed by its awesome aesthetics, which prompted me to add this to my best 120mm AIO cooler list.
You'll be amazed to know that the pump has a multi-chamber design that allows the isolation of hot and cold liquid channels.
This is something that isn't available on many mainstream cooling solutions. As a result of this, heat bleeding is prevented to a large extent.
Besides, the fan that this cooler sport comes with is of a unique design that ensures low noise and max airflow.
Sounds cool… Isn't it?
Overall, If you are looking for something different, I would highly suggest you purchase this.
7. EVGA CLC 120
Now, if you feel that you have wasted enough money on your build and want to settle with a budget AIO, here's the best option for you.
This model from EVGA comes with the mentioned specifications:
Fan Speed: Max 1800 RPM
Noise Level: 20-32 dBA
5-year warranty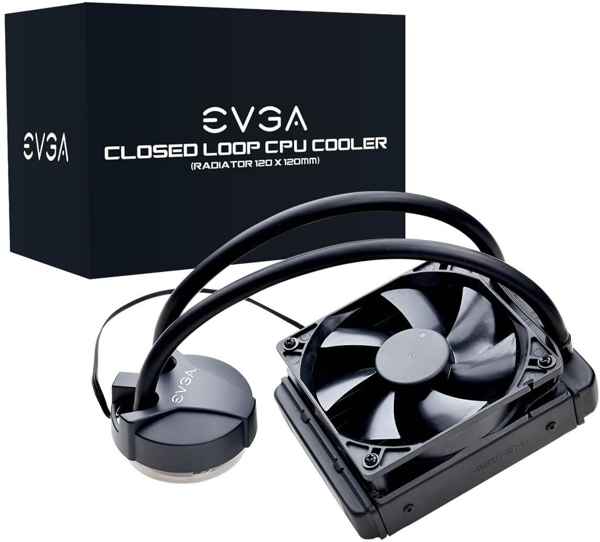 Check Today's Price of EVGA CLC ➜➜
Cooling solutions from EVGA are often the most affordable ones. This cooler is one such of them. It's highly competent as a cooling solution for a budget build.
Compatibility-wise, you don't need to worry about anything. It supports almost all common Intel and AMD sockets. But performance-wise, it doesn't boast a top-end solution. That's why I suggest you not set the bars way too high for this cooler.
The design is quite minimalistic, like most other budget coolers. Also, the cooler doesn't sport any RGB elements, nor in the fans or pump.
Coming to the fan, it is actually of good quality. Especially the top-notch bearings that make it long-lasting.
However, the fan isn't also devoid of issues. It gets loud at max speeds, and if you lower the speeds, it somewhat affects the cooling performance.
Overall, don't expect much from this cooler. It is the most basic option that you can get for your gaming rig.
Final Thoughts
As cooling solutions, the 120mm AIOs might not promise an extreme performance level but can ensure that your mini-ITX rig remains remarkably stable.
That said, these are the seven best 120mm AIO water coolers that can assure you that sort of stability. I tried to rate each cooler in this list so that your job gets easy.
My recommendation would be to go through the entire review, analyze it, and then jump to a conclusion. Even after that, if you feel something isn't alright, then the comment section is open for your query.