I think you'll agree with me when I say:
CPU coolers impact gaming performance to a great extent.
Not only that, if your cooler isn't up to the mark, then the other pricey gaming peripherals would get severely affected. So, it's even stevens.
In a hurry, check my #1 best cooler. Or take some time to read my comprehensive review.
Now, for a processor like i5-11600K, you need one heck of a CPU cooler. It's an 11th Gen CPU from Intel, and the heat that it might generate can prove to be harmful on a few occasions.
Don't worry. I've got your back. As in this article, I will discuss the cooling solutions that can tame down the system heat.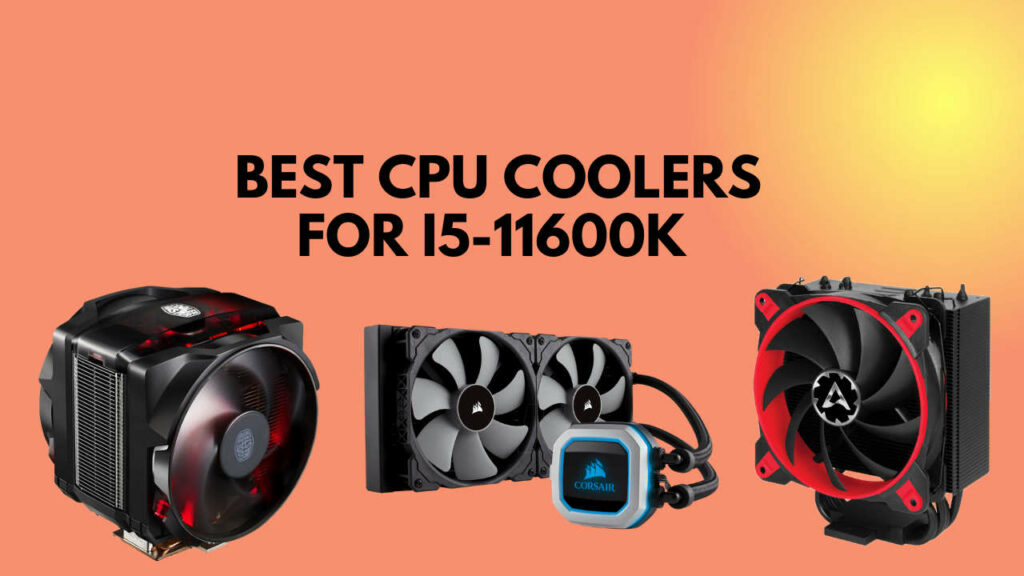 Best CPU Cooler for i5-11600K Reviewed
| Award | Model | Radiator Size |
| --- | --- | --- |
| Overall Best | NZXT Kraken X63 | 280 mm |
| Runner-up | Gigabyte Aorus RGB | 280 mm |
| Best SFF Cooler | Corsair Hydro Series H60 | 120 mm |
| Best RGB | Lian Li Galahad 360 Black | 360 mm |
The 11th Gen Rocket Lake series is the hot cake in the market right now. Their core i5-11600K comes with a boost clock of 4.9 GHz, which eventually generates a considerable amount of heat.
If you are buying this processor, the task is pretty simple. Ensure that you choose the right CPU cooler and get the best cooling solution for your build. Unless things can turn in the wrong direction, and obviously, you won't want that.
I won't take any more time, so let's get this thing straight.
Here are the seven best CPU Coolers for i5-11600K:
1.   NZXT Kraken X63
Let me start with a model from the NZXT Kraken series. NZXT is a big shot in the PC hardware industry, especially for their CPU coolers. Their Kraken X63 is one of the top-end models that can bring down CPU temp drastically. This model comes with the following specs:
Fan Speed: 500 – 1800 RPM
Noise Level: 21 – 38 dBA
Fluid dynamic bearings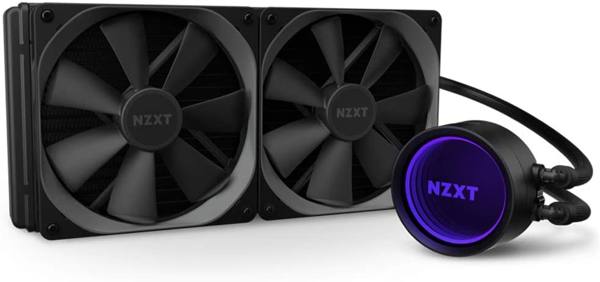 Check Today's Price of NZXT Kraken X63 ➜➜
To get a smooth gaming performance, you need to ensure that your system's health doesn't deteriorate. And this is where this model from NZXT can be of use.
It can deliver top-class performance with ultimate smoothness.
You will get plenty of reasons to like this liquid cooling solution. As a model, it has that wow factor when it comes to looks. Especially the infinity mirror present on the top of the water block simply looks beautiful. The LEDs present underneath does the job perfectly. As a result, inside the RGB PC case, the glow of lighting gives an out-of-the-world-like feeling.
The best part is:
This water block is very much flexible due to its 360° nature. You can rotate it smoothly and place it the way you want. Besides, the aluminum-made radiator looks fine, and the tubing quality is top-notch.
NZXT's  CAM software does the job of controlling the LEDs present in the water block. You will be able to address each of the LEDs present. My experience with this software was pretty good as I didn't face any lag. I feel it would be the same for you.
As for performance, temps remain stable at the boost clock of 4.9 GHz. While overclocking, it goes beyond 5.0 GHz, thus producing a good amount of heat. But this Kraken X63 did a pretty fine job bringing down the heat while I was testing.
Even for the high-end Rocket Lake, the X63 is one of the best CPU cooler for i9-11900K to tame the temperature.
Overall, I would say this model is a perfect option for high-end builds. For the 11th Gen i5-11600K, it can turn out to be a potent option.
2. Gigabyte Aorus RGB
I have always preferred motherboards from the brand Gigabyte. They are the market leaders for this particular component. But they aren't only about boards. Their Aorus line of CPU coolers is doing rounds in the market.
That said, this model from them sports some fantastic specs:
Fan Speed: Max 2300 RPM
Noise level: 22.3 – 44.5 dBA
2x 140 mm PWM fans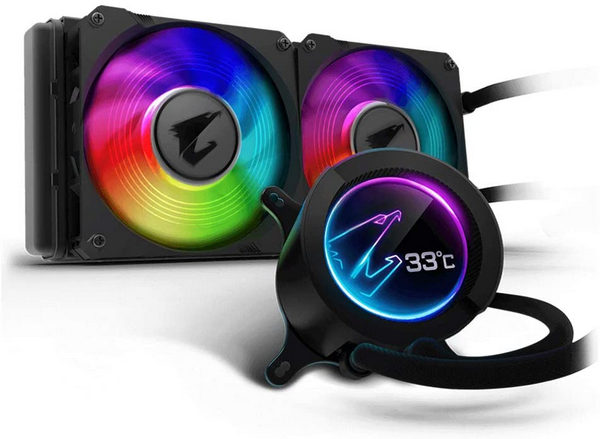 Check Today's Price of Gigabyte Aorus ➜➜
With this model, Gigabyte lives up to its brand value. Its quality is top-tier, along with superb functionality.
The main attractive element of this liquid cooler is the Customizable LCD on its pump block. Through this LCD, you can view the fan speeds, CPU temps, etc. Even if you want, you can add animated GIFs, which made its place in the our best CPU cooler with screen list.
The dual 140 mm fans come with double ball bearings. It is the reason why there was low noise at the time of my testing. Besides, the blades in the fans give an edge helping the way of optimized airflow.
What I found unique in these fans is the lighting that is projected from the midsection. The RGB LEDs are placed there and offer a rich visual experience.
Now, while overclocking, my build with 11th Gen i5 processor went beyond the boost clock of 4.9 GHz. In my gaming rig, I clocked 5.3 GHz, and the temp was recorded at 95°C. But it was brought down immediately, thanks to this model from Gigabyte. So, my verdict about the performance is that it is reasonably OK.
However, issues are there with the Aorus software, which can be problematic to handle at times. Still, the performance this cooling solution offers is top-notch. It may come with a high-price, but in no situation this cooling solution is overrated.
3. EK AIO D-RGB
EKWB is a good brand that most gaming enthusiasts prefer these days. They made a good reputation through their line of gaming components.
That said, this model from them bears all the traits you would want in a CPU cooler. Some of the notable ones are:
Fan Speed: 500-2200 RPM
Pump Speed: 450-2000 RPM
Noise level: Max 36.4 dBA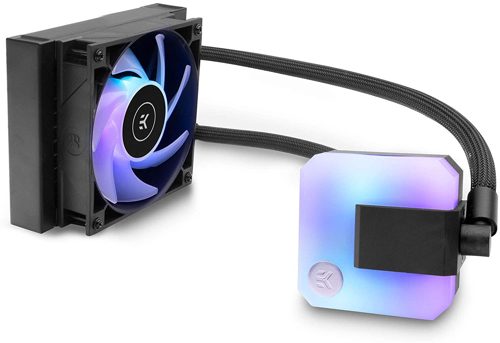 Check Today's Price of EK AIO ➜➜
As an AIO liquid cooling solution, this model is as good as its larger sibling.
It comes with a unique custom in-house pump design like the 360 mm version. Also, in terms of ability and performance, it's no less than any high-end solution.
The best part about the output that I liked is its noise-optimized performance. At max RPM, the fans might seem a bit loud, but it doesn't get that noisy, which is not tolerable.
The overall build quality is exceptional, that too with an excellent fit and finish. Also, you will be able to install it in your rig pretty simply. The good thing is that your GPU will get ample clearance even if you rotate the pump.
Now, personally, I found the RGB lighting to be okayish. But that's according to my taste. In general, the lighting scheme is quite aggressive, which may not be liked by everyone.
Still, with a 5-year warranty and excellent cooling potential, I feel this cooler can offer tremendous value to any decent gaming rig.
4. Lian Li Galahad 360 Black
Quality was never an issue for the brand Lian Li. They have been producing some of the best PC peripherals that come with top-notch aesthetics. This model from them is no different. Some of its notable specs are below:
3x 120 mm fans
Fan Speed: 800-1900 RPM
Noise level: 32 dBA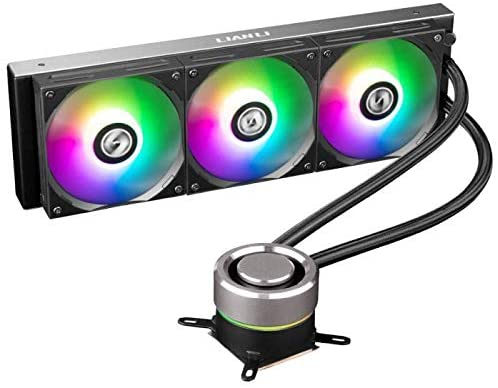 Check Today's Price of Lian Li Galahad 360 Black ➜➜
Just like the superb aesthetics, this model aims to deliver a top-quality performance. It's a fantastic liquid cooler that flares up in every aspect.
It comes with an aluminum radiator, which looks elegant and is quite durable. The water block present in it looks finely polished.
It comes with a trio of 120 mm fans, which possesses RGB elements. When they go into life, the lighting inside the rig looks unreal. It glows like none other.
As for the performance, using this model in my rig, I found that even during overclocking, the temps can be brought down in no time. There were almost no issues with overheating.
Overall, I would say it's a terrific liquid cooling solution and one of the best 360mm AIO cooler in market that is a prime example of performance with aesthetics.
5. NZXT Kraken Z53
I can't just get over NZXT as this model is the 2nd cooler from their Kraken Series that made it to my list.
This model comes with the following specs:
Asetek 7th Gen Pump
36″ LCD Screen
Noise Level: 36 dBA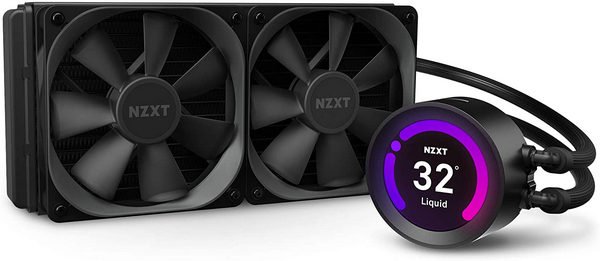 Check Today's Price of NZXT Kraken Z53 ➜➜
This model is one of the most soughed options from the Kraken Z series. It's one of those finest and one of the best NZXT liquid cooling solutions that gained the trust of gamers through its functionality.
It comes with a very fancy LCD on the block. Through this, you'll be able to view the CPU and GPU temps quite easily. Also, you'll be able to add an animated image or GIFs if you want.
Aesthetics-wise, this cooler is quite remarkable, but the fans are non-RGB. In terms of performance, in my rig, I achieved good temps even after stressing the CPU. Eventually, this trait makes it an excellent option for overclocking.
However, the price is on the higher side for this model. But that's no issue if you have no budget constraints. Overall, as a liquid cooler, it ensures you superb outputs even if you tweak your rig.
6. Corsair Hydro Series H60
Corsair as a brand offers some top-notch solutions. This model from them is one of those full coolers that can meet the gaming needs aptly.
This model sports the following features:
120 mm fan
Noise level: 28.2 dBA
Fan Speed: Max 1700 RPM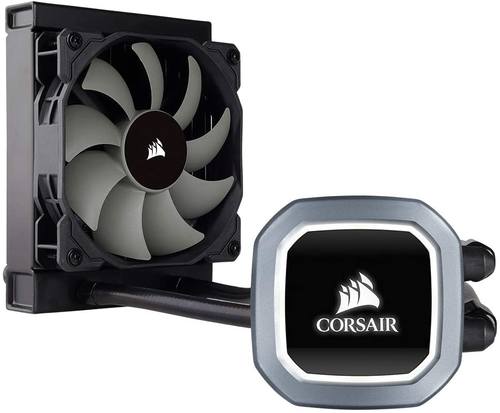 Check Today's Price of Corsair Hydro Series H60 ➜➜
If you have a compact gaming rig, this is the option you should go for. As a cooler, it might be a tad expensive compared to other models out there. But, in my opinion, it's worth it.
The looks might seem a bit bland, but the build quality is outstanding. It stands for longevity; as a result, you would be getting a 5-year manufacturer warranty.
In terms of performance, the temps were okay in my 11th Gen build. The low noise was also pretty much evident.
Overall, it's the best you can get for your low-profile compact build.
7. Thermaltake TH120 ARGB
So, this is the last CPU cooler that I got for you. Thermaltake, as a brand, is a well-known name in the gaming community. This model from them can be that cooler that you are looking for your build. It comes with the following features:
LED waterblock design
Universal socket compatibility
120 mm fan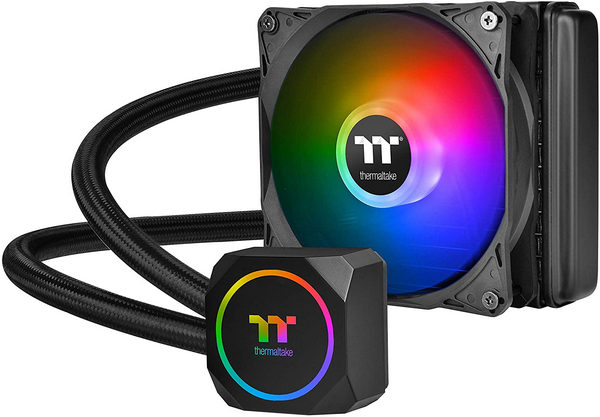 Check Today's Price of Thermaltake TH120 ➜➜
As a liquid cooler, it's an excellent option for you if you have a Mini-ITX build. In fact, I would say that it's better than much larger AIO's. Especially with the cooling potential this model comes with, it can tame down any 11th Gen Processor.
In terms of performance, the acoustics are at a reasonable level. I found no noise when I was testing.  Also, when the fan present comes with RGB implementation, and to be honest that looks DAMN when the rig is running.
The best part is that it comes with a reasonable price, which is why it's one of the best 120mm liquid cooler for gaming and productivity.
Final Thoughts
So, these are the top seven CPU coolers that you can get for your latest 11th Gen i5-11600K build. In this list, you can find every type of build despite whatever your budget is.
My personal choice is the NZXT Kraken X63. The other ones are good too.
Still, if you feel confused about anything, please do let me know in the comments.