The gaming performance of your build depends mostly on the cooling performance of your CPU cooler.
As a gamer, you would never want your system to slow down or lag.
In a hurry, check my #1 recommended CPU cooler. Or take some time to check out my review on some top-end cooling solutions.
Now, if you are building your rig around the latest Intel i9-11900K processor, I must say that a top-class cooler should be your top priority.
For this 11th-Gen flagship, you need to make some smart decisions while choosing the cooler. And I am here to help you out in making such decisions.
In this post, I will be reviewing the best CPU coolers for the i9 11-generation processor.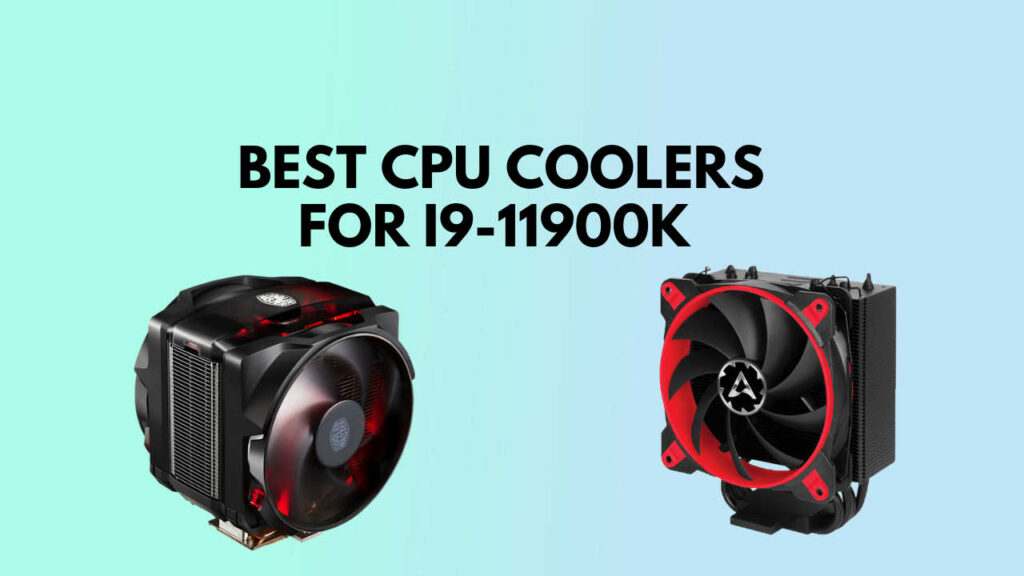 Best CPU Cooler for i9-11900K Reviewed
How well the cooler cools your CPU down and handles the temps inside matters a lot. In the case of such a high-end CPU like the i9-11900K, you should be hellbent on getting the best possible option.
Before moving into that, let's talk a bit about this processor itself.
The Core i9-11900K is a processor from the 11th-Gen Rocket Lake series. It is the first microarchitecture chip that Intel brought into the market after six long years. The Cypress Cove architecture that this processor comes with, banks on the 14nm process. As a processor, it is compatible with the Thunderbolt 4 and also supports PCIe 4.0 interface.
If I compare it to the previous 10 core Comet Lake series, there is a 19% IPC gain on the performance. Also, in this 11th Gen series, the GPU performance experienced a massive boost. Compared to the previous 10th Gen, which had a lackluster integrated graphics performance, this is a vast improvement.
Sounds exciting… Isn't it?
Well, it isn't over. This i9-11900K is a hell of a chip, which can give you a considerable boost in gaming. If I talk about the all-core boost, it clocks 4.8 GHz, and for dual-core, it goes beyond 5.1 GHz smoothly. Especially if you try overclocking, I would say this model would turn out to be better than its AMD counterparts like the Ryzen 5900x. Even if you try, you can overclock beyond 6.0 GHz on some particular scenarios. Now, as the OC potential is too damn high, you need to be cautious and play it safe.
However, in the market, you can get lost out there bobbing in the water of numerous options. The challenge is to choose the right one from them. And to help you out with that challenge, I am here, my friend.
Therefore, let's not waste any more time and jump right into my review.
Here are the nine best CPU coolers for i9-11900K:
1. NZXT Kraken Z73
There is a good reason why I added this particular cooling solution as my top pick. Its reliable performance, along with the latest features, makes it a top-notch option.
That said, this model from NZXT sports the following specs:
360 mm radiator
Customizable LCD
3x Aer P 120 mm fans

Check Today's Price of NZXT Kraken Z73 ➜➜
The Kraken series of CPU coolers from NZXT is one of the most revered lines of coolers in the PC hardware market. Previously, I had used this model for the 10th-Gen Comet Lake series, and it turned out to be pretty good.
Now, as a flagship cooling solution, it is a potent option for the Core i9-11900K.
Let me tell you why.
In terms of quality and build-up, this CPU cooler is top-notch. It offers striking visuals as well as top-end functioning. Those impressive visuals are visible through the customizable LCD that is present on the pump face. Also, you can view various stats like the CPU temperature, fan speed, pump speed, etc., through this LCD.
Also, check out our expert's recommended best NZXT AIO coolers.
Besides, the NZXT CAM software enables you to customize the screen with images, animation, or even GIFs.
As an AIO cooler, this model supports all the latest socket types from Intel, so compatibility issues.
The heart of this cooler is the 7th Gen pump, which ensures reliable performance and stability. Regarding the pump base, it includes a cold copper plate with a quality thermal compound. You will also have the flexibility to rotate it the way you want.
The 3x fans present are of top quality. They run at a decent speed and manage to pull out hot air. However, at max RPM, they can get a bit loud.
When I tried and tested this AIO cooler in my i9-11900K build, the cooling performance level was exactly what I expected. Especially during overclocking, the cooler ensured that temps remain within levels. Even when I was gaming at 4K, it did well to tame my GPU.
The cooling performance is exceptional, which makes it one of the best 360mm AIO cooler in the market.
The pricing of this cooler is the only downside that you should worry about. But that's only when you are short of money. Overall, with a 6-year warranty, this is by far the best option that you can get for your Intel 11th-Gen build.
2. EK-AIO Elite
Watercooling is always a viable option for handling the temps inside your rig. The model does that same job of proper handling.
Now, as a water-cooling solution, it sports some table specs:
Fan speed: 500-2200 RPM
Noise: 36.4 dBA
Aluminum radiator of the notable specs:
Fan speed: 500 – 2200 RPM
Aluminum Radiator
Noise level: 36.4 dBA

Check Today's Price of EK-AIO Elite ➜➜
This watercooler from EK stands out from high-end cooling solutions. If you're looking for the best LGA1200 socket cooler, the EK-AIO Elite can do the job. I added this to my list for its superb output and impressive capability.
As a cooler, it's quite different from other options in the market. The reason is unlike those coolers, it sports a custom in-house solution. It means that this model bears a touch of innovation. And that touch is relevant to the pump, whose design is based on the company's SPC series.
Built-wise, the cooler is exceptionally durable. Also, the 360 mm radiator feels solid and compact. The fans present inside provides a fantastic airflow.
Now that I tested this cooler in my 11th-Gen Intel i9-11900k build, I felt that it does a decent job. I mean, I am a person who likes to overclock it to limits. I was a bit reluctant with this processor, but after hearing from a few gamer friends, I tried. And thank god, it turned up pretty well, thanks to this model from EK that optimized the temps quite well.
Setting up the cooler also turned out to be easy for me, with no issues regarding clearance. It might block a DIMM slot in few builds, but you got the option for rotating the pump. Therefore, no serious problems.
However, it might not be that serious, but no one likes noisy things. The fans can get a bit loud at 100% RPM, but I am sure you can handle this if you are smart enough.
The warranty of 5-years is awesome, in my opinion. But the price might raise some eyebrows to budget buyers. However, if you ain't them, I must say that you got almost no reason for not buying this water-cooling solution.
3. Corsair H150i Elite Capellix
Mate! You looking for a cooling solution for your all-white gaming rig? I got you the perfect option.
This model sports the following features:
Fan Speed: 400 – 2400 RPM
Zero RPM fan profile
Controlled by ICUE software
3x Corsair ML120 fans

Check Today's Price of Corsair H150i Elite Capellix ➜➜
Corsair is the brand I love. I used a good number of products from them to date, and to be honest, I was rarely disappointed. In the PC hardware scenario, they are a big shot.
That said, this model from them is one of those high-performance options that can cater to the needs of high-end gaming builds.
I added this liquid cooler to my list because of a variety of reasons. It can give a massive boost to the aesthetic value of your gaming rig.
In my opinion, the cooler looks fantastic. Especially the white radiator, pump, and tubing matches perfectly with the theme of the all-white build.
Now, if you are an RGB enthusiast, I must say that it is one of the best RGB CPU cooler that you can get from the market. The pump bears 33 LEDs so that it can give some exquisite lighting. Also, in the trio of fans, you'll see each of them carries 8 LEDs. Overall, when they run at full speed, the vibrancy in lighting is top-notch.
Besides, these fans do the liquid cooling job pretty well. In my i9-11900K build, these fans gave a decent output. Although, at times, these fans got a little bit noisy. But that's no major issue as the temps were optimized pretty well. And all of this optimization I did is with the Corsair ICUE software.
As software, it was ever-responsive. No bugs were there at all. With this, you can control fan speeds, change lighting patterns, and so on. Also, what I liked the most about this option is its easy installation process. It takes less than ten minutes.
Moreover, as a liquid cooler, it's a reasonable option that you can get with top-end specs.
4. Noctua NH-D15
Let's talk about an air cooling solution now. Some air coolers can compete toe to toe with some liquid coolers. This model from Noctua is exactly of the same type.
As a cooler, it comes with the mentioned specs:
2x NF-A15 fans
6-Heatpipe design
Fan speed: 300-1500 RPM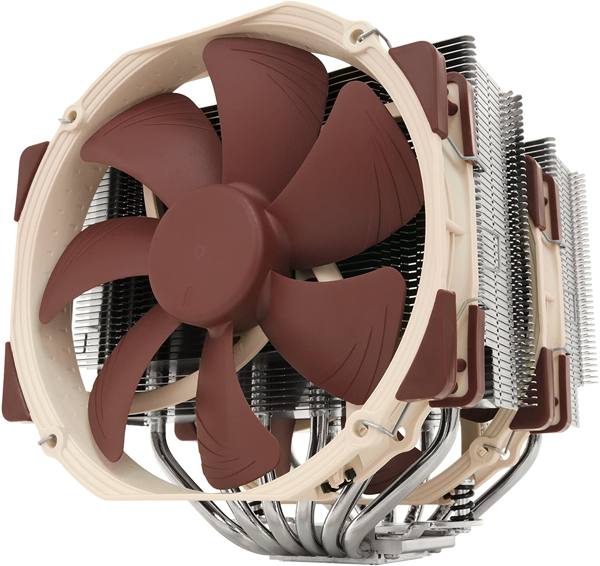 Check Today's Price of Noctua NH-D15 ➜➜
Noctua produces some of the best air cooling solutions. If you list five topmost air coolers currently in the market, at least 3-4 of them would be from this brand. That said, this particular model is one of their flagship iterations.
It possesses a dual-tower heatsink along with a pretty compact design.
In my opinion, as a cooler, it is way better than its predecessor. And that is because, on most benchmarks, this cooler stood up tall and performed way better than its previous version.
But wait! Are you confused about the NH-D15 and NH-D15s? Check out the differences between Noctua NH-D15 vs NH-D15s to clear up the confusion.
Anyway, the best part in NH-D15 is:
The 2x fans that come with are of the finest class. They are quiet and turn hot air away from the processor with efficiency.
Despite this, there are some factors that you should be aware of. Like, if your build has taller RAM modules, there can be few clearance issues. Also, the price at which this model comes may not seem feasible to everyone.
But, if you ask for my opinion, I would say that as an air cooler, you can't get anything better than this model for an i9-11900K build. It's a perfect alternative to high-end water-cooling solutions.
5. NZXT Kraken X73
This is the second liquid cooler from the Kraken series of NZXT that made it to my list. And the main reason is some top-class performance.
This model from NZXT sports the specs below:
Noise level: 21 dBA
Full CAM integration
3x Aer P fans

Check Today's Price of NZXT Kraken X73 ➜➜
It is an enthusiast-grade AIO cooler that you can get for your i9-11900K build. It comes with a terrific cooling potential as well as great functionality.
Let's talk about the build-up.
I found the materials used in the construction quite durable. In the spec sheet, it says that the radiator is made of top-class aluminum, in my opinion, the claim is justified. It has excellent aesthetics with a cool blackish touch all over.
What's more exciting is the implementation of RGB in the pump face. The pump has a 10% enhancement, creating a vivid RGB ring with top-notch vibrancy. And you can tweak this lighting with the super customisable NZXT's CAM software.
In terms of performance, I would say it fulfilled my expectations. What impressed me the most is the low acoustic output.
Unfortunately, the price is high as it's of enthusiast-grade. However, that is somewhat justified only because of the top-notch functioning.
6. ASUS ROG Ryujin 360 RGB
Let's talk about a cooler from one of the leading PC hardware brands. The cooler from this very brand promises you RGB with performance.
That said, the model attributes the following specs:
Fan Speed: 400-2500 RPM
Fan Noise: 29.7 dBA
77" OLED screen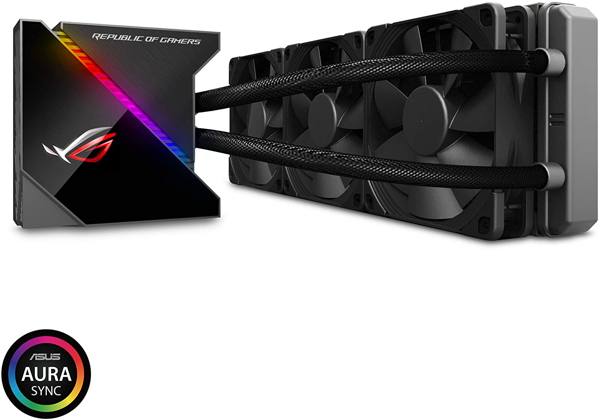 Check Today's Price of ASUS ROG Ryujin ➜➜
ASUS, as a brand, rarely lets me down through its components. Because, to date, whatever I have bought from them turned out to be pretty good. With their line of cooling solutions, they made a good name in the high-end AIO market. Especially with their cooler under the ROG series.
As far as this model is concerned, it comes with some advanced specs. It has 3x Noctua fans, and the best part about them is that all are rubber mounted. Such mounting eventually will result in no vibrations, even when the fans will run at max RPM.
The CPU block is made of plastic and has vented sections that will allow the hot air to pass smoothly.
The best part about this liquid cooler is the OLED screen, which earned its place in the list of our best CPU cooler with screen. You can view the system stats and also can add Images or GIFs. And for customizing this screen, you can use the Live dash software.
The noise output is fantastic, but the 60mm pump fan often gets loud. Other than this, this liquid cooler from ASUS can give tough competition to most high-end cooling solutions.
7. NZXT Kraken X63
If you want a mid-ranged option for your i9-11900K gaming build, this can be the best solution.
This model from NZXT comes with the mentioned specs:
2x Aer P fans
Pump speed: 800-2800 RPM
Asetek 7th Gen pump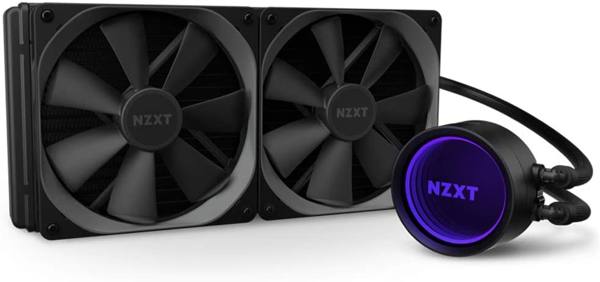 Check Today's Price of NZXT Kraken X63 ➜➜
I just can't avoid the brand NZXT. Their Kraken series has some of the top liquid coolers. Thus, I had to add this one to my list as the third model from the same brand.
That said, it is such an AIO that can easily tame an enthusiast-class gaming PC's temps.
The lighting for this option is pretty gorgeous, as, in the pump face, there creates an RGB infinity lighting effect.
Now, as I was talking about the pump, this model features the 7th-Gen Asetek pump. This pump has plastic and copper internals and is pretty durable. Also, the tubes attached with it are nicely nylon braided.
Performance-wise, I would say it's good enough for the i9-11900K only if you use it usually or don't push it too hard. Like, if you are into extreme overclocking, I won't suggest you use this.
But, overall, as a package, it is useful to a great extent.
8. Be Quiet! Dark Rock 4
Most gamers who often build gaming rigs are quite well known to the brand be quiet!
It is well known for producing whisper-quiet coolers. That said, this model from them comes with the following specs:
135 mm PWM fan
Copper heat pipes
Max noise: 21.6 dBA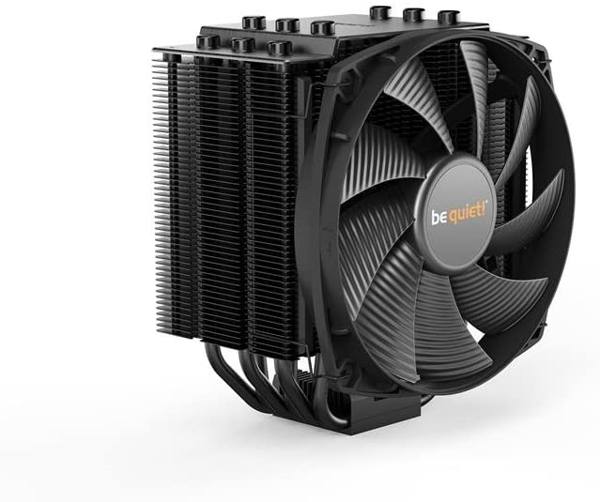 Check Today's Price of Dark Rock 4 ➜➜
We all know about the Dark Rock Pro 4. One best cooler from this brand, which provides superior CPU air cooling performance along with almost no noise.
As an air cooler, this model is just below that model in terms of productivity. It comes with a sleek blackish design. The whole aluminum structure looks nicely polished.
The 135mm fan is a superb element of this cooler. When I was testing, even at high loads, it remained stable, producing low noise. Such stability was there mainly due to the anti-vibration rubber pads.
The only problem with this air cooling solution is that it might obstruct some DIMM modules. But that's only when the modules are too tall.
In a typical scenario, this air cooler is a very good option to buy.
9. Noctua NH-L9i
If you plan to buy a cooler for your mini-ITX build, this model from Noctua would be the right choice.
This model attributes the following features:
NF-A9x14 fan
NT-H1 thermal paste
Fan speed: 600-2500 RPM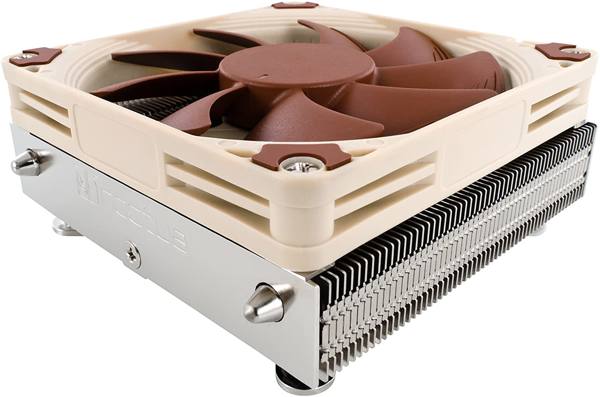 Check Today's Price of Noctua NH-L9i ➜➜
This is the last cooler on my list. And it is perfectly suited for small compact gaming builds.
The L9i is one of the best low profile CPU cooler. Though, the tiny air cooler can outperform many mainstream coolers with ease.
The best part is that it has a height of only 37mm!
It comes with proper socket support. Also, it has a nickel-plated copper base.
In terms of performance, when I used it in my i9-11900k build, the temps were below 65°C on average. And there was almost no noise.
The only downside is it has no RGB elements, and not everyone would like a beige color.
But, if you consider every aspect, this is an adequate air cooling option coming at a low price.
Final Thoughts
So, that's an end to review on some top-performing liquid and water cooling solutions. I have tried to include the best possible options that can meet your i9-11900K builds needs. The best one here is the NZXT Kraken Z73. Although, the other ones are almost equally good given their specific traits. I hope that's enough to find the right cooler for your build.
Still, if you feel anything is absent, do let me know.