Are you struggling to buy the right CPU cooler for your i9 10900K?
Don't worry, you just ended up on the right place.
In a hurry? Here's my Top Pick CPU Cooler this CPU.
Keeping the parts of CPU cool is crucial for its performance and longevity. Now, if the CPU is with specifications like that of i9 10th gen, then it's some serious business for you.
In this post, I am going to review the coolest i9 10900K CPU coolers , along with the process that would help you to have a killer deal.
Also, check out our expert's recommended best CPU cooler for Ryzen 9 5900x.
Best Cooler for 10900k Reviewed
| Cooler Name | Radiator Size | Supported CPU Socket |
| --- | --- | --- |
| Nzxt Kraken Z63 | 280mm | LGA 115x, 1200, AM4, TR4 |
| Aorus Aio 360 | 360mm | LGA 1200, 115x,  AM4 |
| ASUS Rog Ryujin 360 RGB AIO | 360mm | LGA 115x, 1200, AM4, TR4 |
| Thermaltake Floe Riing RGB 360 TT | 360mm | LGA 1200, 115x, AM4 |
| Corsair H115i RGB Platinum | 240mm | LGA 115x, 1200, AM4, TR4 |
I have catagorised the top 11 CPU coolers on the basis of overall looks and performances.
So, here are the Best CPU cooler for i9 10900K:
1. Nzxt Kraken Z63
Nzxt has always been there in producing top-notch AIO CPU coolers. The latest addition to their lineup of coolers is Kraken Z63 which is doing rounds in the market.
It has an aluminum-made 280 mm radiator which provides it quite a good headroom.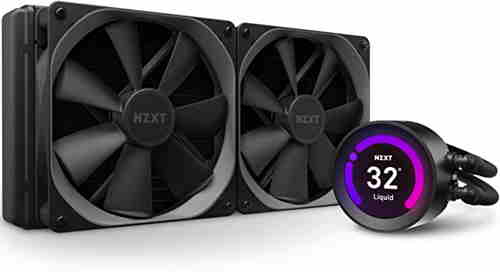 Check Today's Price of Nzxt Kraken Z63 ➜➜
The LCD display that is being installed in it makes it one of a kind.
The pump design that is being done is a much-improved one than the predecessor versions. Also, you will find this cooler having much better CAM software.
Nzxt Kraken Z63, as cooler is designed for people who are looking to things up to a threadripper processor. You would like the extended surface area that is available to allow the heat to transfer from the radiator to the PC case.
Also, Check out our expert-recommended best low-profile cpu cooler for your chassis.
Another thing:
For you it has the aesthetics to offer paired up with RGB lighting, making it look very cool.
The overall cooling performance is top-notch and noise from the fans is pretty negligible to consider. The rotatable top there, will also allow you to have much flexibility during installation.
Here are the pros and cons of Nzxt Kraken Z63:
Pros
»

Top-notch cooling performance

»

Compatible with Intel

»

Radiator size of 280 mm

»

Aesthetic design

»

6 years warranty
Cons
»

A bit costly

»

CAM can be problematic
Also check out the best motherboard for i9 10900K for overclocking.
2. Nzxt Kraken X62
As we have told you earlier:
Nzxt comes up with the best AIO coolers in the market. Here, there Kraken X62 is one of the products from their much-appreciated X-series of coolers.
The Kraken X62 has a radiator with the dimensions of 170 x 143 x 30 mm. With a weight of 890 gm, it has a RAM height clearance of 35 mm.
The number of fans you will find in it is 1 and the fan speed is 500-1800 +/- 300 RPM.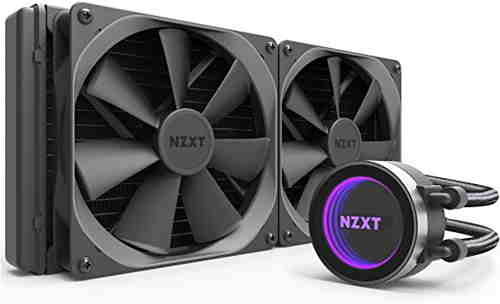 Check Today's Price of Nzxt Kraken X62 ➜➜
Another cool feature is:
You can control this cooler with the software that is aligned with the CAM.
The Kraken X62 can be the ideal cooler for your 10th gen core i9 unlocked processor. As far as its design and finishing are concerned its inch-perfect.
The CAM it has will enable you to control the fan speeds, the pump speeds and even LED's that are set to light up.
Here's a complete guide on how to fix CPU Fan not spinning.
In other words:
The superb control system aligned with CAM helps the cooler give the performance of your desire. The infinity mirror right there in the cooler is also an amazing addition compared to the previous versions of X-series.
Pros
»

Infinity Mirror available

»

Excellent Aesthetics

»

Quality performance
Cons
»

A little Expensive compared to other competitors
Also checkout the best graphics card for i9 10900K for better game playing experience.
3. Aorus Aio 360
Gigabyte has been producing PC components for quite a long time now. In case of PC coolers, they are no way behind.
Their Aorus Aio 360 AIO liquid cooler is one of their best offerings presented to the market.
It is a liquid cooler with a radiator size of 360 mm which is made of aluminum. A 60 x 60 mm color LCD is there along with a pump with dimensions of 80 x 80 x 60 mm.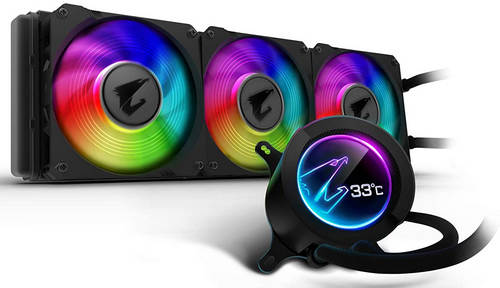 Check Today's Price of Aorus Aio 360 ➜➜
That said:
The fan speed is up to 2500 RPM and the noise level you will get is 18-39.5 dB
The Aorus Aio 360 can be a solution to the heating problems of your i9 10th gen. To the users, it offers good performance with a very low noise level.
Also, check out our separate post on will a CPU cooler work on a GPU.
That is:
If you are fond of liquid coolers that produce low levels of sound, this cooler is the best option for your i9 unlocked processor.
The other unique thing it has to provide for you is that it has RGB 2.0 synchronisation available. The LCD display on the top will help you to monitor the functions while you are busy with gaming.
The design also complements the fan and Pump RPM control.
Pros
»

Very low noise level

»

RGB 2.0 synchronization available

»

LCD screen helps to monitor components
Cons
»

Have to install two different software that aren't linked

»

Motherboard bios will not be able to have access to all features of cooler.
Also, keep in mind that your RAM needs to be good for achieving an excellent performance out of your PC. You can check out our review on best RAM for i9 10900k for more info.
4. ASUS Rog Ryujin 360 RGB AIO
For an AIO liquid cooling solution, the ASUS Rog Ryujin 360 RGB AIO can be the perfect choice as a cooler for you.
As an ultimate thermal solution:
This cooler is equipped with 3x Noctua NF-F-12 iPPC fans. It has a 360 mm radiator with a classic and pain Asetek type of look.
A 1.8-inch color OLED display is there along with a 60 mm downward facing fan, which helps the airflow around CPU socket. The noise that the fan produces is up to 31 Db and it has an overall warranty of 3 years.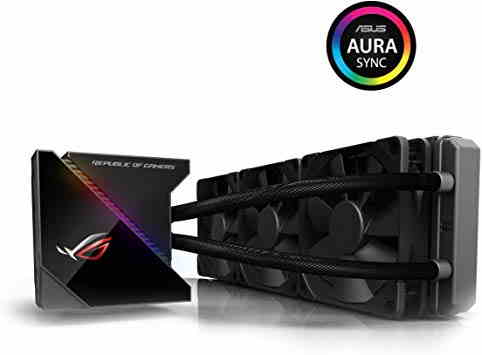 Check Today's Price of Ryujin 360 ➜➜
Overall:
This cooler is a great product for use. The performance level is high as it can keep temperatures low with low sound levels despite having 3x fans.
It will not only improve your PC performance but also help to keep a quiet environment around you.
The radiator it is equipped with is okay and is attached using flexible fabric tubes which are quite strong.
You will get the pumping stations featured with RGB lights and the OLED display there will help in showing you relevant information.
Pros
»

Low noise levels

»

Easy to install

»

Customizable OLED display

»

The performance level is good enough
Cons
»

Wires are relatively short

»

Price is high

»

You can't have access to all features if your device isn't from ASUS
You can also check the best cpu cooler for i7-10700k.
5. Thermaltake Floe Riing RGB 360 TT
If you are someone for whom, the performance and aesthetics both matters then this cooler is for you.
Then:
Thermaltake with this cooler offers you a whole new version of AIO cooler.
It has multiple socket compatibilities. The water block material of this cooler composed of copper and the radiator it has is 360 mm long with a thickness of 27 mm.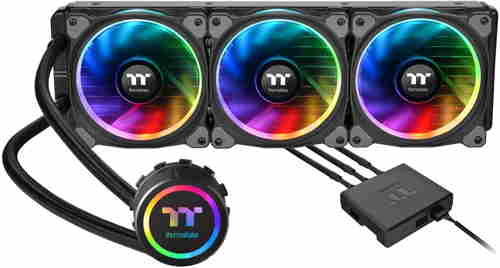 Check Today's Price of Floe Riing 360 TT ➜➜
You also need to know that:
It has 3x fans of premium editions that can reach a speed in between 500-1400 RPM.
The noise level the fans has to offer is within the range of 19.8-24.7 dB and 5 pins are there for connecting those fans.
Check out the easiest way to fix noisy CPU cooler.
It's quite amazing that:
This cooler gets the job pretty well done when it comes to cooling.
You will find this cooler very easy to install in your system. With the noise level mentioned above, it seems it won't annoy you at all let alone your surroundings.
Overall, it can keep your processor healthy, cool and active.
Pros
»

Easy to install

»

Software is there to control fan speed and RGB lighting

»

Performance level high despite small fan blades.
Cons
»

9 pin cables for fans can only function with a controller
Also check out the best motherboard for i7-10700k.
6. Corsair H115i RGB Platinum
If you are looking for liquid cooling options, then this model from Corsair might be the one you are looking for.
The Corsair H115i has multiple socket compatibilities ranging from Intel to AMD.The radiator you would find in this cooler is made of aluminum with the dimensions of 322 x 137 x 27 mm.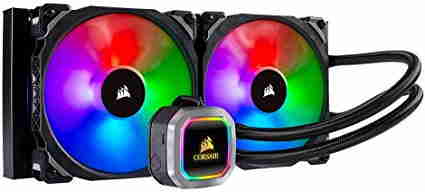 Check Today's Price of Corsair H115i RGB Platinum ➜➜
That said:
The cooler has a weight of 830 gm which is quite light compared to other models. It has 2x fans, each being 140 mm with their speed ranging in between 360-2200 RPM.
The noise level is kind of mixed type and it ranges between 28-50 dB. You would also find this cooler, having features like that of Zero RPM fan mode and Corsair ICUE.
Last but not the least:
You will get a warranty of 5 years if only you buy this product.
Corsair with this model has brought a unique AIO liquid cooler in the market. This model definitely has shot in competing with Kraken X62 as the best available AIO cooler in the market.
Check out our experts tested and reviewed the best NZXT AIO coolers.
You would be amazed to know that:
This version of Corsair's AIO cooler is one best adaptation of RGB on any type of cooler.
You would find this one quite easy in case of installation. The aesthetics along with the build quality is worthy of the price you are going to pay.
Pros
»

Easy to install

»

Excellent cooling performance

»

Top-notch design and build-up

»

5 years of warranty
Cons
»

Not compatible with all types of cases

»

Noise is high at Max RPM

»

Quite expensive
Also go through our exclusive tutorial on are AIO water coolers for GPUs worth it.
7. Noctua NH-D15
The Noctua NH-D15 is a high-end air cooler and one of the flagship products of the brand.
The best part is:
It is the upgraded version of the brand's D14 and it's much improved in terms of quality.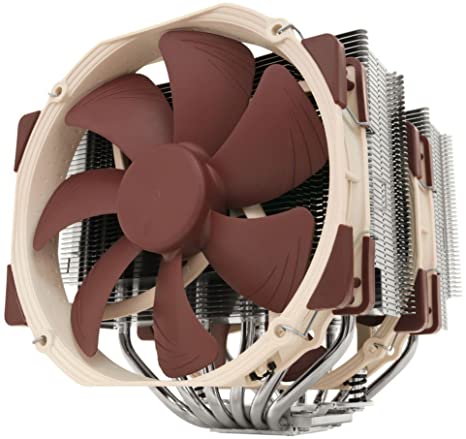 Check Today's Price of Noctua NH-D15 ➜➜
It is a heatsink type of cooler, with 6 heat pipes being installed in it. You will also find it to have high RAM compatibility when it is in a single Fan mode.
The fan speed ranges up to 300-1500 RPM with the noise level being 24.6 dB. Overall, the weight of this heatsink is 2.61 kg and the warranty you will get is of years.
As far as performance is concerned:
The Noctua NH-D15 beats its predecessor. The noise level you will experience is very low compared to the competitors.
One question left is:
Will you face any difficulties while installing?
Well, the answer is no. The installation is quite easy, don't be buffed by looking at its size and weight.
You might find the product to be expensive but it's worth the money compared to the features provided.
Pros
»

Installation is easy

»

2x 140mm fans

»

Noise level low
Cons
»

Quite heavy

»

Very expensive

»

Creates hindrances in motherboard slots
If you want to overclock your CPU, here are some awesome budget best cpu cooler for overclocking.
8. EVGA CLC 240
For a liquid cooling CPU cooler, EVGA CLC 240 can be a great option for you.
This is a cooler with a radiator made of aluminum having the dimensions of 276 x 122 x 28 mm. There are 2x fans available in this cooler each being of 120 mm in diameter.
The fan speed ranges from 500-240 RPM with a noise level of 16-40 dB. Another thing you need to know is, RGB LED available in the cooler is fully controllable.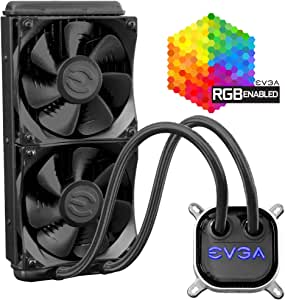 Check Today's Price of EVGA CLC 240 ➜➜
As a mid-range cooler:
EVGA CLC 240 can be a perfect i9 overclocking cooler.
The output that it gives is good given the price tag it has. The fans installed in it can often get noisy but the performance level is cooling the PC components makes it quite bearable.
You won't find any over the moon RGB lighting in this cooler like that of Nzxt or Corsair. But depending upon what you pay for this cooler, the output is outstanding.
Pros
»

Affordable

»

Performance level is very good

»

Fans are pre-installed
Follow our guide to know are AIO coolers best as intake or exhaust.
9. Cooler Master MA410M
If you are looking for a mid-range cooler with RGB lighting facilities, you can opt for Cooler Master M4A410M.
It is a heatsink type of cooler where the sink is made of aluminum. The sink has 4 pipes each being of 6mm.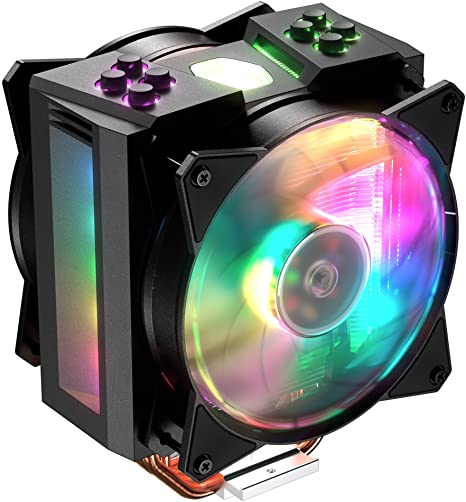 Check Today's Price of Cooler Master MA410M ➜➜
Adding to that:
The fan speed ranges within 650-1800 RPM which results in noise level within 6-31 dB. The weight you will find is quite light which is of 1.13 kg and it offers a good warranty.
It not only provides you with an excellent cooling system but also provides a decent RGB lighting system.
You can install this cooler very quickly like within 4-5 minutes. You might not have the performance level of the high range coolers, but whatever it offers to be it slight it's decent on the specs it has.
Pros
»

Not too loud

»

Cooling performance is decent

»

The RGB lighting is excellent
Quickly find out how safe is AIO Water coolers are for your system.
10. Cryorig R1 Ultimate
Cryorig has an extensive lineup of coolers since its inception as a company. They are one of the market leaders and R1 ultimately is the largest cooler they have to offer.
This cooler has 2x fans with 140 mm diameter each with dual cooling towers.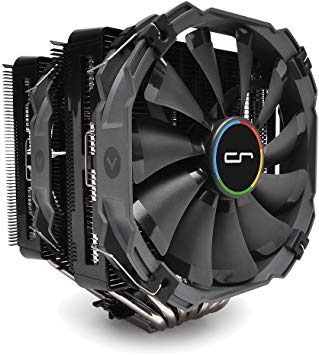 Check Today's Price of Cryorig R1 Ultimate ➜➜
In addition to this:
The fan speed ranges from 700-1300 RPM, producing a noise level within 19 -23 dB. The heatsink it has is made of aluminum and the heat pipes are 6 mm each.
You can customize this cooler using the CUSTOMODE cover and the jet fin accelerations system serves to control the speed limits of fans.
The cooler has a weight of 970 gm and you will get a 3 years warranty upon buying.
To be honest:
As a cooler, Cryorig R1 Ultimate can be an exceptional deal for you.
The performance level that it offers is commendable. You will find it quite easy to install and also a free upgrade kit is given which can also be of great help.
Above all:
The exceptional build-up gives it a premium vibe which makes it a high range cooler.
Pros
»

The noise level is low

»

The free AM4 upgrade kit is provided

»

An extra third fan is also provided

»

Decent warranty
Cons
»

Expensive

»

Blocks Expansion slots
Also, don't forget to check out our best RGB CPU AIO coolers for the ultimate silent PC.
11. Be Quiet Dark Rock Pro 4
Among all the CPU cooler brands, if you always seek top-notch build quality then Be Quiet is a brand to look out for.
Their Dark Rock Pro series of coolers have been the talk of the market for quite sometimes. Their Dark rock pro 4 has 2x fans with a dual cooling tower as offerings.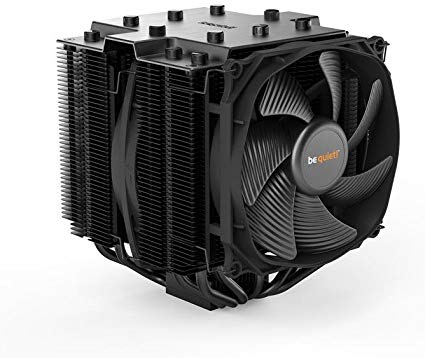 Check Today's Price of Be Quiet Dark Rock Pro 4 ➜➜
Like all other heatsinks:
The heatsink it has is made of aluminum and has 7 heat pipes installed in it. Each of the fans is with a diameter of 120 mm and their speed ranges up to 1400 RPM.
Moreover, you will find the body of this cooler quite classy as it's covered with black ceramic coating.
You would be amazed to know that:
The Dark Rock Pro 4 proved to be an exceptional cooler on every test platform.
Given the offerings this model has, it is a bargain against most top brands out there.
With improved mounting hardware and cool aesthetics, it can be the cooler that you are looking for. Few issues were there, still if you are searching top-notch CPU cooler, opt for this without any hesitation.
Pros
»

Classy and stylish look

»

Low noise levels

»

High performing ability
Cons
»

Large in size and too heavy
Intel Core i9-10900K​ Overview
The Core i9 10900K is the latest flagship processor launched by Intel. This is a processor with 10 cores and the pattern that Intel followed in its architecture is based on Comet Lake pairing up with socket 1200.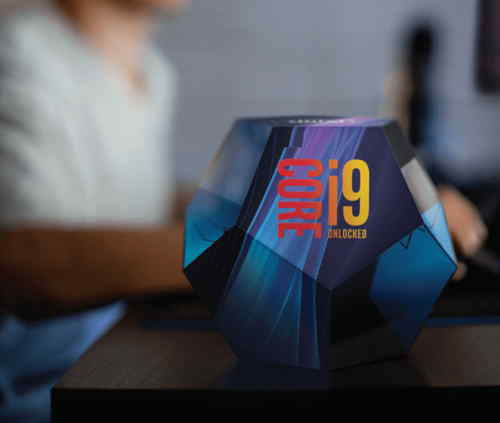 Another thing you need to know:
Intel brought few major changes in this processor that is the core count is doubled because of hyper-threading.
For you adjusting the multiplier would be an easy task, as you can input any overclocking frequency that makes overclocking relatively simple.
For you adjusting the multiplier would be an easy task, as you can input any overclocking frequency that makes overclocking relatively simple.
You would be amazed to know that:
Hardware virtualization is possible in this processor, which will help greatly in improving the virtual performance. The processor can have a DDR4 memory along with a dual-channel interface.
Moreover:
Being equipped with a TDP of 125 watts, this processor will result in heating of the PC components due to high power consumption.
So, a very good cooling system is needed about which I am going to discuss in this blog.
i9 10900k Cooler Buying Guide
As mentioned, the core-i9 10th generation processor might have heating issues due to high power consumption. This would result in a problematic situation for anyone and you are no different from it.
Now:
What to do?
Since this processor is relatively new to the market, it's okay not to know about the perfect solution to its heating problems. It's quite normal to be in a fix about which CPU cooler to buy.
As i9 10th gen is an overclockable processor, we have compiled few directives that you should follow.
Here are a few instructions that would help you make the right decision while selecting a good CPU cooler for your core i9-10900K:
Choose a cooler that suits your system
You should look forward to buying that type of cooler that solves your problem best.
If we categorize to CPU coolers, they are mainly of three types. They are-
Air coolers
Closed-loop coolers
Open-loop or custom coolers
All these specific types of cooler has its own traits in giving solutions to overheating of PC. Some of those provide simplest solutions by helping to improve the performance of the system.
Whereas:
Some of them have an added feature of soundless operation while cooling down PC components.
So it is now up to you to decide, what you prefer the most and which specific CPU cooler would be best for your i9 unlocked processor.
Budget
The budget is very crucial for you in shaping the buying process of the cooler. Before budgeting, you need to set your objective on what you are up to.
If you are looking to upgrade your existing cooler, then your budget should be simple.
Or else, If you are up to buying a new cooler for a new system that you build, then the proper allocation is necessary based upon your needs.
In such cases, appropriate budgeting should be your top priority. In no situation, you would want end up with the not the type of CPU cooler that you wanted in the first place
Such occurrence will result only in wastage of money, the money that you could have spent on upgrading other PC parts.
Check the TDP Rating
For selecting the right cooler for your system, the TDP rating is a vital aspect to consider. While buying both the processor and cooler, you will find that each of them has a particular rating.
Now, here's the kicker:
Always buy the cooler that has a higher TDP rating than that of your processor.
Buying the cooler with a lower rating will never do the job that you want. Even, if the rating of processor and cooler are almost similar, still it will do an OK job.
That's why, if your plan is to overclock frequently, then a cooler with a higher rating is a must for you.
Observe the Clearances
Before buying any cooler you check whether its dimensions are compatible with your PC case. In this situation, three factors are predominant for your consideration. They are-
Height of cooler
Bulkiness of cooler
Size of its radiator
You would find coolers in the market that are too tall for specific PC cases.
For this:
You can always look up to the spec sheet that you got while buying the CPU. Better be ensured about height and not waste money on incompatible coolers.
The same problem you might face regarding the bulkiness of the cooler. It is better for you to avoid high-end air coolers, as it would get in the way of taller memory kits in slots of your motherboard.
That said:
The radiator size is also something you should consider.
Especially when it comes to liquid cooler, radiator sizes of the coolers available are variable. Before buying, you should always check the spec sheet to see if your case can fit the AIO cooler that you need.
Level of sound
The level of sound can be a deciding factor for you in buying a cooler. Not everyone wants the coolers that only that stresses only on enhancing the performance.
That said:
If you are someone who likes a quiet environment mostly in-home or office, then a cooler with a larger fan is for you.
You might be wondering:
Why the size of the fan is under consideration?
Well, the large fans tend to produce less noise than that of the smaller fans.
CPU socket
In the market, you may find coolers that would be compatible with only certain models of CPU sockets.
Though most manufacturers produce coolers, keeping in mind about a general type of socket.
But:
You never know, what might happen. Thus, while buying make sure that you have your spec sheet with you to know about the socket.
i9 10900k Cooling Guide
This depends upon the usage yours. Both Air Cooling and Water Cooling has their own specialties and setbacks.
Now, Your processor is the latest available one in the market. It is highly overclockable and heat consuming. The price you paid for this is also on the higher side.
Obviously you should opt for the best option that can keep your system healthy.
Water cooling as process is quite effective than that of Air or traditional cooling system. But you might have budget constraints for which water cooling could be a distant option for you.
In that case:
Opt for traditional one for some time being.
Final Thoughts
Choosing the right cooler is always essential for you PC, as it can dictate the overall health and PC performance.
For Intel core-i9 10900k, it's crucial for you to choose the right cooler. As it's a new release, you might find difficulties in selecting the right one
We came up with 11 best CPU coolers for i9 10th gen available along with a buying guide with the help of which you can make a decision. Still, if anything bothers you feel free to ask in comments.