CPU cooling solutions are always hard to choose. Since the overall gaming performance of your system depends mainly on the cooling potential of your CPU Cooler, it's a crucial choice to make.
Because if you get it wrong, all the money you are going to spend will go to waste.
But no worries, fellow gamers.
The Deepcool Gammaxx 400 can be the desired air cooling solution that can cater to your gaming needs. And after reading this review, you'll clearly understand the reason why I am telling this.
So, let us waste no time and jump right into the review.
But before the review, let us have a quick look at the specs:
Specifications
Number of fans: 1
Fan Dimensions: 120 X 120 X 25 mm
Noise Level: 17-30 dBA
Fan Speed: 900 – 1500 RPM
Bearing Type: Hydro Bearing
Power Input: 2.28 W
Maximum Air Flow: 74.34 CFM
Socket Compatibility: Intel – LGA20XX/LGA1366/LGA1200/1151/1150/1155/LGA775
AMD – AM4/AM3+/AM3/AM2+/AM2/FM2+/FM2/FM1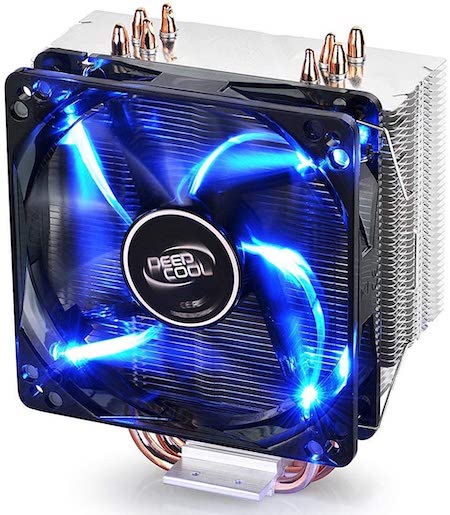 Here are the main reasons why you should buy the Deepcool Gammaxx 400 cpu cooler:
1. Level of Noise
Be it air cooling solutions or the AIOs, the noise level of the coolers does matter to some.
CPU Coolers, in general, produce noise. The noise level varies in different models and somewhat depends on the brands. Generally, the CPU cooler brands that are focused mainly on high-end solutions produce less audible coolers.
But that doesn't mean that the brands focused on the mid-range and budget options have noisy coolers to offer. It's just that the number of options is way less than the high-end ones.
As a CPU Cooler brand, Deepcool is top-tier, in my opinion. It has some of the finest cooling solutions under its belt. The ones I used to date turned out to be good and, most importantly, were modest in the case of the sound levels.
But the question is, are you okay with high levels of sound?
If you are not, I must say that the Gammaxx 400 can be a good option for you. It offers a decent sound level that anyone seeking low noise would prefer
In my testing, I found that this air cooler stays within the range of 17-32 dBA. If I compare it with contemporary models like the Be Quiet! Shadow Rock Slim, this cooler is way better. Maybe,
The models from Noctua can have a slight edge over it. But I can assure you that the difference would be meager.
The best part is that even under full loads, the fan does not produce noise that exceeds 32 dBA. It can't get any better, isn't it?
Therefore, as a less audible cooler, the Gammaxx 400 fares up pretty well.
2. Clearance
Another critical aspect in any CPU cooler you should look at is the clearance level it provides.
Before that, are you aware of what clearance is for a gaming build?
Let me break this down. Clearance mainly signifies whether a PC component blocks the way of another component. Primarily the components with a high clearance level are the most compatible ones in a gaming system. And that is because they fit in almost every build without causing any obstructions.
But here's the kicker:
The clearance depends on the type of PC case you would be using. If you plan to accommodate a high-end cooler on an SFF build, that would never be befitting. It would definitely obstruct RAM modules or the GPU.
That is why you should first ascertain the type of cooling solution you need for a particular build.
The Deepcool Gammaxx 400 is a slim-tower cooler, which is highly suited to full-tower or Mid-tower builds. But if you plan to use it with a micro-ATX motherboard, I would say it would be a terrible decision.
It would surely get in the way with other components as it's taller, making it unfavorable to the SFF builds.
That is why the best solution would be to avoid making SFF gaming builds if you want to have this as a part of your system.
3. Aesthetics
If you want your gaming rig to look eye-catching, the aesthetics of every component would matter to you. The reason is the aesthetics of a total gaming rig don't depend on a single component.
Instead, it is like a total combination of the gaming peripherals in or outside the rig.
Now, the CPU cooler isn't out of this. Mostly the coolers that have RGB elements are considered to be aesthetically pleasing.
Primarily, the fans of the coolers with RGB LEDs produce some top-notch vibrancy, which looks attractive.
In this air cooling solution, I am sure that you would like the RGB iteration. It consists of blue LEDs in the fan, which produces a soothing bluish glow.
It might not be something very extravagant, but for a softish touch in the lighting, it is superb, in my opinion.
But if you want to light up the PC case with colors, here are the 7 best RGB CPU AIO coolers available right now!
4. Compatibility
Before making a purchase you should always check whether your CPU cooler is compatible with your system or not.
Mostly the issue of compatibility arises in the case of CPU sockets.
Though, most of the brands produce coolers for all types of sockets available. There are specific CPU coolers that only cater to a particular type of sockets, which the gamers need to know.
That is why you need to check whether your build supports a particular cooler or not.
For the Deepcool Gammaxx 400 air cooler, there are no such types of restrictions. This cooler supports most of the latest sockets from both Intel and AMD Ryzen platforms. It's one of the best LGA1200 socket CPU cooler and therefore, you can be tension-free while buying an air cooling solution.
5. Performance
You are seeking a good CPU cooling solution because you want to get a superior output from your system.
That said, CPU performance won't be desirable if the cooling output of your cooler is dang average. It needs to be top-notch for max output.
Now, the Gammaxx 400 delivers something very efficient and effective. Before this, I wanted to water-cool my PC. But this made me believe that one can have a viable solution on a decent budget.
It has an excellent fan that remains quiet most of the time and delivers excellent cooling. In my i5-4570 build, the temps were superb. When I wasn't pushing it, the temps remained around 28-30° C. And when under load, it remained under 55°C.
In my opinion, it can't get any better because such temperatures are rarely found in the coolers that are priced reasonably.
6. Mounting and Installation
To some gamers, installing the coolers matters because no one wants to face the hassle of a lengthy process.
Anyone would prefer easy-going things. That goes the same for you and me. We would love to install the components that require minimal effort as it saves our time and energy.
That said, the installation of a CPU cooler can sometimes be a hectic task. There are always some models that are designed to tire you a bit.
About the Gammaxx 400, I won't say so. But at the same time, it isn't the most easygoing air cooler to install in your build. While I was putting it up in my rig, mounting seemed easy, but the main issue was to lock them accurately.
There can be situations where you may find it a bit difficult to get it on the right spot.
I would say that hooking this cooler perfectly to the build will take some time, which a few might not perceive well.
But it isn't impossible. It is just that you need to invest some time and effort.
If you are interested in other CPU coolers, go through the list of top-tier CPU coolers of 2023.
Final Thoughts
To sum up, this was all for this impressive air cooling solution from Deepcool.
In this review article, I tried to portray all the aspects that will help you decide whether this model is suitable enough for you. I managed to touch all the points that matter for making a proper buying decision.
After this, I hope all your needs and wants about this cooler are met thoroughly. Still, if you feel that I missed out on something important, do let me know in the comments.