The latest Rocket Lake-S processors from Intel took the market by storm. These are some seriously high-end chips that can cater to your gaming needs perfectly.
In a hurry, check my #1 cooler. Or else, relax and read my review on some best-performing coolers.
Make sure that the CPU health remains stable, and you do your gaming without any halts. And that is only possible when your rig has a top-notch cooling solution.
In this article, I came up with some of the best CPU coolers for the i7-11700K.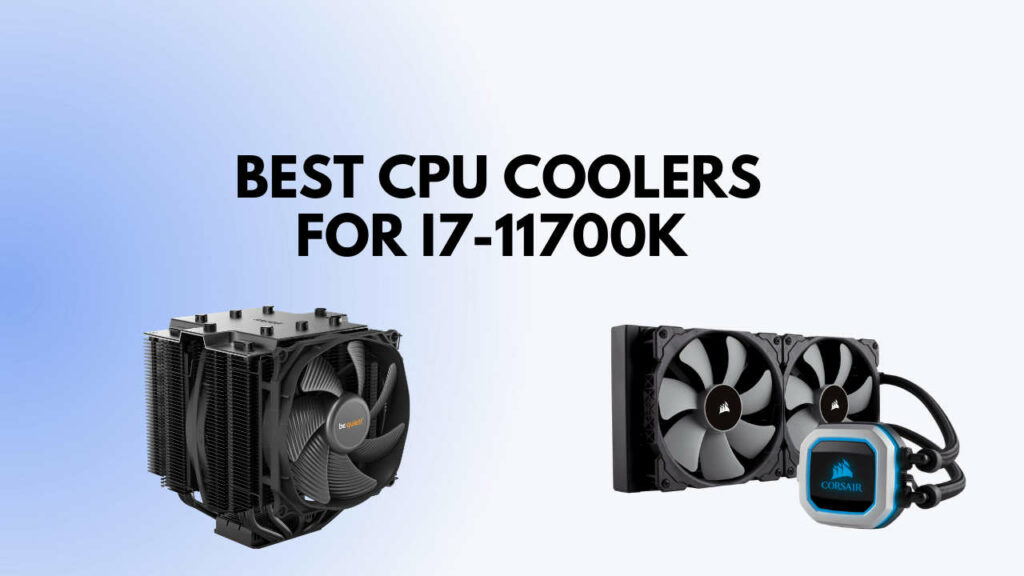 Best CPU Cooler for i7-11700K Reviewed
To be honest, we all know how a CPU cooling solution benefits the performance of a system. Now, for a high-end CPU like i7-11700K, which is sure to produce a good amount of heat, a top-notch cooler is essential for taming the heat down.
I won't waste much of your time. Just letting you know that the list I am providing includes all types of options a gamer would look for.
Here is the nine best CPU Cooler for i7-11700K build:
1. NZXT Kraken X53
The first cooler on my list is from the brand NZXT. To date, the liquid coolers from their Kraken series proved to be quite potent in handling high temps. And this model is also no different.
This model from the NZXT Kraken series sports the following features:
Full CAM integration
Aer P Radiator fans
10% bigger infinity mirror cap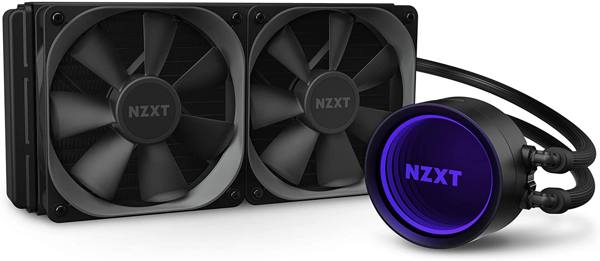 Check Today's Price of NZXT Kraken X53 ➜➜
It is by far one of the most attractive AIO liquid coolers out there in the market. I mean, to be honest, there is no bluff here about its top-notch quality. It comes with a high-quality 240 mm radiator, which is again the smallest radiator in the series of Kraken X coolers.
Also, it comes with flexible rubber tubing, providing outstanding durability. The best part is it includes the 7th Gen Asetek pump.
Now, if I have to talk about the performance, I would say it's enough to cool down high-end gaming builds. About the Core i7-11700K, my testing says that it can handle it pretty smoothly.
For instance, compared to the Kraken X63, the Kraken X53 would feel the environment way hotter. But that's no issue because it functions so that no temperature would feel too hot to handle.
While in idle condition or gaming, the temp levels remain superb. This level is maintained almost the same during overclocking. Therefore, you can easily tame the temperature without any significant issues.
The RGB is quite remarkable in this cooler. Using NZXT's CAM software, you can tweak the lighting. Especially the increased area on the CPU block looks fantastic because of the mirror lighting effect. Plus, you can handle the fan speeds with this same software.
Another thing you need to know is that the longevity of this CPU cooler is relatively high.
A freakin 6-year warranty is what you are going to get, my friend.
However, the price that this model comes with seems way too high for a 240 mm AIO cooler. Also, direct control of the fans isn't possible.
Still, if I sum it up,  the specs that Kraken X53 comes with, this cooler is a top choice for the i7-11700K.
2. ASUS ROG Strix LC 360
The ROG Strix series of gaming products are well-known among gamers for their top-end functioning. Cooling solutions from this very series fared up decently in many high-end builds.
That said, this cooler from this series comes with the following attributes:
3x 120 mm RGB fans
Fan Speed: 800 – 2500 RPM
Noise Level: Max 37.6 dBA
Sleeved tubing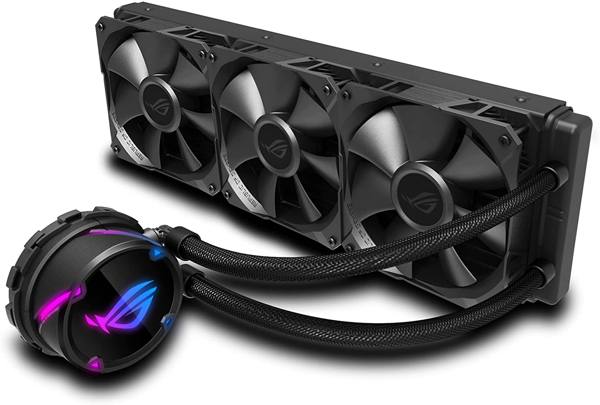 Check Today's Price of ROG Strix LC 360 ➜➜
As a liquid cooling solution, this looks excellent. It is aesthetically pleasing and is a good choice for builders who possess good taste in art.
What I feel is the best part about this cooler is its triple RGB fans. They are high-grade and can make the airflow in the right way in the right direction. Also, they remain almost whisper-quiet.
Now, since they are RGB fans, let me discuss a bit about the total RGB in the cooler.
The pump in this cooler bears the iconic ROG logo and slash-cut patterns. When the rig comes to life, the logo lights up. Believe me, the ecstatic feel you will get from the lighting is unreal. Whatever you may call it, the color burst or the vibrancy, it is the best of the kind.
Performance-wise, it's excellent. High temps were quickly under control. Even during the all-core clock, which reached 4.6 GHz, the rig didn't get overrated.
The installation was also pretty quick and straightforward. The only problem with this model is that it's overpriced. But if money isn't an issue, you should go for this cooler with no hesitation.
3. Corsair ICUE H100i RGB Pro XT
I am making a list of the best CPU coolers, and the brand Corsair will miss out; this can't just happen. They are one of the market leaders, and the cooling solutions from them are of outstanding quality.
That said, this model from them has such traits and sports the following specs:
Zero RPM cooling profile
Magnetic levitation PWM fans
Fan Speed: 400-2400 RPM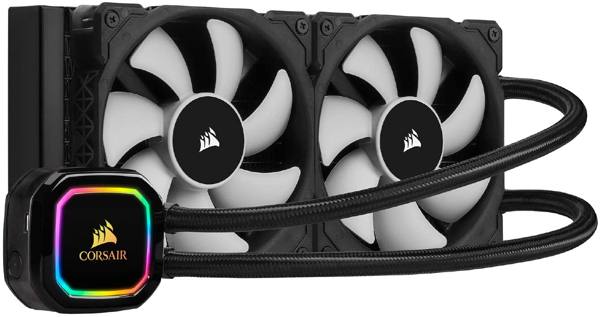 Check Today's Price of ICUE H100i RGB Pro XT ➜➜
It is a cooler of enthusiast-grade, which can cater to the needs of every gaming freak. As a cooler, it is a bit different from its previous iteration, which comes with a glossy front face. Also, the socket compatibility is enhanced.
In my opinion, the pump face looks quite polished. Mainly due to the RGB accents that light up the Corsair logo right on the surface. There are 16 addressable RGB LEDs present in that block for this lighting job. You can control this lighting using the super-responsive Corsair ICUE software.
I found that the cooler stands up and gives a pretty decent output while managing temps in terms of performance. Besides, the 5-year warranty is like icing on the top with such superb features.
4. Corsair H100i RGB Platinum
Here is another model from Corsair that can do a decent cooling job for your 11th-Gen gaming build quite aptly.
This model comes with the notable specs below:
Fan Speed: 400 – 2400 RPM
Aluminum Radiator
Max noise: 37 dBA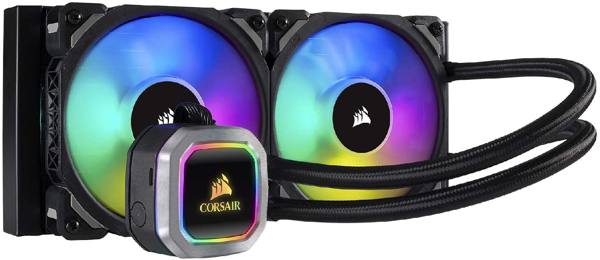 Check Today's Price of Corsair H100i RGB Platinum ➜➜
This model from Corsair isn't only for cooling. It offers much vibrancy with colors. Hereby the vibrancy, I meant that it is aesthetically very pleasing. So, if you are a gamer who needs an aesthetically pleasing rig, this can turn out to be a pretty good shot.
As a cooler, it looks pretty identical to the Corsair H100i Pro. It has a touch of elegance all-over, primarily due to the top-notch finishing.
Fans possess RGB LEDs, and when they run, the glazing effects will catch anyone's eye.
Now, about performance, I would say it's good but not the high-end like. It is decent if you seek mid-range operations. Also, the fans get loud.
Other than this, the cable management is pretty fine and makes sure the hot air isn't blocked while passing.
Moreover, as an aesthetically pleasing cooler, it is worth buying if you don't seek something extreme.
5. MSI MAG Coreliquid 240R
MSI is a top brand and has made great strides over the years. This cooler is an example of how they grew and became the ultimate solution to gaming needs.
This model features the following notable specs:
Radiator pump design
Fan speed: 500 – 2000 RPM
Max noise: 42 dBA

Check Today's Price of MAG Coreliquid 240R ➜➜
It is by far the best color that they have produced. It's unique because it comes with the radiator from design, which means that it is integrated with the pump.
Isn't that awesome? I think it indeed is.
While I was testing, I found that both the fans present in it run decently. Even if you run it at max RPM, the sound level is criminally low. The RGB lighting in the fans is terrific and quite vibrant.
With this cooler, it took a bit of time, but I finally got the temps on a tolerable level. So performance-wise, if not the best of the kind, it's decent.
Other than this, it's a gorgeous cooler that you can add to your build.
6. Deepcool Castle 360EX
Deepcool provides a wide range of PC hardware. The coolers from them, especially the ones from the Castle series, are of top class.
That said, this model from the same series has the following specs:
Anti-leak technology
3x TF 120 fans
Fan Speed: 500-1800 RPM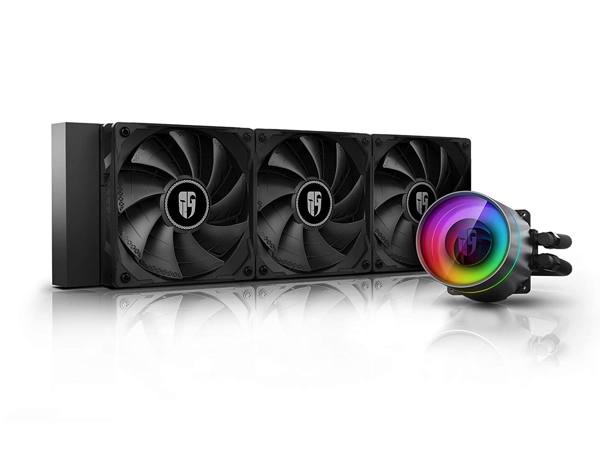 Check Today's Price of Deepcool Castle 360EX ➜➜
These AIO's from the Castle series are fantastic, in my opinion. Especially the model here I am talking about.
This model offers decent cooling performance. It comes with excellent build quality, which also ensures decent longevity.
What I found attractive is its radiator with no fin bents. Also, the cold plate might not have a smoothish nature; still, the milling marks there are insignificant.
In addition, this cooler comes with anti-leak technology, which eventually prevents the coolants inside your cooler from leaking.
Performance-wise, I would say it's standard and perfect for regular use. In high-stress-related situations, when you push the rig to the limits, this might just not be the right option. Also, the cooler often gets loud at times.
In my opinion, it has some good features, but the appearance almost disregards anything.
7. Lian Li GA240A Galahad
If you want something affordable as well as stylish, this liquid cooler can be the right choice.
This model comes with the following specs:
Fan Speed: 800-1900 RPM
2x 120 mm fans
Pump noise: less than 20 dBA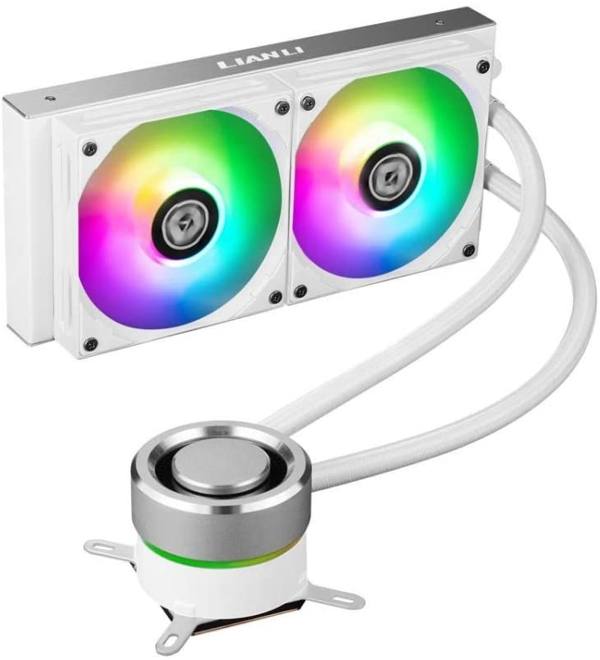 Check Today's Price of Lian Li GA240A Galahad ➜➜
It's not a crime to be a bit short of money. While building a gaming rig, we often make mistakes in the allocation of the budget for specific components. If you made the same mistake and are short of money to buy a cooler, this model is what you should be looking for.
As a liquid cooling solution, it looks gorgeous. The radiator looks fantastic, especially the finishing all overlooks incredible.
Besides, the 2x fans present are phenomenal, in my opinion. They possess a non-transparent nine-blade hub, which is incorporated by ARGB backlighting.
When my rig came to life, I felt that the whole lighting scheme was much more vibrant. I bet such a striking aura of the LEDs present will get you stunned.
As for the output, I won't say that it is the best of the kind. But with the price that you would be paying for this cooler, it is the best you can get.
Overall, I must say that this liquid cooler is an all-rounder. Be it in bits, but it still allows you to feel everything that you get in a high-end cooler at an affordable price.
8. Noctua NH-U12S chromax.black
In the crowd of liquid coolers, how about you opt for an air-cooling solution? There are air coolers that can be as potent as many liquid AIOs. That said, this model from Noctua is the perfect example of it.
This model comes with the following specs:
NF-12 fan
Chromax anti-vibration pads
Max noise level: 19 dBA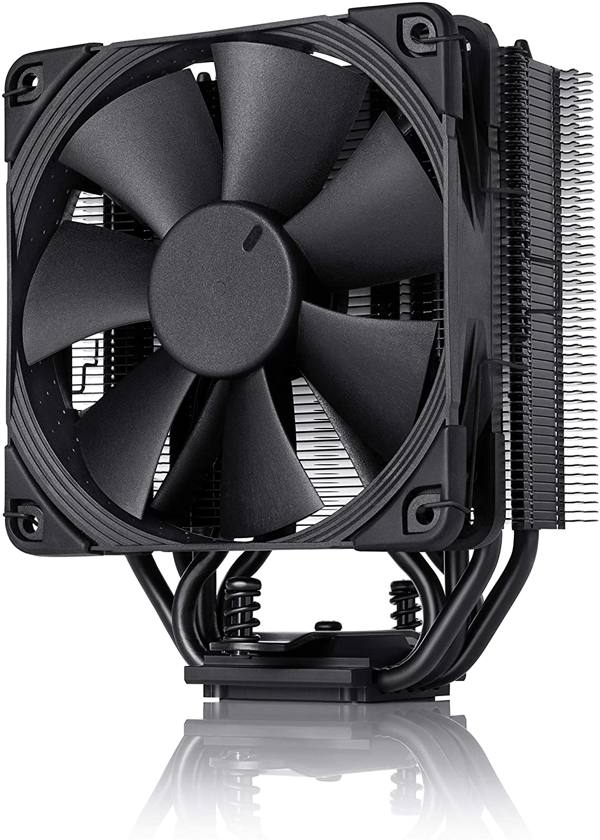 Check Today's Price of NH-U12S chromax.black ➜➜
Air coolers and Noctua are pretty synonymous. If you are to make the best air cooler list, I bet there would be at least 2-3 models from this brand.
This model is one such example. It is one of the best air-cooling solutions that you can get on the market. And what makes it the best is its super silent operations.
Like, even if the fan runs at max speed, you are less likely to feel anything noisy.
It comes with an all-black texture, which definitely makes it a superb option for all-black builds. Also, if you want to add it to regular themed builds, it ain't an issue. The cooler blends in perfectly.
Let's talk about performance now.
For a high-end processor like the i7-11700K, anyone would suggest you use water coolers. But trust me, as an air cooler, it beats any regular water cooling solution in many aspects.
Especially on my stress tests, it brought down the temps below 60°C within a few seconds.
Isn't that amazing?
The CPU cooler installation is pretty simple. You can place it in such a way that it won't obstruct any wiring or memory modules. Also, the price that you need to pay for this model is reasonable enough.
So, for air cooling solutions, this model is by far the best you can get.
9. Be Quiet! Shadow Rock LP
If you are looking for a cooler with a Mini-ITX build, the right option is here for you.
This model attributes the following specs:
4x aluminum heat pipes
120 mm fan
Max noise: 25 dBA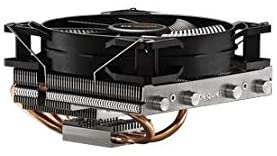 Check Today's Price of Be Quiet! Shadow Rock LP ➜➜
be quiet! is known for making cooling solutions that are highly inaudible. And this model from them is no exception.
It is of short form factor, which makes it an excellent option for compact builds.
It comes with aluminum pipes that do a decent job in heat transfer, making the cooling process relatively easy.
Also, in my testing, I found the fan moving out of the air quite aptly.
However, the installation isn't easygoing. It takes time and would feel complex if you are building a gaming rig for the first time. I suggest that you better watch some instructional videos before.
Nonetheless, a decent air cooler that you can get at a reasonable price. However, you can also opt for a 120 mm CPU cooler as an alternative.
Final Thoughts
For the overall function of your gaming rig, no compromise should be made regarding its health. My list of CPU coolers in this blog exactly helps you to achieve this motive. My top choice here would be the ASUS ROG Strix LC 360. Although, the remaining options aren't anything less either.
Still, after all this, if any question arises, do let me know.