RGB madness is everywhere! Everything from CPU coolers, case fans, RAM sticks, or even cables has RGB lighting. Though RGB lighting is perfect for showcasing your expensive PC components, you need software to control it.
I own a Gigabyte Z690 AUROUS MASTER, and it has RGB Fusion 2.0 app to control all the RGB lighting. But RGB Fusion has been losing traction and is full of bugs. So, I have researched for alternatives to fusion and found some.
If you are facing the same issues with fusion, read this article to find out the best RGB Fusion alternatives.
Let's get hooked up with the best alternatives to RGB Fusion, shall we?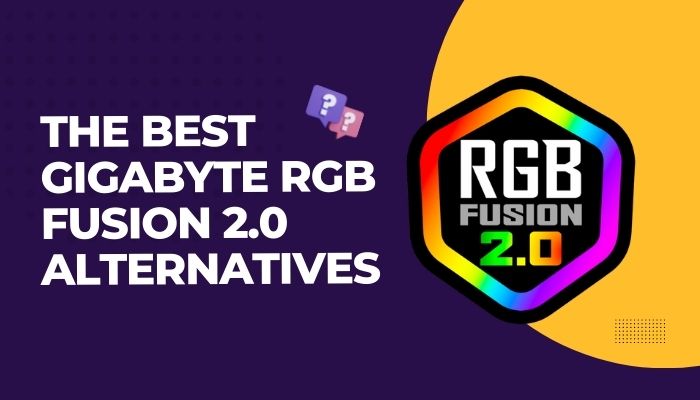 Check out our separate post on best RGB fusion compatible LED strips.
What Are the Common Issues in Gigabyte RGB Fusion 2.0?
Issues like the LED lighting got stuck, inability to detect graphics card, frequent app crashing, synchronization failed with RGB RAM, etc. Also, giving low speed when the RGB effect is applied to overclocked RAM. Including me, others also faced the same issue with the Gigabyte's RGB Fusion 2.0.
Isn't it a pain in the ass when your RGB app failed, and you got stuck with a single lighting effect?
Honestly speaking, Gigabytes RGB fusion 2.0 is a brilliant app. It allows you to control the RGB lighting effects and synchronize the effects across all the devices. You can customize and light up your entire system the way you want. Blinking and flashing, giving rhythmic effects with the music you play —  what can't you do with the app? Just name it.
But RGB Fusion has been losing traction. What a nuisance!
Let's look at the issues of RGB Fusion 2.0 in depth which makes us look for other alternatives.
Check out the main differences between RGB vs YCbCr.
Here are the common issues in Gigabyte RGB Fusion 2.0:
1. The LED Lighting Stuck Problem
Many users who use the Fusion 2.0 app report the problem of stuck LED lighting. Errors appear in the system settings that might cause the light brightness to get stuck. The BIOS settings of your system may cause this lightning problem.
However, you can fix this problem from your BIOS settings. Not everyone's cup of tea is going to the BIOS and fixing the problem. That's why users are looking for alternative apps to control RGB.
Also, check out our separate post on RGB fusion not working.
2. Graphics Card Not Detecting
RGB Fusion 2.0 often fails to detect graphics cards. In order to control the graphics card's RGB light, it is essential to detect the graphics card. That's where RGB Fusion failed to do that.
Besides, many GPUs don't support RGB Fusion 2.0. Please make sure the GPU supports this RGB app before buying.
3. App Not Open Sometimes
You will face issues while opening the app. The app might not open, or it will hang; this is a common problem with Gigabyte's RGB Fusion 2.0.
Some other programs might cause this stuck issue in the Fusion app. Try uninstalling those apps that block your app from opening. Another reason is the app may be incompatible with your hardware. So, make sure everything is compatible with this app.
Also, don't forget to check out best RGB CPU coolers.
4. Fails to Sync with Other Devices
This app often failed to synchronize with other devices' RGB. Sometimes you will see that after applying the effect, your RGB-supported RAM is not synchronized with other devices' lighting effects.
Indeed, it is very painful. You may need to shift to other alternatives to the Fusion 2.0 app.
5. Overclocked RAM Working in Low Speed
This is a significant issue in this app. After applying the RGB Fusion 2.0 lighting effect in an overclocked RAM, you will see the RAM is giving low speed. Though, overclocking makes RAM faster by increasing the voltage.
But, the situation is reversed here. For the RGB Fusion 2.0, you will face a slow down in performance.
So, all the above issues are enough to make you use other RGB Fusion 2.0 app alternatives.  Nobody wants to use a faulty app that slows down your PC's performance. You will need a perfect RGB controlling app to get the perfect RGB lighting effect across all the RGB-capable devices.
Check out our expert's recommended best RGB Hub and fan splitter cable for your ultimate rig.
Top 5 Gigabyte RGB fusion 2.0 Alternatives
This is quite a tough job to filter out the best RGB fusion alternatives. After installing and testing various apps, I found the top 5 apps that work perfectly in my system. I hope these apps will work in your systems too.
I have to install all the apps and uninstall them after testing. Because multiple apps with the same purpose might cause interference with each other, let's look at the top 5 alternatives to Gigabyte's RGB Fusion 2.0.
Here are the best RGB Fusion 2.0 alternatives:
1. JackNet RGB Sync
This software can control a variety of RGB components and get released recently. But it will not support all the functions as the RGB Fusion does. RGB Fusion 2.0 is highly compatible with Aorus Graphics cards, keyboards, and mice.
JackNet RGB Sync might not be that capable with Aorus, but it is capable enough to control all your highly popular RGB components with other manufacturers like Corsair, Asus, Razer, Cooler master, etc. The excellent news is JackNet RGB Sync is an open-source app.
I am using this software to control all my RGB lighting devices, and this app handles all the effects and synchronization smoothly. You can count on JackNet RGB Sync to manage all your RGB lighting.
Check out our experts tested and reviewed the best RGB CPU AIO cooler.
2. Corsair iCUE
iCUE is an RGB controller app from Corsair. It is a top-rated app and is used by many Corsair component users. Who uses Corsair's RGB RAM, casing RGB fans, CPU liquid cooler with RGB lighting, etc., uses the iCUE app to control the RGB.
But, the iCUE app can only control parts and accessories made by Corsair. You can use this app if all your components are by Corsair.
Just download the iCUE app from Corsair's website, and you can control all your RGB-capable device's light effects. You can also synchronize the lighting effects with all your devices, making your PC look cooler.
Also, don't forget to check out our experts tested best Aura Sync Compatible RGB/ARGB LED Strips.
3. MSI Dragon Center & MSI Mystic Light Sync
MSI Mystic Light Sync is an excellent app for you if your primary target is only to control the RGB lighting of your PC components. It is a perfect app for users who want to use a lightweight and fast app to control the RGB lighting.
MSI Dragon Center is a utility app that helps you manage all the devices together from one palace. Both MSI Dragon Center & Mystic Light Sync is a complete package to control all your devices and RGB lights.
But, this app works best on MSI motherboards. I recommend using the MSI Dragon Center app if you don't have an MSI motherboard. MSI Dragon Center works is compatible with every motherboard.
4. ASRock PolyChrome RGB Sync
ASRock is well known for making high-end motherboards. They recently released their new RGB controlling app ASRock PolyChrome RGB Sync in the app market. Controlling the RGB light with this app is pretty simple.
This app deserves a thumbs up for its simple UI and options to customize all the RGB lights individually. Also, the ASRock PolyChrome RGB Sync app supports a wide range of RGB parts and accessories. So, you can try this app without any doubt.
5. Aura Sync
Aura Sync is the most hyped RGB controlling app by the giant and most popular gaming hardware-making company ASUS. ASUS is well known for its top-class build quality and high-end gaming laptop and PC components. The RGB lighting effect is superb when it comes to ASUS's Aura Sync.
The central fact is Aura Sync can control other RGB components rather than ASUS's products. But you have to remember that Aura Sync can only work when you have an ASUS motherboard.
On my PC, it didn't work properly because I am using a Gigabytes Z690 motherboard. Though, it will work like magic if your motherboard is from ASUS and supports Aura Sync.
Look at the spec sheet of your ASUS motherboard to know whether it's compatible with the Aura Sync. So, these are the top 5 best Gigabytes RGB Fusion 2.0 alternative apps.
I have tested each of them and enlisted in this article. Every app is top class when it comes to controlling the RGB lighting effect of your entire rig. Try to test each of them and install the one which is best compatible with your system.
FAQs
Is it possible to use Corsair components with RGB Fusion?
Yes, you can use Corsair's RAM, Coolers, Keyboards, and mice with RGB Fusion 2.0. Every corsair's components are fully compatible with Gigabyte's RGB Fusion 2.0.
Does the gigabytes motherboard support other RGB softwares?
Well, it depends on the compatibility of the alternative softwares. You will need to test other apps on your Gigabyte mobo and determine which app works best to control the RGB lighting.
Is it necessary to have an RGB Fusion running?
Yes, RGB Fusion must run all the time to run all the lighting effects perfectly throughout the devices. But you don't need to run RGB Fusion all the time manually; it will start with the system automatically by default.
Wrapping up
I hope you have already gone through the entire article and know which app is best for you. If you ask me, I will definitely recommend the MSI Dragon Center app. It is a lightweight app and supports many RGB-enabled devices and accessories.
You can custom-tune and synchronize the RGB effects among various devices. But all the apps I have enlisted in this article have advantages and disadvantages. It will be wise to choose the perfect software for you by testing each one.
If you face any issues while testing them, please let me know in the comment below. See you at the next one. Best of luck!