Do you want to build a gaming rig with the Intel's latest i7-10700K processor?
I must tell you that while building a gaming PC you should look for a very good cooler before anything else.
In a hurry? Just get my #1 recommended Cooler.
Likewise in this post, I am going to share about some great CPU cooler for i7-10700K along with a buying guide.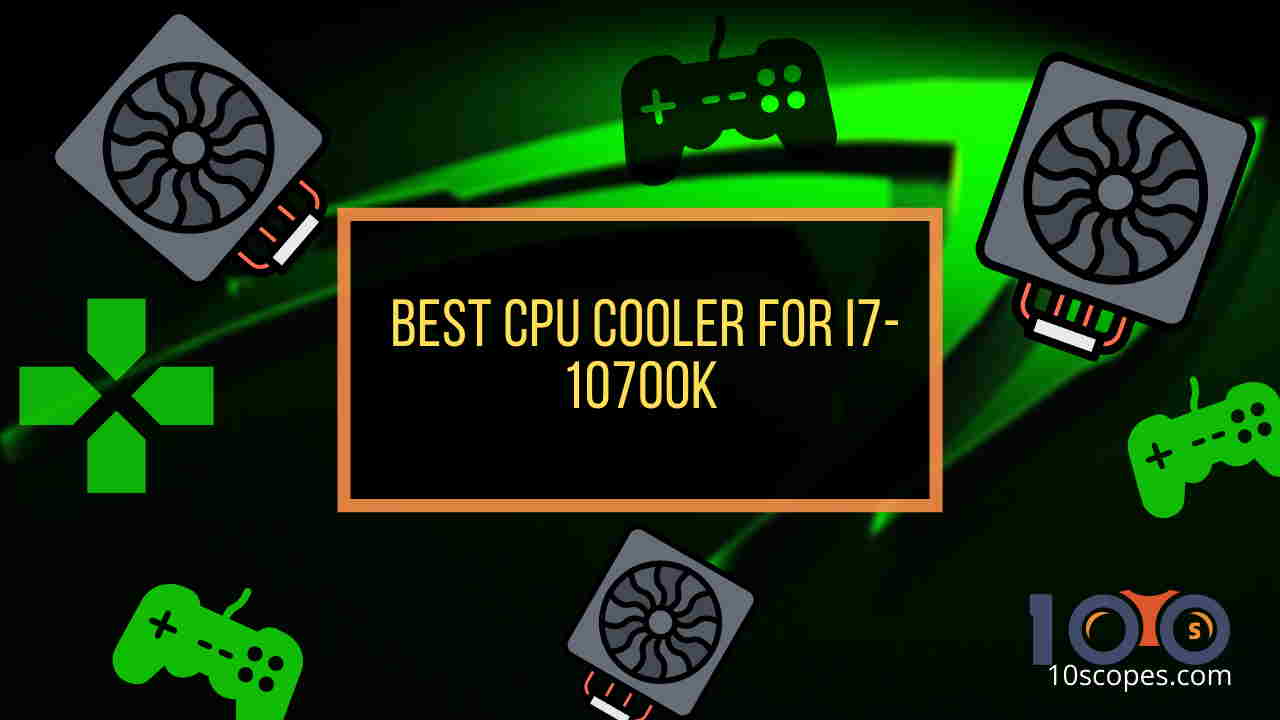 Best 10700K Coolers Reviewed
| Cooler Name | Cooler Radiator Size | Supported CPU Sockets |
| --- | --- | --- |
| ASUS ROG Strix LC 360 RGB | 360mm | LGA 1200, 1151, AM4 |
| NZXT Kraken Z73 | 280mm, 360mm | LGA 115x, 1200, AM4, TR4 |
| Cooler Master Masterliquid ML360P | 360mm | LGA 115x, 1200, AM4, TR4 |
| Fractal Design Celsius+ S24 | 240mm | LGA 115x, 1200, AM4, TR4 |
| Deep Cool Castle 360EX | 360mm | Intel LGA 20XX, 115x, 1366 |
Intel i7-10700K is an unlocked CPU. So, you can overclock the processor. But you will require a suitable motherboard for i7-10700K to prevent any issues. And while you will overclock the chip, you will require a good CPU cooler to avoid any thermal throttle.
There is an abundance of CPU coolers out there in the market. Among them, the best ones come in different price tags, shapes, and sizes.
Here are the 9 best CPU coolers for i7-10700K:
1. ASUS ROG Strix LC 360 RGB
ASUS has been producing quality components for gaming rigs for a long time now.
If I have to talk about CPU coolers, then they are a top choice as a brand among most buyers.
Coming to their line of CPU coolers, the ASUS ROG Strix LC 360 RGB is the perfect option for the latest version of the i7 processor.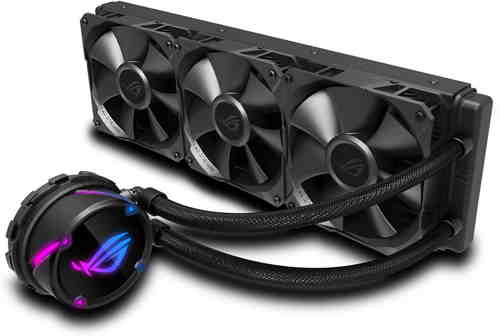 Check Today's Price of ASUS ROG Strix LC 360 ➜➜
ASUS ROG Strix LC 360 comes with amazing features like:
3x 120mm addressable RGB fans
360 mm Radiator made of aluminum
CPU socket support for Intel LGA 115x
Water block with a dimension of 80 x 80 x45 mm
Aura Sync compatible
Talking about the design, this PC cooling component comes with a closed-loop design.
In this model, the pump design is much improved. The cooler comes with a cooling plate design which facilitates the dissipation of heat.
It is one cooler that every RGB lover can look up to. The optimized fan design enables an optimum level of performance along with superb lighting effects.
The lighting color can be customized with the software provided to match the aesthetics of your system.
In addition to that, this PC cooler is compatible with both AMD and Intel motherboard platforms.
As the best PC cooler for your i7 chip, it is a great deal to make.
Pros
»

Superb RGB

»

Durable

»

Aura Sync Compatible

»

Easy Installation
Cons
»

The pump may have few issues
2. NZXT Kraken Z73
If I have to talk about the Kraken Z73 by NZXT, I would say it's a complete beast in terms of performance.
It is a flagship model that is being introduced to give you a premium level of cooling experience.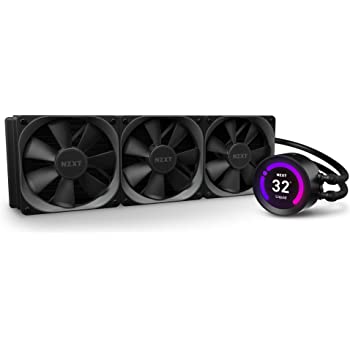 Check Today's Price of NZXT Kraken Z73 ➜➜
NZXT Kraken Z73 has outstanding features including:
Customizable LCD
The radiator is 360 mm and made of aluminum
Support Intel LGA 115x and 2011x sockets
It has 3x 120 mm fans
Noise level is of 21-36 dBA
It is one of the best NZXT AIO coolers on the market that you will find.
The best part about this cooler is the 7th-gen pump that is used, which helps in initiating better heat flow and circulation.
The Kraken Z73 also comes up with a superb LCD which makes a visual statement. You can view all the stats regarding performance through this, which makes it an excellent addition to the product.
Also, this model has CAM software, which makes it easy for you to control and manage the performance settings.
You can dictate the fan speeds and also the things you want to watch on the LCD.
To tell you the truth, like the design and specs, its performance level is astonishing.
Noise won't be anything to be concerned about because it's too low while operating. 3x fans also do a great job of maneuvering the airflow.
As an AIO cooler, it's a top choice to make for the latest 10th gen i7 processor. I would highly suggest you buy this.
Pros
»

Top-notch cooing performance

»

Easy Installation

»

Tolerable noise level

»

Comes with an LCD
Cons
»

Premium price tag

»

Issues with CAM software

»

LCD rotation is limited to 90 degrees
3. Cooler Master Masterliquid ML360P
As a premium liquid AIO cooling component, the Masterliquid ML360P Silver Edition has made its name in the AIO cooler market.
Some features of Masterliquid ML360P are:
It has a 360mm aluminum made radiator
Comes with 3x 120 mm fans
Dual-chamber pump
Compatible with Intel LGA 2011x, 1366,115x sockets
Addressable RGB lighting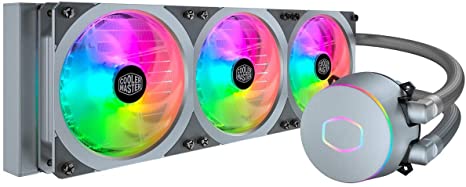 Check Today's Price of Cooler Master Masterliquid ML360P ➜➜
It has a stylish design that will give you a premium feel. The design is a closed-loop type and comes with a silver color scheme.
The excellent finishing, along with the well-placed lighting, makes it a top product among all other ARGB coolers.
The lighting is neat, as well as the cooling standards.
The fan module in it uses a single set of ARGB cables and PWM for maintaining the fans. This eventually eases out the cable management and also makes the cooler easy to install.
For thermal performance and sound levels, the ML360P is somewhat decent compared to its contemporaries.
This PC cooler is a good buy for building a rig, given the specs it has. It also has a warranty for 6 years so that you can rely on it for a long time.
If you are looking for a product that is easy to install and gives you a feeling of elegance, I would suggest you go for this.
Pros
»

Superb cable management

»

Easy Installation

»

Elegant silver color scheme

»

Neat lighting
Cons
»

Bit expensive

»

Fans can be noisy
4. Fractal Design Celsius+ S24
Fractal Design is well known for its Celsius series of AIO cooling solutions, which has gathered a lot of popularity in recent times.
Mainly the coolers in this series come with a minimalistic design.
Outstanding features of Fractal Design Celsius+ S24 Dynamic are:
Compatible with LGA 115x, 1366 sockets
Comes with ARGB LED effects
Dual PWM modes
2x dynamic PWM fans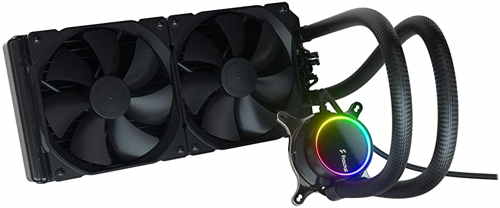 Check Today's Price of Fractal Design Celsius+ S24 ➜➜
As a cooler, it looks very clean and neat with almost no cluttering.
The cable management isn't something to worry about with buying this product.
The pump has a glassed capped outlook with backlit which lights up the logo, adding much to the aesthetics.
The elbow fittings used in the tubes ease the tubing route along with reducing cluttering.
Coming back to lighting, this cooler supports ASUS Aura Sync, Gigabyte's Fusion, MSI's Mystic Light, etc., for further customization.
Overall, I would say this version of the Celsius Series from Fractal Design can be your desired option, and that too at a reasonable price.
Pros
»

No cluttering of cables

»

Priced Reasonably

»

Highly customizable lighting
Cons
»

Fans might appear to be loud
5. Deep Cool Castle 360EX
Among high-end CPU coolers, the Castle 360EXX is a notable mention.
If you are looking for a cooling solution for your gaming rig, then this model from Deep Cool is what you can put your money on
Deep Cool Castle 360EX features are:
It has a 360 mm aluminum made radiator
Comes with 3x TF120 S fans
Addressable RGB LEDs
Supports Intel LGA 20XX, 115x, 1366
Fan speed ranges from 500-1800 RPM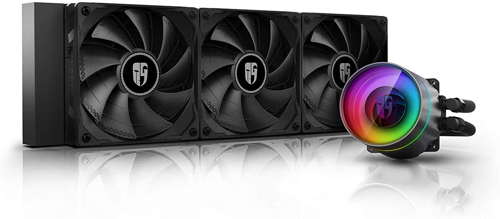 Check Today's Price of Deep Cool Castle 360EX ➜➜
This PC cooler is cool in almost every aspect. It comes with anti-leak technology.
Now, I would say this model was specially built for people who are fascinated by the RGB.
The RGB lighting has a killer effect which is very catchy to the eyes.
The logo is customizable. You can adjust it in 4 directions, and also, if you want to change it, you have the freedom to do so.
If I have to talk about the fan noise that this cooling solution produces, the noise level is something around 37 dBA. So, there might be some issues regarding it for users who prefer soundless operations.
The installation is quite easy and also price tag seems reasonable.
Overall, this cooling component that too for the latest version of i7, seems to be a nice deal to make.
Pros
»

Great performance

»

Anti-leak technology

»

Swappable logo

»

Decent build-up
Cons
»

Fans are a bit noisy at max speed

»

RGB LEDs might not be liked by everyone
6. Gigabyte AORUS ATC800
If you are looking for a PC cooling solution within budget then, Gigabyte brings you the AORUS ATC800 that you can buy.
Some awesome features of the Gigabyte AORUS ATC800 are:
It is compatible with LGA 115x and 1366 sockets
Fan speed is of 600-2000 RPM
Sound level is of 18-30 dBA
2x highly optimized airflow fans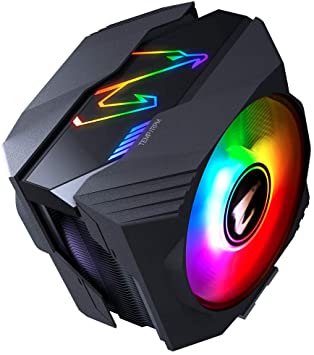 Check Today's Price of Gigabyte AORUS ATC800 ➜➜
This CPU air cooler has a lot to offer for you under such a price point. The design it has comes with aluminum build-up with 2x fans which does the circulation airflow pretty well.
Both fans are also equipped with RGB lighting. The fans have an RGB fusion 2.0 lamp effect that adds a unique aesthetic value to this CPU cooling equipment.
This fan comes with a bump design which makes it a bit different from other coolers. It allows the airflow to pass through the edge of the blade.
Such fans facilitate more airflow than conventional fans used in the coolers.
If I have something to say about its overall performance, I would tell from RGB to reduced noise levels as well as circulating the airflow it is more than decent.
To conclude, I rate this air cooling solution very high given the price tag and the specs it has to offer.
Pros
»

Unique fan design

»

Reduced noise levels

»

Decent aesthetics
7. Enermax Liqtech II 360
As a premium 360 mm AIO cooler, the Liqtech II from Enermax is an extremely good option to choose for building a setup.
This AIO water cooling device can give an exceptional cooling output which will make you feel like the money you spent was worth every penny.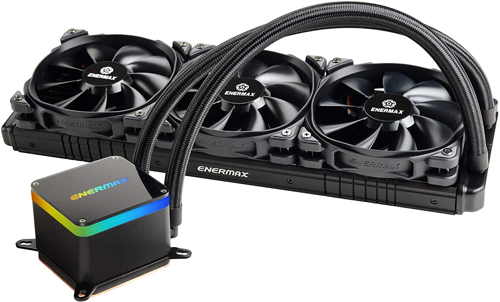 Check Today's Price of Enermax Liqtech II 360 ➜➜
Enermax Liqtech II 360 is in this list because of its stunning feature that includes:
LGA 2066,2011,1366 and 115x socket supportable
The radiator is of 360mm and made of aluminum
Noise level of 14-28 dBA
Compatible with 500W TDP
Supports ASUS Aura Sync, Gigabyte's Fusion, Razer Chroma, etc.
This is one liquid cooler that was made for delivering the performance with the highest level of efficiency.
This AIO cooler comes with 3x fans, which are almost noiseless while in operation. The fans are comprised of unique looking blades that help in enhanced cooling performance.
The water block also comes up with unique RGB lighting, which looks stunning.
The CPU cooler installation was super easy. You won't face any sort of hassle.
On the whole, it is a cooler with unique specs, which you add to your setup with the latest i7 10700K.
Pros
»

Easy to Install

»

Eye-catching RGB

»

Unique fan design
Cons
»

Expensive compared to contemporaries
8. Corsair A500
When it comes to producing air coolers, Corsair is also there in the market with other competitors.
Instead of water cooling, they came up with an air cooling solution for the users and you might be one of them.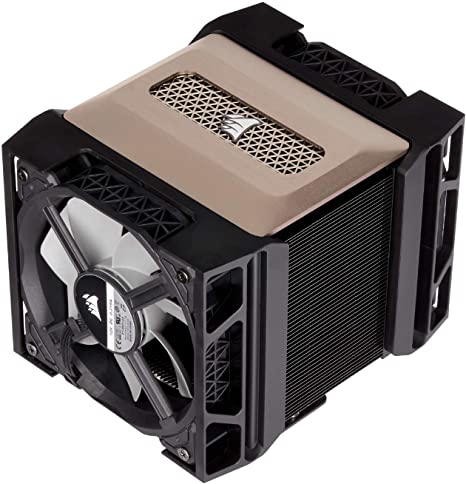 Check Today's Price of Corsair A500 ➜➜
Some cool features of Corsair A500 are:
It has 2x Corsair ML120 fans
Supports Intel LGA 115x, 1366, 2011x,2066 sockets
Has the slide and lock fan mount system
Aluminum made heatsink
Noise level of 36 dBA
Holdfast retention system
As a CPU air-cooling solution, it is large and has a sort of aluminum finish in major parts.
The dual fans in this are non-RGB and give the highest level of cooling performance when it operates at maximum speed.
The maximum speed these fans can reach is 2400 RPM.
Besides, the cold holdfast retention system this air cooling solution has, guarantees you stable air cooling.
The memory clearance is somewhat of an issue with this cooler, and also this might not be a perfect fit for all the motherboards. Especially, the ones with PCIEx16 slots.
Despite some drawbacks, it can be a good option within a certain budget. This cooler is easy to install and is very cheap.
Pros
»

Simple installation

»

Nice aesthetics
Cons
»

Issues with memory clearance

»

Not fit to all type of motherboards

»

Lacks ARGB support
9. Cooler Master MasterAir MA620M
Here I have another cooling solution for you that too from Cooler Master. It is their dual-tower MasterAir MA620M, which is one of the best Cooler Master CPU coolers.
Its dual-tower heatsink
Supports Intel LGA 2066, 2011, 115x, 1200 sockets.
Heatsink consists of 6 aluminum heat pipes
Single fan support
Fan speed ranges 650-2000 RPM
Noise level 8-30 dBA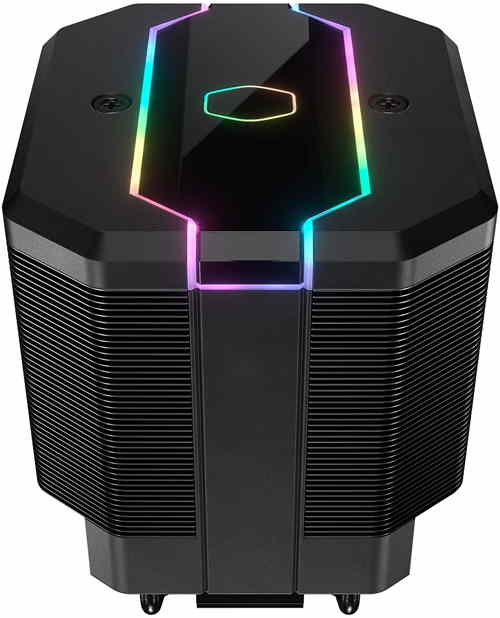 Check Today's Price of Cooler Master MasterAir MA620M ➜➜
This air cooler looks like a large heatsink with a touch of RGB lighting on top of it.
It is not that conventional compared to other air-cooling solutions, as you won't see the fan from outside. The design is comparable to a single giant heatsink.
If I talk about RGB lighting, on the top of the cooler you will see the Cooler Master logo is being lighted up with a few surrounding stripes.
The lighting looks very elegant and eye-catching.
You will also find it to be very easy to install compared to the other air coolers from the same brand.
Since it comprises of a single fan, the sound level is tolerable.
Above all, I would like to say from performance to aesthetics, it is a decent cooler. Do give it a shot if it goes with your needs.
Pros
»

Sleek RGB

»

Easy Installation

»

Affordable

»

High Durability
Cons
»

Options unavailable for mounting RGB controller

»

Performance is mid-range
Intel i7-10700K Cooler Buyer's Guide
For a gaming rig, it is necessary to have the finest components available in the build-up.
In the case of a PC cooler, the case is the same. You do need to have the greatest available cooling solution for your system.
Here are the factors that you should look into while choosing the right CPU cooler for your gaming rig:
Air Cooler/Water Cooler
Before you start the whole selection process, you need to get a few things right.
You need to decide whether you should opt for an air cooler or a water cooler. Before buying, you should check what are the pros and cons of each type of cooling component.
For having CPUs with lower temperatures and quieter operations it is better to go for water coolers. Or else, you can choose either of the options.
Case Compatibility of the Cooler
Not all types of coolers will fit in your system. The sizes of the coolers vary from brand to brand.
In this case, what you can do is look for that particular product that fits your system the best. Moreover, picking the best airflow PC casing will ensure your CPU cooler will work perfectly. Choosing such an option will also lessen your hassle while installing.
Noise Level of the Cooler
Since cooler are equipped single or multiple fans, having noise from them is a common phenomenon.
But if you have made up your mind for having the PC cooler which has an almost soundless operation then I would suggest you go for the ones with bigger size fans.
Fans that are of small size tend to produce more noise compared to the bigger ones.
TDP Rating
Each of the coolers has a particular TDP rating. So, while buying do check it.
Mainly the TDP rating matters because the higher the rating the more powerful the cooler is. Cooling solutions with lower ratings will not do the job perfectly as per your needs.
Final Thoughts
So, these are the top CPU coolers for core i7-10700K that you will find in the market. I have reviewed all of them and listed a few ones under different categories as the best option.
Also, I have included a buying guide for you, which will help you to find the right cooler for your rig.
I hope you get your desired choice. Still, any issues, don't forget to remind me in comments.