For building a kickass gaming rig, you need to include a powerful CPU as well as a GPU in your build.
In a hurry? Here's my #1 Recommended Motherboard for this CPU.
But both of these components won't be of any use if you don't have a quality motherboard to complement them.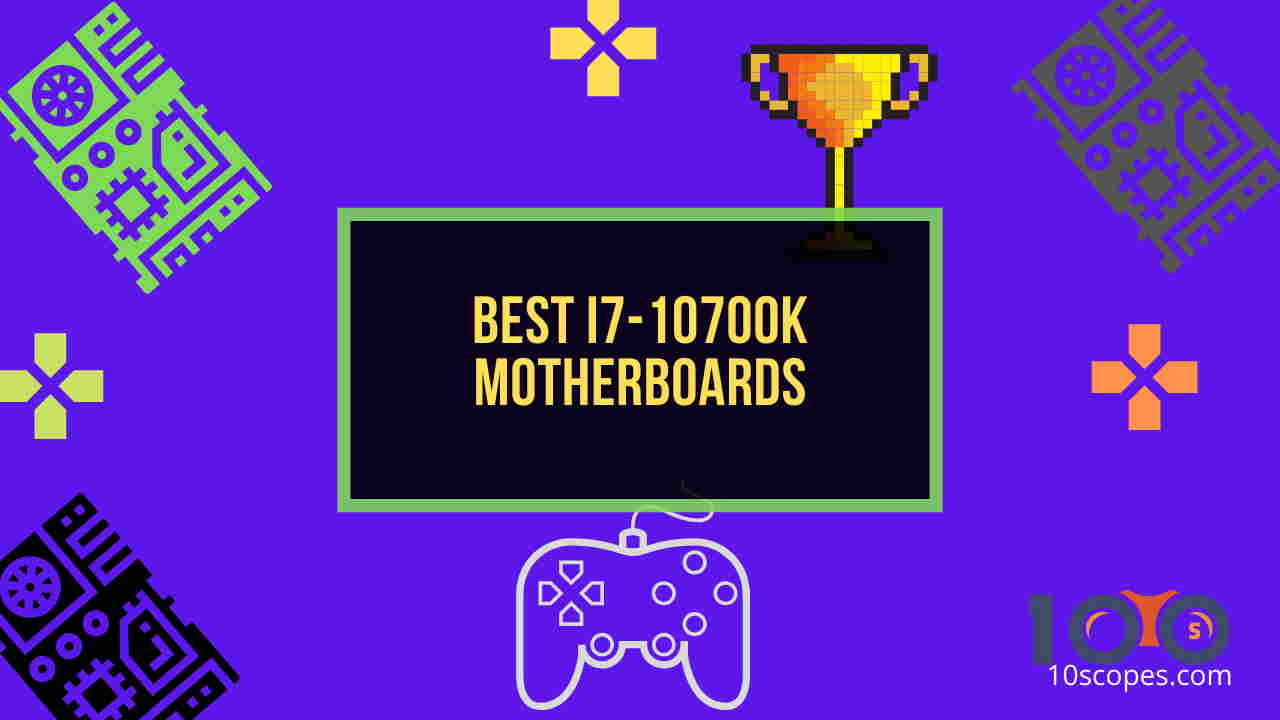 I have gathered 7 leading motherboards for i7 10th gen in this post which can be ideal for your rig. Besides, there is also a buying guide for you as a helping hand to choose the right option.
Best i7-10700k Motherboards Reviewed
Researching is somewhat of a hassle when you are looking to have the best component for your gaming setup.
Being a relatively new processor in the market, it might prove to be tough to find the perfect motherboard for Intel Core i7.
But I know that you want the best option to be added to your setup.
Also check out the best CPU cooler for i7-10700k.
A motherboard is something that utilizes each of the components in your system to its full potential and ensures top-quality performance. You won't want a mediocre option to be added to your system.
I have compiled a list of options from where you can easily choose.
Here are the 7 Best Motherboard for i7 10700K:
1. Gigabyte Z490 Aorus Xtreme Waterforce
Gigabyte being one of the topmost brands out there might not produce the flashiest motherboards. But still, the motherboards they produce is good enough to add up in building a high-performance gaming rig.
The Gigabyte Z490 AORUS Xtreme Waterforce is one of their products that is made especially for the 10th Gen Intel processors.
Check Today's Price of Z490 Aorus Xtreme ➜➜
Gigabyte Z490 Aorus Xtreme Waterforce has some cool features like:
It has Z490 chipset
It is compatible with core-i9/i7 processors
It has 16 phase digital VRM's
Comes in with an All-in-One Monoblock
The design for this motherboard is extremely stylish. The black texture along with few bluish shades makes it look very cool.
The waterblock in the motherboard has a transparent outlook. There are addressable RGB LEDs that light up through that transparent portion which makes it look aesthetically pleasing.
One cool thing about this motherboard is:
This is a unique piece that you will find in the market. That is because it can be connected to a custom water cooling system.
It has an all-in-one Monoblock which covers the chipset area, the VRMS, and also the CPU.
Also check out the best GPU for i7-10700k.
The RGB Fusion 2.0 is there for you so that you can customize the lighting like the way you want.
The CPU socket type it has is LGA1200 and the number of memory slots is 4.
In terms of performance, it being a premium option won't disappoint you. You can be ensured about the level at which this motherboard utilizes all of the components of your rig.
The Z490 AORUS Xtreme Waterforce may be a bit pricey but still, as a premium quality product offering the top-notch performance it's a decent buy.
Pros
»

Stunning Design

»

All-in-One Monoblock

»

Customizable RGB
2. Asus ROG Strix Z390-E
You might think that the Z390 series of motherboards were inducted into the market for 8th and 9th Generation processors.
A question may arise:
Is it compatible with a 10th gen processor?
Well, this model from ASUS can is usable in your i7-10700K.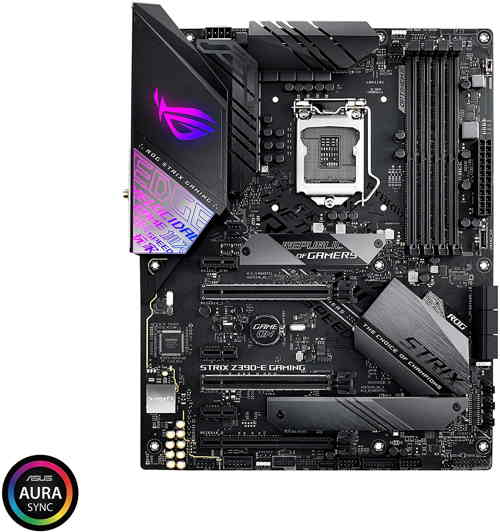 Check Today's Price of Asus ROG Strix Z390-E ➜➜
As far as motherboards are concerned, it is one of their top-tier offerings. Being a gaming enthusiast, I am sure that you will love this option.
Asus ROG Strix Z390-E is good because:
It uses LGA 1151 socket
Has pre-mounted I/O shields
5-way optimization
Aura Sync is present
If I have to talk about the design, then I will say that it's standard.
It is DIY friendly. There is a Safeslot that facilitates good PCIe retention and also secure management of the memory modules.
The motherboard offers a stunning outlook that increases its aesthetic value to a great extent. The Aura Sync software provides control over the RGB LEDs and also gives a very flexible customization option.
The best part about this motherboard is that it has a 5-way optimization. It helps in processing the overclocking results swiftly through the Ai Suite Tuning.
Also, check out our separate post on how to fix motherboard HDMI no signal.
The overclocking potential is quite similar to that of its competitors. Whereas, it is way better than its competitors when it comes to the consumption of power.
Do give it a shot if you are looking for a mid-range one.
Pros
»

Enough Fan headers

»

Good Efficiency

»

Decent overclocking potential
Cons
»

Expensive for a mid-ranged option

»

Just a single RGB onboard lighting zone
Also check out the best motherboard for i9-10900k.
3. MSI MEG Z390 Ace
Here's another motherboard with a Z390 chipset for you that too from a renowned brand named MSI.
This model from MSI was initially designed for the 8th and 9th Gen processors. But like I said while reviewing the previous option, few of the Z390 motherboards will be compatible with your 10th Gen processor.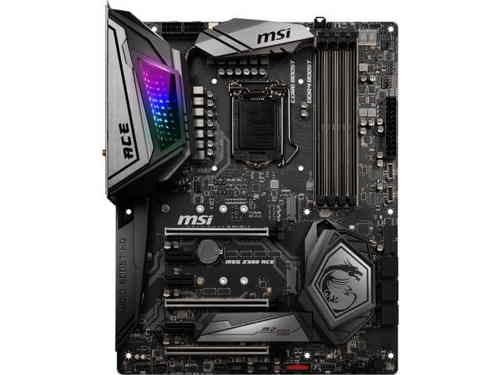 Check Today's Price of MSI MEG Z390 Ace ➜➜
Amazing features of MSI MEG Z390 Ace includes:
LGA 1151 Socket Compatibility
Supports dual DDR4 memory
Mystic Light Infinity
E-ATX form factor
This motherboard is what you will love as a gaming freak. Right from the design, everything about it is worthy of consideration.
The texture that is given to this motherboard is matte black. You will also find some gray stripes which give a sort of visual flair.
The shroud that covers the I/O shield goes up to the heatsink. There is also a glossy steel plating done on the PCB whose main job is to strengthen the components and EMI reduction.
This motherboard has built-in RGB LEDs that come as Mystic Lighting Infinity. It comes with 29 lighting effects with 16.8 million colors.
Have some time to spare? Quickly check out our epic guide on are motherboard standoffs necessary.
You can customize this lighting using the Mystic Lighting App.
If I have to talk about its performance:
All of its components perform decently making it a very good option for your rig.
Overclocking performance is top-notch. Even the hardcore overclockers will appreciate the output from this motherboard.
It can be a great addition to your gaming rig with a 10th Gen i7 processor. Don't hesitate to buy if all the specs meet your needs.
Pros
»

Excellent Overclocking Features

»

Built-in I/O shield

»

Neat aesthetics

»

Highly customizable RGB lighting
Cons
»

Only three M.2 slots

»

Pricey for a Z390 motherboard

»

Lacks built-in video outs
4. ASUS ROG Strix Z490-A
One of the traits of the latest 10th Gen processors from Intel is that they won't support PCIe 4.0. In such a situation, the ASUS ROG Strix Z490-A is being created for being compatible with the PCIe 4.0.
ASUS ROG Strix Z490-A has some cool features like:
LGA 1200 Socket Compatibility
The Thermal design is optimized
Top tier alloy chokes in the power connectors
Has Onboard 2.5 Gb Ethernet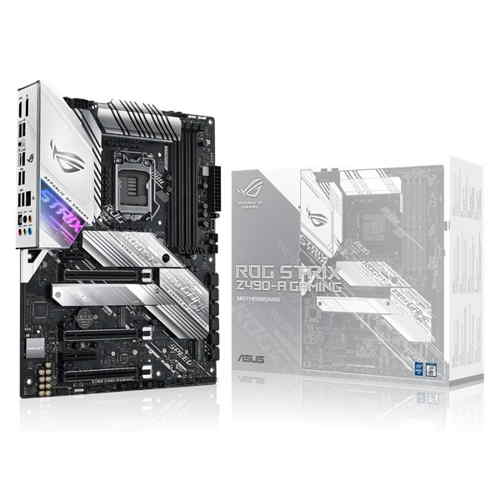 Check Today's Price of ASUS ROG Strix Z490-A ➜➜
The ROG Strix Z490 boards are with a very high value and are suitable for building high-end gaming rigs.
If budget is a concern, the Z490-A is an excellent option to consider.
Given that it is a good motherboard on a budget doesn't mean that it has fewer components as far as aesthetics are concerned.
The design it has is outstanding. The color texture used in this motherboard is what makes it unique.
Check out our experts tested and reviewed the best RGB CPU coolers, best Aura Sync RGB GPU and best Aura Sync Compatible RAM for your PC.
The mixture of whitish shades over a black covering looks so soothing to the eyes.
The hyper-threading available in it gives it an edge over its competitors.
The RGB LEDs look flashy as well as the performance is decent enough to consider.
Overall, The ASUS ROG Strix Z490-A is a decent performing motherboard for the i7-10700K considering all the parameters.
Pros
»

The RGB lighting is stunning

»

The color shading is unique

»

Great Overclocking potential

»

Affordable
Cons
»

Won't support LAN drivers
5. Gigabyte Z490 Vision D
Here I have another motherboard from Gigabyte with a Z490 chipset. It is their Z490 Vision D that could be the best choice for your i7-10700K.
The unique thing that separates this model from other Z490 models is the superb aesthetic appeal that its design and texture possesses.
Features of Gigabyte Z490 Vision D are:
It uses the LGA 1200 type of Socket
Comes with an advanced thermal design
Has dual-channel DDR4
Onboard thunderbolt 3
A 12-phase power delivery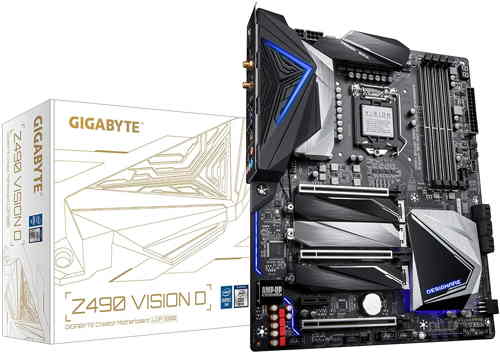 Check Today's Price of Gigabyte Z490 Vision D ➜➜
The heatsinks in it have a mixture of black and greyish shades. On the chipset heatsink, you will notice the presence of the Designare logo.
The PCB has an all-black texture and also you will find few RGB LEDs on the rear panel cover.
The advanced thermal solution is a unique aspect of this motherboard. The heat dissipation performance that it provides is top-notch.
Also, check out our separate post to find out whether Motherboard Screws Universal or not. Have some time to spare? Check out our latest post to Enable Aura Sync Control for Corsair RGB Memory
Memory routing used in it is shielded and is compatible with single stick memory modules.
Discussing RGB, it has RGB Fusion 2.0 through which the lighting can be customized and set as per your taste.
In conclusion, I would like to say that this motherboard is a good one to add to your system if you are looking for an option emphasizing aesthetics.
Pros
»

Stunning Aesthetics

»

Ample Thunderbolt ports

»

Reasonable price
Cons
»

Doesn't support higher frequencies RAM
6. MSI MAG Z490 Tomahawk
If you are seeking to buy a motherboard that will cost you less than $200, then this model from MSI is the best choice available.
The MSI MAG Z490 Tomahawk is somewhat a mid-ranged option for your gaming rig, at a cheap rate.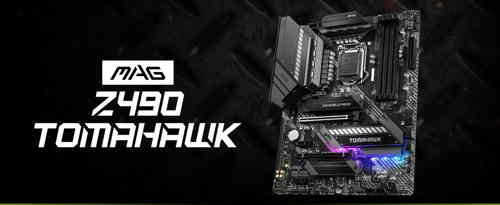 Check Today's Price of MSI MAG Z490 Tomahawk ➜➜
Some features of MSI MAG Z490 Tomahawk are:
It uses LGA 1200 type Socket
DDR4 dual memory; up to 128 GB is compatible
Has a pre-installed I/Shielding
Twin-turbo M.2
As for the design, I must tell you that it has an outlook that gives the essence that you are going to have the perfect weapon for warfare.
The overall hardware used is decent and can withstand the workload.
The aluminum heatsink looks sleek; plus the PCB has all-in-all black and greyish shading.
Also, check out our separate post on can motherboard cause stutters.
You will also find a bit of RGB lighting through LEDs available, which mingles with the rig very easily.
I would say the overclocking potential is decent and it hits up to its potential. Like every other Z490 chipset, it almost performs in the same way reaching the same benchmarks with very slight differences.
Above all, this board is one of the finest ones available that too within a budget. Do buy this only if you are looking for an option with such specs.
Pros
»

The performance level is reliable

»

Good overclocking potential

»

low-priced
Cons
»

VRM temps are ordinary

»

Not ample features
7. ASUS Prime Z490-A
This motherboard from ASUS comes with the neatest of the looks with the white and silver shading used in it.
The minimalistic style use in giving the texture as well as the design makes it attractive towards the gamers who are seeking such options.
Some of the most interesting features of ASUS Prime Z490-A are:
It has a 6-layer PCB
Uses the LGA 1200 socket
Comes with ASUS Aura Sync software
Has an enhanced power solution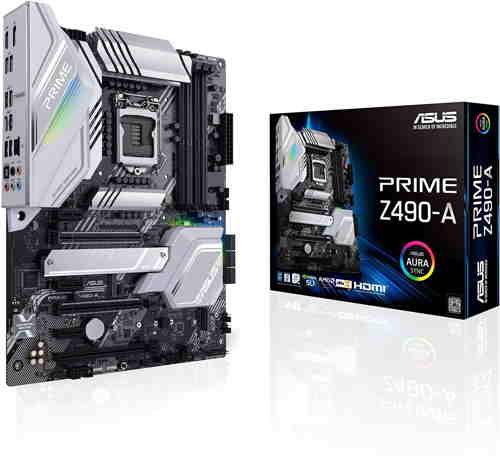 Check Today's Price of ASUS Prime Z490-A ➜➜
In this motherboard, you will find the PCB are having black and silver patterns. In the case of the heatsinks, the above mentioned white and silver covering is used.
Their LEDs which are there consolidated in the rear panel cover. The presence of Aura Sync software makes it easy to customize the lighting delivered by these LEDs.
Check out our post on will motherboard boot without CMOS battery.
You will also find the board having 4 memory slots, which can hold 128 GB of memory.
This motherboard supports the AI cooling feature form ASUS which automatically functions all over to ensure optimum thermal management.
Overall, It is a motherboard that comes with an elegant and neat outlook, with less aggressive RGB that is more suited for gamers with a simplistic approach.
Pros
»

Elegant white-silverish texture

»

Aura Sync available

»

Configuration is easy
Cons
»

Doesn't come up with a built-in Wifi
10700k Motherboard Buying Guide
After you have gone through the greatest motherboards available in the market, it is time to make a buying decision.
All of these motherboards are good in their ways. But you can't buy all of them.
You need to choose one and I am here to help you in choosing the right one.
Here are some factors that you should consider while buying the motherboard for your latest i7 processor.
Also, check our exclusive tutorial on will motherboard turn on without CPU.
Type of Chipset
Well, it is the first thing that should be kept into consideration. Your processor demands which type of chipset is necessary to bring into the act while buying.
For the i7-10700K, the Z490 chipsets seem more suitable though in few cases Z390 chipsets are also compatible. You need to choose the one that suits you the most.
Form Factor
In a motherboard, the form factor is what determines whether the motherboard is for in a particular type of PC case.
There are mainly three types of PC cases, the ATX, mini-ATX, and micro-ATX. You should check the size before you buy the motherboard.
It is necessary to buy that motherboard that perfectly fits in your case.
Check out our separate post on Motherboard Affecting Performance on PC.
Type of Socket
The socket support that your CPU has greatly decided which motherboard you should buy for your gaming rig.
Motherboards come in with different types of socket types. It depends on the generation of CPU's that which type of socket is used.
While you buy, you need to make sure that your CPU socket is compatible with the motherboard.
Number of Slots
The expansion slots in the motherboards differ from brand to brand. These slots are of different types such as the PCIe slots, Video slots, PCI slots, etc.
You need to check how many of such slots are available.
In the case of video cards, a lot depends on the slots that are available while installing. The same goes for LAN adapter and sound cards.
So, do check the type and number of slots available.
Have some time to spare? Quickly check out our epic guide on how to fix motherboard can't detect hard drive.
Final Thoughts
So, these were some cool core i7 10th gen Motherboards. According to my research, these 7 are the best ones available considering every aspect.
I have categorized these best motherboard for i7 10th gen to help you to determine the right one for you, plus a buying guide is attached for your further needs.
Still, if you feel that something isn't alright then do let me know in the comments.