I bet this thought might've crossed off every PC user's mind ― I can do everything on my computer using the keyboard; why even use the mouse?
It's totally normal to think that way. But, admit it — a computer mouse improves your work efficiency. You can set the mouse configuration to the best of your usage.
However, sometimes it gets impossible for you to modify the mouse pointer speed or tweak the cursor movement. Even your PC crashes for just clicking on the mouse settings.
This article is about how you can avoid that issue with quick solutions. Read till the end, and you'll be able to modify the mouse settings in Windows 11 to the extent you prefer.
Let's begin
Follow our guide to Fix Win+Shift+S Not Working on Windows 11/10
Why Can't I Change my Mouse Settings?
An outdated/corrupted driver is the prime reason behind the mouse not responding to your settings. Also, incompatible mouse driver, tweaking your mouse setting to an irreversible point can lead you to this. However, using more than one mouse on your computer won't let you customize the settings.
When using a computer, you are required to change various files, browse through the internet, and install/uninstall different applications.
While completing these processes, some of the important files may get corrupted. That includes the currently installed mouse drivers. Therefore, the default mouse settings can't work anymore on your Windows PC.
Also, if your operating system (Windows 10/11) is not updated to the latest, your mouse sensitivity won't change. No matter how many times you try to customize it.
Read more on how to Fix Windows 11 Install Error 0x800f0922
Fix Mouse Settings Won't Change on Windows 11
Unplug and re-connect the mouse on your computer. This time, connect the mouse using another USB port. After that, restart your system. Also, replace the mouse battery when you're using a Bluetooth mouse. If you're using one wired mouse and a Bluetooth mouse, disconnect either one of them.
Those are the initial solution you need to try when you're unable to customize mouse settings. Check whether you can modify Windows 11 mouse settings or not.
Don't worry if you're still facing the mouse issue. Just read the following passages and act accordingly. You'll be able to customize Windows 11's mouse settings from now on.
Check out the easiest way to Fix Yahoo Mail App Error 0x8019019a on Windows 11/10
Here are the methods to fix mouse settings not working on Windows 11:
1. Run Hardware Troubleshooter
It might seem impossible to solve this issue with Windows' default troubleshooter. But, trust me! Every hardware issue you encounter can be initially resolved with Windows 11/10's default troubleshooter program.
Here's the procedure to fix mouse settings with the Windows hardware troubleshooter:
Search for command prompt in Windows 11 search menu.
Select Run as administrator from the right.
Type exe -id DeviceDiagnostic in the prompt and hit Enter. The hardware and device troubleshooter window will pop up.
Select Next when the context menu appears.
Windows will search for any existing hardware problem on your computer. Click on Apply the fix after detecting the issue. Restart the computer after the issue's been fixed.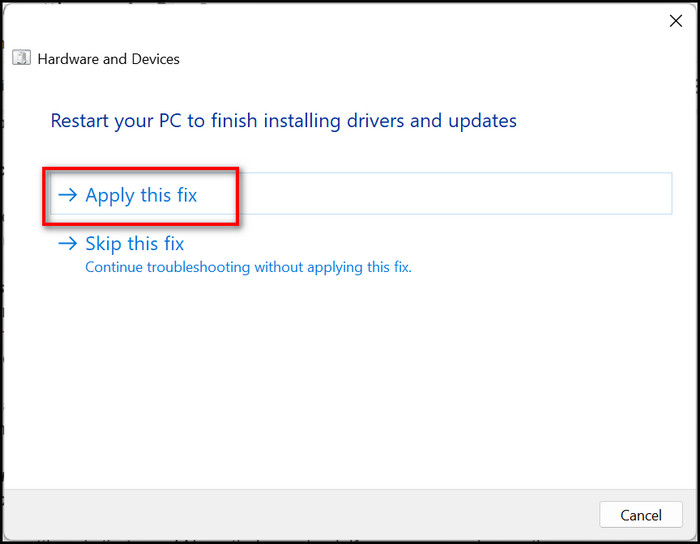 Note: This solution both works on Windows 10 and Windows 11. But, make sure your installed version is the updated one.
Fixing the mouse settings is that easy! Nevertheless, check if you can now change the mouse settings on Windows 11.
Related guide: Windows 11 Remove Password Complexity Requirements
2. Update & Reinstall Mouse Driver
When the existing mouse driver is corrupted or outdated, that will lead to your mouse settings not working. Updating/reinstalling the current mouse driver will solve this problem.
Here are the steps to update and reinstall the mouse driver in Windows 11:
Press Windows + X to launch the Windows menu.
Select Device Manager from the list.
Expand the Mice and other pointing devices option.
Right-click on your mouse driver and select Update Driver.
Click on Search Automatically for drivers in the next window.
Follow the on-screen manual for updating the mouse driver successfully.
Note: To reinstall your mouse driver, Select Uninstall Driver after expanding the Mice and other pointing devices option. Restart your computer, and Windows will automatically install the mouse driver.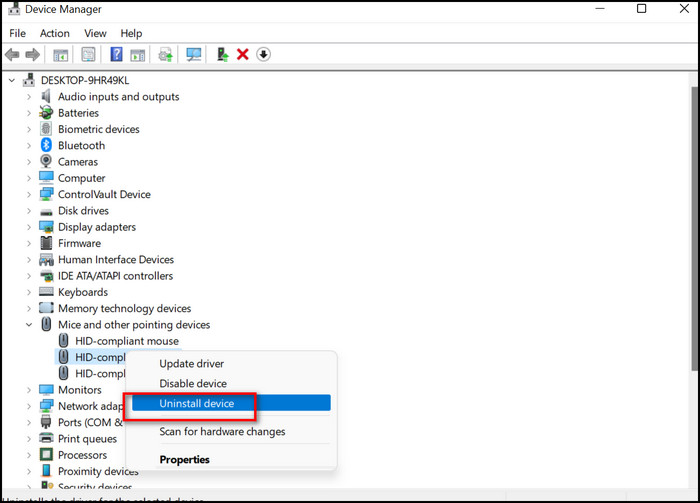 After updating the driver, check whether you can modify the mouse settings or not. Try the following solution if not.
Follow our guide to know Mount, Burn, Create & Unmount ISO File in Windows 11
3. Run SFC
When I could not tweak my mouse cursor settings earlier this month, running the SFC scan helped me resolve the issue.
SFC scan helps the system files that are not working properly. I think you should try this fix at least once to resolve the mouse issue.
P.S: I use a Logitech G102 mouse on my Windows 11 computer.
Here are the steps to run an SFC scan to fix Windows 10/11 mouse settings:
Type cmd in the Windows search menu and right-click on the result.
Select Run as administrator from the context menu.
Copy this command in the prompt; sfc/scannow and hit Enter.
Your system will try to detect if there are any hardware issues. And also resolve the problem. Restart your computer after the scan. Hopefully, you'll solve the mouse cursor customization issue.
You may also like to read: Fix When Windows 11 Won't Install
4. Tweak Registry Editor to Modify Mouse Settings
Does it happen that you modify the mouse settings, and the settings roll back to default every time you reboot the computer? Then, this solution will be perfect for you.
Here's the procedure to fix your mouse settings that won't save after reboot:
Press Windows + R keys to launch the run prompt.
Type regedit in the prompt and hit Enter.
Navigate to HKEY_LOCAL_MACHINE > SOFTWARE > Synaptics > synTP >Install.
Right-click on the right and create a new DROWD 32-bit value.
Rename the value as DeleteUserSettingOnUpgrade.

Double-click on it and set the value as 0.
Restart your computer, and voila! You'll find the mouse settings you've set are not deleted even after restarting the computer.
Note: This solution mostly works with Windows 10. But, you can try this on Windows 11.
These are the most effective solutions to change Windows 11 mouse settings. I utilized these methods on my Logitech G102 and got the best result. However, you can try an alternative approach to fix your fragile mouse settings in Windows 11/10. Check out the subsequent method.
Also read, Fix Mail Recipient Missing from Send to Menu in Windows 11
Alternative Solution to Windows 11/10 Mouse Settings won't Change
Another method you can use when incapable of changing the mouse settings is to enable/disable Clicklock.
ClickLock is a special Windows feature that locks the primary mouse button. Why is this even necessary, you may ask. When you enable/disable the ClickLock feature, that helps to determine if there are any physical issues with your mouse.
Here are the steps to enable/disable ClickLock in Windows 11:
Press Windows + I to launch the settings.
Navigate to Bluetooth & Devices > Mouse.
Click on additional mouse settings. A popup menu (mouse properties) will appear.
Move to the Button tab.
Tick on the Turn on ClickLock option.
Click on Apply > Ok to save the changes.
Restart your computer after turning on/off the ClickLock option.
These are the solutions to your inability to change mouse settings on Windows 11. What are the problems you're facing when you can't change them?
Check out the next section and find out if you're encountering similar issues.
Related content you should read: Disable Rounded Corners in Windows 11
What Happens When I Can't Change the Mouse Settings in Windows 11/10?
Your cursor might not be responding according to the mouse movement when you can't customize mouse settings on windows 11. Also, the mouse clicks mistakenly. For instance, you press the right-click button, whereas your mouse responds quite the opposite way.
That's not the end. Too slow or fast mouse movement is also a sign that you're unable to change mouse settings.
Sometimes, your mouse cursor can get frozen, or the mouse pointer may behave irregularly. The most irritating thing can happen when the mouse settings don't change — Nothing happens when you click on the mouse in the control panel. Or your OS might fail when you apply new mouse settings.
However, if you've applied the changes that I recommended in this article, your inability to change default mouse settings will resolve.
Now, have any queries regarding the article? Check out the next section.
Follow our guide to Fix User Profile Cannot Be Loaded Error in Windows 11
Frequently Asked Questions
Why can't I change my mouse settings?
Open Device Manager on your Windows computer > Expand the Mice and other pointing device option > Update your existing mouse driver.
How do I change my mouse settings in Windows 11?
Open Windows settings > Select Bluetooth & Devices > Mouse > Move the slider to customize movement speed.
How do I get to advanced mouse settings in Windows 11?
Open Windows settings > Select Bluetooth & Devices > Mouse > Additional Mouse Settings > Customize the options you prefer.
Why is my mouse not working on Windows 11?
Click on Start Menu > Settings > Accessibility > Mouse Pointer & Touch > Mouse > Modify settings to your best suite.
Conclusion
Throughout the entire article, I've described why you're unable to modify the mouse settings according to your preference. Also, how to get rid of the issue.
If you've read the article and followed the workarounds I explained here,you'll be able to change the mouse's functionality from default to your preferred settings.
Let me know which solution worked for you so that I can help you with further mouse issues. Till then, peace!