So, your Windows 11 is consuming high CPU usage because of the service host Superfetch?
And, you don't know what exactly superfetch (Sysmain) is.
Then, you landed on the correct page. First of all, you should know;
Is it okay to disable SuperFetch?
It is wise to leave the SuperFetch, also known as the SysMain, running. Sysmain is a Windows Framework used to maintain and improve system performance over time. This service eliminates the time to dispatch programs that you use regularly.
In this post, I will provide every bit of information regarding what SuperFetch is, how it works, and should you disable this process or not.
So, let's get started.
Check our guide if your PC won't go into Sleep mode in Windows 11.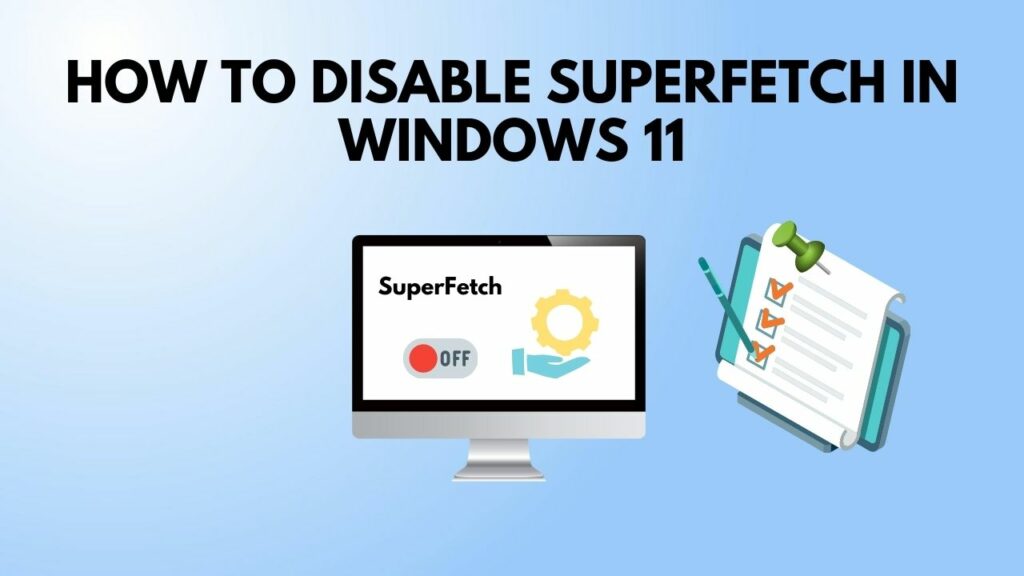 Does SuperFetch slow down the computer?
Yes, the Windows Service Host SuperFetch slows down computers. This Windows process improves hard drive performance but slows down the SSD. Ultimately, slowing your PC. This service host was preliminarily known as PreFetch on Windows XP.
Every new version of Windows has had new features and upgrades to help you use the general programs easier. However, some features aren't quite as user-facing as Cortana or Timeline. For example, the SuperFetch feature was added back in 2006 when everyone was indulged in Windows Vista. Microsoft included this feature in all the versions of Windows till now.
PreFetch works in the background slowing down your computer. This service may slow down your computer's start-up as well.
If your computer is older, you might be bogged down by the utility, using up all your limited resources, like small amounts of RAM.
View the Folder size in Windows 11 as quickly as possible.
Similarly, new generation computers will be benefitted in this regard because of the addition of solid-state drives (SSD's) instead of the traditional disk-based hard drives. The added SSD's won't use SuperFetch in the first place as the solid-state drives are fast enough to launch the programs.
You may now ask:
Does disabling Superfetch increase performance?
Although Super Fetch doesn't consume much CPU, sometimes a malfunction can cause SuperFetching to use a High CPU. In that case, disabling the service can increase the performance of your system. Other than that, you won't find any major benefits.
Check out the easiest way to fix Windows Can't Access Network Drive On Windows 11.
How to Permanently Disable Superfetch in Windows 11
SuperFetch is the former name for SysMain, significant, but it changed over the years. Sys main is a service that runs in the background to determine and moderate your application activity to allocate resources most efficiently.
There are pros and cons that you can research on your own. But, generally, a lot of Windows users don't like it running continuously in the background. I usually turn it off on all my computers; I can't recall ever having an issue.
There are two proven steps to disable SuperFetch on Windows 11 permanently. Either of the methods can be utilized.  But make sure to follow the entire step correctly.
But,
When should you disable Superfetch?
You should disable Super Fetch when the service consumes a lot of resources. Open up the Task Manager and then look for SysMain Service. Check if the service is consuming a lot of  CPU. Only then, turn off the service permanently.
Check our exclusive tutorial on How to Fix Blue Screen on Windows 11
Here are the ways to permanently disable superfetch on Windows 11:
Method 1. Use the Windows Services
Open up the search magnifying glass from your taskbar. Type in services. The best result should come back with the Services listed right above the app.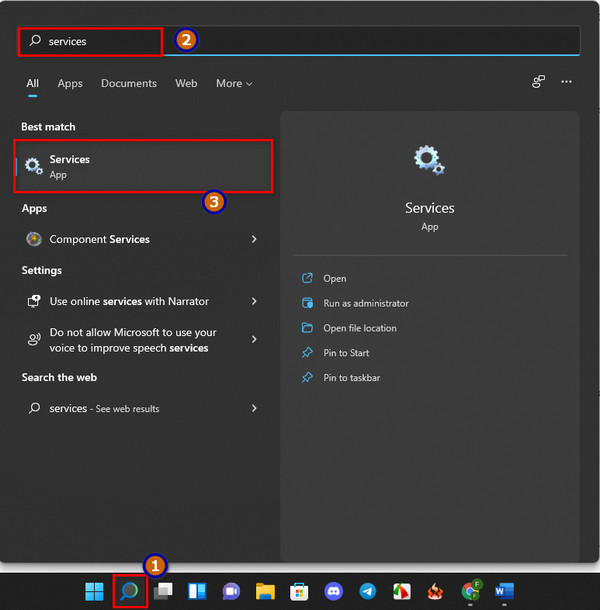 Go ahead and open that up. Scroll down to Sys Main and Double Click on it. Set Startup Type to Disable. If Service Status is Running, select stop. Once you are done, select Apply and OK.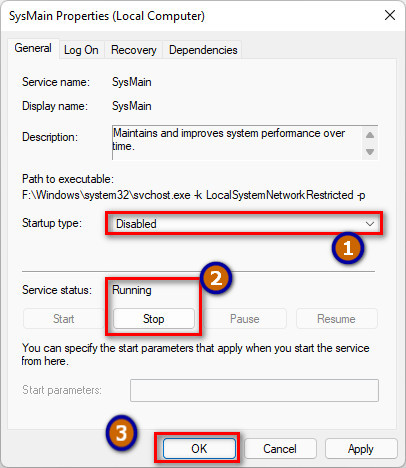 And that should be about it. Superfetch will be switched off completely from running on your system.
Alternatively, you can also turn on Super Fetch using the same method and Enabling the services.
Quickly check out our latest fix for Bluetooth Toggle Missing On Windows 11
Method 2. Disable Super Fetch From Registry
The second method to disable the service is to edit the registry of your computer. This method is more flexible to some users as editing the registry will allow you to choose four options as to how Superfetch can run on your computer.
Here are the steps to disable super fetch by editing registry:
Press the Win+R key to open the Run Dialog Box.
Type Regedit to open the Registry Editor of your computer.
Navigate to HKEY_LOCAL_MACHINE > SYSTEM > CurrentControlSet > Control > Session Manager > Memory Management > PrefetchParameters.
Right-click the PrefetchParameters folder, then choose New > DWORD Value. Name it EnableSuperfetch.
Give EnableSuperfetch one of the following values: 0 – to disable Superfetch, 1 – to enable prefetching when the program is launched, 2 – to enable boot prefetching, and 3 – to enable prefetching of everything.
Press OK and then exit the registry editor after completing.
Check out our expert-recommended guide on How To Enable Telnet On Windows 11
Is it okay to disable Superfetch?
It depends. If this service does not consume a high CPU and High RAM, it's not necessary to disable it. However, if you are getting problems with this service, you can quickly turn the service off using the two mentioned methods.
This service is in-built in your Windows Operating System to make your system smoother. So, it's better not to disable such services unless it's problematic enough.
So, Should You Kill Superfetch (Sysmain)?
In my opinion, it's better to leave the Sysmain service running in the background. In most cases, there's no compelling reason to prevent SuperFetch from running.
Disable the program when:
Consistent 100% circle usage.
Overheating CPU prompting framework closure.
Late bootup time when you boot your PC.
Utilization of more CPU and RAM than you may like.
Follow our guide on How to Boot to Safe Mode in Windows 11
Is prefetcher the same as Superfetch?
Both the services are designed for launching programs faster than usual. However, Super Fetch loads frequently used programs into memory to speed up the startup process. On the contrary, the function of PreFetcher is vague, and Microsoft provides not have enough information.
Disabling these features is unnecessary as they won't provide enormous advantages for starting programs faster as SSD's are faster.
On Windows 11 PCs with normal hard disk drives, it is valid to disable Sys Main in rare cases. But, in most cases, leave it.
You may also like to read: Stop Apps Running in Background Windows 11
Final Thoughts
SysMain won't create any problems for your new generation PC. However, for Old PC's it may vary. There are only two methods to disable these services. If you want to enable it, just follow the steps in reverse.
For more Windows 11 Tutorials you can comment in the comments section. I will surely come up with some awesome tutorials.