Over 2 billion PCs are in use, and their owners have different personalities and mindsets. They all want to customize their device by their usage and demand.
Creating keyboard shortcuts for frequently used programs can help them in that cause. Setting up personal hotkeys also increases control over their computers. That's why here I'll display 3 easygoing methods you can apply to generate your very own keyboard shortcuts.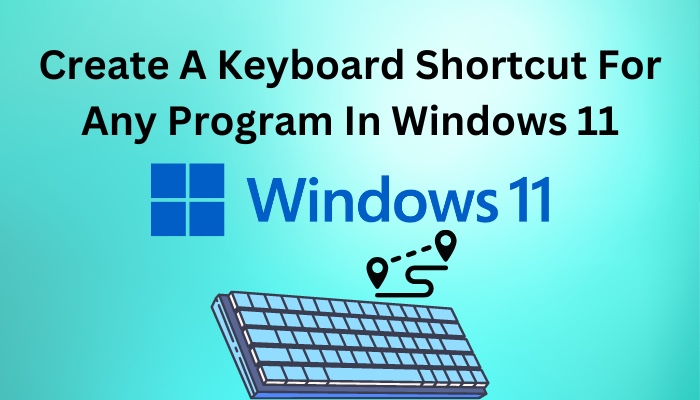 The sole purpose of this article is to help you. So dive deep and don't skip any part!
Read more on how to use Tablet Mode on Windows 11.
How to Set Up a Keyboard Shortcut for Any Program on Windows 11
When you regularly use some programs, generating specific hotkeys for them can increase your productivity and reduce your navigation time. To set up such shortcut keys, use the Taskbar or customize the shortcut properties. Also, Microsoft PowerToys can help you to complete the task.
You may think the process is very complicated, but in reality, it's not. And all three are demonstrated very simply in this content to assist you.
Note: If you don't want to install any app on your system, then method 1 and 2 is the best fit for you. But when you want to explore a new app from Microsoft, check out the 3rd method.
Here are the methods to set up a keyboard shortcut for a program on Windows 11:
1. Use the Taskbar
You can enter the apps pinned to your taskbar with the help of the Windows key. This feature on Windows 11 is a time saver. Let's find out together how to accomplish the process.
Here's how to use the taskbar and generate a shortcut key for a program:
Click on the Start icon from your Windows 11.
Select the All apps option from the top right corner.
Find the program or app for which you want to create a shortcut.
Right-click on the specific program and choose More > Pin to taskbar.
Mark the program as I displayed in the picture. In my case, the program is in the 7th position.
Press Windows+(1,2,3,4,5,6,7…) according to your program position. For example, I press the Win+7 shortcut keys to open the Access app.
That's it. After finishing the steps, you can press Windows + (specific number), and your desired pinned app will launch.
2. Customize the Shortcut Properties
You can assign hotkeys to a program, but to do that, you first need to make that program a shortcut. The entire process is short but effective, so follow through.
Here are the steps to customize the shortcut properties:
Right-click on any empty space and choose New > Shortcut.
Select the Browse option from the Type the location of the item box and choose your desired app or folder.
Click on Next, name the shortcut and press Finish. (Avoid these steps when you already have a shortcut for the specific file or program).
Right-click on the newly created program or file.
Select the Properties option.
Click on the Shortcut key and type the button you want to add for the hotkey.
Remember the key combination and hit Apply & Ok.
Next time you want to open the specified folder or program, just press that shortcut combination and your app will emerge before your eyes.
Also, check out our separate post on how to fix Windows can't access network drive on Windows 11.
3. Use the Microsoft PowerToys Application
An authentic Microsoft app Microsoft PowerToys is available on the MS Store with which you can generate your desirable shortcuts. The motto of the application is to enhance the productivity of the Windows 11 power user.
Let's find out how this app can help you create specific shortcuts for a program.
Here is the process to use the MS PowerToys app:
Download & install the Microsoft PowerToys program on Windows 11.
Enter the app by selecting it from the hidden icons.
Select the Keyboard Manager from the left navigation pane.
Click on the Open Settings option.
Choose Remap a key or Remap a shortcut according to your choice.
Press the ( + ) icon to start a new shortcut mapping.
Type the keys you want to use in the Physical Keys section and specify their operation in the Mapped To section.
Hit OK when you are done.
You can see how easy it is to set up a shortcut on your Windows 11 using the MS PowerToys app. Are you looking for a way to generate shortcuts to lock, shut down or restart your PC? Then follow the next heading.
How to Create Hotkeys for Shutdown, Lock, Sleep and Restart on Windows 11
If you want to perform some essential Windows operations with hotkeys, you can do that. Just create a new shortcut and select its Properties. Then move into the Shortcut section and state some hotkeys you want to use for the operation into the Shortcut key box.
Here are the steps to create hotkeys for shutdown, lock, sleep, and restart:
Move your cursor into the free space and right-click.
Select New > Shortcut.
Type the following paths to the box and hit Next.

For Shutdown: Shutdown.exe /s /t 00
For Restart: Shutdown.exe /r /t 00
For Hibernate: rundll32.exe PowrProf.dll,SetSuspendState
For Sleep: rundll32.exe powrprof.dll,SetSuspendState 0,1,0
For Lock: rundll32.exe User32.dll,LockWorkStation

Name the shortcut and press the Finish button.
Right-click on the shortcut and select Properties.
Choose your desired keys in the Shortcut key box.
Press the Apply and OK options.
Now press the keys that you selected for the operation to conclude, and your Windows 11 will be in that mode.
Here's a complete guide on how to restore files from File History on Windows 11.
FAQs
Can you create keyboard shortcuts on Windows 11?
Yes, you can create keyboard shortcuts on your Windows 11 system. Pin the app to your Taskbar or apply the Properties shortcut section to generate your specific hotkey.
How do I create a shortcut for an app in Windows 11?
To set up a shortcut for an application on your Windows 11, right-click on the app, select Properties, type your desired button into the Shortcut key box and hit Apply.
How do I create a hotkey for a program on Windows 11?
To create a hotkey for a program on Windows 11, open the Microsoft PowerToys app, move into the Keyboard Management section, select Remap a shortcut and assign your specific button.
Final Thoughts
You can easily set up your specific keyboard shortcuts for a folder, file or program after reading this content from a to z.
From here, you already learn that the task is pretty simple, and you can accomplish that by navigating through 3 simple procedures.
In the comment, let me know which one helps you the most. See you there; bye!