Tablet mode was first introduced on Windows 10 and got tremendous feedback from 2 in 1 PC users because it boosted their performance by a large number.
Yet several operators thought that tablet mode was an unnecessary tool for desktops and laptops. Since the screen ratio is quite big, it is easy to maneuver the screen with the help of a mouse or keyboard.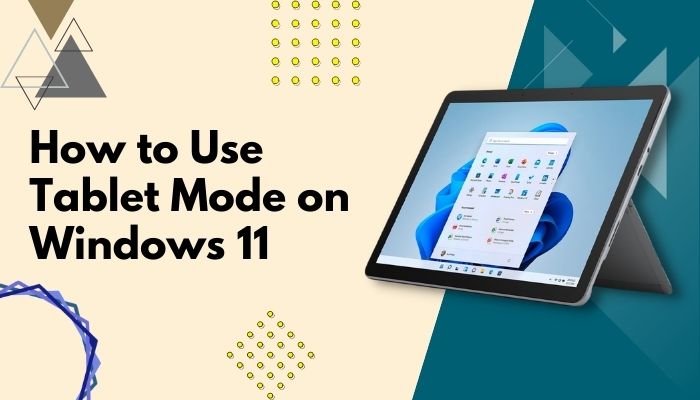 As a result, Windows developers looked into this tablet tool mode and fixed it for Windows 11. That created a problem for tablet mode users.
So I researched and developed some methods by which you can resolve your tablet mode problem and apply it to your Windows 11.
Without skipping, read the full article. Let's start!
Does Windows 11 Have a Tablet Mode?
There is no dedicated tablet mode on Windows 11. But if you have a 2-in-1 PC, you can use the manual tablet mode to enhance your experience. Windows 11 is developed in such a way that the icons are large and clear for touch purposes. The portrait and landscape options also give a clean tablet view.
On desktops and laptops, you will not be able to use the tablet mode, but in touch screen laptops, there is an option by which you can use the tablet system on Windows 11.
Windows 11 is programmed and designed to combine both tablet and PC operating systems in a blend. But it can be challenging for some tablet mode users to adjust to the new OS.
With the tablet mode on Windows 10, You can input data through a virtual keyboard, which can be a hassle while using Windows 11. But Windows 11 automatically shifts you to a tablet mode when you fold your 2 in 1 PC.
Follow our guide on how to Access iMessage on Windows 11/10.
How to Enable Tablet Mode in Windows 11
Windows 11 is a fresh and newly designed operating system. Developers of Windows 11 implemented automatic detection of tablet mode when a user folds or detaches their keyboard. It makes Windows 11 more user-friendly.
But if you want to apply that tablet mode on your Windows 11 system manually, follow the steps below.
Here are the steps to apply tablet mode on Windows 11:
Go to the Windows Search bar.
Type Display and hit the Enter key.
Move to the Display orientation option under the Display resolution section.
Select your required option.
Toggle On the Rotation lock option if necessary.
Now you are set up to tablet mode, but some options might not be available. However, you will get used to this feature in no time.
Follow our guide on how to Disable Accidental Drag and Drop in Windows 11.
How to Disable Tablet Mode on Windows 11
Sometimes when you want to disable the tablet mode, there might be some problem restricting you from turning into the general style. In that case, you can follow my instructions below to disable the tablet mode on Windows 11.
Here are the methods to disable tablet mode on Windows 11:
1. Connect the Keyboard Properly
Occasionally when the keyboard is not connecting correctly, the tablet mode does not go away, so check closely whether your keyboard is connected or not.
2. Turn Your Screen
Suppose you use your laptop as a tablet but no longer want to. Then you can rotate your screen to the original position and check whether the tablet mode is removed or not.
You may also like to read: Fix When Windows 11 Won't Install.
3. Update Windows 11
Sometimes an update can fix your tablet issue. Keep that in mind and update your Windows 11. Check whether it works for you or not.
4. Restart PC
A simple Restart can solve your problem sometimes. So try a restart before diving into a more complex method.
5. PowerShell Command
Due to corrupt files, tablet mode can not function properly and does not go away. To repair those corrupt files, you can use the PowerShell command.
Here are the steps to run the PowerShell:
Move to the Search bar.
Type PowerShell and right-click on it.
Select the Run as administrator option.
Copy sfc /scannow and paste it to the Powershell command prompt.
Run the scan.
It will identify and restore the corrupt files and solve your tablet mode disabling issue.
6. Restore Your System
If you have a restore point configured before, this method can help you return to that point. But if you have no restoration point where you can go back, this method will not work for you.
With the help of these 6 methods mentioned above, you can fix your tablet mode configuration problem.
Read more on how to Password Protect a File or Folder in Windows 11.
Frequently Asked Questions (FAQs)
Is Windows 11 good for touch screens?
Yes, Windows 11 is suitable for touch screens, though there is no dedicated tablet mode option. When you detach or fold your laptop, Windows 11 will automatically detect it and work as a tablet.
Does tablet mode mean touch screen?
Tablet mode was introduced to enhance the experience of the tablet users as there is no need for a mouse and keyboard to operate Windows.
Is Windows 11 good for gaming? 
Yes, Windows 11 is suitable for gaming because, on Windows 11, you can use the full potential of the cores. And the background programs also can use the core simultaneously.
Final Thought
Windows 11 developers remove the tablet mode to create a more user-friendly interface, but it backfires on them. Because on the Microsoft support page, several users talked about this topic and wanted this mode back on Windows 11.
However, if you read my full article, you will understand that Windows 11 offers more to that tablet issue. You can simply jump from general to tablet mode when you detach or fold your keyboard on Windows 11.
Let me know your take on this article in the comment below.
Peace!