Who doesn't love a slick and clean interface on their Windows 11? Everyone does. Windows developers bring back the widget's features on Windows 11 and even make it more refreshing and eye-catching.
When you install Windows 11 on your PC, some widgets automatically come with it. You also can download some stylists and free gadgets to modify your Windows look. This modification can make you stick out among your friend circle.
Old models of Windows widgets and gadgets don't attract the new generation. I also don't like outdated widgets. That's why I researched and discovered some attractive free widgets and gadgets that can make your PC interface more stunning.
Without skipping, read the whole article to learn about those free gadgets.
Let's start!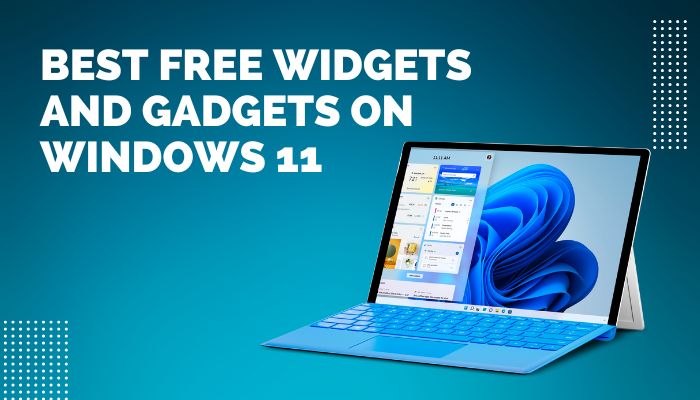 Read more on how to Use Tablet Mode on Windows 11
Can You Get Widgets and Gadgets on Windows 11?
Some automated Widgets are preinstalled on Windows 11, such as calendar, weather forecast, sports, entertainment, stock market, tips, pictures, etc. You can also download gadgets for your PC like Rainmeter, cursor, JaxCore skins, RoundedTB, and so on.
These widgets and gadgets are not only helpful but also simple to operate. And gives you a massive boost in your daily life.
Widgets like calendars and weather forecasts are essential tools. They can help you to navigate your day-to-day work schedule.
But to make your PC interface unique, you must download some gadgets like Rainmeter and Cursor. JaxCore skins can change your Windows 11 looks into a gorgeous one.
So keep following my article to learn about those cool widgets and gadgets. Find out how to download and apply them to your Windows 11 system within a snip.
Check out the easiest way to fix blue screen on Windows 11.
Microsoft's Widgets for Windows 11
Microsoft brings back the Widgets system on Windows 11. You can use them with a simple click. These Widgets are newly designed and programmed for the new generation.
The minimalistic design and interface can help you to fulfill your demand. So follow the Microsoft widgets list given below.
Here is the list of the 6 best Microsoft widgets:
1. Calendar
Date and time are essential to humans. Without knowing them, we can not deal with a single moment. So how do you add a calendar widget on your Windows 11? Keep reading!
Here are the steps to add a calendar Widget on your Windows 11:
The calendar is now set as a widget on your Windows 11 system.
Also, check out our separate post on how to fix Windows can't access network drive on Windows 11.
2. Weather
Do you want to know about your area's weather conditions? Weather widgets can help you with that. It will also show you the coming three days' forecasts.
3. Esports
If you are a sports fan, then this widget is for you. With this tool, you can track down sports results from all around the world.
4. Traffics
The traffic widget can help you plan your route and save you from boring traffic. This widget became helpful in big cities like New York or Washington DC.
5. Watchlist for Stock Market
If You want to follow the stock price, this watchlist widget is for you. You can modify it according to your needs, such as only your recommended stock appearing on this Widget.
Check our latest post on how PC won't go to sleep mode in Windows 11.
6. Entertainment
Entertainment widgets will provide up-to-date news from Hollywood or other industries when you love movies and serials. This widget will help you to watch new shows and movies.
Best Free Stylist Gadgets for Windows 11
Some fantastic gadgets can transform your PC interface from dull to cool. It will be a refreshing experience for you when using your Windows 11. So follow the gadget list to learn about those stylish gadgets.
Here are the top 4 free gadgets for your Windows 11:
1. RoundedTB
What if I tell you you can modify your taskbar looks? You will be amazed, right? Let's find out how you can change your taskbar with the help of the RoundedTB gadget.
Here are the steps to use the RoundedTB widget:
Now you will see that your taskbar is round, and you can modify it further.
Here's a complete guide on how to restore files from File History on Windows 11.
2. Cursor
We mostly look at the cursor while using our PCs. That's why when you modify this cursor, it can remove your monotony. How to change the cursor? Read on to find out.
Here are the methods to modify your cursor:
You will notice that your cursor is changed. 
Also read, Fix Wi-Fi Option Not Showing on Windows 11
3. ModernFlyouts
Suppose you want a modern UI for your brightness level, airplane mode, and audio. Then this ModernFlyouts gadget is best suited for you.
Here are the steps to download and use ModernFlyouts:
This app will help you to navigate useful options more quickly.
Follow our guide to update Drivers on Windows 11.
4. Twinkle Tray
Several people use this tool to change their brightness level and twitch different settings. This Twinkle tray gadget might become handy to you.
Here are the methods to install Twinkle Tray on Windows 11:
This gadget can solve your numerous Settings issues.
Also check our exclusive tutorial on how to Flush ARP cache on Windows 11.
FAQs
How do I get the weather widget on Windows 11?
Go to the left corner of the taskbar and place your cursor on the widgets menu. Then move your cursor to the (+) option and click, Select the weather widget.
What are Windows 11 widgets?
Widgets on Windows 11 are tools that can make your life easy and smooth generally, Microsoft adaptive card platforms power them.
How do I add a clock in Windows 11?
Follow Start > Settings > Time and language > Date & time > Additional clock, and you are all set.
Final Thought
You can use numerous widgets and gadgets on your Windows 11. But the Microsoft inbuilt widgets are the best because they contain authorized permission from the Microsoft company. Also, they are safer than any third-party gadgets.
If you read my article thoroughly, you will be able to learn about the 10 best gadgets that can make your life super smooth. You can also download and install them on your own.
Tell me your afterthought about this content in the comment below.
Peace out!