One of the best things about Windows is being able to try out new features or updates early. However, the best thing can turn into the worst thing after you see the blue screen error.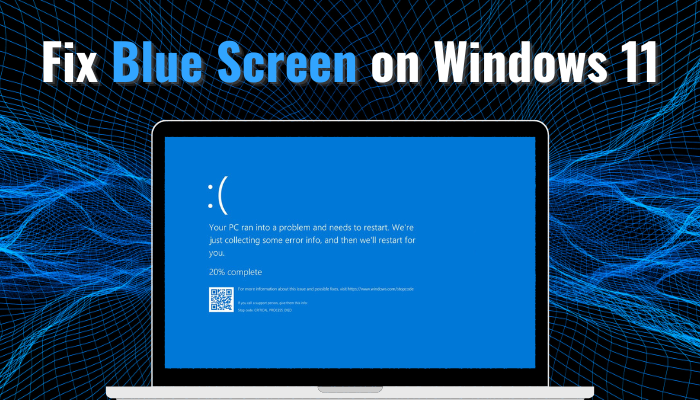 If you've recently upgraded from Windows 10 to the latest version of Windows 11, you'll know what I'm talking about. I've also been a victim of the blue screen problem or BSOD issue, but once I figured out how to roll back Windows updates, everything was back on track.
In this article, I'm going to walk you through every possible method to fix the Windows 11 blue screen error once and for all.
Without further ado, let's begin.
Note: The methods included here will also fix the Windows 11 black screen of death error.
What is Windows 11 BSOD Blue Screen of Death
The famous blue screen of death error on Windows 11 is a fatal system error that may occur for numerous reasons. As horrible as it seems to encounter a Blue Screen of Death or BSOD, there is a significance behind this. Let's break it down further for a sound insight, shall we?
But before that, it's worth noting that, with the release of the new version of Windows 11 Build 22000.346,the screen turns Black instead of a blue color. Ironic how the notorious name BSOD (Black Screen of Death) from when it was introduced in Windows 8 is still relevant, isn't it?
Speaking of BSOD, this error occurs whenever something prevents your operating system from running flawlessly. So that, you can take proper measures to resolve that problem. Otherwise, crucial data loss would make your life a living hell!
Though sometimes it gets wildly annoying, especially when you are in the middle of work or a game.
Let's say a program is found that creates conflict with the Windows' system file. For good measure, the possibility of corrupting the entire operating system or worse imminent component damage; a Black or Blue Screen of Death is apparent.
Now, you might have also seen some weird text and codes on the BSOD screen, right? So, what are these, and why is it important?
See, these texts and error codes are short directives to navigate you to the exact problem with your computer. It can be related to software or hardware. The also determine whether you see a blue background or black screen color.
For your convenience, I've listed the most common BSOD error codes with their underlying meaning. So the next time you experience such a system crash, you'll know exactly what to do.
| Common BSOD Error Messages | Codes | Interpretation |
| --- | --- | --- |
| CRITICAL_PROCESS_DIED | 0x000000EF | A critical system process has failed or died. Can also refer to a processor failure. |
| SYSTEM_THREAD_EXCEPTION_NOT_HANDLED | 0x0000007E | A clear message to show that driver not responding correctly due to incompatibility. It requires an updated version. |
| IRQL_NOT_LESS_OR_EQUAL | 0x0000000A | Problems found in a device driver, antivirus, or in the system memory. |
| VIDEO_TDR_TIMEOUT_DETECTED | 0x00000117 | Display driver is not working correctly. Update or reinstall it. |
| PAGE_FAULT_IN_NONPAGED_AREA | 0x00000050 | The system is addressing an invalid memory location on the RAM. |
| SYSTEM_SERVICE_EXCEPTION | 0x3B | Corrupted and faulty drivers. |
It can occur to you that, you see different messages and numbers other than the aforementioned list. Don't panic, just do a quick search on your part, and you should be good to go. In reality, however, you are mostly going to come across these common errors.
How to Fix Windows 11 Blue Screen on of Death
There are multiple ways to fix the BSOD and you can learn how to fix BSOD error on Windows 11 below. Not necessarily, all of them need to work for you as they can occur for many reasons such as hardware or software-related issues.
Follow these methods to fix Windows 11 BSOD blue screen of death error:
1. Restart the Computer
Before going into the nerve-racking fixes, let's start with the obvious— system restart. If you are lucky, this can fix the BSOD error in Windows 11. The good news is almost 60% of the time this will fix the problem and resolve any temporary bugs and glitches generated within the OS.
2. Boot into Safe Mode & Uninstall Third-Party Software
It is best to enter safe mode to fix blue screen in Windows 11 PC. It enables the user to enter Windows with some essential functionalities enabled, which is great to avoid any unknown programs that might have been causing issues. Even if you experience Windows 11 blue screen on startup, this method is effective.
Here are the steps to reboot into safe mode on Windows 11:
Turn your computer on and keep the power button pressed until it turns back off.
Repeat this process 3 or 4 times. Your PC will enter into repair mode.
Navigate to Troubleshoot > Advanced Options > Startup Settings > Restart.
Select F4 to boot into the Safe Mode after the reboot.
Press Win + R and type appwiz.cpl in the box.
Hit Enter and Programs and Features will open up.
Uninstall third-party software.
Restart the system.
Once you are in, check if the problem is fixed. If you find a stable system, start installing the applications and check when you face a system crash.
3. Use Windows Memory Diagnostic Tool
The Windows memory diagnostic tool is a default software used to diagnose any problems on your computer, both hardware, and software. A lot of things can go wrong on your pc such as the RAM, motherboard, etc. This tool helps to find the root of the problems.
Here's how you can run the Windows memory diagnostic tool:
Type memory in the Windows search bar and open the Windows Memory Diagnostic.
Click on Restart now and check for problems. Your System will reboot.
Wait till the diagnosis is complete.
Restart your Windows System and check whether this resolves the issue.
4. Perform a Clean Boot
Any software conflict and compatibility issue can lead to a BSOD on Windows 11. To triangulate that piece of application, you need to boot your system with only the bare minimum services enabled. This is known as a clean boot.
Here is the process to perform a clean boot on your computer:
Press Win+R to open the Run program.
Type msconfig and hit Enter.
Select the Services tab and check the Hide all Microsoft services box.
Switch to the Startup tab and click on Open Task Manager.
Right-click on the services and disable them one by one from the Startup tab within the Task Manager.
Discard Task Manager and Click Ok on the System Configuration Window.
Restart your computer.
Now, check whether you see a blue screen again. If everything seems fine, start enabling each service one by one. In this way, you'll exactly find which program is causing the issue. And this should fix Windows 11 stop codes.
5. Rollback After an Update or Update Drivers
Not only me but also Users worldwide have reported getting the blue screen of death in Windows after updating their graphics cards or any other hardware. This is a common issue that is still going on. Yes, I know it sucks, but there is no reason to lose hope.
You can roll back the driver, and it is very easy.
Here are the steps to rollback an update or update a new version:
Press the Window + X keys at the same time on your keyboard. You will see a menu pop up.
Select Device Manager.
Select a Device category and select the drivers.
Right-click on a driver.
Click on Properties.
Go to the Driver tab and click on Update Driver or Rollback driver if you have already updated.
Restart your pc.
If this did not help you, then kindly go through the other methods given below.
6. Uninstall Windows Update
If you run into BSOD after a recent Windows update, you should uninstall it right away. So that, you can avoid annoying crashes. This involves booting to the Windows Recovery Environment.
Here is the process to uninstall recent Windows update:
Get into the repair mode by powering on and shutting down your PC at the Windows loading screen.
Repeat it 2 or 3 times. After that when you turn your computer it will automatically go to the Automatic Repair screen.
Choose Advanced Options.
Select Troubleshoot.
Choose Uninstall Updates.
Click on Uninstall latest quality updates.
This will take some moments. After the completion, your PC will restart. Any updated related BSOD should be resolved now.
7. Perform an SFC Scan
You can use the SFC command in the prompt provided by Windows 11. It will check any integrity problems within the file system and fix them automatically. If your storage device like SSD causes a blue screen, this method is highly effective.
Here are the steps to run the SFC scan to fix the blue screen on Windows 11:
Search for cmd in the Windows search bar.
Right-click on Command Prompt and select Run as Administrator.
Type in sfc/scannow and press the Enter key on your keyboard.
Wait for the process to end.
Close the Command Prompt after the process is finished and restart your pc.
Do not panic if this method did not work for you. Trying different methods is expected when fixing issues like these.
8. Scan for virus or malware
Just like maggots eating nasty things, viruses, and malware eats away your system similarly. It is a great practice to scan your pc for viruses and malware from time to time so that you can get rid of them.
Having a clean pc is always nice as there is a minimum chance of crashes and slowdowns. If you need to know how to scan your pc for viruses or malware, follow the given steps.
Here are the steps to resolve the blue screen on Windows 11 by using Windows security:
Search for Windows Security and click on it.
Go to Update & Security > Windows Security > Virus & threat protection.
Click on Quick scan and check whether there are too many viruses. I recommend you reinstall Windows 11 if there is a copious amount of malware or viruses present on your pc.
Follow the on-screen prompts to remove the malware or viruses.
Restart your pc and check whether the blue screen still pops up or not.
The next method is the last option you have, other than a fresh installation of Windows 11.
9. Perform a System Restore
System Restore is the process of taking your pc back to a point where it was working properly. For example, if the date is the 11th of October, you can perform a system restore to take your pc back to the date of the 1st of October when there were no issues. This is a great method as you are not required to reinstall Windows 11 in this case.
Note: You can only restore the system if you have already created a restore point before. Otherwise, this method will not work.
Here are the steps to perform a System Restore on Windows 11:
Search for system restore in the Windows search bar and click on it.
Click on Create a restore point.
Click Next.
Select the Restore point you want to go back to and click on Scan for affected programs.
Wait for the process to end and then click Next.
Click on Finish.
If this did not work, then there is no other option but to reinstall Windows 11. Just go to the official page, then download and install Windows 11 again. Make sure to perform a clean installation, meaning do not keep any files. Remember to back up important files!
10. Clean Installation of Windows
If none of the methods I've explained above don't fix your problem, you should consider a clean install of Windows 11. With this, you'll be able to start from scratch. A little inconvenient but can be hugely beneficial.
In summary, to install Windows Make a bootable USB flash drive > Access the drive from the BIOS boot menu > Follow the on-screen instructions. Within a few moments, you'll be rocking your new operating system.
11. Check For Hardware Failures
Even after trying every fix, BSOD is persistent on your computer, then the error may occur because one of the components is problematic. In that case, you need to read the BSOD code and swap that component out with a mint one.
For instance, if you find out the code indicates that your RAM is behind a black screen, replace it with one that you know works fine. Now, check whether the problem arises again.
To make a confident assumption, check your RAM on another system and look for any issues. If it causes problems on that device too, then you need to buy a new memory stick. But, if it works perfectly fine, then another component may be defective. So you need to repeat the process until the culprit is detected. Likewise, overheating CPU can cause BSOD.
This is a tedious process, but once you go through it, you'll have a perfectly working system.
Conclusion
The blue screen is now black on Windows 11. If you followed the instructions in this post, you should have fixed the blue screen by now.
If not, then it is most probably a hardware issue, and you should go to a computer service center near you.
Got more questions? Leave a comment down below.