If you recently purchased a Windows computer, the UI might feel a little overwhelming, especially if you want to check the size of each folder easily. Although this may seem like a complicated task at first, you will be surprised at how simple it truly is by the time you reach the end of this guide.
Because of the way Windows is built, there are multiple ways to see folder and file size information, the simplest of which requires the use of Windows File Explorer.
Don't know what that is yet? Don't worry, since this guide is specifically targeted at users, I will provide a step-by-step tutorial to view the size of folders in Windows 11.
So, grab a cup of coffee and start reading.
Check our exclusive tutorial on how to Change Image Thumbnail Size in Windows 10/11
Why do folders not show the size in File Explorer?
You can't see the folder size in file explorer because it would slow down browsing of the file system. This occurs when the file size is too large and has too many subfolders added to it. Windows Explorer has to read every file within subfolders before returning a result.
A lot of systems processing power uses up when it tries to read too many files. However, there are a couple of ways to show the size of the folders. One is through the Properties Tab. It is one of the easiest and well-known methods.
When you click on a folder and check the Properties, the file explorer will algorithmically scan every file and display the total size of the folder used up in the disk.
Most PCs these days don't face such problems because of the quick SSD's. The SSD's are quick enough to gather thousands of data in a flash. No matter how many files you have in your folder, the explorer will always show accurate results.
You may also like to read: Can I delete AppData folder in Windows 11
How to View Folder Size in Windows 11
There are four methods to view the folder size in Windows 11. The easiest and most convenient way is to place the mouse cursor over the folder to see the folder storage usage.
File Explorer, also known as Windows Explorer is a file manager application for accessing file systems and it can also tell you the size of a folder.
Here are the steps to show the folder size in Windows 10 File Explorer:
Use the Win + E shortcut to launch File Explorer.
Right-click on the folder and select Properties.
Check folder size or file size by checking the disk space in the size column.
If you want a simpler way to do this, or want more detailed file and folder size information, keep reading.
Here are the ways to view the size of folders in Windows 11:
1. Use the Command Prompt
You can also check the folder size using Command Prompt. The first step is to copy and paste the folder directory to the Windows 11 command prompt. Then, navigate to the folder and copy the folder directory.
Open the Search Button from the Taskbar and type in Command Prompt. Run the program as administrator.
Then, type dir/s "paste the folder directory path using ctrl + V" and press Enter. You will see the size of the folder is taking in bytes with in-depth details.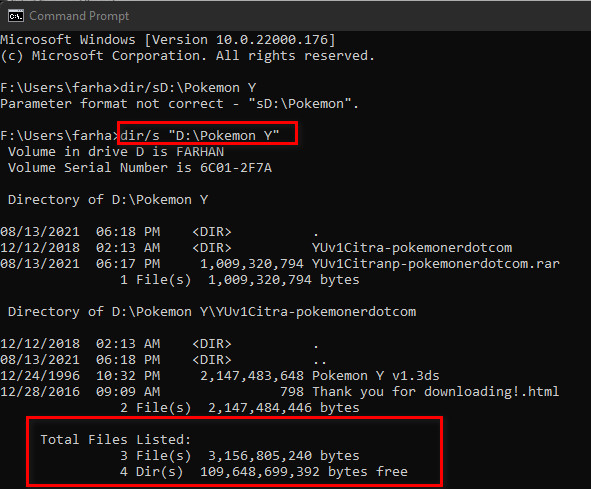 Follow our guide on How to Boot to Safe Mode in Windows 11
2. Hover the Mouse Over the Folder
Another common way to view folder size in File Explorer is to see folder size information in folder tips. This method is also known as the ToolTip Method. The previous two steps require much more time and are for those who want to earn every bit of knowledge about windows.
However, not everyone will learn computer science when they are in a hurry. That's why this step is the easiest step for everyone.
Pick a folder you want to check and move the mouse cursor over the folder for a few milliseconds. Windows will automatically display the size of files that are selected.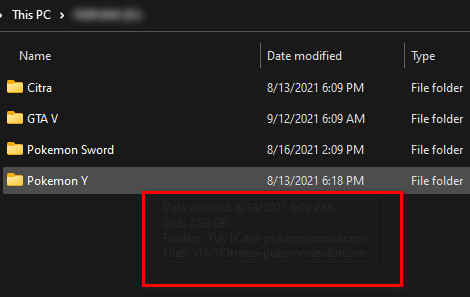 Do note that: You won't get any in-depth knowledge about how many subfolders or files are present in that particular folder.
Check out our expert-recommended guide on How To Enable Telnet On Windows 11
3. Use Third-Party Tools
I highly recommend avoiding this method if you can as third-party software can potentially corrupt your PC with junk files just to perform the simplest task ever.
If you really can't see any other alternative, you can try using a free folder size software named Folder Size Explorer.
How to see the size of multiple folders?
Till now, we found out how to view the size of a single folder or file. But what about multiple folders?
Don't worry. I got you covered.
Here's a complete guide to turn off Touchpad Clicks on Windows 11.
Open File Explorer and then Press and hold Ctrl and Left-click the folders you want to know the size of. Then Right-click on any folder and select properties. File Explorer will show the size of all the folders you selected all together.
While we are on the subject of folder size in Windows explorer, you may wonder:
Can you sort using a folder's size?
Yes of course. You will see an option at the upper part of the screen below the Directory Path to organize the folders according to size. Just click on the arrow to sort folder by size.
Check out the easiest way to fix Windows Can't Access Network Drive On Windows 11.
Final Thoughts
This post shows how you can quickly and easily find any file size information without even spending one minute of your valuable time.
On Windows 11, the file size is shown in File Explorer. However, the scenario is not the same for folders. As the new OS has a different UI, it is common to face such issues. Don't worry. I will provide you more Windows 11 simple tutorials for your ease.