Developers program Windows 11 in such a way that it performs according to user commands. Schedule wake-up timer on Windows is a perfect example of that feature. You can easily set a specific time at which your system will automatically wake up from sleep.
Maintaining time is a challenging task for some students and office workers. The Schedule timer can give them a boosted performance in their day-to-day life.
In my student days, I late appeared in several online classes because I didn't know how to wake Windows from sleep automatically. But when I found the methods, I never missed a Scheduled task on my computer.
This article shows how I enabled this automatically wake from sleep option, so don't skip any parts.
Let's begin!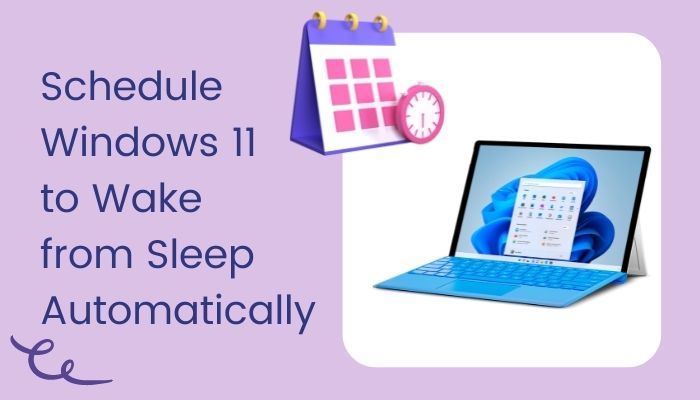 Read more on how to Download & Install Steam on Windows 11
What is Allow Wake Timer in Windows 11?
The specific time event option on Windows 11 that allows us to wake the Windows system from sleep is called Allow wake timer. This option only works in sleep mode or hibernation mode, but if the PC is shut down, allow wake timer system will not function.
Suppose you create a task from the task scheduler and set a precise time. If your PC is in sleep mode during that desired time, it will wake up. This type of task is known as the Time Event.
The Allow Wake Timer feature on Windows 11 can enhance our productivity. Because in the specific time when the computer wakes up, it works like a reminder. So we don't forget any scheduled tasks.
In the following heading, I will show you how to set up an Allow wake timer, so read on.
Related guide: 4 Easy Steps to Open Windows 11 Administrative Tools
How to Schedule a Time to Wake Your Windows 11 From Sleep Automatically
There is an in-built Windows option with which you can easily schedule a time to wake your Windows system from sleep. The option is known as the time scheduler. Also, you must modify the power option to complete the timer operation effectively.
Here are the steps to schedule a time to wake up the Windows from sleep automatically:
1. Use the Task Scheduler to Wake the PC from Sleep
Task scheduler offers us an option by which we can create a timer task. This task will wake our computer from hibernation mode at a specific time.
Here are the steps to modify the task scheduler & change the power option:
Create a Task in the Task Scheduler
You need to open the task scheduler and create a new task. Then modify the task and set a specific time.
Here's how you can create a task with the task scheduler:
From General Tab
Move to the Search bar, type Task Scheduler, and select it.
Click on the Create Task option.
Name it whatever you want, such as "Wake From Sleep"
Select the Run whether user is logged on or not option.
Enable the Do not store password. Tusk will only have access to local computer resources, radio box.
Enable the Run with highest privileges radio box.
Select Windows 10 from the Configure for box.
Also read, Windows 11: An Error Occurred While Creating the Directory
From Triggers Tab
Move to the Triggers tab.
Select the New option.
Choose On a schedule from Begin the task option.
Modify your desired time.
Click the OK button.
You may also like to read: 13 Best Windows 11 Settings You Should Change Right Away
From Actions Tab
Navigate to the Actions tab.
Click on the New box.
Type exe in the Program/script: box.
Type /c "exit" in the Add arguments (optional):
Hit the OK option.
From Conditions Tab
Move to the Conditions tab.
Enable the Wake the computer to run this task radio box.
Check out our separate post: Windows 11 Remote Desktop Authentication Error
From Settings Tab
Move to the Settings tab.
Select Stop the task if it runs longer than: box and choose your desired time.
Click on the OK button to finish your job.
You created a new scheduled task on your Windows 11 system.
But remember, creating a task is not enough you must modify your power options settings simultaneously to enable the Schedule time. So, track down the following subheading.
Also related: Delete Windows 11 File Explorer Address Bar History
Change Power Option
Sometimes power option blocks the wake-up timer, so you must change the power option settings to some extent to allow wake-up timers. Otherwise, the time scheduler modification will go in vain.
Here are the steps to change the power option to allow the schedule timer: 
Move to the Search bar, type Control Panel, and select it.
Select View by option and choose Large icons.
Click on the Power Options section.
Select the Change plan settings beside your current plan.
Click on the Change advanced power settings link.
Expand the Sleep section, also expand the Allow wake timers option.
Enable the On battery option.
Enable the Plugged in option.
Select the Apply button and hit the OK option.
Your power options settings will not block the wake-up timer, and your Windows 11 or 10 system is perfectly configured for a scheduled wake-up.
You may also like Enable or Disable Offline Files in Windows 11
2. Alternative General Tab Settings from Task Scheduler
Several users claim that their scheduled timer also worked when they did some extra modification in the task scheduler's general tab.
Here are the alternative steps to modify the general tab from the task scheduler:
Open the Task scheduler app.
Select the Create Task section.
Click on the Change User or Group box from the General tab.
Type SYSTEM in the Enter the object name to select (examples): box and click on the Check Names option beside the box.
Follow the rest of the process precisely as mentioned earlier heading.
Your scheduled timer is enabled now. Remember that the entire methods are the same without this extra change, as stated in the previous section.
Also read, Taskbar Won't Auto-Hide In Windows 11/10
3. Apply the Presence Settings
In recent years some Windows 11 PCs have a built-in presence sensor, which can detect you and automatically wake the Windows when you approach.
If you have a presence sensor on your device, follow the instructions to wake your Windows 11 system by approaching it automatically.
Here are the steps to enable the presence settings on Windows 11:
Press the Win+I keys to open the Settings app.
Select the Power & Battery option.
Click on the Screen and sleep section.
Turn on the Automatically turn off my screen when I leave option.
Turn on the Automatically wake up my device when I approach option.
Select the More options (>) if you want to modify the presence settings.
Change the Consider me gone when I'm this far away, Then, turn off my screen after this amount of time, Wake my device when I'm this close options as you see feet.
You are all set, and check whether it works or not.
Remember, some devices have more than one presence sensor; choose whichever you want to use.
Read more on how to Password Protect a File or Folder in Windows 11
FAQs
How can I get my computer to turn on at a certain time?
To turn on your computer at a certain time, you must create a task in the task scheduler and set a specific time to operate that task. When the desired time comes, Windows will wake up automatically.
How do you wake up a computer without the power button?
You can set a scheduled time when Windows will wake up without the power button. Also, you can press the keyboard and move your cursor to wake your screen when your PC is in sleep mode.
What is a Wake timer? 
A wake timer is a specific time event in which the Windows will automatically wake up from sleep or hibernation.
Wrapping Up
Setting up a scheduled time on your Windows 11 is a straightforward process. Windows inbuilt Time scheduler app is best suited for that purpose. You just need to create and configure the task correctly at a specific time.
Also, if your PC has built-in presence settings, you can use that setting to wake up your Windows 11 system. Moreover, if you read and adequately follow this article, you can set a scheduled time for your computer by yourself.
Do you have any queries regarding this article? Let us know in the comment section.