Last month I was playing Zombie Apocalypse Roleplay: From Scratch in Roblox with my friends while my Roblox client was locked in VR mode. I was confused. So I asked my tech friend what to do, and she told me to disable the VR mode for Roblox.
I tried searching for disabling VR mode but failed to get any authentic workable information. So, I researched for one day and found two solutions.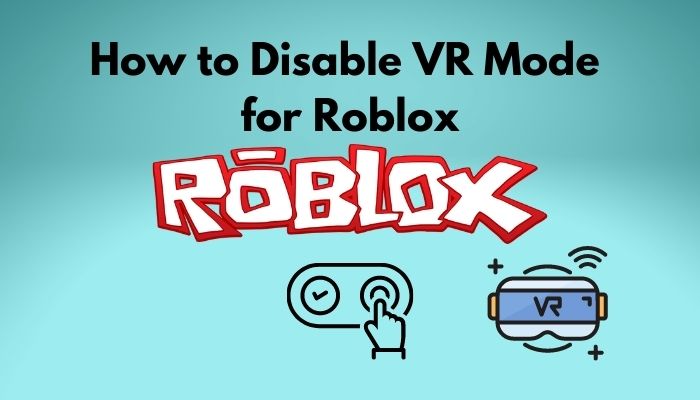 So, are you facing the same issue? Or want to play Roblox in an old-fashioned way?
Whatever the reason, feel free to tag along and solve your problem.
But why do I have to disable VR mode for Roblox?
You have to disable or turn off VR mode for your Roblox for reasons like facing constant crush, locking up every now and then in Roblox games while playing with your VR, or you wish to play Roblox the old fashioned way on your PC. The reason varies from person to person.
I will guide you on how you can easily turn off the VR mode. I hope you don't need more than 2 minutes to read this and solve your problem.
How to Turn Off VR Mode in Roblox
People asking this question for over 5 years, yet there have been no concrete solutions on the websites, some blogs, and groups, i.e., the internet from where you can get help.
So, the wait is over. Follow the methods and resolve your issue of turning the VR mode off for Roblox.
Here are the methods to turn off VR mode on Roblox: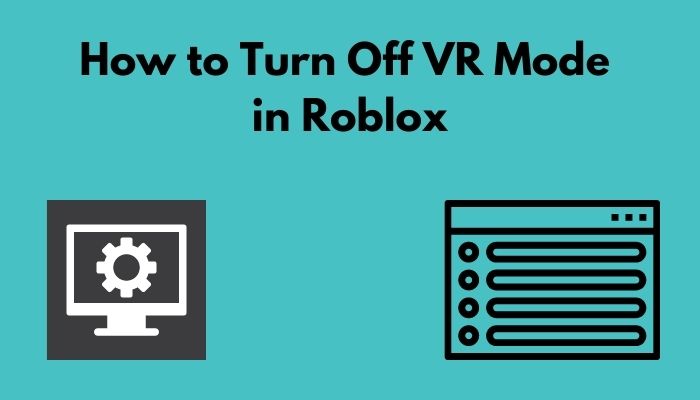 1. Change the Command
By changing a command simply, you can disable the VR in Roblox and enjoy not having to unplug your headset every time you want to play.
Go to file manager and then open C: Drive to your computer. It'll contain a Windows logo.
Click on Users.
Search \Appdata\Local\Roblox and hit Enter.
Find Globalbasicsettings_13. Right-click on it and click edit.
Scroll down until you find <bool name="VRenabled">true</bool>.
Change true to false and hit Enter.
Launch Roblox.
Pretty simple, right?
When you launch Roblox, it will start Oculus, but the game will launch on your monitor. So, don't worry if Roblox starts Oculus.
I hope you have solved your problem by now. But if you don't follow the next one.
Check out the easiest way to fix a Blurry VR headset.
The Radial Menu offers an interference that allows you to quickly reach all the functions of your VR mode, for instance, Asset Editors, Model Panels, etc. It is a reliable solution to the display options, and it permits users to use a joystick or trackpad to select options.
You can use this menu and disable VR mode in Roblox. To do that, you have to:
Open Roblox and tap the Menu button to find the VR Radial Menu.
Open VR Radial Menu and select System Menu. This allows you to access system options.
Toggle the VR option off.
Thus, you can disable the VR mode for Roblox promptly. There are no workable ways to fix this other than following these two. I believe you resolved your problem following these.
Check my latest post If you are facing problems with Roblox Error code 267.
VR Mode for Roblox: Turn Off in HTC Vive
Though you can no longer buy the official HTC Vive system through HTC, it is still available out there from some tech retailers or third-party sellers. So, I guess it's still convenient to give a solution for this.
Who knows a Vive user isn't reading this?
Related content you should read about can VR games be played without VR Headset?
To turn off VR mode in HTC Vive for Roblox, all you have to do is:
Go to the file manager or This PC.
Open C: Drive and go to Users.
Search \Appdata\Local\ and then find openvr.
Right-click on openvr and then select Rename.
Rename it to whatever you like and press Enter.
Close the Window.
Following this process will ensure turning off the VR mode for Roblox. But if you want to play on the VR again, you have to follow this process and rename the folder back to openvr.
Note: When you plan to play on your VR again, try not to use other names than "openvr".
Fix Roblox lag in seconds for faster and smoother gameplay. Also, increase the fps count using Roblox fps unlocker.
Follow our guide on how to Fix VR Headset Not Working.
How to Turn Off VR Mode on an Android
If your phone supports VR mode, of course, there are options to turn it on and turn it off. There is a straightforward way to turn off the VR mode on your android. To do this, you need to:
Open your phone and go to the Settings.
Scroll down to find Feature and then tap into it.
Scroll down to see VR Mode Switch.
Tap into it and click on the on/off switch
Close Settings.
Thereby you can turn off the VR mode on your android. If you want to turn it on again, just following the same process will be enough to do so.
Also, check out our separate post on how to clean VR headset foam.
Conclusion
To enhance your Roblox experience, you have to play Roblox games in VR. But nothing can fulfill the 100% efficiency. So, the same thing goes for Roblox in VR.
But there are solutions to your problems. If you face issues for which you have to disable VR mode for Roblox, this article will be sufficient for you to solve your problem.