Unlike other games where you have full control over every keybinding for each action, Roblox is different. As it is filled with different genres of games, there are no fixed controls except for some basic movements.
That being said, this article explains every vital control of different actions in all Roblox games and how to customize keybindings.
Keep reading because in under two minutes, you'll learn all the Roblox controls on mobiles & tablets, computers, and Xbox consoles.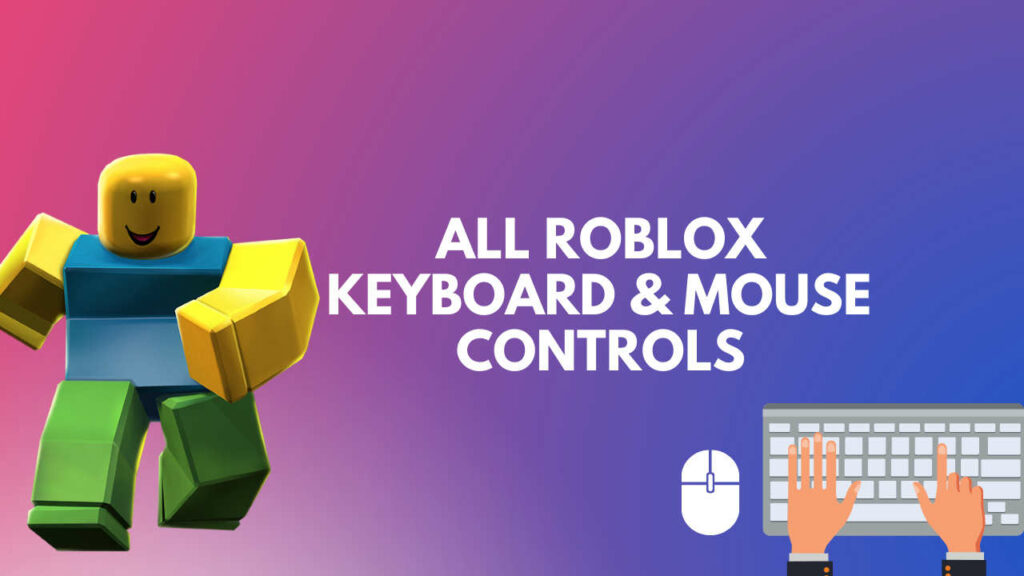 Let's begin!
What are the Controls for Roblox Mobile
When you join a game in Roblox mobile, all the controls are virtually available at your fingertips, no puns intended. The dynamic thumb stick is on the down-left corner. Use it to move left, right, forward, and backward. All other actions will be displayed on the screen, conveniently labeled.
Here are the controls for Roblox on Android & iOS devices:
Use the up arrow at the bottom-right corner to jump.
The left-bottom area is for moving around. Drag your thumb upwards to go forward, and downwards to go back.
The upper-right area of your screen controls your camera angle. Move your finger to that place to adjust the camera.
Your inventory is at the bottom of the screen. Simply tap on the tool you want to equip.
Press the Chat icon to send a message.
Tap on the Roblox icon on the top-left corner to open the Settings, Help, and your profile options.
Select the three dots button to see the leaderboard and the players in your lobby.
Playing Roblox on mobile will give you the same experience as playing it on a PC or console. However, the controls are a nightmare as your fingers will be covering half of the screen.
So, I'd say, the best way to play Roblox on iOS & Android devices is through a controller, and in the following section I've explained how.
How to use a Controller on Roblox Mobile
To use a PlayStation or Xbox controller to handle your Roblox character, simply connect the controller to your mobile device via Bluetooth. Once you link the two, join a server in Roblox and the game will automatically detect and set different actions for the controller buttons.
Here's how to use a controller on Roblox mobile:
Connect PlayStation Controller to Roblox Mobile
Press and hold the PS button & the Share button on the controller for a few seconds until the controller flashes white light, i.e., goes into pairing mode.
Turn on Bluetooth on your mobile device.
Select DualShock Controller from the list of available Bluetooth devices.
Connect Xbox Controller to Roblox Mobile
Make sure the Xbox controller has Bluetooth support.
Press the Xbox button on the controller to turn it on.
Press and hold the Sync button for about 5 seconds on the top of the controller until the light on the controller flashes.
Enable Bluetooth on your mobile and select Xbox Wireless Controller.
Once you connect your controller and join a game, Roblox will automatically detect it, and you can use it as you would on a console. The game will label the controller buttons on different actions on the screen.
What are the Controls for Roblox?
Roblox has standard controls like regular PC games. W, A, S, and D are for normal movement, Spacebar for Jump, and number keys (1, 2, 3, 4, 5, 6, 7, 8, 9, and 0) for switching items in inventory.
You can also use the arrow keys of the keyboard as well to move your character. Other keys depend on the Admin of the game. The admin can choose any key, depending on the game genre.

Roblox keyboard controls
Here are the basic computer controls for Roblox:
| Control Key  | Description |
| --- | --- |
| W | Move Forward |
| A | Move Left |
| S | Move Backward |
| D | Move Right |
| Spacebar | Jump |
| 1, 2, 3,... | Equip and Unequip Tools |
| Mouse Left Button | Use Tool |
| Mouse Wheel | Zoom In/Out |
| Hold Mouse Right Button | Rotate |
| Esc | Roblox Menu |
| Tab | Player List |
| / | Chat |
All the above keybindings are for the most recent edition of Roblox. Be sure to download the latest Roblox version or update it if it's already installed on your device.
How to Adjust Camera and Mouse Sensitivity on Roblox
Keyboard and mouse maps are useful if you don't know which button corresponds to a given action to play Roblox. Some controls are permanent and cannot be changed, while game admins can only customize other keyboard controls.
Hold down the right mouse button to move the camera in all directions. You can use this control in all of Roblox's games. But to adjust the camera and mouse sensitivity, you need to follow some steps.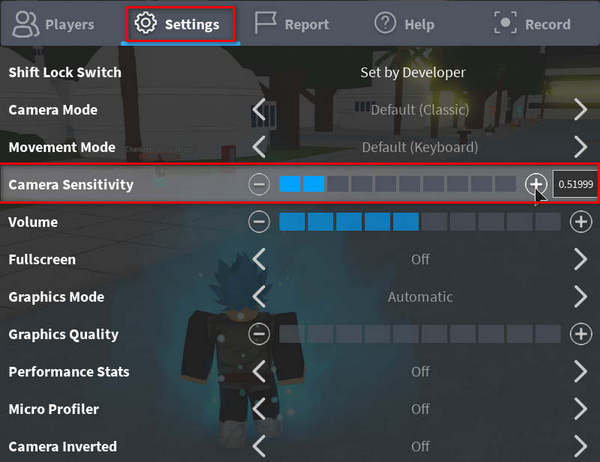 Here are the steps to adjust Camera and Mouse Sensitivity on Roblox:
Play any game in Roblox.
Press Esc and click on the Settings Button.
Change Mouse Sensitivity according to your need.
Change Camera and Movement Mode if necessary.
There are two camera modes in Roblox, Classic and Follow. As long as the game admin hasn't fixed the camera mode, you can switch between the two.
In Classic mode, the camera remains fixed in one spot. Change your avatar's pivot point by holding down your mouse's right button, and moving it.
In Follow mode, the camera will rotate along with your avatar to help keep your indicated targets in view.
To switch between the two camera modes, press the shift key
How to Change Controls in Roblox
Customizing any basic controls in Roblox requires Roblox Studio. Only the game admins can make this change. You cannot change the game controls in-game. In most cases, the games have the same controls (WASD keys).
So, to modify controls in Roblox, you need to become an administrator first, then follow the instructions below.
Here's how to customize game controls in Roblox:
Open Roblox Player and Run a Test Version.
Select StarterPlayer from Explorer.
Navigate to Properties and Scroll down to Controls > DevComputerMovementMode.
Change controls according to desire.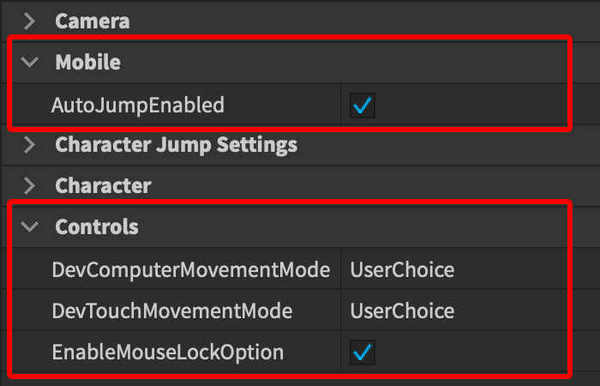 | Option | Description |
| --- | --- |
| ClickToMove | Players can only move about the game world by right-clicking a target location. |
| KeyboardMouse | Use WASD to move and Space to Jump. |
| Scriptable | Allows you to script your control scheme. |
| UserChoice | Allows players to choose their desired control scheme from the in-game Settings menu. |
| DPad | This feature is not applicable anymore. |
| DynamicThumbstick | Thumbstick appears where the player initially presses down. |
| Thumbpad | This feature is not applicable anymore. |
| Thumbstick | A mobile thumbstick pops up in the lower-left region of the screen. The thumbstick doesn't move position, unlike DynamicThumbstick. |
You can change game controls on the desktop by changing the value of Controls > DevComputerMovementMode in the custom scripts.
For mobile devices, you can change game controls by changing the values of Controls > DevTouchMovementMode.
In case you are having the Roblox Studio not working issue, be sure to update your graphics driver and disable plug-ins from the app.
How to Shift Lock on Roblox
Shift locking is a useful method when you want to play with your keyboard only. And you don't want to rotate the camera's perspective often with the mouse.
What is shift lock in Roblox?
Shift lock in Roblox is a feature where the camera's perspective is locked with the player's movement in a 3rd person view. But remember, it doesn't work on touchscreen devices.
To activate the mouse lock or shift lock, simply press the Shift Key.
Also, some games on Roblox have a built-in mouse lock feature, like the Tower of Hell game.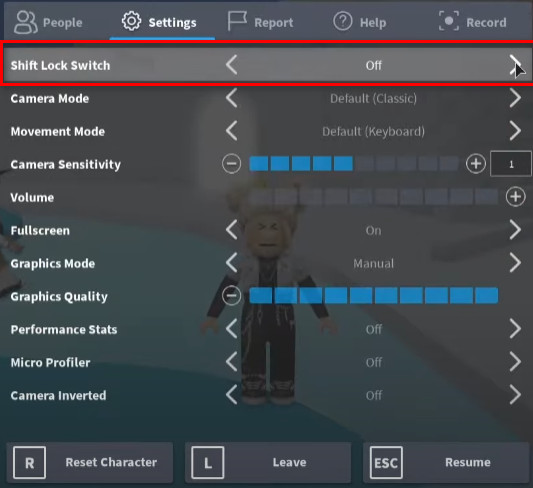 Here's the process to shift lock in Roblox:
Open Roblox Player and start playing any Roblox game.
Go to the in-game Settings.
Enable Shift Lock Switch.
Press Esc and click on the Shift button to use the mouse lock feature.
What are the Controls for Roblox on Xbox One?
Roblox is also available on Xbox with cross-platform support. And below I've listed all the controls for an Xbox controller in a Roblox game.
Here are the controls for Roblox on Xbox One:

| Controller Button | In-game Action |
| --- | --- |
| A | Jump, Accept |
| B | Open menu |
| X | Leave game |
| Y | Reset in the menu |
| Right Trigger | Use tool |
| Right Analog Stick | Rotate camera |
| Right Stick Press | Switch between first person and third person view |
| D-pad | Left, right, forward and backward movement |
| Start | Open and close menu |
| Select | Activate and deactivate navigation mode |
| Left button (LB) | Equip tool |
| Right button (RB) | Remove tool |
FAQ
Question: How do you view Roblox PC controls?
Answer: Play any game in Roblox and press Esc. Select Help to view Roblox PC controls.
Question: How do you move in Roblox?
Answer: Use WASD to move in Roblox. Press RMB and move the mouse for camera movement.
Question: How do you shift lock on Roblox mobile?
Answer: The shift locking feature requires the permission of the Admin. If the Admin enables the shift locking feature for mobile, then, you can perform.
Final Thoughts
It is easier to use controls if you adapted yourself to Roblox. But for beginners adjusting to the controls is tough.
This guide is for complete beginners who don't know the controls of Roblox. I hope Roblox adds a tutorial for new players.
Leave a comment below if you have any more questions.