If you ask me to name a game that is easily accessible and widely popular among adults & kids alike, the first game that comes to my mind is Roblox. But how can you install this game on whichever platform you prefer?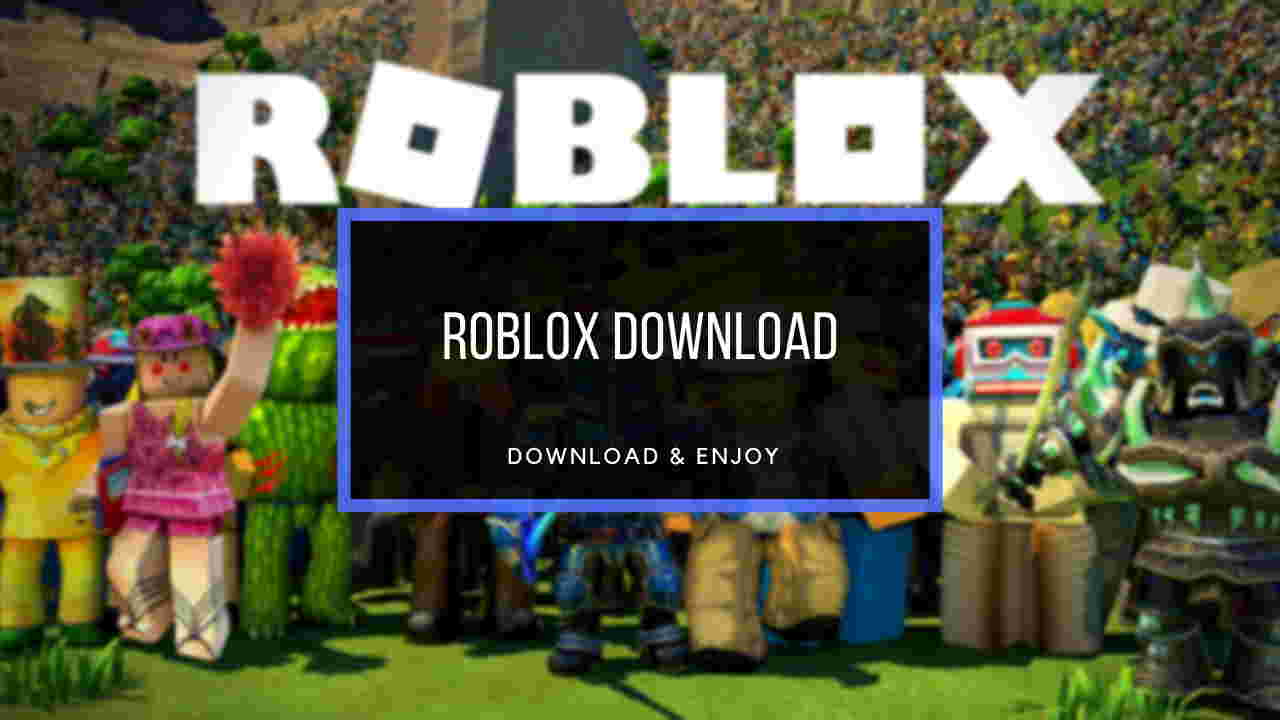 Well, continue reading, as this write-up is all about providing you with the direct 1 click link for downloading Roblox on PC & Chromebook.
Roblox Requirements
Although Roblox is a very lightweight game, you should still make sure your device meets the necessary requirements to play the game before you head over to download it.
Here are the requirements to play Roblox on all available platforms:
PC Requirements
CPU: A recent processor (released after 2005) with a clock speed of 1.6GHz or higher. Older AMD processors might cause some issues.
RAM: At least 1 GB of memory on Windows 7, 8.1, or 10.
GPU: DirectX 10 or higher feature-level support. For the best performance, Roblox officially recommends either a PC less than 5 years old with a dedicated GPU or a laptop less than 3 years old with an integrated GPU.
Storage Space: At least 1 GB of free space on hard disk or SSD.
Operating System: 64-bit Windows 7, 8.1, or 10. For Windows 8.1, you'll need to run Roblox in Desktop Mode, as Metro Mode (the tiled start-screen) is not currently supported.
Android Requirements
Devices with Android OS 5.0 or higher, and must have Open GL ES 3.0 support.
Apple iOS Requirements
iPhone 5s or higher.
iPad Air or higher.
iPad Mini 2 or higher.
iPod touch 6th Generation.
64-bit iOS 11 or greater is required.
Chrome OS Requirements
Chrome OS version 53 or above is required, and Google Play Store must be enabled on your device.
Mac OS Requirements
Mac OS 10.10 (Yosemite) or higher is required. Additionally, the Roblox Studio supports Mac OS 10.13 (High Sierra) or above.
Amazon Fire OS Requirements
Kindle Fire HDX 7 (3rd Gen).
Fire HDX 8.9 (4th Gen).
Fire HD 6 & 7 (4th Gen).
Kindle Fire HDX 8.9 (3rd Gen).
Fire (5th Gen), except Amazon Fire HD 2013.
Fire HD 8 & 10 (5th Gen).
Important note: Roblox may not immediately support newly released OS/devices.
Now, what about consoles? Check out our article on whether you can play Roblox on PS5 or not.
How to Download Roblox for PC
Downloading ROBLOX is very easy, and it is free of cost. To play ROBLOX for free on Android/iOS, you can simply download it from the Play Store/App Store. But for a PC, you need to manually download it by using a browser on your computer.
Here's the direct ad-free and high-speed download link of Roblox for Windows PC:
Download ROBLOX V 2.441.15398.0 ➜➜
| Game Name | Roblox |
| --- | --- |
| Version | 2.441.15398.0 |
| Developer | Roblox Corporation |
| Supported On | Windows 7/8/10 |
| Avg Rating | 5 |
| Last Updated | 09/02/2020 |
Important Note: We do not host/modify the file on our server. So you'll get the untouched and working version from the original author.
How to Install Roblox on a PC
After you have finished Downloading Roblox from the above link, you should now be able to install Roblox.
Here are the steps to Install Roblox on a PC:
Run the downloaded appx file.
Click Install.
Wait for the installation to be finished.
Run the Roblox Player and enjoy the games.
Although it's highly unlikely, check out the embedded article if the Roblox PC game client is not responding after installation.
How to Download Roblox on Chromebook
Downloading Roblox on a Chromebook can be a bit tricky, as you can't install game files as you can on Windows computers.
Here's how to download and play Roblox on Chromebook:
Click on the clock from the bottom right corner of the screen to open the Quick Settings menu.
Go to the Settings of your Chromebook by clicking on the gears icon.
Select Apps from the left side pane and Turn on Google Play Store.
Click on this link to go to Roblox's download page on Play Store.
Hit Install.
After the installation process is done, simply launch the Roblox app from the App Drawer and enjoy the game on your Chromebook device.
What is Roblox Studio?
Roblox Studio is a game creation platform that allows players to create their own games and publish them on ROBLOX. It is a building tool of Roblox to craft the places of your dreams.
Roblox Studio also allows you to test the games you created in an isolated environment before uploading them. As a result, you can perform a trial run before publishing your game on ROBLOX.
Famous YouTubers play ROBLOX more often because of the variety of games that are provided by its vast community.
So, how to download Roblox Studio?
Well, Roblox Studio is automatically downloaded when you install Roblox Player. It is a two-in-one combo. A blue-colored studio icon shortcut will be created on the desktop.
Now that you know how to install the game, let's see how you can install Roblox shaders to visually improve the game.
Frequently Asked Questions
Is ROBLOX a Child-friendly game?
ROBLOX has been a child-friendly game since it was released in 2005. In fact, there aren't any abusive or adult contents in ROBLOX.
Is it OK for a 5-year-old kid to play ROBLOX?
Yes, it would be OK to play ROBLOX for a 5-year-old kid. However, it would be best if you kept a few things in mind for your child's safety. Like disabling chatting on the website/in-game and linking your email to get notified if anything goes wrong.
Can I get banned from ROBLOX?
Of course, you can get banned from ROBLOX if you perform any illegal kinds of stuff and get reported. Also, sometimes due to some bugs, you can get banned as well.
Can I get ROBLOX Studio for free?
Yes, ROBLOX Studio is absolutely free, and you can create your own game using ROBLOX Studio. You can download Roblox Studio on Windows 10, Windows 8.1, or Windows 7.
Final Thoughts
ROBLOX is one of the best gaming platforms so far. It is very easy to install and play. It also doesn't have any age limit, so kids can also enjoy this game.
If you are facing any sort of problem while downloading ROBLOX, feel free to ask in the comment section.
Have a nice gaming experience!