Aside from being a creator and a player, you can choose to be an administrator on Roblox. As an admin, you can contribute to the world with a new dimension. Is the role of a server administrator better than a moderator? Or how to become an admin on Roblox? What are your concepts regarding these?
Well. No matter if you do not have any crystal clear idea about the subject matter- I will guide you along the way. As a technological geek, I will demonstrate how to become an admin on Roblox, along with the administrative dos and don'ts.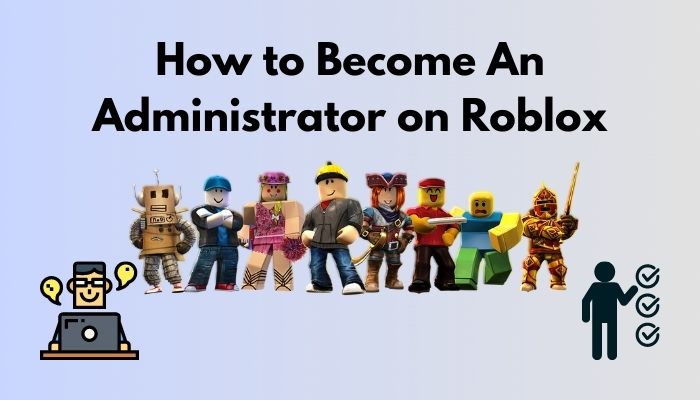 Let's break the ice, and don't skip any section if you want to ease off your doubts.
What is a Roblox Administrator?
An administrator is an 18+ Roblox job holder who maintains the Roblox server. In short, he keeps the community environment healthy and positive. The admin helps other community players improve and adorn their worlds. They have the authority to block or ban mischievous players.
Suppose a player is misbehaving with others and causing harm to them. For this reason, others are facing hurdles in communicating with one another. The admin has to block or ban the particularly problematic player(s) from dealing with the scenario.
You will also find moderators on Roblox, and there's a fine line between moderator and administrator. Moderators mainly observe the activities of a community and report to the admin accordingly. With the admin's suggestion, the moderator then takes necessary actions.
Plus, an admin may appoint new moderators to manage things better. Both are adults over 18 and work on Roblox as paying employees.
Can I Get An Administrator Badge?
Administrator badges are only given to the Roblox employee so players can identify them quickly. Admins and moderators have an age limit of 18+, and it's their full-time paid job. Unless you are an employee, you can not get an Administrator Badge on Roblox.
Roblox authority informs us that whenever someone claims they are admin or mod, you do not see any badge. Then, you must report that player using the Report Abuse Button on the website in every experience tab.
So it's clear that you have to be an admin in Roblox if you want to get an Administrator badge.
Furthermore, your gaming experience will be hampered when you face extra lag in Roblox. At that certain time, you must fix your high ping lagging issue. Sometimes resetting Roblox can cure some severe problems.
How to Become an Administrator in Roblox
By becoming an admin in Roblox, you can modify the games and ban or block someone. To become a Roblox admin, you need to be over 18 years old and properly apply for the post of Administrator. Additionally, you can buy admin rights for a specific game and request the maker to make you an admin.
If you intensely want to work for Roblox, there is no alternative but to be an administrator or moderator. As the process of being an admin in Roblox counts on a few constraints, you must follow the guidelines below to avoid inconveniences.
Here are the steps to become an administrator in Roblox:
Do click on this link.
Navigate to Careers from the top bar, and click on it. You will find it at the top-left corner of the window.
Type Administrator on the search bar, and hit Enter. A list of all job openings will appear before you.
Click on the City, state, and zip code. A dropdown will pop up.
Choose a suitable location from the dropdown menu, and click on Go. The filtered openings list should be before you now.
Check all the vacancies carefully, and click on the position you are interested in joining.
Wait for the page to load. When the new page arrives, you will get the elongated job details of that particular post. Academic and professional requirements, your responsibilities, benefits, and coverages that you will get- all the issues will be there under the job description. To have a clear-cut understanding of everything, a good command of English is highly required; though it is not an issue, you can also use a translator.
Tap on Apply Now to upload your updated resume at the right of the job description

Fill up the fields with your personal information when they serve you an online form to complete.
Drop the information of your LinkedIn Profile, portfolio, website (if available), etc., in the recruitment form.
Click on Submit to finish the application process.
You are all done, and there is nothing more to do from your side. Now, you just need to wait for the recruiters to contact you if they are interested in you. This is how you can apply for the Administrator position on Roblox.
Furthermore, if you want to buy admin rights to a particular Roblox game, you can do that. Also, you can request the game's creator to make you an administrator. Follow on to know the rest.
Here's how you can be an admin in a specific Roblox game by payment:
Navigate to the Roblox website.
Select a particular game.
Move to the Store section.
Buy the Admin pass.
Here is the procedure to be an admin in Roblox for free by requesting the creator of a game:
Go to the Roblox webpage.
Choose a game.
Click on the creator's id below the game name.
Message or Add Friend; when he accepts, write a touching message and request him to make you an admin.
That's how you can become an admin in Roblox.
However, you can become popular by downloading and playing the game on Roblox, so make sure to catch it. And some of the best games from the platform can fill your heart with joy and adventure.
Nevertheless, when you do some unethical things on Roblox, you can be kicked out of the server, so keep that in mind.
FAQ
Do the administrators mandatorily have badges?
Yes. Roblox provides badges to the administrators and moderators to make them easily identifiable. You can find the special badges next to their name.
What should I do if I cannot find a self-claiming someone's admin badge?
If you find someone claiming admin or moderator working on Roblox, and you cannot get any special badge, make sure to report them instantly. You can use the Report Abuse button to submit your grievances.
Where are the headquarters of Roblox?
The headquarters of Roblox is in San Mateo, California, United States. The company has tow offices there.
Conclusion
To sum up, though it is not guaranteed that you will get the job immediately after applying, you should keep trying until you are all in.
At the same time, work hard on your skills and efficacy to indirectly compel Roblox to recruit you. After all, they need flourishing talents and potentials like you.
This guide will direct you to approach your aim to be an admin. Now, you have to do the rest.
Was this article helpful? If yes, please share it with your peers to help them apply for their dream job. Comment in the box below if you want me to write anything else.