Aside from being a creator and a player, you can choose to be an administrator on Roblox. As an admin, you can contribute to the world with a new dimension. Is the role of a server administrator better than a moderator? Or how to become an admin on Roblox? What are your concepts regarding these?
Well. No matter if you do not have any crystal clear idea about the subject matter- I will guide you throughout the way. Being a technological geek, I will demonstrate the way of becoming an admin on Roblox along with the administrative dos and don'ts.
So, no worries. Just keep reading the entire article. Please, do not skip any section if you want to ease off your doubts.
Let's break the ice.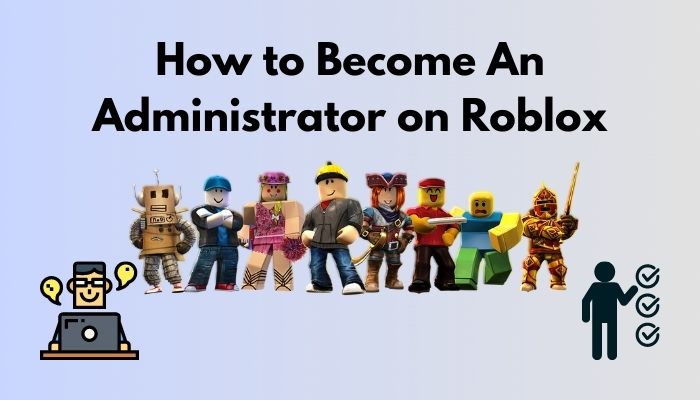 So, let's get started by getting the latest Roblox download.
What is a Roblox Administrator?
Before moving forward to be an admin, I want you to know what an administrator is and his roles and responsibilities so that you are not assigned a role that you do not like thereupon.
What is an administrator?
An administrator usually maintains the Roblox server, in short. Thus, he keeps the community environment healthy and positive. This is a gross and thick idea. I will give you a quick demonstration of the admin roles for better understanding.
First and foremost, an admin is willing to help other community players improve and adorn their worlds. Next in order, the person with administrative power should also take care of the environment of the players' community platform.
Check out the easiest way to make a Roblox hair.
Suppose a player is misbehaving with others and causing harm to them. For this reason, others are facing hurdles communicating with one another. The admin has to block or ban the particularly problematic player(s) from dealing with the scenario.
Thirdly, an administrator can update, change or modify a server anytime per requirement. This way, they practice power that ordinary users cannot. And, you can identify them with their special badge!
What is a moderator?
A moderator mainly observes the activities of a community and reports the admin accordingly. In line with the suggestions of the admin, the moderator then takes necessary actions. An admin may appoint new moderators to manage things better. By the way, both the admin and moderator are adults over the age of 18, and they work on Roblox as a paying job.
Check my latest post If you are facing problems with Roblox Error code 267.
How to Become an Administrator in Roblox
If you intensely want to work for Roblox, there is no alternative but being an administrator or moderator. Otherwise, you cannot work in the company as a registered employee, no matter how long you have been playing the game on Roblox. You should bear in mind that you need to be over 18 years to approach the posts mentioned above.
As the process of being an admin in Roblox counts on a few constraints, you need to follow the guidelines given below to avoid inconveniences.
Quickly check what to do when the Roblox account is hacked.
Here are the steps to become an administrator in Roblox:
Do a click on this link.
Navigate to Careers from the top bar, and click on it. You will find it at the top-left corner of the window.
Type Administrator on the search bar, and hit Enter. A list of all job openings will appear before you.
Click on the City, state, zip code A dropdown will pop up.
Choose a suitable location from the dropdown menu, and click on Go. The filtered openings list should be before you now.
Check all the vacancies carefully, and click on the position you are interested in joining.
Wait for the page to load. When the new page arrives, you will get the elongated job details of that particular post. Academic and professional requirements, your responsibilities, benefits, and coverages that you will get- all the issues will be there under the job description. To have a clear-cut understanding of everything, a good command of English is highly required; though it is not an issue, you can also use a translator.
Tap on Apply Now to upload your updated resume at the rightward of the job description.
Fill up the fields with your personal information when they serve you an online form to complete.
Drop the information of your LinkedIn Profile, portfolio, website (if available), etc., in the recruitment form.
Click on Submit to finish the application process.
You are all done, and there is nothing more to do from your side. Now, you just need to wait for the recruiters to contact you if they are interested in you. This is how you can apply for the Administrator position on Roblox.
Please, let me know if you can complete the entire process successfully.
Fix Roblox lag in seconds for faster and smoother gameplay. Also, increase the fps count using Roblox fps unlocker.
Is it Easy to be an Administrator in Roblox?
Well. Without being biased, I would say it is, of course, not a child's play to be an administrator in Roblox. Perhaps, I sound harsh, but you cannot deny the facts. So, I cannot misguide you being prone to your satisfaction from the social responsibility.
But, it is possible to work for Roblox as an admin if you are armed with robust skill sets and solid five years of working experience as a minimum. To grab the opportunity, you need to be well-prepared because the post is lucrative and highly competitive. Therefore, just anyone dropped the resume and got the job- this does not happen.
Keeping things aside, take your preparation rigorously. Please, do not stop thinking high. I did not mean to demoralize you; rather, it is the reality.
Also, learn how to reset Roblox password.
FAQ
Do the administrators mandatorily have badges?
Yes. Roblox provides badges to the administrators and moderators to make them easily identifiable. You can find the special badges next to their name.
What should I do if I cannot find a self-claiming someone's admin badge?
If you found someone claiming admin or moderator working on Roblox, and you could not get any special badge, make sure to report them instantly. You can use the Report Abuse button to submit your grievances.
Where are the headquarters of Roblox?
The headquarters of Roblox is in San Mateo, California, United States. The company has 2 offices there.
Conclusion
To sum up, though it is not guaranteed that you will definitely get the job immediately after applying, you should keep trying until you are all in. At the same time, work hard on your skills and efficacy so that you can indirectly compel Roblox to recruit you. After all, they need flourishing talents and potentials like you.
This guide will direct you to approach your aim to be an admin. Now, you have to do the rest.
Was this article helpful? If yes, please share it with your peers to help them apply for their dream job. Comment in the box below if you want me to write anything else.