So, Roblox is not letting you join any games and shows a Connection Error Message?
Not to worry. With five years of experience in fixing all error codes for this game, I assure you that it will take around two minutes to solve this error.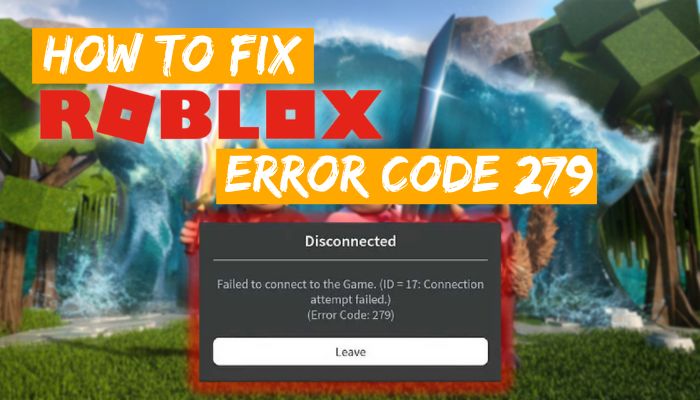 Go through this article & you'll jump back into your favorite game in no time.
What Causes Roblox Error 279?
For Windows computer or laptop users, the error code 279 appears in Roblox due to the Windows Firewall restrictions. If you're experiencing such an error on mobile, an unstable internet connection might be the culprit, especially when you're using mobile data.
Usually, ID=17: Connection attempt Failure occurs when you attempt to rejoin the same server before Roblox disconnects entirely from the previous site. There are some other similar, server connection related errors in Roblox, such as error 267, error 503, error 403, & error 260.
If this error takes place, then you might lose the gaming progress & the saved file might get deleted entirely. Users have experienced such occurrences.
How can I know that Roblox failed to connect to the game?
Well, there are some signs through which you can easily understand that you are facing Error Code 279.
While opening a game, you might notice that the website's loading screen takes longer than usual or never finishes loading. The game will randomly notify you about connection failure.
How to Fix Error Code 279 in Roblox
Since one of the most common reasons for error code 279 is firewall restrictions on Windows PCs, you need to temporarily disable Windows Firewall. Then try to reconnect to a Roblox game to check if the issue has been resolved. If not, try disabling any anti-virus software on your PC.
Below I have thoroughly discussed these & some additional methods to resolve this issue.
But before we begin, make sure to check whether Roblox servers are down or not as this error can also appear when the official servers are down.
Here are the steps to fix Roblox Error Code 279:
1. Turn off Windows Firewall
As I told you earlier, Windows Firewall can cause Roblox Error Code 279, ID=17 failure issue. So what can you do now?
First, close the Browser and try to disable Windows Firewall temporarily, and then launch the game.
Here are the steps to turn off Windows Firewall:
Open up the search bar and type Windows Firewall.
Click on Windows Defender Firewall.
Select Turn Windows Defender Firewall on or off from the left panel.
Checkmark the Turn off Windows Defender Firewall for both Public and Private sections and click OK.
Now try to join a game and check whether the issue has been fixed or not.
2. Disable Ad-blocker Extension in your Browser
Third-party add-ons or extensions like ad blockers can make you not play any online game.
No website wants you to block their income source, right? Roblox agrees with it too, so it doesn't allow players to play games when they detect ad blockers. So, it's better to disable any ad blocker you have installed on your browser.
The sequential steps to disable ad blockers varies depending on the browser. But in general, go to the Extensions settings which should be in the More tools option & disable the toggle for any ad blocker extension.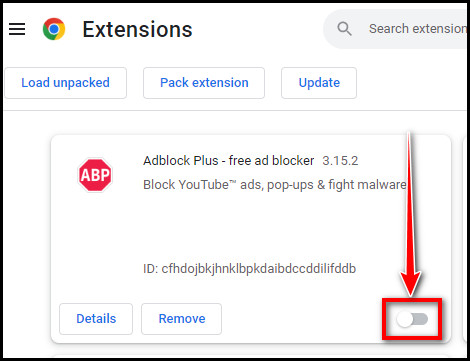 Additionally, you can switch to a different browser application or clear the cookies and cache of your default web browser.
3. Disable Antivirus
You might have seen by now that third-party antivirus doesn't allow you to play certain games.
In that case, please try to disable any free antivirus from your PC. It depends upon you whether you will disable it permanently or temporarily.
Check for the issue if it's still bothering you or not. If the error still occurs, then move on to the next method.
4. Switch to a Stable WiFI Connection
Mobile data connections are often unstable and hamper loading game assets or establishing a connection to the server. As a result, when you use mobile data to play on your smartphone, you might encounter the dreaded Roblox error code 279 id=17 on mobile(Android, iPhone or iPad).
In such circumstances, I would recommend switching to a more stable WiFi network instead of a typical 3G/4G mobile internet. If this still doesn't fix error code 279 on Roblox mobile, restart the router & perform a port forwarding, which brings us to the next method.
5. Perform a Port Forwarding
Since this is primarily a connection-based error, there's a chance that the lack of open ports in your network is causing this issue. Fortunately, opening a proper set of ports on your network via port forwarding can resolve such problems.
Here are the steps to perform a perfect Port Forward:
Open your Router control panel and log in as Administrator.
Navigate to the port forwarding category and enter the IP address of your system.
Enter UDP 49152-65535 port or range.
Select UDP ports as the protocol.
Restart your Router once you are done.
Now, launch Roblox, join a game and check if the issue persists or not.
6. Reinstall Roblox
Reinstalling the game client might remove any corrupted game files and allow you to have a full gaming experience. If you don't know how to uninstall this game from your device, follow my steps:
Search for Control Panel on your Windows search bar.
Select Programs > Uninstall a Program.
Look for Roblox, right-click on it & hit Uninstall.
Now download the latest version of Roblox Player and you are all set.
Frequently Asked Questions
Why Roblox keeps losing connection?
The reason behind Roblox losing connection may be low bandwidth or some Technical issues from ROBLOX itself.
Is Roblox a name of a virus?
Roblox is a gaming platform for playing games. However, there is a name of a virus named Roblox, which is often misunderstood in the game.
Why am I seeing error 279 on my Roblox mobile?
You can encounter Roblox error 279, ID=17 failure on your smartphone app when using mobile data to play the game. Try switching to a stable WiFi connection to avoid such occurrences.
Final Thoughts
Imagine you want to play Roblox during summer vacation, and this Error Code pops up. It would be dreadful.
But don't worry at all.
By following the fix I've provided you in this post, you will be able to fix any connection lost or failure Errors very quickly.