Granted that Discord is a solid program from a technical perspective, it is still not completely void of technical issues. One of the common problems that many Discord users face is the app getting stuck on RTC connecting.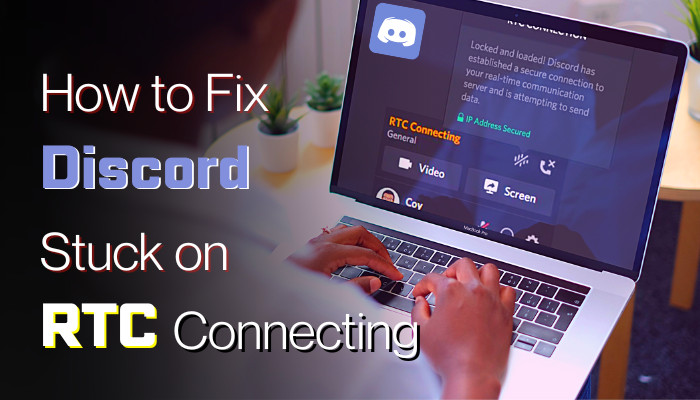 If you're one of those unfortunate, don't worry. I have shortlisted the most concise methods to quickly eradicate such network-related Discord issues in this article.
So without further ado, let's dive in.
How to Fix RTC Connecting Issues on Discord
If the Discord app on your PC is stuck on RTC connecting, try restarting the app and your computer to see if that fixes the issue. If not, consider rebooting your router+network box and running the internet troubleshooter on your Windows PC.
You should also disable Windows Firewall and reset the IP address. Below, I have thoroughly discussed all these methods, along with some additional solutions that seemed to work for many users, including myself.
So go through the fixes one by one to find out which one of these resolves the issue for you.
1. Restart Discord and Your PC
If you're encountering RTC connecting error on Discord, the first thing you need to do is close the program and reboot your computer. Then launch Discord to see if the app can establish a stable connection.
Here are the steps you need to follow to do this:
Press Ctrl+Shift+Esc to open Task Manager.
Select Discord from the running apps section.
Click on End task and close Task Manager.
Right-click on the Windows icon.
Select Shut down or sign out > Restart.
Launch Discord after your PC boots up.
If the app still gets stuck on RTC connecting, move on to the next method.
2. Reboot Your Network
Since RTC connecting error on Discord occurs due to network issues, another potential solution to solve this error is restarting your router and the network box.
The quickest way to do this is to directly cut off the power to the router(and the network box, if you have any) and wait for about 30 seconds. Then turn on the devices and check your Discord.
3. Run the Internet Troubleshooter
As previously mentioned, Discord can get stuck on RTC connecting due to troubles with the network connection. If you're still getting this error after rebooting your device and router, you need to run the internet troubleshooter on your computer. Here's how:
Press Windows Key+I to open Settings.
For Windows 11, go to System > Troubleshoot > Other troubleshooters and click on Run from the Internet Connections section.
For Windows 10, go to Update & Security > Troubleshoot > Additional troubleshooters. Then click on Internet Connections and select Run Troubleshooter.
Done! This should automatically find and resolve any potential issues you might have with the internet connection on your PC.
4. Change the DNS Servers
You can also fix the RTC connecting issue by changing the DNS server address on your PC.
Here's how to change the DNS server:
Click on the Windows search bar and type control panel.
Press Enter.
Go to Network and Internet > Network and Sharing Center.
Select Change adapter settings from the left side pane.
Right-click your network connection and choose Properties.
Select Internet Protocol Version 4 (TCIP/IPv4) from the list and select Properties.
Choose the Use the following DNS server addresses option and enter the DNS server address you want to use.
Click on OK.
Now, restart your PC and launch Discord to check if the issue has been resolved.
5. Turn off Windows Firewall
The Windows Firewall on your PC can accidentally block Discord from accessing the network connection. If this happens, the Discord app will get stuck on RTC connecting screen. So, to get rid of this issue, you should turn off the Windows Defender Firewall.
Follow these steps to turn off Windows Firewall:
Press Start and type windows defender firewall.
Hit the Enter button on your keyboard.
Click on Turn Windows Defender Firewall on or off from the left side pane.
Select Turn off Windows Defender Firewall (not recommended) for both public and private network settings.
Click OK.
Now reconnect to your internet network and open the Discord app. You should now be able to use voice chat without any issues.
6. Disable High Packet Priority on Discord
Sometimes, the QoS priority option of the Discord app can conflict with certain routers and networks. So you should consider disabling this feature to see if that solves the network issue.
Here are the steps to disable QoS Priority settings on Discord:
Open Discord and click on the gears icon at the bottom left corner of the app to open User Settings.
Scroll down and select Voice and Video.
Scroll down to the Enable Quality of Service High Packet Priority option and click on its toggle to turn it off.
Voila! Now restart Discord to see whether the RTC connecting issue has been resolved on not. If not, try the next solution.
7. Uninstall and Reinstall Discord
If all else fails, completely uninstall Discord from your computer. Then download the latest version and reinstall it. This should remove any potentially corrupted Discord file from your PC that might be causing the network issues.
Go to Control Panel and select Uninstall a program. Now select Discord from the program list and right-click on it. Then click on Uninstall. After that, head over to Discord's official site to download and install it again.
Frequently Asked Questions
What is RTC in Discord?
RTC is Discord stands for Real-Time Communication/Chat. It's basically the real-time voice chat feature of the Discord app.
What is RTC server?
RTC server or WebRTC (Web Real-Time Communication) is an open-source project that allows web browsers and apps to establish a real-time communication protocol.
Why is Discord stuck on connecting?
Discord app could get stuck on connecting screen if your Windows computer's firewall is preventing the app from establishing a network connection. It can also happen due to technical issues in your router/network box.
Conclusion
Just like any other software these days, random technical errors in Discord aren't that big of a deal, especially when these issues can be resolved by following some simple solutions.
Anyway, that's all for today. Hopefully, this write-up has enabled you to join your buddies on Discord again. Which of these methods has worked for you? Let us know in the comments below.
GGWP!