So, Roblox keeps disconnecting every time you play for more than five minutes?
To fix this problem, I started analyzing some data. As an active Roblox community member, I figured either Roblox's server is down or, your Internet connection keeps dropping.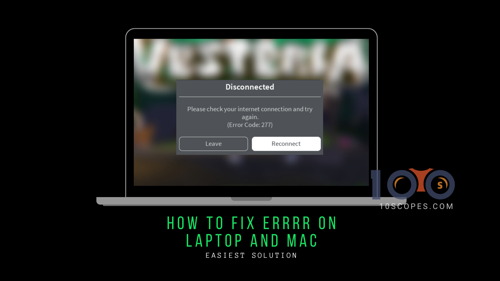 So, keep reading, as I've listed the easiest methods for fixing Error Code 277 on Roblox below.
Why am I getting Error Code 277 on ROBLOX?
First, let us look at exactly what error 277 is.
Roblox Error 277 is a server disconnection error that indicates your client's internet connection with the Roblox server is interrupted. With this error, you may see Lost connection to the game server, please reconnect displayed on your screen.
This error can occur randomly, with its cause, linked to a failure in the connection between the client and the game server.
But some additional issues can also cause error 277. These include corrupted Windows system files, incomplete Roblox installation process, improper deletion of the game client from your PC, etc.
Let me explain some of the reasons so that you can get a quick idea about the common fixes to this error code 277 Roblox.
Here are the reasons why you get error code 277 with Roblox:
Corrupted Windows Registry Files: Windows system files may get damaged and thus it causes Roblox to throw errors. A quick solution will be to fix the Windows Registry.
Bugs: Roblox client would freeze for a second when the messages in resend queue reaches 35. This happens if the game is big and the game has more than 4500 parts (the limit is around 3000 parts). Because of these excessive assets, you may see Roblox won't stop configuring problems.
Roblox Server Maintenance: Nothing's worse than a poor internet connection. If that particular game is under maintenance, then you will notice Roblox keeps disconnecting from the server. You cannot log in to the game if the admin of that particular game is adding some assets using Roblox Studio.
The mentioned reasons are just the basic reasons and are almost faced by everybody at first.
Here's the deal:
I'm going to sound like Captain Obvious here, but stay with me if you want to know how you can get Error Code 277 ROBLOX fixed.
How to Fix Roblox Error Code 277
Since the error is faced by desktop and mobile users alike, navigate to the separate sections to see the fixes for the respective platforms. For desktop and laptop users, the fixes are the same.
On Android/iOS/iPad
Roblox versions are the same for both desktop and laptop users. The compatibility settings are also quite similar in both cases. But the settings change when it comes to the mobile platform.
Here are the steps to fix Error Code 277 for Roblox on Android/iOS:
Launch the Roblox game you want to play.
Run Roblox in Background and Enable Airplane Mode.
Switch on your Wi-fi or, mobile data and return to Roblox.
Roblox should start working again. If Roblox shows the same error, check if the servers are up and running. A maintenance check should be going on that prevents the client from connecting. If so, try after the maintenance is done.
If you want to unlock cool items on Roblox, here is how you can do it by using the Roblox Admin Commands. This is a must-read for Roblox players, so go have a look.
On a Desktop/Laptop
I know it is a frustrating issue to get disconnected every time from a server. But I can assure you after reading this section, you can connect to Roblox within minutes on your computer.
Here are the Top 5 methods to fix Roblox Error Code 277 on your computer:
1. Check the Roblox server for downtime
Roblox has a dedicated status page that shows the current status of all connected services and servers. If you are experiencing difficulty connecting to the servers, check if the servers are online. During maintenance breaks, you are unlikely to connect the Roblox client to the servers succesfully.
2. Delete the Roblox Log Files
Roblox stores the temporary cache files, such as game history, and settings, that take up substantial space on your computer. These Roblox log files can also cause glitches or bugs when you're running the Roblox app.
What can I do to avoid the glitches to play Roblox?
You just have to regularly clean up the Roblox temporary log files to avoid errors and glitches.
Here are the steps to delete the Roblox log files:
Launch the Run dialog by pressing the Windows + R key at the same time.
Type the following command in the Run dialog box and then press Enter
%localappdata%Robloxlogs
Use the keyboard shortcuts Ctrl + A to select all the files in the folder and Shift + Delete to completely delete them from your computer.
Open the Run dialog once again and type the following command:
%USERPROFILE%AppDataLocalLowRbxLogs
Test the program.
Delete the current version of Roblox, download Roblox from a safe and secured site, and reinstall Roblox efficiently.
3. Run Roblox on Compatibility Mode
Windows 10 is the best Operating System for running the Roblox player.
But compatibility issues might create chaos with your game.
It is because most software like Roblox Player were created for the previous Windows operating System. That is why the older versions of Windows are most likely to face issues while running the new Windows system. You have to run Roblox in compatibility mode.
You can fix compatibility problems on Windows in two different ways:
Click on the compatibility settings for Roblox.
Use the Windows built-in Program Compatibility Troubleshooter.
Check out our guide to troubleshooting Roblox on smartphones.
Here are the steps to change Roblox compatibility mode settings:
Choose Properties by Right-clicking on the Roblox app.
Then mark Run this program in compatibility mode by clicking on the Compatibility tab.
Choose any Windows version you want to use for the app's settings and click on Apply button.
If you cannot change Roblox Compatibility mode settings, you can use the built-in program compatibility troubleshooter.
Here are the steps to use the Windows built-in Program Compatibility Troubleshooter:
Search for Run in the Windows Start button.
Click on the previous versions of Windows from the RUN search results.
Click on the OK button to run the troubleshooting process and inspect potential compatibility issues with your apps.
Once the analysis gets completed, you will see a list of troublesome apps.
Look for Roblox from the list.
Choose the Recommended troubleshooting option.
Restart your PC to save the changes.
Are you facing connectivity issues with Roblox? Check out our guide, where we fix error code 6 on Roblox.
4. Connect to a Different Network
If you lost connection to the game, try connecting to a different server.
Roblox Error 277 can also occur due to problematic network. This Error can pop up because of a broken ROUTER also.
You may also see the connection to the server failed with Error code 16 on Google Play.
Both problems are network based. So, you can just connect to a different network.
But, if the problem is with your router, you won't see Roblox won't stop configuring problem.
A lot of users are tired of seeing the error code 277 continuously. I would recommend them to clear all the cache files before launching Roblox once again.
Check again to get rid of the issue. If not, then follow the next step.
Here's a complete guide on how to move faster in Roblox using Speed Script.
5. Update Your Default Browser
For the default browser, I will recommend using Google Chrome. It is because Google Chrome is the trusted and most reliable browser for playing Roblox.
Updating the browser is important because when you update your browser, Roblox itself frequently updates to the latest version.
For users on Google chrome facing error 610 on Roblox, check out our complete guide where we troubleshoot this issue.
Frequently Asked Questions
Why am I seeing ROBLOX Error 277 on my iPad?
Error code 277 happens on Roblox if there are connectivity issues between the Roblox player and the server. Mainly a spotty internet connection is the reason this error takes place.
How do I fix my connection error on Roblox?
Here are the steps to fix the connection problems on Roblox > Use a Supported Browser like Google Chrome > Reset the Internet Options Windows Only and use different connection methods on Mobile devices >  Check the Browser's Security Settings and remove any AD blocker or add-ons > Check Wireless Connection > Disable the Windows Firewall > Freshly install Roblox.
Another common error encountered by Roblox players is error 517. If you are in the same boat check out our article where we troubleshoot error 517 on Roblox
Final Thoughts
Roblox is not a highly graphical game, and it performs suitably with most devices. But sometimes, due to bugs and technical faults, you will face error codes.
All the steps to fix error code 277 on Roblox are valid and found effective.
Sometimes the problem might belong to Roblox itself. In that case, you should wait a few days to see whether the issue vanishes or not.
That's all for today.
Until some other Robox adventures, it's goodbye from us.