Roblox is a massive online gaming platform. If you are looking for the best solution to fix Roblox error codes on your XBOX One & PC, you landed on the correct page!
As a Gaming Enthusiast, I helped millions solve error code and bugs on any device they use. Similarly, dealing with error code 103 on Xbox is not a big issue for me.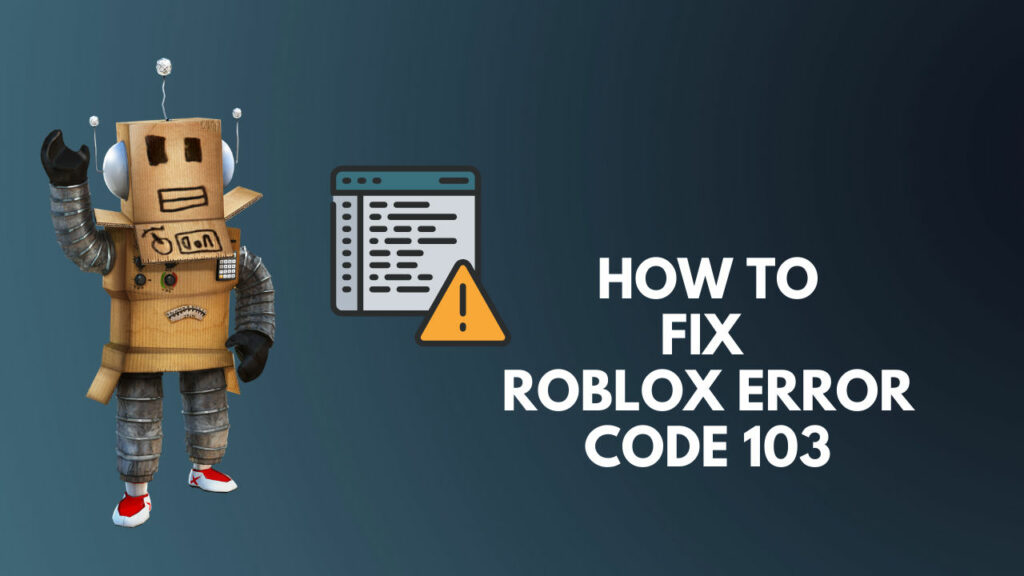 What is Error Code 103 on ROBLOX?
Roblox error message 103 is an XBOX device error that blocks any XBOX One player from joining a particular game server. It means that the game you are trying to join is currently unavailable. The main reason behind error code 103 is the Age-restricted Roblox account.
Stick to the post, As I'll show you how you can quickly fix the unable to join error.
Quickly fix ROBLOX Error Code 517 on Desktop.
Why am I seeing ROBLOX Error 103?
The Error code:103 occurs because of an Age-restricted account privacy setting, NAT issue, and UPnP issue inside the router settings. The two best ways to fix error code 103 are creating a new account with a Date of Birth over 13+ years old and enabling the see and share content on XBOX One.
In most cases, this error message is seen on the XBOX platform more than on PC. But, you cannot be 100% assured that the error message won't display on Android, IOS, and MAC. You may also face ROBLOX error codes like ROBLOX error code 610, ROBLOX error code 267, ROBLOX error code 279, etc.
Well, there are several reasons behind such occurrences. But the main reason is only two.

Here are the reasons for Error Code 103 in ROBLOX:
Age Restriction
Some games don't allow kids under thirteen years old. If you sign in with an under-aged Roblox account, you will undoubtedly face this error on Xbox One because of Xbox's extra security layer.
It gets pathetic when the same account runs perfectly on Windows but not on XBOX One. In that case, Sign-in to Roblox with a Date of Birth above 13+ years old.
Blocked Content From Other People
Due to the extreme privacy settings of Xbox, specific contents get blocked by other users. That means you cannot share content with other users.
Always enable the privacy option to Allow Everyone to see and share content from other users. And here's the easiest fix for Roblox error code 277.
Network Address Translation (NAT) issues
Roblox servers use specific ports for you to join that server. If the ports are not forwarded correctly then, you will see ROBLOX code 103 error most often.
For this situation, Enable Universal Plug n Play(UPnP) inside your router settings or forward the ports manually.
Firmware Glitch and Bad Game Installation
It is not an Xbox One issue; instead, this issue commonly occurs on PC. Your PC stores some temp files that can cause the glitch to display errors. Again downloading the Roblox app from unofficial sites is also the root cause of this problem.
In this case, the best fix is to clear the temp files frequently from the PC and download ROBLOX software from official trustworthy sites.
How to Fix Error Code 103 on Roblox Xbox One
To be specific, Xbox One Players are facing this error more often than PC players. Many of them complained that the Xbox account they are using runs correctly on Windows. And so, it is a frustrating issue from every angle. Check whether you can play Roblox on Ps5.
The message displayed on your Xbox account is, 'The Roblox game you are trying to join is currently not available (Error Code: 103 Roblox).
By now, I have mentioned the reasons why you were facing this error code. Now, it's time to move towards the solution. But, Before doing anything, get the latest version of Roblox download to make sure that it's not the app that's causing this problem.
Here are the steps to fix Roblox Error Code 103:
1. Create a new ROBLOX Account without Age Restriction
Creating a new account without a DOB Restriction is the primary step, as many games on Roblox restrict kids below 13 years old.
Also, Xbox has additional privacy settings that prevent child accounts from being accessed to a particular site.
After tons of research, I concluded that the error messages on ROBLOX occur when the child account is created from a PC and used on Xbox.
For solving the issue, you have to create a new account with a DOB over 18 years old.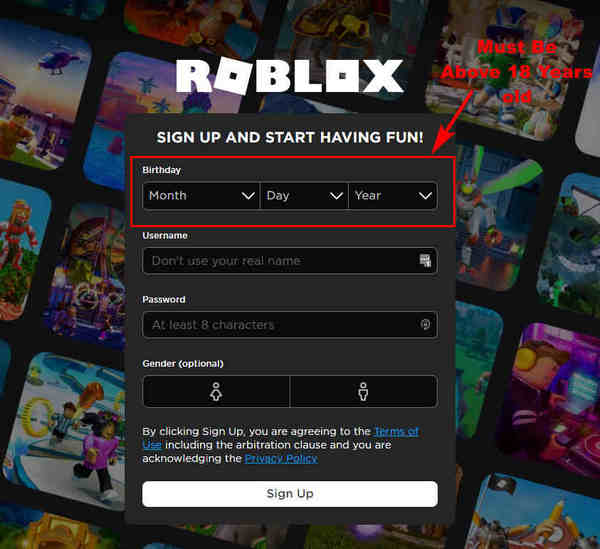 Here are the steps to create a new ROBLOX account:
Open ROBLOX from PC or Mobile devices and enter the Signup page.
Enter the Date of Birth in such a way that it automatically makes you over 18 years old.
Fill in the rest of your information with Username, Password, and Gender.
Click the Signup Button to save changes.
Return to your Xbox console and click Sign-in as your newly created Roblox account.
These steps will help deal with the privacy settings of your Xbox console. If you are still facing the error code 103 messages, then move towards the next. Also, receive Roblox Toy codes for free.
2. Enable Contents Other People Make
If you face error code 103 in Roblox on a child account, then the chances are that the Xbox privacy sets block contents from other people due to the console's extra security.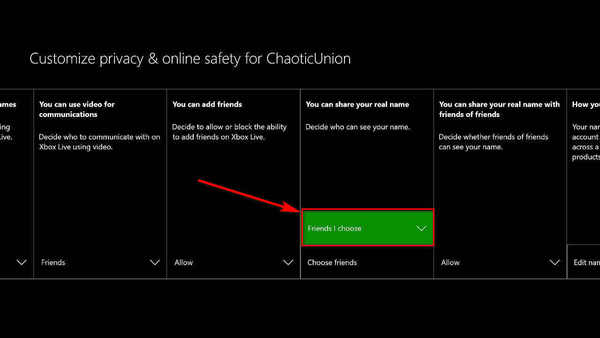 Here are the steps to enable content share from other people on Xbox One:
Tap the Home Button from the Xbox controller.
Go down to Settings > All Settings > Account > Privacy and Online Safety > Xbox Live Privacy.
Navigate to View Details & Customize and move down to Game content.
Move right, and you will see an option that allows you to see and share content with others. Change this setting to Everybody.
Press the Xbox Home Button again and go to Roblox to try playing games again.
Though this step works 100% effectively, there are some other steps you could try to get rid of code 103 on XBOX. Check whether you can play Roblox on Ps4.
3. Use the Port Forwarding
If you are playing Bloxburg and error codes 103 Xbox one Bloxburg error occurs, then the reason might be due to port forwarding issues.
Roblox is an online platform that uses specific ports that need to open to allow you to play online.
In modern routers, port forwarding enables by default. But if you are using an old router, then you have to allow port forwarding manually. It's an easy solution. But before that, Redeem Roblox codes for amazing accessories.
Here are the steps to enable UPnP in your Router Settings:
Visit your Router Login Page and go to UPnP in your router settings (NAT Forwarding).
Turn the feature on and save changes.
Forward the port manually if you have an old Router. Once you headed towards the Port Forwarding Menu, type the following numbers in the boxes:
TCP: 3074
UDP: 88, 500, 3074, 3544, 4500
Save changes and reboot your router and console before joining any Roblox games.
4. Execute a Power supplying Procedure
Some temp files don't delete unless you perform an adequate power supply procedure. With the help of a significant power supplying system, you can clear the power capacitors to solve the issue caused by firmware glitches.
Here are the steps to execute a Power supplying procedure on Xbox Console:
Make sure that your Xbox console is fully booted.
Press and hold the Xbox button on your console for 15 seconds or keep it until the LED turns off.
Wait for at least 1 minute or more before turning the power back on.
Remove the power cable from the console and wall socket and turn on the console conventionally. Press and hold the power button to turn it on.
Open Roblox once the XBOX startup completes and try joining any game server. It will help solve the error code 103 Xbox one issue for Roblox.
Also, check out our free Roblox admin commands list for having premium features in the game.
5. Uninstall and Reinstall Roblox
If the game data corrupt somehow and you face error code 103, reinstalling it will be the best option.
Here are the steps to uninstall a game from Xbox One:
Boot your console and go to Games & Apps > Select Roblox.
Press the Start button of your console and choose Manage Game.
Select Uninstall all and restart your console.
Install Roblox again into your console.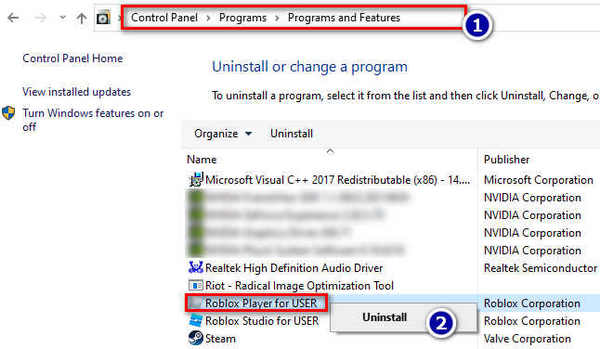 Some users faced difficulties in downloading Roblox on their Xbox One. So, I am going to show the detailed steps to do so. Also, check our separate post for fixing ROBLOX Error Code 6.
Here are the steps to install Roblox on Xbox One:
Go to Settings > All Settings and select Language and Location.
Select the primary language as English and the United States as the prior Location.
Restart your console, and then go to the Games Section.
Search for Roblox, and you will get the download button eventually.
By reinstalling the game, Xbox Roblox error 103 will disappear, hopefully. With all these steps performed, you can now easily play Bloxburg without displaying the code 103 on XBOX One Bloxburg game not joining. Check out our separate post on how to delete a Roblox account.
Fix Roblox Error 103 on PC
There is a low chance of showing this error reporting on PC. But if it does, then don't worry.
Here are the steps to fix Roblox 103 error on PC:
Create a new Roblox account with 18+ Date of Birth
Reinstall Roblox
Hey, don't know how to play Roblox? Here's a complete list of all basic Roblox controls.
FAQ
Question: How to fix Roblox unable to join error code 103 Xbox?
Answer: Unable to join error is displayed when Xbox's extra security settings protect more for a child account.
Enable See and Share Contents for Everyone
Open a new account with an age of 18+ years old.
Question: How to fix Roblox welcome to Bloxburg error code 103?
Answer: If you face a 103 error code in Roblox while playing Bloxburg, you have to log out from Roblox and Sign-in with a new account where the Date of birth will be above 18 years old.
Final thoughts
Roblox is a massive platform online game, and so it's quite apparent to get errors like disconnection error or unable to join the game error.
But the best solution is not to worry and perform a quick search. I have researched a lot and pointed out the best solutions to fix this error.
I hope the fixes helped you, and if you face any other similar problems, then don't forget to mention them in the comments section down below.