Trying a lot to enter Roblox to play games, but the goddamn machine tells you that Roblox  Game Client Has Stopped Working?
You've got some time for playing, and the machine and Roblox blocking you out— too much annoying. Even being a tech guy for longer than you think couldn't help me avoid this tiny problem. Anyways, read along for some time and solve your problem.
So, why does your Roblox Game Client is not responding?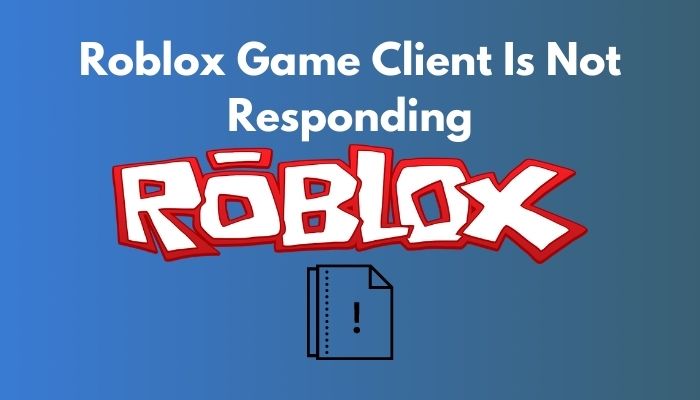 Your Roblox Game is not responding because there might be some other programs in the background that constantly stop you from entering your Roblox. Whenever you play a Roblox game, your PC, tablet, or game console becomes a client. And this could be happening with any of these clients.
Now you have to know which background application can be responsible for stopping you from entering Roblox. Finding this will be easy enough to solve your problem.
I will give a step-by-step process. Follow this and solve this problem. Besides, reading till the end will help you solve more of your Roblox problems.
How to Solve Roblox Game Client Not Responding
When you play a Roblox game, the device you are playing with, say PC, tablet, or game console, becomes a client. Other players in the game are also called clients.
Roblox started its journey officially in 2016. But it wasn't that popular those days. But from 2020, it has been seen that Thew York Times, The Wall Street Journal writing about this Roblox.
So, why is Roblox popular?
Roblox is popular because it is an online platform where users can go and play games free of cost made by other developers. And these developers are the users, not the Roblox Corporation. Users find fun both playing and creating games, and that's why Roblox is now at its peak in popularity.
Check out the easiest way to make a Roblox hair.
But sometimes, people worldwide face this problem of the game client not responding. To solve this problem, follow the steps below:
1. Restart your Computer
Save all the work you are doing right now and restart your computer. You might be wondering if you have to make some changes in your BIOS or not. Well, you don't.
2. Uninstall Roblox
Uninstall Roblox from your device. To do so, you have to follow different steps on different OS.
Check my latest post If you are facing problems with Roblox Error code 267.
For uninstalling Roblox from Windows 10, you have to:
Press Windows key+S.
Type Apps and features in the search box and right-click when it pops up.
Scroll down till you find Roblox.
Tap into Roblox and press uninstall.
For uninstalling Roblox from Windows 7, 8, or 8.1,  you have to:
Go to the Start menu and type Programs and features.
Click on Programs and features. If you found Apps and features instead, click on that.
Scroll down until you see Roblox. Tap into it and uninstall it.
Wait for 2-3 minutes. Then, download Roblox from your Microsoft Store and reinstall it.
3. Open Roblox Player and Close the Program
Open Roblox on your device. Play a game you want to play. Your screen will show Roblox is now starting. Get ready to play! But unfortunately, your device might be showing Roblox Game Client has stopped working.
You might be asked to check online for a solution and close the program or close the program. Tap into close the program.
4. Check your Antivirus and Disable It
Check whether your anti-virus is on or not. I believe it's on. Turn off the anti-virus from the system tray. Open the system tray and right-click to select shields control or close enough option. Bitdefender, Norton, Kaspersky, Avast, McAfee, and many antiviruses are out there.
As I don't know for sure which antivirus you use, I can't tell you about an option directly. Choose Disable until computer is restarted.
5. Open Roblox Player Again
Open your Roblox player again and then play a game. According to your PC specs and your internet connection, it'll take time to connect you to the server. But you'll be able to join the server and play the game easily.
Thus following the process, you can solve your problem on the game client is not responding very quickly and efficiently. But make sure you read till the end as there are a lot of solutions for different problems, and some of them also work sometimes for the game client is not responding.
Fun fact: Over half of U.S. kids under age 16 played Roblox in 2020. [The Verge]
If you are a beginner then you should definitely go through our guide on how to add friends on Roblox and make a Roblox group.
How do I Fix Roblox Crushes/Errors
Before going to any fixation, don't you have any questions like why Roblox keeps crashing to your computer, where is the exact problem lies, and so forth.
So, why does Roblox keep crashing?
Roblox keeps crashing for different reasons, such as running some unwanted applications in the background, antivirus causing issues with connecting to the internet, blocking game files, having older graphics card, a corrupted file, temporary glitches, or system cache issues on PC.
You might be banned or warned if Reblox keeps crashing on your phone or tablet. Besides, your phone or tablet may not be optimized for that game; the phone may lack the required RAM or have a special mode turned on.
As Roblox supports different devices, there are various solutions for them.
Fix: Roblox for PC
Before you follow any steps below, restart your computer if it is turned on.
1. Close Background Application
Close any background application that creates problems opening Roblox. When you play Roblox, ensure to close the applications you aren't using, which can prevent Roblox from crashing on your PC.
Press Ctrl + Shift + Esc. It'll open up the Task Manager.
Click on the Processes tab. Select a task that is running unnecessarily and click on the End Task. Thus, select all the unnecessary running tasks and end them.
Restart your computer and check if the problem resolves.
2. Update your Drivers
Though Roblox games don't require too much graphically strong specification, you need to keep your machine's graphic drivers updated. Go to the manufacturer's website and see if your GPU drivers need to be updated. If you don't know how to update your GPU drivers, just google it with your model number.
3. Run the Program As an Administrator
You can run the game's exe file as an administrator on your Windows to give it proper access. You have to:
Go to the file manager and search for Roblox.exe. When your display shows the game.exe file, Right-click on it and clicks on Properties.
Tap into the compatibility tab.
Select Run this program as an administrator.
Click on Apply and OK afterward.
I hope your problem is resolved following this step. Anyways, Open the Roblox and check if the issue occurs. If it does, keep reading and follow the rest of the steps. Check out some amazing Roblox facts you may not knew.
4. Disable the Antivirus
As sometimes an antivirus can give a false positive, preventing the Roblox executable from being launched, disable your antivirus.
If you use a Windows 10 with no additional antivirus, you have to do some work on the Windows Defender as it is automatically enabled.
Click on the Search menu and type Settings. Then, hit Enter.
Click on the Update and Security.
Go to Windows Security and find Virus & Threat Protection.
Choose Manage Settings.
Look for Exclusion, and under this header, you'll find Add or Remove. Tap into that.
Click on Add an Exclusion and then choose Roblox.
So, what have you done here?
You have added Roblox as an exception to your Windows Defender. Hence, when you play Roblox, Windows Defender won't be working again on Roblox.
5. Delete all the files and reinstall Roblox
I believe this method will resolve every problem on Roblox. To apply this, you have to:
Right-click on the Windows Start Menu and click on Apps and Features.
Scroll down until you find Roblox. You will find two files of Roblox Player and Roblox Studio. Tap into them, Uninstall both programs and close the window.
Go to the search option on the taskbar, type in File Explorer Options and open it.
Move the cursor to the View tab and click on it.
Check on the Show hidden files, folders, and drivers.
Hit Apply and then OK.
Click on the File Explorer folder.
Double click on your HDD, which is labeled with the Windows logo. You'll see some faded or transparent folders. Thus, you'll know these are the hidden files.
Go to Users, then your computer name. Enter Appdata and Local afterward.
Find the Roblox folder and delete it. Besides, empty your recycle bin.
Right-click on the Windows Start button again and click on Run.
Type regedit and hit enter.
Navigate to HKEY_CURRENT_USER, and then Software.
Find the Roblox and Roblox Corporation folders, right-click both of them and delete one by one. Close the window.
Open your browser now and type www.roblox.com/install.
Download Roblox and install it.
This is one of the most useful techniques for solving any issue on Roblox. So, keep in mind to apply it.
6. Change Roblox Graphics Quality
If your PC is not compatible with playing Roblox games, I recommend you set the graphics quality low for optimal performance in your PC. For that, you need to:
Open Roblox and click on the menu icon.
Go to the Settings tab.
Set the Graphics Mode from Automatic to Manual, and you'll find the Graphics Quality option and a slider there.
Drag the slider to the left side to reduce the graphics quality.
7. Remove Temporary Files
You can remove the temporary files to solve this problem. To do that, you should:
Press Windows key+R.
Type %temp% and hit Enter. You'll see tons of temporary files there.
Press Ctrl+A and then Shift+Delete to remove those temporary files permanently. Some files may not be deleted when you try to remove all the temporary files. Leave them and delete the rest of them.
Close the program and restart your PC.
See whether your problem resolves or not.
Fix: Roblox for Mobile
It has been seen that both Android and iOS users face crashing problems with Roblox over time. To solve this issue, you may consider following a couple of methods.
Method 1. Make sure your phone and the Roblox app are up to date.
Method 2. Reboot your device. To do so:
Hold down your power button for 8-10 seconds.
Choose the Power Off icon from the options.
Power on your device after 1-2 minutes.
Open the Roblox app to see if the problem is fixed.
Method 3. Reinstall the Roblox app because sometimes, if the update is missing files, it can lead to constant crashes. For reinstalling the app, you have to:
Hold down to the Roblox icon.
Tap into the cross sign/(–) sign/uninstall.
Confirm you want to uninstall it and wait for a minute.
Open the App Store, search Roblox and install it.
Open the App and check if the problem solves.
Thus, you can fix your Roblox app on your android or iOS. Even you can follow this process for your tablets also.
These techniques and methods are also used to solve the game client not responding in Roblox. So, don't forget to apply all these solving techniques.
Conclusion
I've tried to cover almost every way of resolving the game client not responding and fixing the Roblox errors and crushes. Comment below if you fail to perform any of the operations or your Roblox still has problems regarding the game client.