You must have noticed snippets and mentions of Microsoft Rewards while using Microsoft services and wanted to know what the deal is about it?
Well, you landed in the perfect place.
As a Reward point collector since Microsoft started it in 2016, I am confident enough to provide you with a clear idea of Microsoft Rewards, and it's usage.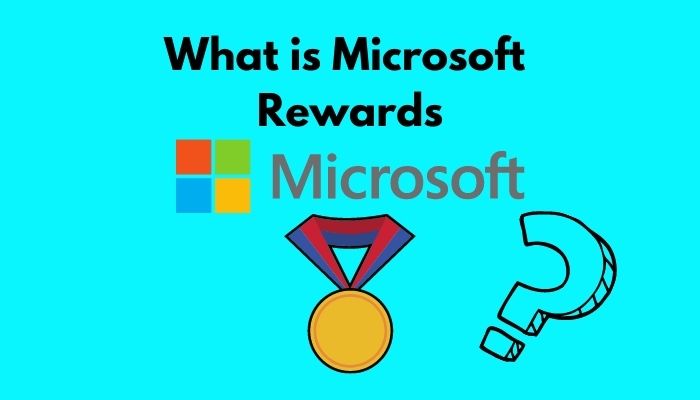 So, What is Microsoft Rewards?
Microsoft rewards is the program to award users for using and sticking with their services. It was started first as Bing Rewards as a loyalty program where Microsoft awarded users for using Bing search engine. Later, it was branded as Microsoft Rewards and expanded its whole ecosystem of services.
In this post, I will explain everything you new to know about Microsoft Rewards. Later, I will also mention how you can collect and redeem them for premium services without spending a buck.
So, don't skip any parts and read the whole post to learn everything about Microsoft Rewards.
Also, check out our separate post on how many Microsoft Points do I have.
What is the point of Microsoft rewards?
Microsoft introduced the Reward program to thank it's users for using their services daily. People who use and stay inside Microsoft's ecosystem will earn specific points and redeem them later for a premium subscription which lures them to use their services as much as possible to earn more points.
The reward program is Microsoft's way to award it's users for brand loyalty. To understand it, you have to realize that users play a vital role in a Tech-based company's ultimate development and future evolution.
A tech giant like Microsoft collects data from the users about their user experience with their services. These data will help them improve their services and attract more users to their chain of services.
They can collect more data if more users use their services. To attract more users, you need something lucrative.
At this point, Microsoft introduced the Reward Points service to lure more users into using their products. The more you use Microsoft services, the more you can collect reward points.
The most exciting part is, you can do almost whatever you want with these points. You can redeem these points for premium Microsoft services like Xbox Game Pass ultimate, Xbox Live Gold, and Gift Cards.
This service is a win-win situation for both the users and Microsoft. I'm happy to get a premium membership for some points I earned by using their services as a user.
I'm sure you'll agree with my point after reading the following sections.
Check out the easiest way to Green Screen with Microsoft Teams.
How to Enroll in Microsoft Reward Program
After reading the previous sections, if you are interested in earning some Reward Points by using various Microsoft services, you must enroll in their Reward program first.
Don't worry; I'll help to get you through this step.
Enrolling in the Microsoft Reward service is child's play if you have a Microsoft account already. I've created a guideline for you to access Microsoft Reward Points.
Follow our guide to know Microsoft Refund you already purchased something from the MS Store or Xbox store.
Follow the steps below to access Microsoft Rewards:
Open a browser on your device.
Head over to the Microsoft Rewards
Sign in with your Microsoft account details.
Click the Earn option from the horizontal menu.
Complete the tasks you're offered.
You'll see daily and weekly tasks on the Microsoft Reward page. By completing them, you can earn their respective reward points.
For example, purchasing items from the Xbox store, using the Bing search engine, and unlocking achievements inside various Xbox games will also get you some Reward Points.
You can also see your daily tasks and keep track of your Reward Points by using the Xbox Reward app or Xbox app for Mobile.
Also, Check out the exact and appropriate steps to merge Microsoft accounts.
How to Earn Microsoft Reward Points Quickly
You can easily earn the Microsoft Reward Points by performing a set of daily tasks offered on the Microsoft Reward page.
Trust me; this is the quickest and easiest way to earn Reward points for free with a bit of effort.
I'll help you through the whole process by showing you the necessary steps. I've prepared a complete guideline for you.
Follow these steps to earn Microsoft Reward Points easily by completing daily tasks:
Open a browser on your device.
Visite the Microsoft Rewards
Log in with your Microsoft account details.
Go to the Earn
Finish the daily tasks mentioned there.
Inside the Microsoft Reward app's daily challenges, you'll see various tasks, from searching a keyword in the Bing search engine to taking a one-minute survey or just watching a short video. You'll earn 5 to 50 points in a single task based on their complicacy.
Completing the Game Pass Quest service on your Xbox by unlocking achievements in games will also earn you Reward Points. It'll grant you 10-50 Reward Points based on their toughness.
Buying various services and products from the Xbox game store will reward you points. As a level-1 user, you'll get 10 points for spending  £1, and when you reach level-2, you'll get 20 points for £1.
You can earn as much as 50 points daily when you're in level-1. Once you've earned 500 points and been promoted to level-2, you can earn up to 250 points daily by completing your daily tasks.
Here's a complete guide on how to fix Microsoft error code 6009.
How to Redeem Microsoft Reward Points
Redeeming your Reward Points is a pretty easy task. It's effortless, just like the Enroll section above.
I've also made you a step-by-step guide to help you go through the redeeming procedure this time.
Follow the step below to redeem your Microsoft Reward Points:
Open a browser.
Head over to the Microsoft Account
Login to your Microsoft account.
Go to the My Account
Click on the Redeem
Click on the Redeem button to redeem the reward points.
Follow the on-screen instructions to claim the rewards.
This guide will help you redeem your Reward points without any hassle. Just follow the steps I've mentioned to get your desired product.
Best Ways to Redeem Microsoft Reward Points
If you're wondering what to do with those Reward points I've collected earlier, I have the answer to your query.
There is some amazing usage of Microsoft Reward points. I'm sure you'll be pumped up to apply them once you learn about them.
I have made an exclusive list of Microsoft products and premium services that you can redeem with your Reward points from the Microsoft Store. With enough Reward Points, you can redeem them. You won't have to spend a dime.
Isn't that exciting!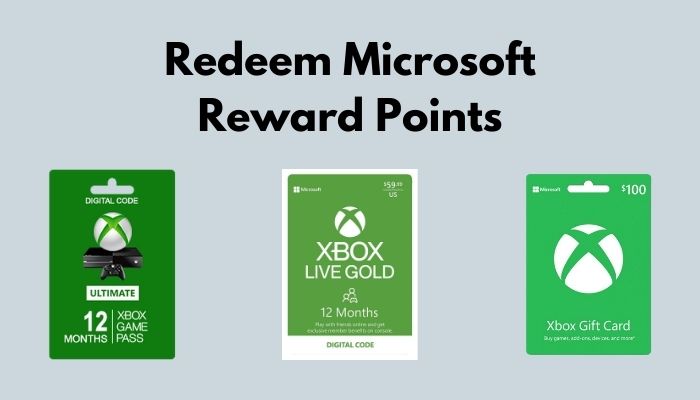 Here are some fantastic things you can do with Microsoft Reward points:
1. Xbox Game Pass Ultimate
The Xbox Game Pass Ultimate is the most desirable product you can redeem with Microsoft Reward Points.
An Xbox Game Pass Ultimate will grant you access to a rotating list of games. The list will vary from a range of game publishers, and you have to pay once to play all of them.
Also, Xbox Game Pass Ultimate will grant you access to other premium services. For example, Xbox Live Gold and EA Play.
Thanks to the Microsoft Reward points, you won't have to pay for a single monthly subscription price. You can redeem 12000 points for a 1-month membership to Xbox Game Pass Ultimate. And, 35000 points will get you a membership for 3-months.
2. Xbox Live Gold
Xbox Live Gold Membership package is the second desirable thing you can get for your Microsoft Reward points.
With the Xbox Live Gold Membership, you'll get to play the most advanced multiplayer bonus games without paying any extra fees. You'll get exclusive member discounts in Microsoft Store with it too.
With Xbox Live Gold Membership, you can stream your Xbox games to your gaming community and stay connected with friends, family, and Xbox Live members worldwide.
Again, you won't have to pay a dime if you have enough Reward points. You'll only need 6800 points to redeem for a 1-month Xbox Live Gold Membership.
If you need an extended membership, you can redeem the 3-months package for 15000 Reward points.
3. Xbox Gift Cards
You can also redeem your Reward points for Xbox Gift Cards. You can share them with your loved ones, and they can buy the items of their choice with gift cards.
You can buy anything from the Microsoft store with the Gift Cards. For example, Xbox games, apps, movies, TV shows, and more.
The most exciting thing about the gift cards is, it doesn't have any expiration dates. So you won't have to worry about a deadline.
You have the flexibility to choose gift cards from $5 to $25 and redeem them for 5850 to 29250 Reward points.
4. Retail Shop Gift Card
If you want to get a retail store gift card, you can do that too by redeeming the Reward points. For example, Mark & Spencer Gift Cards.
You can feel like spending the reward points to get something else from the retail shops outside the Microsoft store. Then you can head over to the redeem page, scroll down and search for your favorite retail shop.
Then click on the shop and choose how much Gift card amount you want to redeem with your points.
Once it's done, go to the shop or open their online store, buy products, then pay with your Gift card code.
5. Sweepstakes
Last but not least, you can redeem your Microsoft Reward points to buy Sweepstakes.
Sweepstakes are like coupons that could win you various prizes upon the draw. Sweepstakes will cost you 200 points apiece to redeem them.
Sweepstakes are excellent options if you don't have enough Reward points to buy any above products.
You can also buy the Sweepstakes in bulk to raise your winning chances higher.
FAQ
Question: What is Microsoft Rewards used for?
Answer: Microsoft Rewards can be used to buy premium subscriptions like Xbox Game Pass Ultimate, Xbox Live Gold, Xbox Gift Cards, and Sweepstakes. You won't need to spend a penny to get these items for free from the Microsoft Store if you have enough Reward Points to redeem for them.
Question: Is Microsoft rewards legit?
Answer: Microsoft Rewards is thoroughly legit. Microsoft Rewards is a loyalty program that rewards users with reward points. Users can redeem these points from the redeem section of the Microsoft Rewards page for premium subscriptions. For example, Xbox Game Pass Ultimate, Xbox Live Gold, Gift Cards, etc.
Conclusion
I hope you don't have any further confusion regarding Microsoft Rewards.
In a nutshell, Microsoft introduced Reward Points to attract users to use their ecosystem and earn reward points by using their services. It is an appreciable program that benefits both the users and Microsoft.
If you've any further queries, feel free to comment below. Our experts will try to answer any of your queries right away.