As you're in the Microsoft ecosystem, There's a chance you already purchased something from the MS Store or Xbox store.
And for some reason, you want a cashback, right?
Well, issuing a refund can be a task full of hassle. But that's why you're here, to ease your money payback process. I researched for the past 8 hours and compiled this ultimate guide regarding Microsoft store and Xbox settlements.
Just make sure to read every detail before proceeding with the refund.
Also, Check out the exact and appropriate steps to merge Microsoft accounts.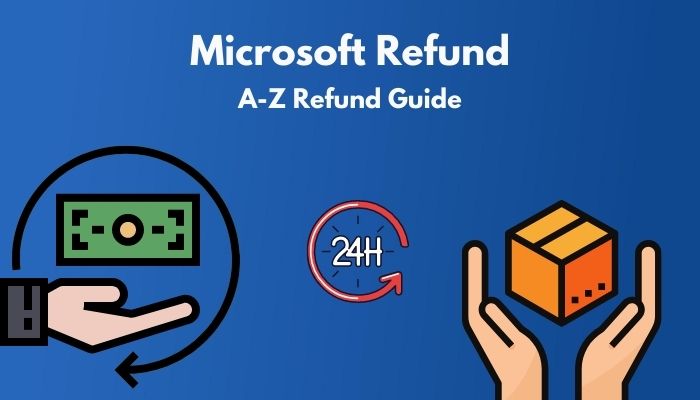 What is Microsoft's refund policy?
Microsoft's refund is a product returning policy, applicable within 30 days from the purchasing date of the product. You must return the purchased item with its seal intact. In the case of software and games, the opened packages need to be returned during the return period.
Refunds are generally processed within 3–5 business days after they receive your products.
However, you must ensure that the products you return contain all the initially included components like an instruction manual, documentation, parts, and components.
You may ask:
Does Microsoft Store have a refund policy?
Microsoft Store has a return policy, but you need to make a qualified return in this case. The eligible product needs to be returned within 30 days of purchase or download. Microsoft will credit the total amount and lessen the shipping charges.
You need to ensure that the product is returned in a new condition with original packaging and initially included items.
Can you ask Microsoft for a refund?
You can ask Microsoft for a refund. However, Some items are not eligible for return. For example, Digital Game Products, digital apps, RAM (Random access Memory), music, movies, TV shows, gift cards, customized and consumed products.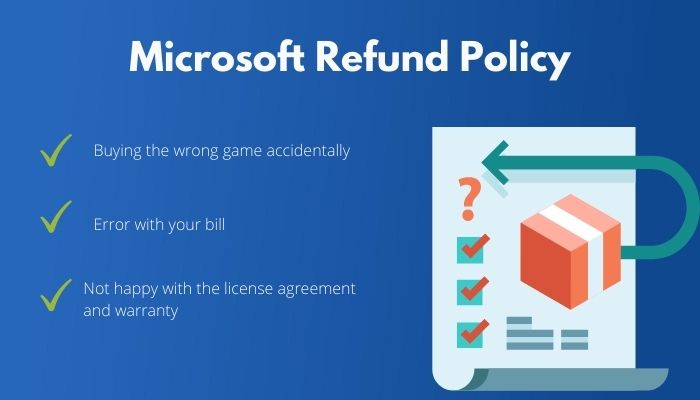 Visit the Microsoft account website using a  Web browser and review your purchase history for a refunding request.
Make sure you ask for a return within 30  days of purchasing the product. If the time frame finishes, you won't be able to request MS.
Do Microsoft refunds go back to credit card?
The refunds go back to the same card you used to pay initially.
Suppose you used a Credit/Debit card for your purchase. MS will send the refund to the same payment method. It will take around 72 hours for a cashback process to complete.
Does Microsoft give refunds for subscriptions?
No, they don't provide refunds for subscription cards (e.g., Skype, Xbox Live). Some products are often considered non-refundable, for Example, unique order products, consumed products, and clearance items.
You may ask:
Can you refund a game on PC?
You can return a  game through Steam if you find the game unenjoyable or the Steam game is not working correctly. This option of refunding is best for those who want to purchase games just to try the game out. You can always get your money back through steam.
Is there a way to refund games on Microsoft store?
You cannot ask MS to pay back on digital games, season passes, or in-app content and subscriptions. Other than that, you can return the games you didn't find worth it by carefully placing all the initially provided items, original packaging.
The Microsoft Store refund & purchase experience is made simple, offering refunds for gamers, a policy called instantly return digital products. If you are unsatisfied with the license agreement or warranty, you can always visit the MS account website and claim your money back within 30 days.
For example, Cd Projekt red Microsoft says that they are now allowing refunds on Cyberpunk 2077  until further notice. What are you waiting for? Go check them out.
How to get a refund from the Microsoft store?
To request a refund from the MS app store, you need to navigate to the Payment & Billing option. Open up the Order History and select the app or game you want a refund. Click on Request a Refund and select a legitimate reason for your request.
You will get your money back to the same card you used for payment. Contact MS Support if you made a  purchase through the Windows 10 App Store.
Note: Ensure that the title and the order number of the digital products are correct.
You may ask:
How do I contact Microsoft for a refund?
Dial 1-877-696-7786 or 1-800-642-7676 to speak to a live customer service representative. The support hours are from 8 AM to 5 PM Central Time, offering customers all the necessary support.
Xbox Refund Policy
It's true that things that are purchased became more manageable when Microsoft and Xbox followed the trend of providing a payback for any digital purchases. However, it's not easy at all. You must have some valid reasons for requesting compensation. Additionally, If you have older consoles of Xbox, you can request a refund.
Quickly go through our separate post if you faced any Xbox Error 0x8b0500b6.
The legitimate reason might be:
Buying the wrong game accidentally
Error with your bill
The game is not working properly
You are not happy with the license agreement and warranty
If the request gets approved, you will get a cashback within 72 hours.
Does Xbox give a full refund?
You will receive full refunds from Xbox under some conditions. Refunds are available only within 14 days after the purchase and at least one day after the game's release date.
You wouldn't get your money back if you played the game for more than two hours on any account. Do keep in mind that add-ons, season passes, and downloadable content cannot be refunded.
Also, you might have to wait for compensation for Pre-order games.
I always receive emails from gamers regarding;
Can you get banned for requesting a refund Xbox?
No, you won't get banned for a standard refund request. Usually, all sales of digital games are considered final. You can just use a valid reason to request in extremely challenging circumstances.
Do check out how to use ps5 controllers on Xbox.
How to request a refund on Xbox one
The process of requesting a Refund is straightforward. Microsoft has updated its existing refund policy making it more suitable for the vast majority of gamers.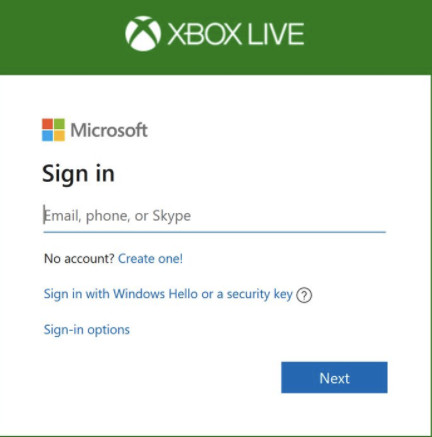 Here are the steps to request a refund for an Xbox Game:
Go to the Support page of Xbox and Sign in to your Xbox Account.
Navigate to Order History and select Request refund at the bottom of the list.
Select a valid reason and Confirm the email address.
Click on Submit.
Can you cancel refunds on Xbox?
You can cancel refunds on Xbox by collecting the status of your request and providing extra information with the ongoing process. You can reply to their emails if you want to cancel the refunding process.
You may ask:
How long does Xbox take to refund?
It takes around 3-5 business days to guarantee a refunding process. However, the cashback will be to the same payment details you used while purchasing.
Final Thoughts
Getting a money payback is a matter of patience. You cannot request a self-service refunds or use email, phone, letter in this process. These are the official policies from Microsoft,  PlayStation Store,  and Xbox. So feel free to claim your return money.