Well, the Dual Sense controller. Ah! Such an amazing futuristic gadget. I don't think I will love any other controller as much as I loved the dual sense controller.
I simply cannot have enough of it. It is as impressive as the new generation console. Umm, at times more than the console.
I know I will keep aside my fanboy perspective here and talk more about the Dual Sense controller later.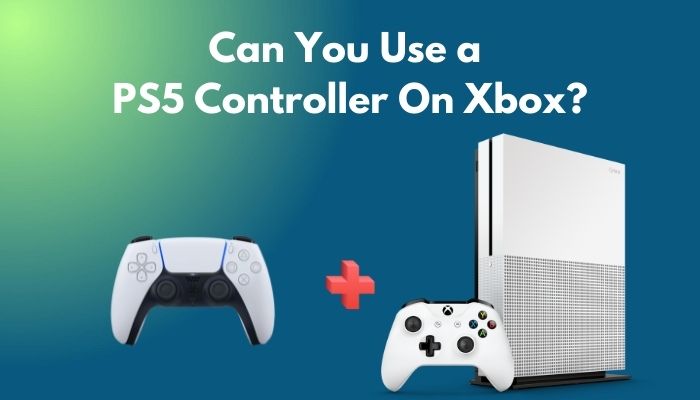 Can You Use a PS5 Controller On Xbox?
Yes, you can use the Dual Sense controller on your Xbox series x/s console via third-party devices. Besides, you can use the controller on your PC or on mobile to play Xbox cloud games.
When you have both Xbox and PlayStation consoles, usually, you don't want to buy that extra controller.
So, I get why this question popped up in your head.
Well, don't worry about it. I will tell you the exact methods that way; you can use your Dual Sense controller on an Xbox console.
So put on your reading glasses and get your desired answer.
Can you use DualSense on Xbox?
Officially you cannot use the Dual Sense into the Xbox, but with the help of third-party adapters, you can use the controller in the next-gen Xbox consoles. You can play Xbox games on your pc and on your mobile with the help of Xbox cloud gaming services.
Many of you ask why you should pick the New Dual Sense controller and how it is different from the Official Xbox Controllers. So, Let's get into that.
The new dual sense comes with a unique design. Along with that, two crucial features will play a big part in your next-gen gaming experience. The haptic feedback and the adaptive triggers are the two new features that even got applause from the Xbox developers.
As I said earlier, the new dual sense is one of a kind. At the launch, it came out with pure white skin on it, and it looked fantastic. But now you can get the Dual Sense in black and on in cosmic red.
And I tell you, the cosmic red color is extraordinary. You will be a fan of this color the very moment you see it on your hands.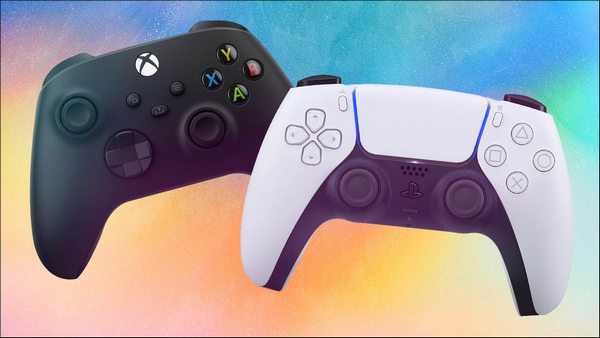 When it comes to differences with the last-gen controller, Dual Shock was a tiny game. For individuals with little hands, it wasn't a huge deal. But what about folks like me? It was a flurry of activity, with hands that were larger than usual. For us, every first-person shooting game was a disaster. But in my new Dual Sense, I won't have to worry about that. I mean, it's a lot bigger than a standard DS4. It has a long, sturdy handle. This allows your hand to rest naturally. Because of the larger area, it will fit precisely in your hand, allowing you to hold better or grip the controller.
The Dual Shock has an out-of-date touchpad that was never useful for gaming. For the controller, that was a considerable disadvantage. On the other hand, Sony listened to its customers and gave the Dual Sense touchpad a fresh lease of life. It now allows you to see your fingers' tracking in a UI interface that appears when you place your fingertips on the touchpad. That means you won't have to click a button ten times to create one alphabet, and this is only the beginning; I'm sure it'll make its way into game modes in the future.
Think of a controller, which gives you the impression of walking on sand or wet in the rain. Exactly! Unbelievable. The haptics provides you the perfect feel of the character of your game. You will experience this through your double sense if your nature walks on a damp surface. How incredible.
The adjustable triggers let you feel the difference between the weapons that you play. When you shoot a fire gun and fire an assault rifle, you will feel the difference in your fingertips. And when you play games like FIFA or NBA, you'll feel energy-draining.
Read more on how to fix PS5 error code wc-365475.
How To Use PS5 Controller On Xbox
Look, I get why you want to use the Dual Sense controller on the Xbox consoles because the new PlayStation console is way ahead of its competitors. It did so well in the opening weeks even the Xbox developers went to appreciate it and also in the process to make another controller compete against sony.
So it might be the controller might be for its feature whatever it is you want to use the Dual Sense controller on Xbox consoles. But sorry to break your heart, there is no official support for this to work.
I mean, you cannot just plug in the controller on the Xbox console and play with it.
However, there are some third-party devices that will let you do it.
You may also want to know:
How do I connect my PS5 controller to my Xbox One?
Follow our guide to fix ps5 not outputting sound error.
Here are the steps to connect the PS5 controller on Xbox Consoles:
1. Connect The Dual Sense With Third-Party Adapter
You can connect and play with your Dual Sens in the Xbox console if you connect the controller with a third-party adapter.
However, I am not going to suggest which adapter you should get. Because there are plenty of adapters out there and you should pick whichever suits you the most.
Though my suggestion would be to not go for the cheaper option as they can go broke any time. So buy while reading the full review of the product. After you are done purchasing the Adapter. It is very easy to use.
Here are the steps to use the controller with Adapter:
Plug the Adapter in Xbox.
Insert the Dual Sense USB cable in the adapter.
Connect the Dual Sense Controller with USB C.
There you go now, enjoy the Dual Sense Controller.
Also, don't forget to check out our experts tested best mice for PlayStation5.
2. Play Xbox Games With PS5 Controller with Xbox Cloud Service
With Xbox Cloud Service, you can play your Xbox games with a Dual Sense controller. Just Download The Xbox game service application on your laptop/desktop or on your android device. Then connect the dual sense with the USB cable in the computer and with Bluetooth in mobile devices. Now you can enjoy the Xbox games on a Dual Sense controller.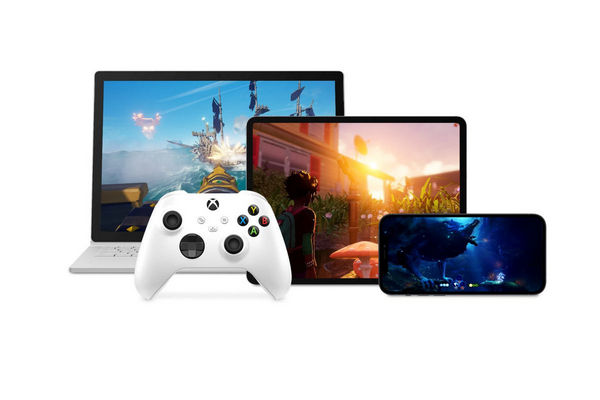 Keep that in mind you might need an Ultimate Xbox game pass to use a dual sense controller to play Xbox games.
Also, check out our separate post to fix headset not working in PS5.
Can you use a PS5 controller on Xbox One without an adapter?
No, you cannot directly use the controller without an adapter till now. Because officially, there is no support program for the Dual Sense Controller to plug and play in Xbox consoles.
However, if you are willing to play just the Xbox games on other devices, that you can do with the Xbox remote play services.
You just have to have the Xbox game pass ultimate that way, you can remotely play on your Desktop/Laptop or on mobile with the help of Xbox Digital Services.
Can you play Xbox with a PS controller?
No, you cannot play Xbox with a PS controller because of not having any official support from these two console giants. However, with the additional adapter, you can use the PlayStation controller on the Xbox series.
Now you may ask, Is There a PS5 Xbox Controller?
Well, no currently, there is no Official PS5 Xbox Controller on the market, which will support both the PS5 and the Xbox series. And if you see anything, please avoid it with full responsibility. Because it might be fake and a probable waste of money.
And even if I mean, there is this slightest chance like 0.1%, it might connect on the consoles, but you cannot play with it.
Here's a complete guide on how to fix PS5 not charging in rest mode.
People frequently ask me, Will Xbox Series X Consoles Add PS5 Controller Support?
Well, it might happen in the future, and that future is very far away. But if you ask me honestly, I would say no because I don't believe it will occur.
You see, both these console companies have been in this long battle for a long time, and I don't see them merging. They don't even have crossplay in online games.  And Sony takes a lot of pride in their exclusives, and both these companies are now acquiring big gaming studios for their own exclusive games.
So Xbox coming with official PS5 controller support looks like a dream.
Now you might be asking what controllers can you use on Xbox One?
Well, there are plenty of official controllers out there which you can use with your Xbox One. But you can make your own custom-made scuf controller, which you can play with your Xbox One.
Here is the list of controllers you can play with your Xbox:
Xbox Elite Series 2.
Xbox Core Controller.
Razer Wolverine V2.
Xbox Adaptive Controller.
Hyperkin Duke Wired Controller.
Can I Use The Dual Sense Controller On A Computer?
For obvious reasons, Dual Sense is not a licensed Microsoft device, which means you cannot plug and play the controller and enjoy all of its capabilities.
However, you can get your Dual Sense to operate on a computer using Steam and other third-party applications. If you use your Dual Sense Via Steam on a PC, you will have complete compatibility. Platforms such as Uplay, Epic Game Store, and Rockstar Launcher, I believe, will offer complete compatibility in the future.
There is also a third-party program that will allow you to utilize your Dual Sense on a computer. You must first download the DS4windows software, and then you are ready to go. However, you may need to wait a little longer to receive the whole Dual Sense experience on PC.
Final Thoughts
Dual Sense is such an incredible controller that it became one of PlayStation's selling features. The unique haptic feedback and adaptive triggers will make you feel like you've never felt before. This controller really epitomizes next-generation gaming.
This controller, I believe, will shape the future of gaming. It will continue to develop in the following days and have a significant influence on the gaming business.
Hopefully, with this guideline, you can now use the PS5 controller on the Xbox console.
And if you still have any more queries, you can always reach us.