If you are an avid gamer, you need a proper mouse for getting the best gaming performance. It doesn't matter what type of gaming you prefer. Be it PC or console-based gaming; a mouse is always essential.
And that is because the accuracy and precision that a mouse can offer in certain games are unprecedented.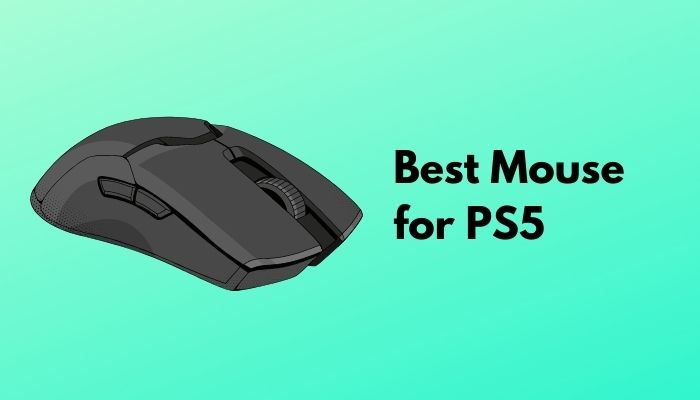 Now, is a mouse required for gaming with PS5?
Well, why not. As I said, the mouse will offer precision in performance during the gameplay. But there are many options to choose from, which can make you confused.
Don't worry! In this article, I gathered some of the best mice for PS5 that can meet your needs.
In a hurry? Check my top pick.
Otherwise, take some time off to read my review on some top-notch mice.
Best Mouse for PS5 Reviewed
While gaming, if your performance drops even a bit, it feels frustrating. As a gamer, no one likes a lag or drop in their performance. And that said, they try every other option that will play a big part in enhancing the performance level.
When it comes down to selecting a mouse, I would say that the whole process is crucial. You need to select an option that caters best to your gaming needs. Now, in the case of the PS5, you don't need to worry at all. As in my list, you'll find all types of options.
Therefore, let us waste no time and jump right into the review.
Here are the best mice for PS5: 
1. Razer Deathadder V2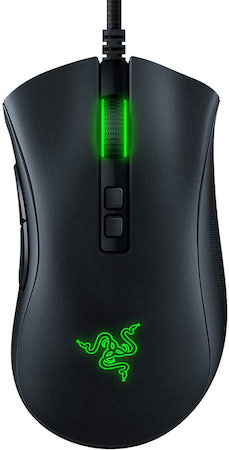 As a brand, Razer doesn't need any introduction. The gamers who build top-end gaming builds always keep Razer into consideration.
Now, when it comes to gaming mice for the PS5, you can trust Razer without any doubts.
This model from them comes with the following specifications:
8 Programmable buttons
Durability: up to 70M clicks
Max sensitivity: 20000 DPI
If I have to list out five brands for gaming mice, Razer will always make it to the top five. It is a great brand, which assures you about top-notch performance and quality.
As a gaming mouse, this model is the upgraded version of Razer Deathadder Elite. To be honest, this model is a better iteration than its predecessor.
It comes with a nice build-up, and the outlook is also fantastic. Like every other product from the brand, it maintains a specific pattern that stands out from its contemporaries.
Now, looking exclusive doesn't mean it has to be flashy. In the case of these gaming mice for the PS5, it isn't flashy at all like its predecessor.
What I like the most is the comfort level that this mouse provides while gaming.
Check out our experts-tested best keyboard and mouse adapter for PS5.
Let us now talk about the performance.
While testing, I feel that the senses are pretty incredible for this gaming mouse. And that is because of the superb accuracy that it provides. In fact, I will say in terms of the sensitivity; it is way better than its previous version.
The only problem that I've found with this mouse is that its buttons were quite flimsy on the sides. Also, the pricing for this mouse is expensive. Therefore, if you are on a budget, this model won't be a viable option.
However, if money isn't an issue, this model is worth going for.
2. Steelseries Rival 3

Steelseries is a trustworthy brand that provides some of the best-of-class gaming components. I used to have headphones from them, and to be honest, it was terrific. I was pretty impressed with its output. That said, most of their products provide similar types of output.
Now for your PS5, this mouse can be an excellent option. It sports the following specifications:
DPI: 8500
Connectivity: Wired
Form Factor: Right-Handed
Let me talk about the design first. This gaming mouse comes with an ambidextrous design, which gives an advantage to the people who like it with the right hand.
And overall, on the outlook, there is a low profile touch. It has a study build-up, and the material used in its build is of good quality. In my opinion, this model gives a solid feel, and there is almost no issue with rattling.
Besides, the ergonomic shape that this mouse has makes it super comfortable for the fingertips.
Apart from this, if you have a medium or small-sized hand, this mouse should be a perfect choice for you to use. However, people with large-sized hands may find it a bit difficult.
Here's a complete guide: Can you use a PS5 controller on Xbox.
When I tested it with my PS5, I found that there is a non-slippery surface which is essential for extensive gaming.
Performance-wise, the sensors of this mouse were pretty smooth. While gaming, there was no lag, which I think almost everyone will like.
Overall, this is a pretty good option as an entry-level Mouse. If you are tight on budget, it can indeed be an option.
3. Corsair Katar Pro Wireless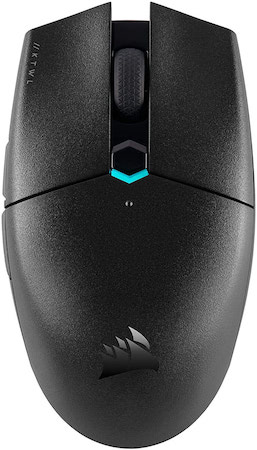 Corsair has everything under its belt. As a brand, it is a behemoth in the gaming components market. You'll find them offering almost everything. And to be frank, all of their gaming components are of top quality. That said, this wireless keyboard from them comes with the following specs:
6 programmable buttons
Battery: Up to 135 hours of continuous use
Optical sensors
First, let me tell you about the design. If you want a low-profile option for using with your PS5, this model from Corsair can be the ultimate solution. On both of its sides, there are textures, which provided me with perfect grippings. And that is reasonably necessary for getting a stable gaming performance.
The thing that impressed me the most is that Corsair adapted all these things in a minimalist design.
It schemes in such a way that it looks simple without having a primary or bland outlook.
In terms of comfort, I would say that this Mouse is better for people with humpier palms.
Now let us come to the main part, the performance. I felt that this mouse could be very much suitable for shooting-based games. The notches will let you easily switch between the weapons. Also, sensitivity from this model was good enough.
Overall, I would say that this model comes with a low-key design yet with decent performance in a relatively affordable price range.
Check out the easiest way to fix PS5 crashing/freezing issue.
4. Bengoo KM-1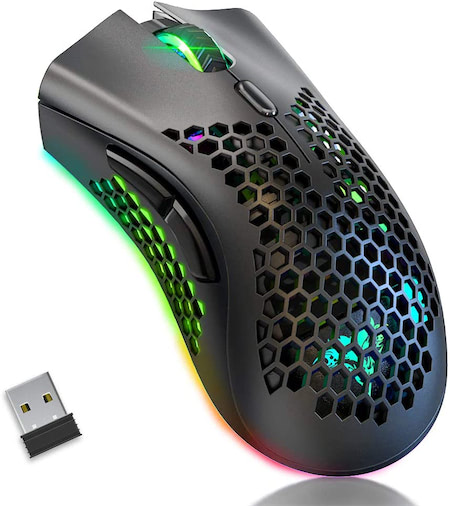 If you prefer a mouse that gives you the utmost ease, this model from Bengoo can be the right choice. That said, Bengoo KM-1 wireless gaming mouse sports the following specs:
Number of buttons: 6
3 adjustable DPI speed switch
Universal compatibility
Firstly, the design of this wireless gaming mouse is what got me excited. It possesses a honeycomb design, which eventually makes it lightweight. With that said, this mouse comes in a standard size, which makes it easily fit for every type of hand.
Now, the total body also has subtle matte black texturing. The people who are fond of such types of iteration will definitely like this model.
Apart from this, there are LEDs in this mouse, which provides some sort of bling.
When I was testing, I expected better vibrancy from these LEDs. But they were a bit dull, and there were limitations in customizing them. I was able to control them with the buttons beneath. If there were dedicated software from Bengoo, the job would have been much easier.
Other than this, the pricing of this mouse for PS5 is decent. You can be tension-free as it won't take a toll on your wallet.
To sum up, if you prefer something easy going within a budget, this model from Bengoo would be a viable choice.
5. Logitech G502 Hero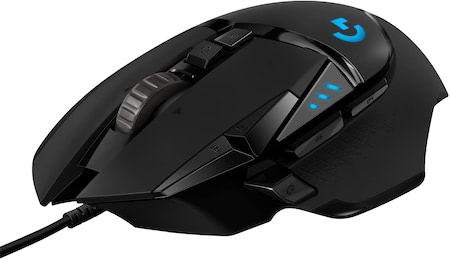 When it is about gaming components, Logitech is a brand that is hard to ignore. It has a diversified line of products that caters to regular or extreme gaming needs.
Since you are for a mouse for your PS5, this model here from Logitech can be a good option. As a gaming mouse, it comes with the following notable specs:
11 fully programmable buttons
Onboard memory: up to 5 profiles
DPI range: 100-26000
Logitech hardly disappoints when it comes to gaming components. And that goes the same for this gaming mouse from them.
It comes with a nice glossy, matte black texture with a gaming-oriented shape. The plastic build-up has been carried out well, giving the mouse excellent durability. Overall, the mouse feels sturdy and seems like it could do great things.
The best part about this mouse for PS5 is its RGB lighting zones. When I was holding it, these zones were visible between my thumb and index fingers. Apart from this, the button placements of this mouse are perfectly done.
Now, let us talk about the performance.
This mouse features a 1 ms response rate, which enables flawless tracking while gaming. When I was testing it, there wasn't any odd movement.
The software for this mouse is also relatively easy to use as it enables super customization abilities.
To sum up, I think this mouse gives outstanding performance, and it has incredible flexibility to offer. It might not be the right option for smaller hands, but it is still with top-notch offerings.
6. UtechSmart Venus Pro RGB Wireless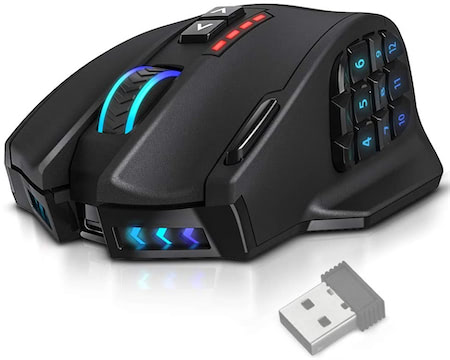 If you are looking for a budget wireless mouse for PS5, this model can be the right choice. It sports the following notable specs:
16 programmable buttons
70 hours battery life
Ergonomic design
This mouse comes with a decent design and build-up. It is curated in such a way that there remains no flex in the plastic body.
And the best part is that the buttons are very responsive that resulting in superior gaming performance.
In my opinion, the surface of this mouse is very comfortable. The thumb rest and textured surfaces are exceptionally well placed for general hand sizes.
Talking about the hand sizes, this mouse for PS5 is more suited to medium and large-sized hands. Therefore, if you are with small or extra large-sized hands, you won't feel comfortable using this mouse.
Besides, as it has a wireless option, the mouse is highly portable. I was able to use it for 70 long hours without plugging it.
In terms of the performance, there were no significant issues with the responsiveness of this mouse. I played games without any significant obstacles. But the mouse seemed to be a bit clicky compared to the other ones in the list.
Then again, if you take its budget-friendliness in regard, I think that aside from a few issues, this mouse is worth the shot.
7. KLIM Blaze Rechargeable Wireless Mouse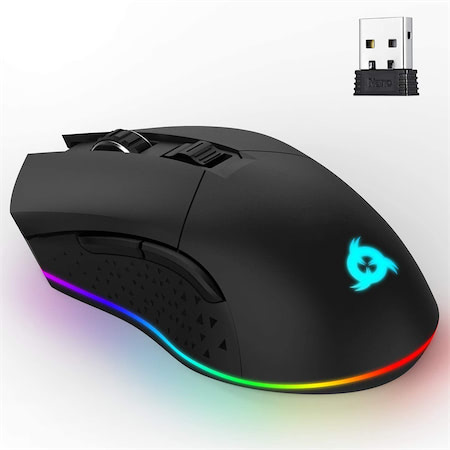 If you're looking for a mouse with excellent battery life, this model can be worth the shot.
It comes with the following specifications:
Number of buttons: 7
Connectivity: Wired/Wireless
Can withstand 20 million clicks
KLIM did a great job in adapting the needs of the gamers into the line of products. And when it comes to this particular model, I think it is well-suited to the PS5.
First of all, the design for this mouse is pretty simple yet elegant. Nothing is overdone; still, the mouse looks great. The black finishing on the body is top-notch, and the mouse has a superb RGB iteration. The Logo glows as well as the edges, which looks terrific.
However, the clickiness of the buttons did annoy me a bit during gameplay.
Moreover, this is a mouse that you can get at a very cheap rate. So, if you overlook a few issues, it turns out to be a good deal.
8. Logitech G600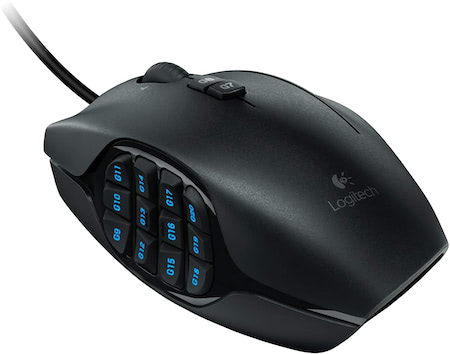 The last model in this place is from Logitech, and it is the G600. This gaming mice for PS5 comes with the following notable specs:
Number of buttons: 20
Dual-dish thumb panel
Up to three onboard memory profiles
This is one gaming Mouse that you can use for high-intensity multiplayer gaming. It can assure you the pinpoint precision and accuracy you require for getting superior gaming performance.
Let us first talk about the design. When I held this mouse for the first time, it gripped well. I noticed that the thumb has access to 12 out of 20 buttons.
And that said, the shape of this mouse is quite bulkier, and its heft makes it easy to use.
Now, if I talk about the output, I would say that the main advantage you will get is that your right thumb has much less work to do. My experience with tracking had no issues. And also that the cursor responded pretty well.
Overall, this mouse has plenty to offer. It might be large, but given the features, the size seems reasonable.
Final Thoughts
Therefore, these are the gaming mice that are suitable for the PS5. I tried to gather all types of options, and I feel I managed it quite successfully. Among all these, the best option to buy is the Razer Deathadder V2.
Also, the rest of the options are pretty good based on the needs. Still, if you feel that something is left out, do let me know in the comments.