I have always been a console gamer. Obviously, I had a pc as well. Where I used to play Call of Duty and Counter-Strike, you know where the keyboard and mouse are absolutely necessary.
Even though I have played games on the controller all my life, I still cannot play any FPS games on the controller.
Shooting on the controllers just doesn't feel right. And if it is without aim assist, then you are done for.
Can ps5 use a keyboard and mouse?
Yes, You can use Bluetooth for a wireless mouse and Keyboard. If the Keyboard and mouse are wired, then you can connect them to the PS5 USB. Unlike Bluetooth headphones, the PlayStation 5 can easily detect all the renowned Keyboard and mouse companies out there.
It is very understandable if you have any queries regarding this issue, and as a PlayStation enthusiast, I will answer all your queries.
So keep reading till the end to get your desired solution.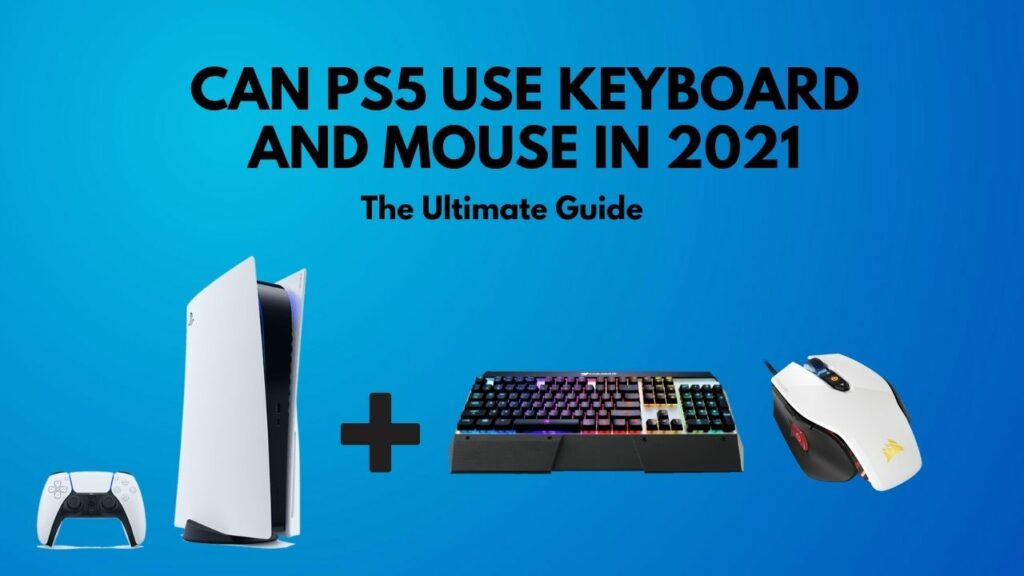 Also, check out our expert's recommended best wireless keyboards for PS5.
Can you use keyboard and mouse on PS5 warzone?
Yes, you can use a keyboard and mouse on the PS5 warzone. If you own any renowned Keyboard mouse brand, then you can easily plug them in your PlayStation 5 and play games on it.
This is a very common question among the new console users. And a very prominent one if you have been playing on the keyboard and mouse all your life.
Initially, it took me some time to cope with the gamepads because it is much easier to get used to the keyboard and mouse than gamepads. Like everybody can type on a keyboard even without looking. And for games, WASD and the Space button are just muscle memory. Competitive gamers can press all of them in sec or two.
So I completely understand why PC gamers don't want to switch to gamepads. The idea of aiming through a stick just doesn't make any sense. Even though normal games are playable, when it comes to shooting, it is just horrifying.
Also, check out our separate post on how to fix PS4 error code CE-300227.
I have seen many players playing on a gamepad regularly but still can't aim without aim assist, and that makes sense because it is so hard to position your thumb and shoot. I cannot even aim with the thumbstick. Every time I want to aim it feels like my whole world is spinning.
That is one of the main reasons Aim assist is there on console games. But there is a bit of controversy as well. PC gamers claim with the aim of assisting consoles, gamers are getting all the kills easily, and there shouldn't be a crossplay platform when it comes to competitive gaming.
With the aim assist in the controller, it is fairly easy to aim, not going to lie. But you are not going to get any headshot or one-touch kill with aim assist. The aim assist will help you to target the body and nothing else. So even though it helps out console players a little bit, it shouldn't be termed as cheating or going online bullying console players for aim assist.
Also, check out our separate post on how to fix PS5 error code wc-365475.
Now you may ask which games support the keyboard and mouse on PlayStation 5?
Well, there are plenty of games out there that support both keyboard and mouse. There are currently 15 games that support the keyboard and mouse on PlayStation 5. But hopefully, in the future, there will be more games that will support the keyboard and mouse. But if you are hoping to play FIFA with keyboard and mouse, then sorry to break your heart, you cannot do that on PlayStation 5. There are legit too many players who play on the keyboard and mouse. I used to be one of them but I still don't understand why EA cannot bring Keyboard and mouse support on PlayStation, same with Apex legends. We can just hope EA will step up and bring keyboard and mouse support.
Also, don't forget to check out our experts tested best mice for PlayStation5.
Here is the list of games that supports keyboard and mouse in PS5:
Call of Duty: Black Ops Cold War
Call of Duty: Modern Warfare
Call of Duty: Warzone
DayZ
DC Universe Online
Elder Scrolls Online
Final Fantasy XIV
Fortnite
Neverwinter
Overwatch
Paragon
Planet Coaster
They Are Billions
War Thunder
Warframe
You can play all these games on your PlayStation 5 with a keyboard and mouse. Now you have fewer excuses for playing bad in multiplayer mode. Just kidding. Hopefully, now you can aim with a mouse, not with a thumbstick. Follow our guide to fix ps5 not outputting sound error.
How To Use Keyboard and Mouse In PS5
You don't have to worry about compatibility if you own any renowned keyboard and mouse. Because PlayStation 5 almost supports every keyboard and mouse out there. But you cannot use your Keyboard and mouse in every game. You can play mostly shooters on PlayStation 5 using a keyboard and mouse.
Here are the steps to connect Keyboard and mouse in PS5:
1. Connect Using The USB Port
You can connect easily if you have a wired mouse and keyboard. It is more like plug-and-play.
Here are the steps to connect mouse and keyboard on PS5 through USB port:
Turn on your PS5.
Connect your Keyboard through the USB port.
Plug your mouse through a USB A port.
Now Turn on any keyboard and mouse supported games on your PS5 to see if your keyboard and mouse are working or not. Check out our separate post on how to fix PS5 error code ce-108255-1.
2. Connect Via Bluetooth
You can connect your wireless mouse and keyboard via Bluetooth to your PlayStation 5.
Here are the steps to connect the keyboard and mouse via Bluetooth in PS5:
Go to settings.
Navigate to devices.
Select Bluetooth devices.
Put your mouse and keyboard in pairing mode.
Select your keyboard and mouse to pair with PS5.
This is like connecting a Dual Sense controller on your PlayStation 5. However, I would recommend using a wired connection to play games on PS5. Because via Bluetooth, there is going to be a latency issue. So be aware of that. Want more PS5 games? Check our other round-ups on the best PS5 horror games & best PS5 games for kids.
Best Mouse And Keyboard For PS5 – My Recommendation
There are plenty of good keyboards and mice out there for PlayStation 5. You can even use your Mechanical keyboard on the PlayStation 5. People are getting into the console now that PlayStation 5 supports 120HZ on many FPS or shooting games. And they are looking for their best keyboard and mouse combo.
My suggestion would be if you already have a good mouse and keyboard pair, then don't waste your money getting a new pair. Your current mouse and keyboard will just work fine.
If you are looking for a good wireless keyboard for the PS5, go for Razer Turret Mechanical Keyboard And Mouse. And if you are looking for wired ones, then go for Razer Power Up Bundle.
And if you have a tight budget, you can go for Redragon K555-RGB-BA Mechanical Gaming Keyboard and M710-RGB Gaming Mouse.
For better understanding, I will list the top 5 keyboards and mouse combos for PS5 below.
Check out our experts tested and reviewed the best keyboard and mouse adapter for PS5.
Here is the list of the top 5 Mouse and Keyboard Combo For PS5:
| Name | Connection Type | Price |
| --- | --- | --- |
| Razer Turret Mechanical Keyboard And Mouse | Wireless | 250$ |
| Corsair K55 + Harpoon Combo | Wired | 70$ |
| Razer Power Up Bundle | Wired | 139$ |
| Redragon K555-RGB-BA Mechanical Keyboard and Gaming Mouse | Wired | 70$ |
| Logitech Lightspeed Keyboard And Mouse Combo | Wireless | 150$ |
You can get all of these in any retail store. Keep a look at the website because usually on sale, you can get a good price on these combos.
Also, check out our separate post on fix headset not working in PS5.
Final Thoughts
Now that PC players are coming into PlayStation 5, keyboard and mouse support is more important than ever. Luckily you can play most FPS games via keyboard and mouse in PS5.
Hopefully, with this guideline, you can clear your confusion about the PlayStation 5.
And if you still have any queries, you can always reach out to us.