PS5 has some of the most amazing games specially for your kids.
These games keeps your kids away from violence and grows a good mindset.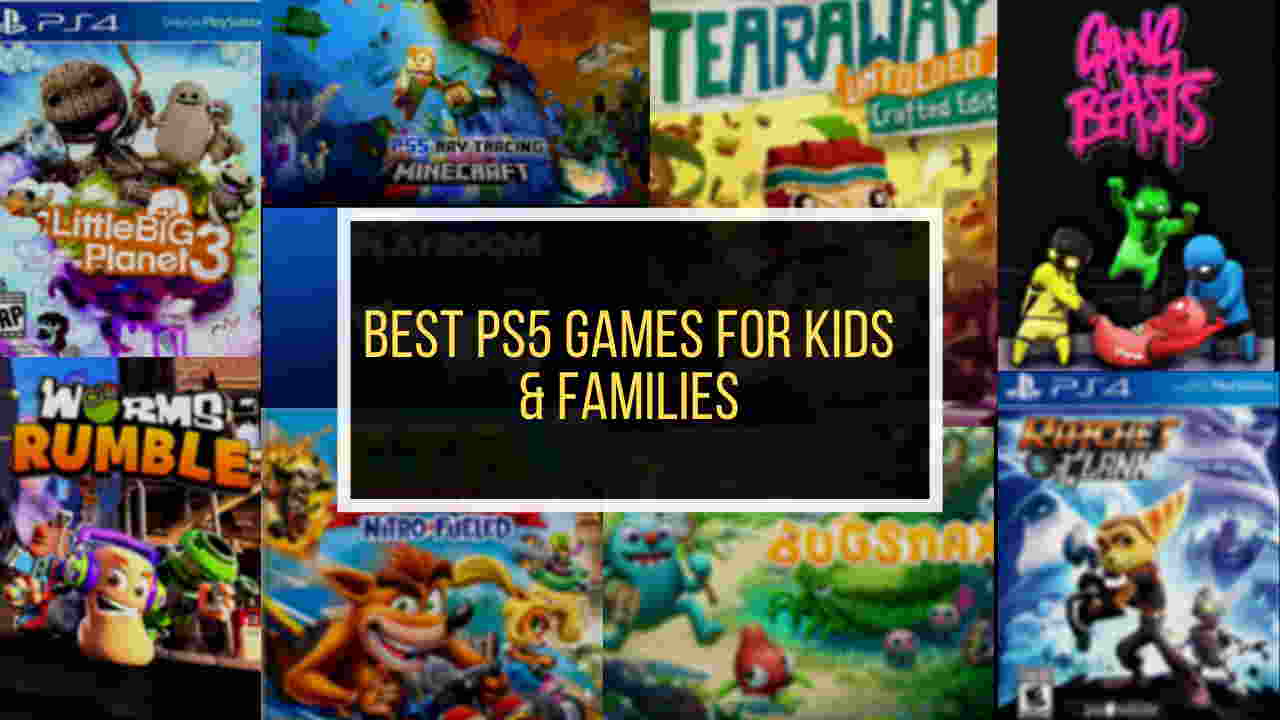 Well, there are plenty of PS5 games but not are suitable for kids.
And in this post, you will get to know about the top 10 best PS5 games for kids.
Didn't get your PS5 yet? [Check ps5 availability] and also don't forget to [get the latest controllers] & [aesthetic PS5 controller skins].
Top 10 Best Games for Kids & Families on PS5
About (60-70)% of kids play video games in new generation consoles. It is presumed that, same percentage of kids will also play in the upcoming PlayStation5.
So, it is better to pick selective games for kids so that they don't see any violence or age-restricted videos in front their eyes.
For this, I am going to provide you games for Kids genre exlusively for PS5.
Here are the 10 best kids game for PlayStation5:
1. Minecraft
Minecraft is an open-world creativity game where you are the king of your world. You can do anything you like from cutting trees to making a roller-coaster ride.
The main motto of this game is to collect items from the Minecraft world to crafting something new. Although no information will be given on how to craft the items, thanks to several wiki pages and communities, you will be able to craft things on your own.
To make things interesting, Minecraft added animals and zombies along with villagers, traders, fishermen, and more unknown discovery.
There are several modes you can play in Minecraft, like the survival mode, adventure mode, and even multiplayer mode. In survival mode, you will be spawned to a computerized generated world where you will have no resources on your name. You have to gather items, create your shelter, and eat foods from time to time to survive. Not but the least, there will be spiders, zombies, witches, etc. trying to kill you.
You can build your world and show your creativity. You can either live like a caveman or you can build your projects and live in the 21st century.
Playing Minecraft with Friends is also one of the major features of why children and even elderly people play Minecraft. Crafting and hunting is a lot more fun with friends. Besides, you can build monuments and a whole new decorative world and show it to your friends using the online multiplayer mode,
Gameplay: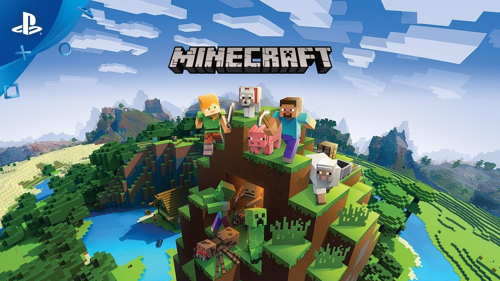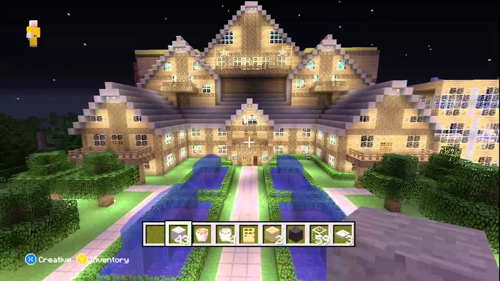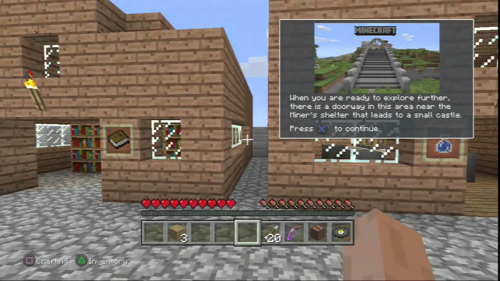 Highlighted Features:
ROBLOX character
Crafting and Survival
Open World Creativity Game
Rewarding crafting
Infinite replayability
Adventure sense
Personal Rating: 9/10
Also check out our separate post for the best PS5 RPG games.
2. BUGSNAX
Bugsnax is a whole new game for kids where you will be hunting for insects, bugs, and birds on Snaktooth island.
As you will be the newest visitor on this island, your main task will be helping the residents out. You will be equipped with artificial modern technologies and will be capturing the small critters with traps. After that, you have to record these quests in a handy guide.
Snaktooth Island is full of laughter and cuteness within the world of Bugsnax.
Well, it would have been less fun when your only mission is to catch bugs. There will be a plot twist at the end of the game. It is assumed that the game will be darker at some times. As you are playing as an investigative journalist, you have a mission to accomplish.
There are more mysteries in Snaktooth Island than it seems. Your job is to unveil the mystery and progress further.
The graphics of the game is spectacular comparing to other child games. The music is entertaining and also enjoyable. The ways you have to hunt down animals is a far more unique idea in this generation.
Overall I liked the graphics, trailer, sound, and also the plot twist. So, I highly recommend buying this game.
Gameplay: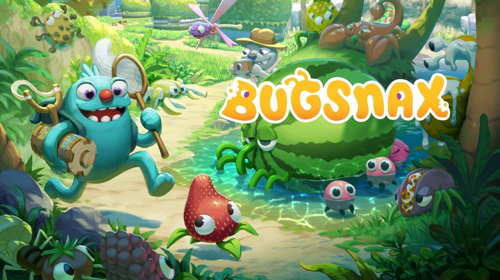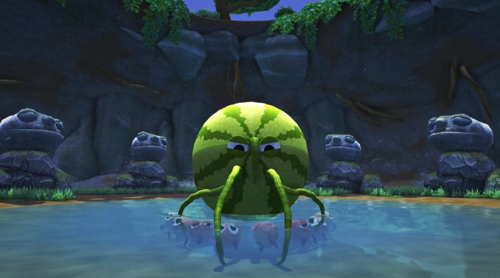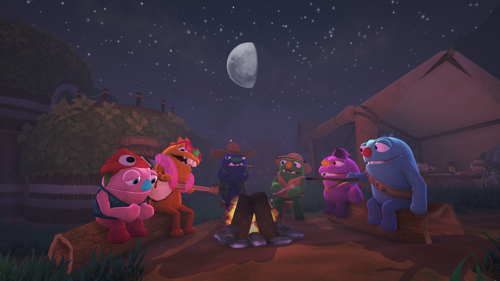 Highlighted Features:
Adventure Sense
First-person adventure
Modern Technology of Hunting
Great Graphics
Enjoyable Sound
Cute Characters
Personal Rating: 8/10
3. ASTRO'S PLAYROOM
Astro's playroom is a new PS5 exclusive adventure game where you can feel the world. This game works best with PSVR and it's highly worth playing.
The trailer shows that Astro is hopping around leaves and beaches enjoying his life, which will give you a unique sensation of tension because the spring with which Astro is hopping compresses down.
Astro is seen struggling through sand and killing evil robots in a funny way. He also meets his friends during winter and the adventure still continues.
You have to run, or bounce over blocks of ice, risk your life and kill bees in this game.
It is like enjoying your own playroom with lots of adventures and cute characters. The audio is also enhanced in this game. You can easily hear Astro jumping and walking around the sands.
One thing I like about this game is the cute songs playing throughout the game. The adventure won't be easy for Astro as there are several obstacles to overcome including gusty winds and evil bots.
Gameplay: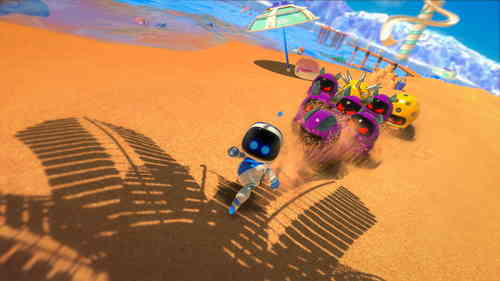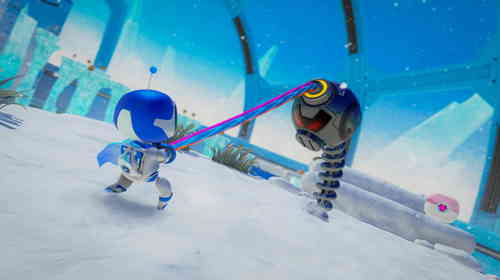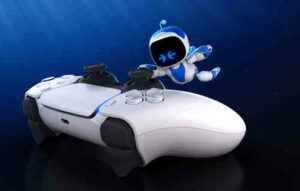 Highlighted Features:
Improved Audio
Cute Characters
Cute Background audio
Personal Rating: 8/10
Also, Check out my #1 favorite wireless headset for PS5.
4. SACKBOY: A BIG ADVENTURE
Sackboy is a new PS5 exclusive game where Sackboy returns back in an all-new 3D adventure world with a new control pattern.
You can play on this epic platform alone, or you can call your friends to team up with you. For collaborative and chaotic multiplayer fun, you can communicate with your teammates.
Sackboy A Big Adventure is a brand new game coming only to PS5. As the trailer shows that the adventure won't be easy. The world is big and so is the adventure. You have to play as Sackboy and cross multiple obstacles to clear each stage.
Though Sackgirl is the main character of the game, there is also a girl presumably called Sackgirl with purple hair. Maybe you can switch between characters at some stage.
There will be isometric boss fights, slide races, and plenty of excitement. Obstacles include ropes, bouncing pads, and grappling hooks, but Sackboy: A Big Adventure looks like a much more dynamic game and adrenal boosting game ever.
Gameplay: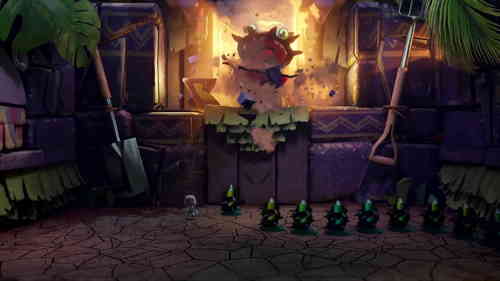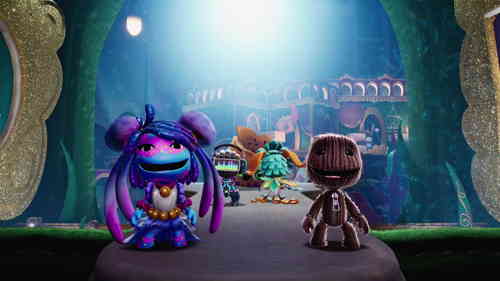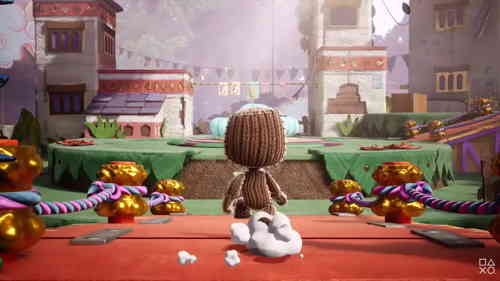 Highlighted Features:
Multiplayer Mode
Awesome Adventure
Perspective-Breaking Graphics
Personal Rating: 9/10
5. Worms Rumble
Worms Rumble is a shooting game where you and 31 other players will begin a gunfight in an arena. The locations will be similar to a library, street, or any similar locations.
You have to customize your worm and begin the fight. In total there will be 32 players in an arena. The last worm standing will be the winner.
It won't be that easy. But it is a super adrenal pumping game for kids. The deathmatch battle will be fun as it is a fast-paced 2D arena deathmatch.
Weapons in this game are simple but powerful. There will be lots of good stuff like ninja ropes, jetpacks, suicidal sheep, and big cartoon projectiles.
The whole arena will be full of worms and it will be tough for any player to rumble around the stage. As a matter of fact, the last worm wins will be given a trophy.
The best part is that you can either play online with 31 random people or you can invite your friends on your server and play among yourselves.
Gameplay: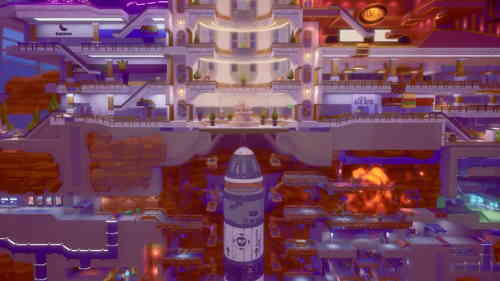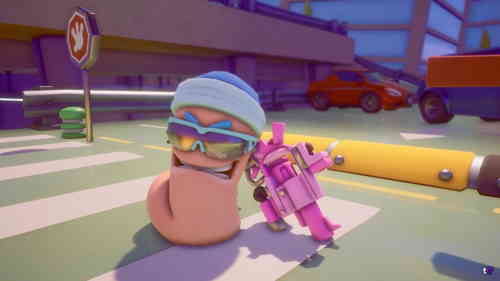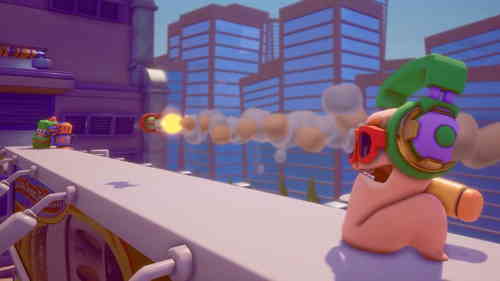 Highlighted Features:
Worm Customization Available
New Costumes and Weaponeries
Deathmatch & Battle Royale
Awesome Heart Pumping Music
Personal Rating: 9/10
6. Tearaway Unfolded
Tearaway Unfolded was a PS4 game and it can also be played in PS5. The main goal is to push, poke, and stroke your way through the whimsical world.
The game starts a little slowly at the beginning because of the introducing ceremony. But after a while, the adventure will level up and all of these concepts will be combined to your head as a picture.
The game results in challenging gameplay. You need to spend and also will get rewarded too.
Progressively, you will obtain the ability to control the wind and the light. These abilities will allow you to break down tough barriers and obstacles.
The obstacles are way beyond imagination. Sometimes you may need to lift tissue paper flags so that you can walk on them.
The triangle-shaped light bar is also used heavily in this game for you to power up generators with the help of your PlayStation controller.
Nevertheless, the game is loved by all, and also the stages are very adventurous and exciting.
Gameplay: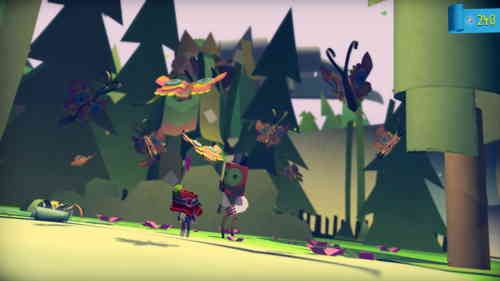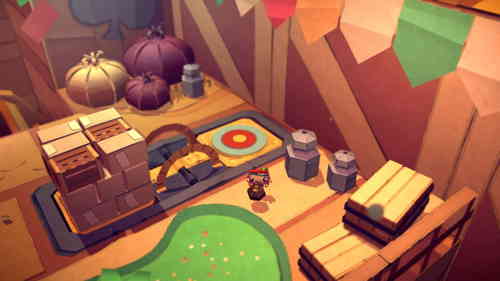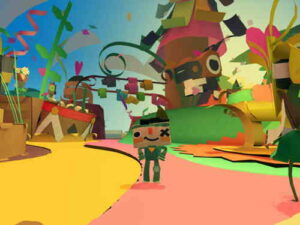 Highlighted Features:
60 FPS Ultra Crispy 1080p graphics
Imaginative Obstacles
Small Powerful Enemies
Great music
Personal Rating: 7/10
7. LittleBigPlanet 3
LittleBigPlanet 3 is a game where Sackboy is back again with his brand new friends. It is great for adults and children to play together.
LittleBigPlanet 3 has a unique style and the levels actually make you feel like you are in their gaming fun world. The game has text filters just in case a kid is playing the game.
You can also be creative and create your own world of joy where you can play tennis, roam with friends, journey together, etc. You can also publish your world for others to enjoy.
Thanks to Sumo Digital. They did a fantastic job of continuing the story and adding new creative mechanics and 3 new awesome play styles like Toggle, Swoop, Oddsock.
If you are using Toggle mode then you can grow big and small. If you are using Swoop mode, you can fly, and eventually, if you use Oddsock mode you can run fast and jump off walls.
Check out our separate post: PS5 Controller Keeps Disconnecting From PC
The only problem is that the game has a short story. Although there is some pretty good stuff online and such, lots of the online levels are terrible and cheap.
Gameplay: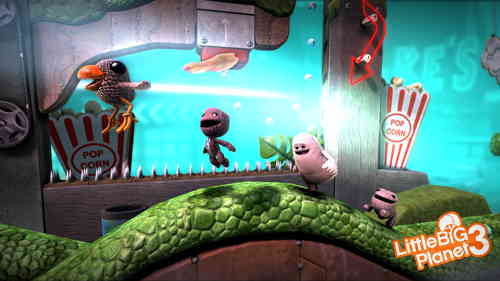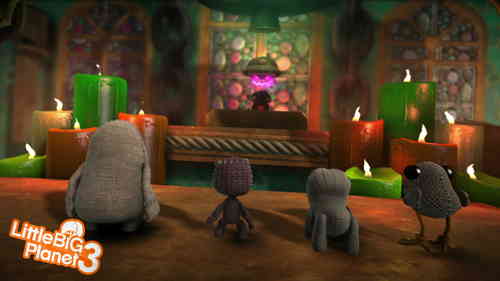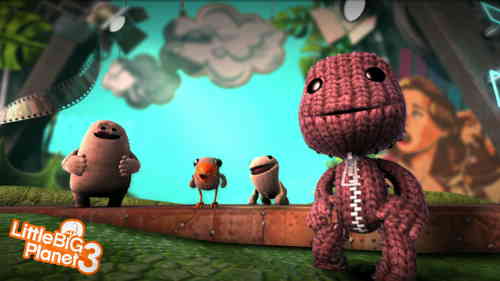 Highlighted Features:
New Mechanics and PlayStyle
Cool Background Music
Short Story
Creative & Imaginative World
Personal Rating: 8/10
8. Gang Beasts
Gang Beasts is a multiplayer brawling game. The game is even more fun when played with friends.
The characters are wobbly and the arenas are more challenging than the opponents sometimes. For example, the location might be above a ferry wheel or may b above a running train. So, you have to throw your opponent from the ring and claim your prize. It's funnier to see players wiggle and attack.
The game has zero violence. The attacks are non-violating and easy to control. There aren't any modern fighting mechanics. You just have to punch or grab or throw your opponent from the ring.
Although it is quite boring to play alone, you can invite ¾ of your friends to add juice to the party.
This game is typically an example of a good game with low graphics. That said, you can also have fun playing a low graphics game and have fun together.
Gameplay: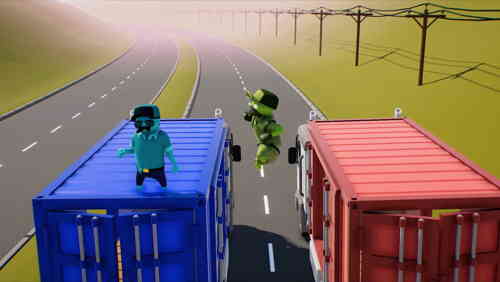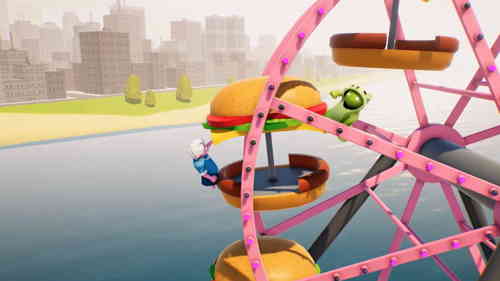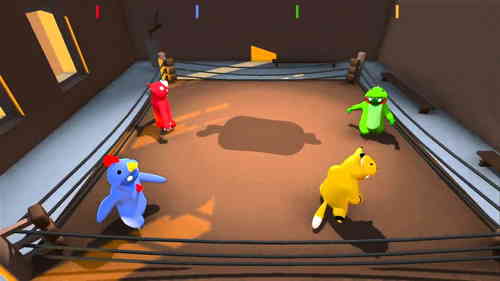 Highlighted Features:
Wobbly characters
Brawling Arena for 4
Unlimited Character customization
Personal Rating: 9/10
Also read, PS5 Controller Update Greyed Out
9. Ratchet & Clank
Ratchet and Clank is back again with its amazing story, upgraded graphics, characters, and more exclusively on PS5.
This game is just as similar to a Pixar movie and each new character comes fulfilling this promise.
You don't need any screenshots of this game to inform how beautiful the sport is, just go along and play the game.
Every extent of detail within the environments is so satisfying that you will be able to read signs and billboards for tiny jokes, rise up near buildings to catch hidden Easter eggs, and more.
In fact, there is plenty of mystery to be discovered here, If you compare the new remake with 2002 one, you will see astonishing changes as the game developed so much that I couldn't even stop putting my controller down.
However, the cutscenes are the major storyline of the game which is drawn directly from the movie.
Ratchet & Clank is such a game that pays close attention to every single detail including s beautiful animation while in motion, I would recommend playing this PS5 game no matter what.
Gameplay: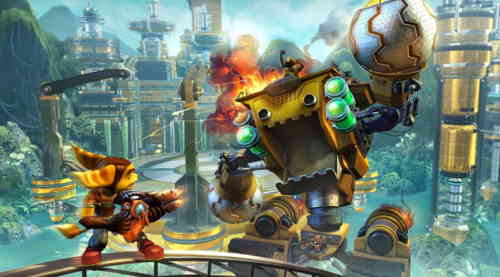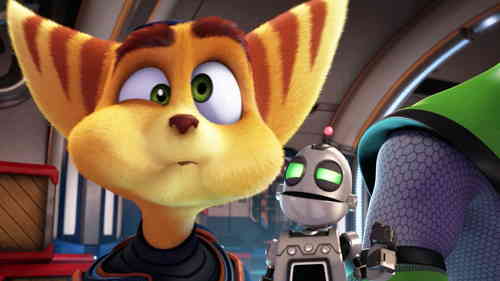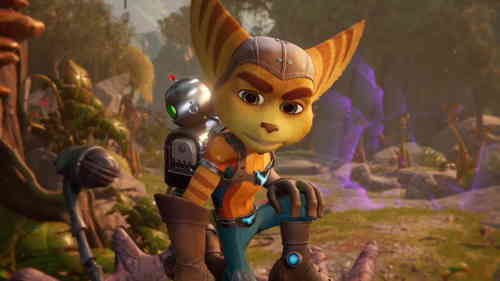 Highlighted Features:
New Story
New Weapons
Great Detailed Graphics
Awesome Soundtrack
Fun Gameplay
Personal Rating: 8/10
Follow our guide on How Long Do PS5 Controllers Last
10. Crash Team Racing Nitro-Fueled
So far you have seen adventure, shooting, and multiplayer games list. But one of the best racing games for kids will be Crash Team Racing Nitro-Fueled.
Seriously it has some amazing adventure racing circuits with a thrilling ride just to keep the original story intact. The game added new welcome quality life upgrades. This game looks extra stunning when played for the first time. Adding extra vivid details makes the game even more interesting. Of course, there will be no adventure without our cartoonishly bright characters.
You can customize your kart and character and catch stunning cosmetic items. Coming back to the tracks, the tracks are amazing with 31 circuits to complete. New maps and new tracks are also there just in case you get bored.
And trust me, this game is really faster than Mario Kart and even extremely upgraded. CTR's fast-paced kart racing and general lack of catch items make it the most exciting game I have ever played.
Also, the game contains online multiplayer feature that will enable you to play with others instead of computerized generated characters. The game will be bad for you if you can't handle the attacks. But it will become more of satisfaction once you get the hang of sliding and attacking.
Gameplay: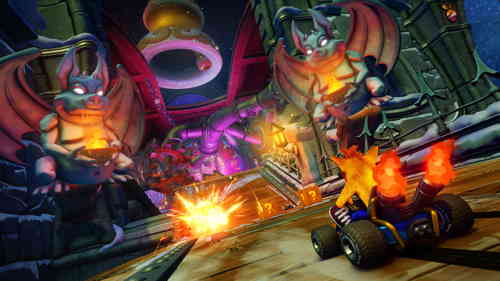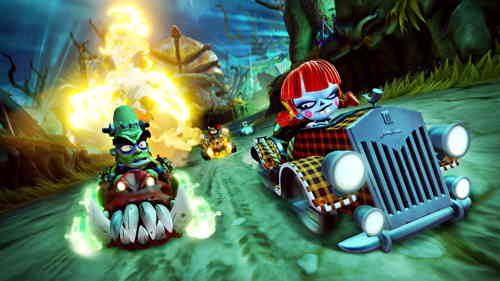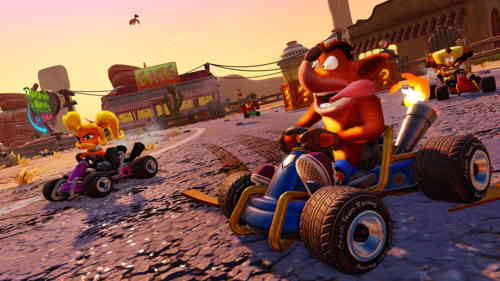 Highlighted Features:
New Maps and attacks
Customizable characters and Kart
Detailed graphics
Ability to Swap Characters
Personal Rating: 7/10
You may like to read: PS5 controller won't update
FAQ
Question: What is a good PS5 game for a 5 year old?
Answer: Here is the list of PlayStation5 games for a 5-year-old:
1. Minecraft
2. BUGSNAX
3. SACKBOY: A BIG ADVENTURE
4. Gang Beasts
5. Crash Team Racing Nitro-Fueled
Question: Is PS5 kid-friendly?
Answer: There are plenty of games in PlayStation5 that avoids violence and is very cheerful as well. Certain games can be played as a kid if you know which games are designed for PS5.
Question: Is Fortnite bad for a Kid playing in PS5?
Answer: Fortnite is a violent game. Though it doesn't show any bloodsheds still players have to kill each other which makes the game violent enough for a kid.
Conclusion
PlayStation is suitable for all age. There are plenty of genres to play. Suppose, you are a fan of Fortnite but your 4 year old kid wants to play it too. So, you can choose an alternative like Worm Rumble.
AS a matter of fact, The best PS5 games for kids are few which I have enlisted in this post.
Do mention in the comment section which games you liked the most and what crazy games you think should be added in the list.