Are you planning to add an avatar of your favorite gaming character to your PS5 profile?
It's true that the coolest way to express yourself during gaming is with an avatar. And premium avatars give you access to some of the most adored video game characters.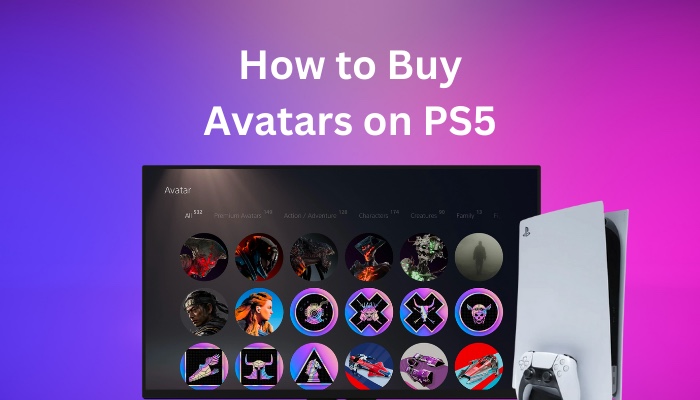 In that case, you must buy the avatar of your favorite character for your PS5 profile. Here, I will explain how effortlessly you can buy avatars for your PS5.
Let's begin.
How to Buy PS5 Avatars
In the earlier Playstation 3 and Playstation 4, it was quite easy to buy avatars. It's because there were specific sections available on PSN and in the online Playstation Store on PS3 and PS4.
Whatever the reason is, Sony appears to have quietly taken out the premium avatar with the launch of the PS5. It means you won't be able to buy any avatars on your PS5.
You cannot create your own avatar and upload it, either. However, you may put your own photo or piece of art as your PlayStation Network account profile image. But the limitation is only those you are close friends with will be able to see it.
As a consolation, SONY has added 300 default avatars in the PS5. These default avatars are featured from old PS3 and PS4 icons. To check those default avatars, click Profile > Edit Profile > Avatar.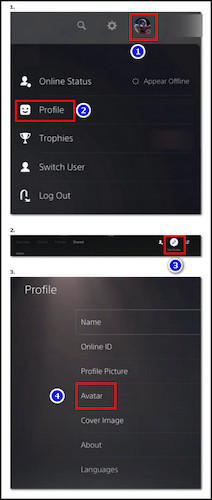 Those avatars won't be enough if you want your Gamertag to be unique. Then you may ask, where do I go to buy Avatars?
Since there are no direct approaches to buying avatars from PS5 stores and PSN networks, you must do it in alternative ways. Luckily there are two alternative methods. One is purchasing avatars through your PlayStation 4, and the other is purchasing pre-order bonuses or the premium edition of games.
Here are the methods to buy PS5:
1. Purchase from PlayStation 4
If you have your old PS4 in your possession, you can buy premium avatars from the PlayStation 4 store. Once you buy them from the store, the PS5 will take the automatic update of the newly purchased avatars you just bought on the PS4.
Note: Both the PS4 and PS5 must be connected with the same PSN account. Otherwise, you won't get avatars on ps5.
Here is the process to buy avatars on PS4:
Launch the PS4.
Go to Settings.
Select Account Management.
Press on Account Information.
Go to Profile.
Choose Avatar.
Select Premium Avatars.
Click on Get More Avatars.
Choose an avatar you want to buy.
Select Add to Cart.
Go to your cart and press Proceed to Checkout.
Click Confirm Purchase.
Once you have completed purchasing the desired avatar, log in to PlayStation 5, and you will find your premium avatar there.
Here's a complete guide on how to fix PS5 not downloading games.
Another way you can get an avatar is if you purchase a game before they are released or when you buy the premium or ultimate game package. Some games add avatars as pre-order bonuses or exclusive items in the package. Also, some games offer to sell avatars as a bundle.
For example, if you look at the latest God of war Ragnarok game Digital Delux edition, you will see PSN Avatar set for PS4/PS5 option in the package.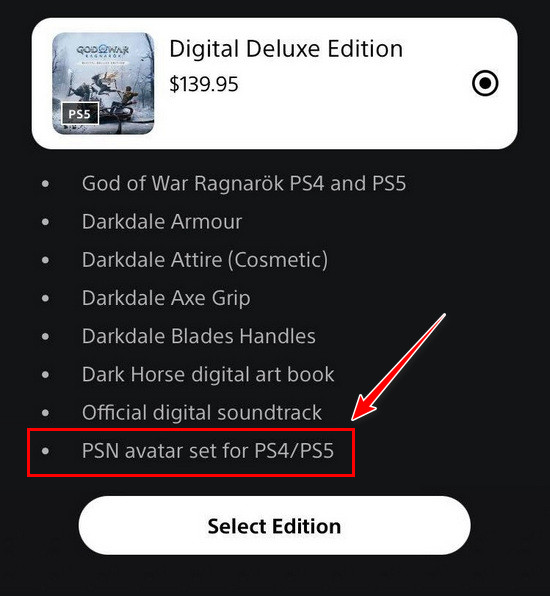 As you can see, you will get an avatar when you buy a premium edition of a game. Remember that there is no avatar in the standard version.
Quickly check our epic post on PS5 1080p 120hz not working.
FAQs
Did PlayStation discontinue avatars?
Yes, from 19th October 2020, there is no purchase option on PS3 or PSN to buy an avatar. Moreover, there is no option either to buy an avatar or theme on PS5.
Can you upload your own avatar on PS5?
Yes, you can upload your own avatar on PS5. To do that, got to the PSN network. Make sure you are signed in. Click on your avatar to go to your profile. Go to the Profile Picture section and select Edit. Click on Change Picture. It will open your device's file explorer. Choose a picture you want to add and select Save > Yes.
Final Thought
As long as Sony doesn't add a direct purchase option to buy an avatar, you have to do the purchase from PS4. Hopefully, they will add it soon.
Hope you have successfully acquired the avatar you wanted for your PS5.
Comment below if you have any questions.
Peace!