Playstation 5 came in late 2020, and very few lucky ones got their hands on the new PlayStation 5.
Now you must be thinking people with PlayStation 5 are playing all the games out there.
Well, no, because the PlayStation 5 is still a buggy mess for some users. People are having a hard time downloading games, at times updating the new firmware too.
Why isn't my ps5 downloading games?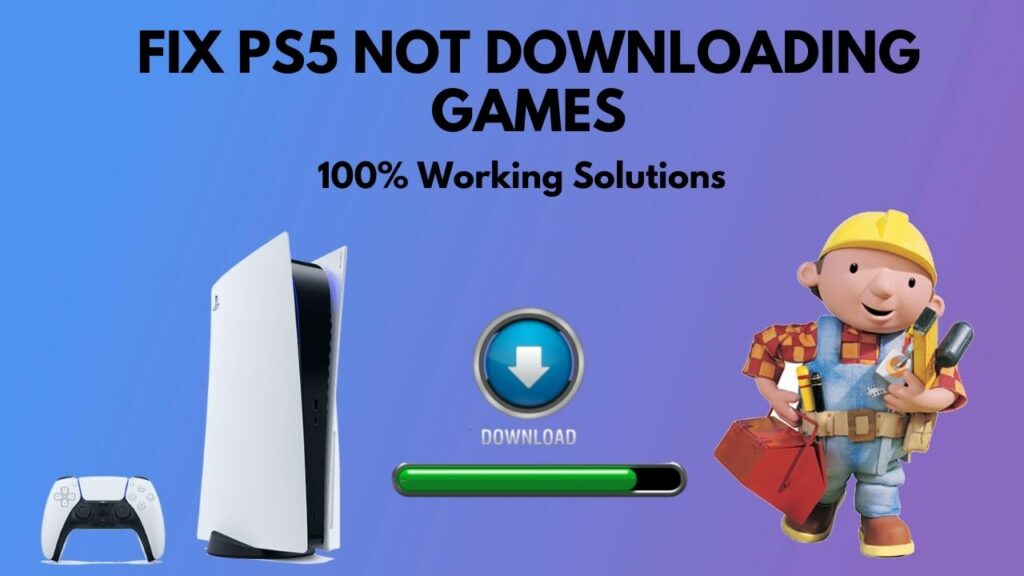 Your PS5 won't download games because new PS5 games are stranded in a queued for download conditions without being installed on the console. Although the PlayStation Console believes the game is downloading, the download queue stays empty and will not be clear.
As a PlayStation fanatic, I am here to help you out.
So put on your reading glasses to get your desired fix for the problem.
What is the PS5 queued for download bug?
PS5 queued for download means the game you are trying to download from the PlayStore won't download. Besides, your download progress will be in a loop, meaning either it will remain at 0 percent or will be stuck at 100%.
Either the game/app will be listed as Queued for Download, or a download problem will be reported. As a result, you'll be prompted to check the Downloads menu.
Your game won't download and can't be stopped or redownloaded. As a result, it will be stuck in the middle.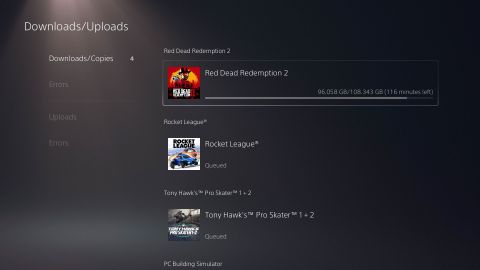 Demon Souls and Call of Duty: Black Ops Cold War's PS5 glitch has been the subject of several complaints from PlayStation users.
Here's a complete guide on how to fix headset not working in PS5.
How To Fix PS5 Won't Download Games
It is pretty annoying when you cannot download your favorite game on your PlayStation 5. I mean, think about it this way, when you spend like 60$ or so on a game, and then you try to download it. Bamn!  The console hits you up with an error.
The error will make your downloading queue stuck. Meaning it won't start downloading, or even if it downloads, it will get stuck at some point.
This isn't a nice thing for a gamer who has been waiting patiently for a game from the beginning of the launch. The same thing happened to me. I was waiting patiently for Miles Morales, but hey, it is not always that easy, Right?
I started downloading the game and waited 8 hours to finish! Eight hours of my life which I will never get. The sad part?
The download got stuck at 100%. The download was never completed, and I had to hard reset my PlayStation 5 to get it fixed.
I had to hard reset my console. Because at that time, the only solution was to hard reset the console.
Luckily, Sonny has released a new patch where the error will disappear if you rebuild your console's database.
Now that we know why and how this error is taking place at your Console.
Check out our separate post on how to fix PS5 error code ce-108255-1.
Let's get into troubleshooting.
Here are the steps to fix PS5 not downloading games:
1. Rebuild The PlayStation 5 Database
Sonny officially suggests this fix, and it was a go-to fix method even for the last generation consoles.  And as sonny suggests for this error, it is better to try this fix at first, and then if it doesn't work, follow the other methods.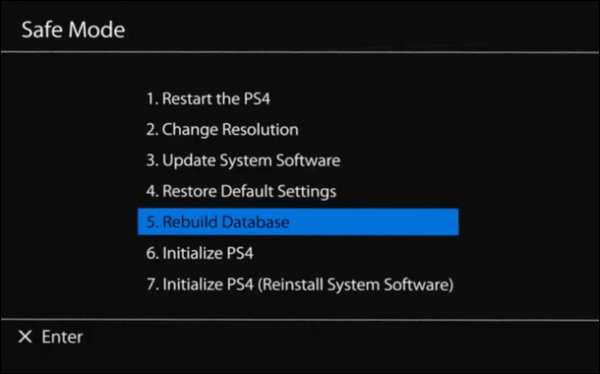 Here are the steps to Rebuild PlayStation 5 database:
Switch off your console.
Connect your Dual Sense to the console via the USB cord.
Hold down the power button until the console beeps twice, then release it. The PlayStation 5 will now start in a safe mode.
Select the option to Rebuild the Database. The process requires 10 to 15 minutes.
Do not switch off the console. While the PlayStation 5 is rebuilding the database.
After you are done rebuilding the database of your console, the console will take an automatic restart. After the restart, try and download the game you were facing issues with.
If the download queue bug is still there, then follow the next method.
Quickly check our other round-ups on the best PS5 games for kids.
2. Check Your Internet Connection and PlayStation server Status
If your internet speed is below average, then there is this massive possibility that your game won't start the download. So it is crucial to check your internet connection before trying any other fix.
Here are the steps to test your internet connection on PlayStation 5:
Navigate to Settings from the home menu.
Go to the Network Option.
Select Test Internet connection.
Wait for the results to come.
After the test, if you see your download speed is in KBs speed, the probable reason for the bug is your internet connection. It would be better if you contact your ISP regarding your download speed.

But if your download and upload speed are fine. Then you have to check if the PSN server is up and running. Because the PlayStation Network Server is down, then your game won't download.
Here are the steps to Check PlayStation Server Status:
Go to status.playStation.com via a web browser.
Log into your PlayStation Network ID.
Enter your PlayStation Network region.
Wait for a few minutes to load the website.
After the test, you will see a green tick alongside a text that all services are up and running. But if you notice any red or yellow sign, that means the PSN server is down. If the PSN server is down, then wait for an hour or so.
Read more on how to fix PS4 error code e-82000168.
Try to test the PSN server after one hour. suppose the servers are up and running. Then try downloading a game from the PlayStation Library. Hopefully, the download bug will not be there.
3. Update Your PlayStation 5
You have to update your PlayStation regularly. Because these updates will fix any error that came with the last firmware update, if your PlayStation is not updated, you won't be able to connect to the PlayStation Network. This means you won't be able to download any game.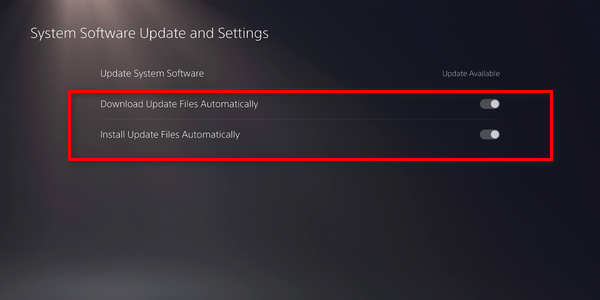 Here are the steps to update your PlayStation 5:
Shut down your PlayStation 5.
Press and hold power button for approximately 7 seconds or let it go after hearing two beeps.
Plugin your Dual Sense controller with the USB-C cable.
Use your Dual Sense to Navigate through the menu.
Select Update System Software.
Choose update over the internet.
Wait for the PlayStation 5 to download and install the update.
Turn on the PlayStation 5  after the update.
Now that you have updated your PlayStation, try and download something. Hopefully, the error will not be there.
4. Check Your PS5 Storage  
PlayStation 5 came with only 700 GB of usable space. Even though it came with one of the fastest SSD out there, the storage capacity can be a stretch. You might be facing the Download queue error because your SSD ran out of space.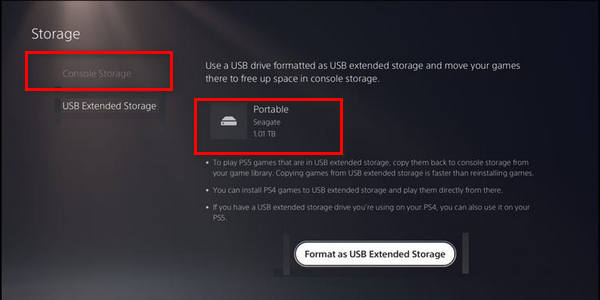 Here are the steps to storage capacity on PS5:
Navigate to Settings.
Go to storage.
Select on Console Storage.
Now, if your storage capacity is less than what you are downloading, well, you are in bad luck because your game won't download for not having enough space.
Though you can add another external hard disk on your PlayStation 5, that way, you will never run out of storage.
But keep that in mind, you can play all the previous generation games directly from the external hard disk, but to play the PS5 games, you have to move the game back to the console storage.
Final Thoughts
It goes without saying how heartbreaking it is to face errors such as not downloading games. Because as gamers, all we want to do is to play our favorite games in peace.
Hopefully, with this guideline, you can fix your bug in no time.
And if you still have any queries, you can always reach us.