You recently bought an External storage device, and you were gaming happily ever after, but all of a sudden, PS4 Error CE-300227 showed up on your screen.
Pretty annoying, right?
Well, even though PlayStation 4 is one of the most sold consoles out there, it has its errors from Time to Time.
So, why am I seeing Error CE-300227 on PS4?
Error Code CE-300227 occurs if you haven't restarted your PS4 in a long time. Also, not updating PS4 for a long time can trigger this error code as well. Besides, if the storage device has been used in another device, this error might occur.
As a Gaming enthusiast, I am here to help you out with a complete guide on how you can get rid of this problem and install expandable storage in a proper manner.
So don't skip any part as I am going to explain the process step by step.
Also, check out our separate post on how to fix PS4 error code e-82000168.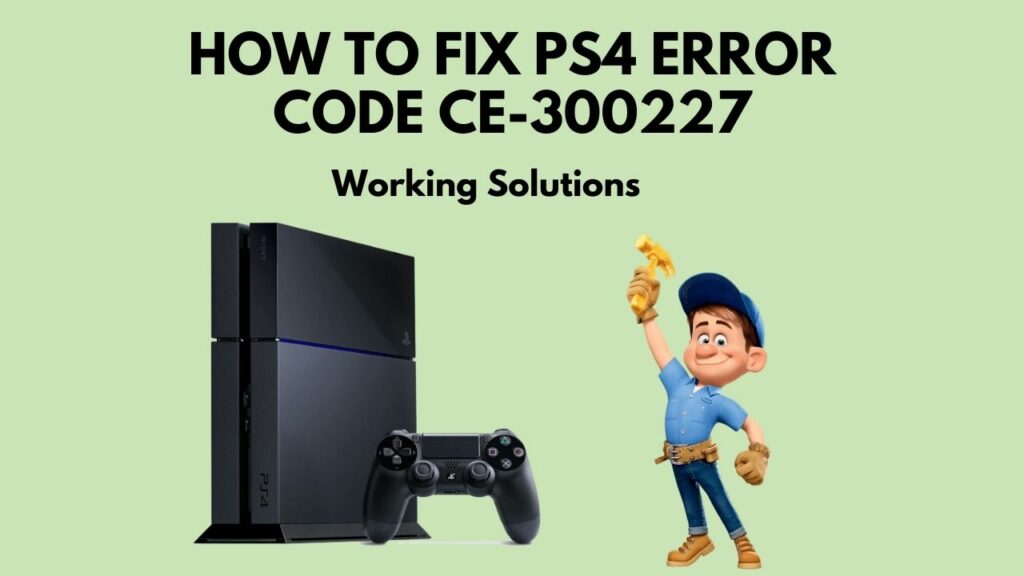 How to Fix Error CE-300227 on PS4
Code CE-300227 refers to 'Cannot repair the extended storage device' occurs for various reasons. To fix the error, you need to find the possible reason for this error. Some common problems that trigger this error are:
PlayStation console running continuously for a long period of time.
External Hard Disk has previously been used in another Device.
PlayStation Console firmware is not updated.
The extended storage device is not compatible with the PlayStation Console.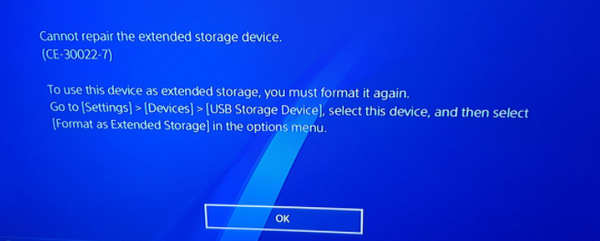 So before going into the fix, make sure you have an External Hard Disk which supports USB 3.0 also has a minimum of 250GB to a maximum 8TB storage capacity.
Now that you know what can trigger this problem let's get into Troubleshooting.
Also, check out our separate post on how to fix PS5 error code wc-365475.
Here are the steps to fix Error code CE-300227 on PS4:
1. Reboot the PlayStation Console
Sometimes we put our console in rest mode and then turn on the console by pressing the PS button. This means the system is running in the background, and that might trigger the problem.
Press and hold down the power button and when the console beeps twice, let the button go. Now the console will restart.
Wait for 15 seconds.
Turn on the console via the power button.
Hopefully, the problem will be gone, but if it doesn't follow the next method.
2. Update the Console Firmware
Code CE-300227 occurs when you haven't updated the console system in a long time.

Go to settings from your PS menu.
Look for the System Software option.
Click next if there's any update.
Give your console some time to download the update.
Navigate to the notification menu. There you will see your downloaded update.
Install the update. While installing the update, the PS4 will reboot, so don't turn it off on your own.
Go to the notification menu. There you will get a notification that you have updated your PlayStation console.
If the error code is still there, then follow the next fix.
Also, check out our separate post on how to fix PS5 error code ce-108255-1.
3. Rebuild the Console Database
Rebuilding the ps4 database is one of the go-to steps when it comes to error fixing in PlayStation.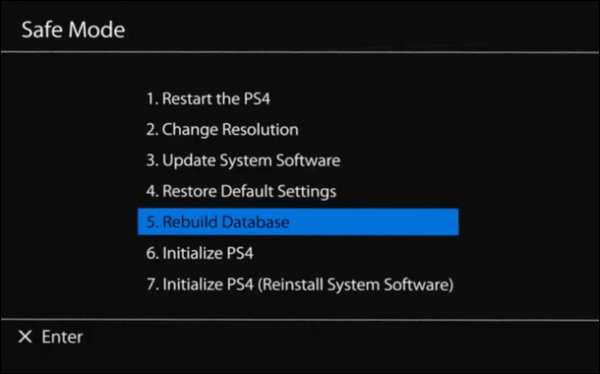 Turn off your console.
Connect your Dual Shock 4 with the USB cable and plug it into the console.
Press and hold down the power button and when the console beeps twice, let the button go. The ps4 will now boot in a safe mood.
Select the Rebuild Database option. It will take around 10-15 minutes.
Don't turn off the console while the process is underway.
After the process, go to storage settings and see if the error is there or not.
Want more PS5 games? Check our other round-ups on the best PS5 horror games & best PS5 games for kids.
4. Format the Extended Storage Device
Whenever the console detects the extended storage device, it will ask you to format the Device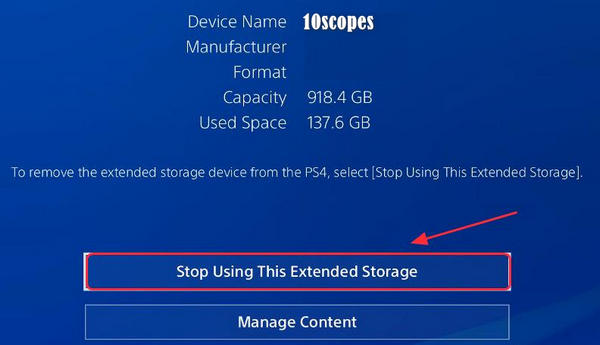 Go to Settings from your PS menu.
Click on Device.
Select USB Storage Device.
Select your extended storage device.
Format your external hard drive.
5. Check The Cables
Your External Hard Disk Drive should be able to connect to your PS4 through main USB ports. You cannot connect your external hard disk with a third-party USB dock.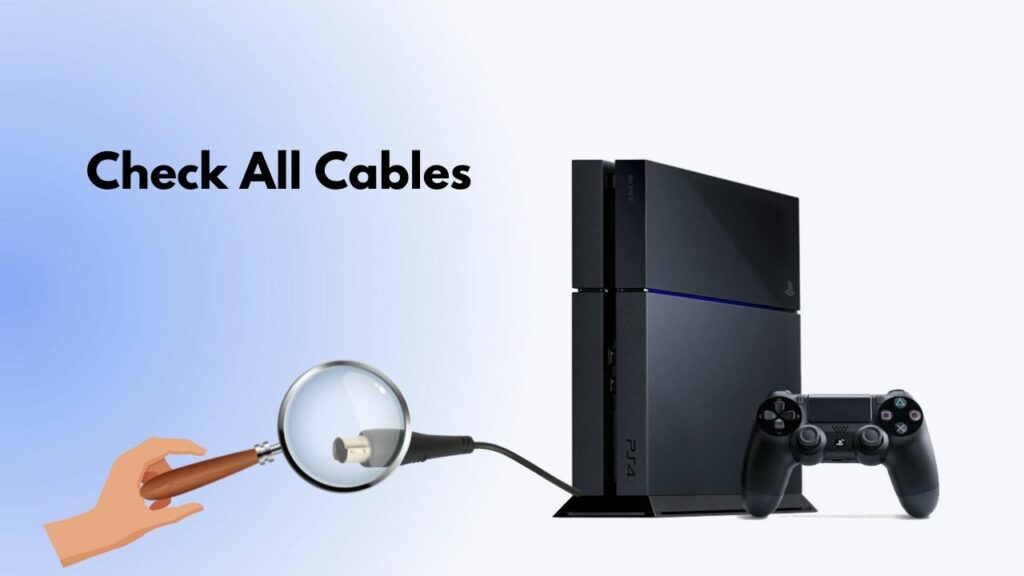 If the cables are not working fine, there is no way you can install your External Hard Drive on your PS4. Also, Check out our Top 10 picks for the best PS5 racing games.
6. Clean USB Ports and Cables
The ports may be blocked with dust, causing CE-300227 to occur.  And the USB port you are connecting to your External Hard disk needs to be clean specifically.
Always try to clean your console because if your console is covered in dust, there's a strong possibility it'll have a heating problem in the future.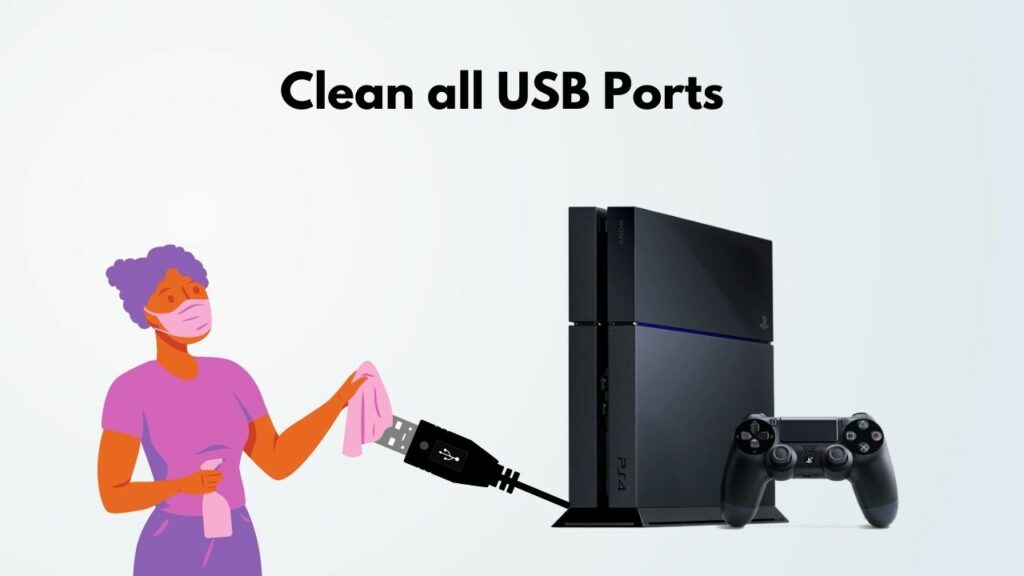 So, maintain your console to be clean at all times.
Also, check whether you can play Roblox on Ps4.
How to Install External Storage on PlayStation
Before going into details on installing it, you need to keep in mind that your external hard drive needs to be USB 3.0 supported.
You may install external storage on PlayStation by following these simple steps:
Insert the external hard disks port into the console.
Click on USB Storage Devices to view the list of USB storage devices.
Select Your External Hard Drive from the drop-down menu below.
Format the hard drive before you start using it.
Navigate to the storage section.
Select your External Hard Drive from the drop-down menu.
Set your hard drive as the installation location for applications by selecting it from the drop-down menu.
There you go, you have successfully installed the external hard drive on your PlayStation console. Check out how to play discord on PS5.
Final Thoughts
When it comes to installing external storage on PS4, it is relatively easy. However, the errors make your life a bit difficult.
Hopefully, if you follow these methods, you will land a solution.
And if you have any more queries, you can always reach us.