Sometimes having an unreliable WIFI connection can prevent you from signing in to your PSN account. 
Apart from that, Sony servers might hamper your gaming experience sometimes; you might not access your PlayStation Network account because of the server issue from Sony.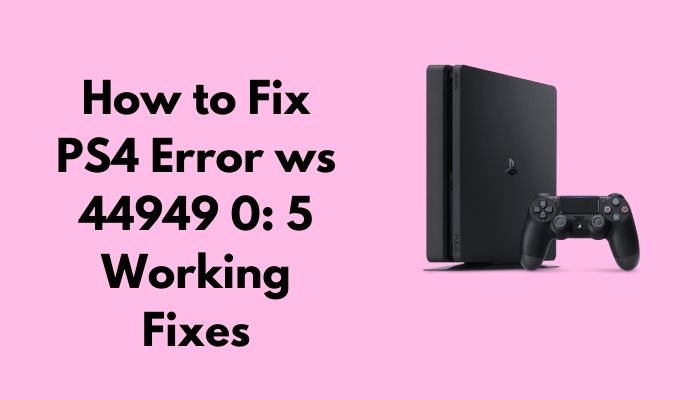 Why has my PlayStation account been banned?
Your account might be banned from the PlayStation Network if you use any card that has been stolen. Or you have used a fake credit card to buy something from the store. Sometimes your account might be banned if you take advantage of the server glitch.
Lately, as many people have been struggling with signing their accounts in the PlayStation network, they see an error message every time they want to sign up. Well, don't worry about that.
I have had the same issue in early 2022; I tweaked some settings on the PS4 and got it fixed on my own. If I can fix the error, so can you. In this guideline, I will explain how easily you can fix the error.
So keep reading till the end to get your desired fix.
Check out the easiest way to fix PS5 Eject Button Not Working
Why does it Say This Account Cannot be Signed into on this PS4?
You might be getting this error because of the error code WS-44949-0. This will prevent you from logging into your account. Also, sometimes if your account is banned for some reason by Sony, you might get this error as well.
PSN, or the Playstation Network, is a Sony-developed online game and media delivery platform. As a result, it was initially designed for the PlayStation 3 but has since been extended to accommodate PlayStation 4 and PlayStation 5.
PSN allows PlayStation 4 owners to download digital versions of their favorite games directly from the publisher's website, eliminating the need to buy a disc.
PlayStation owners may also take advantage of PS Plus, a subscription service that gives them access to online multiplayer gaming, free games, special discounts, and other perks for their console.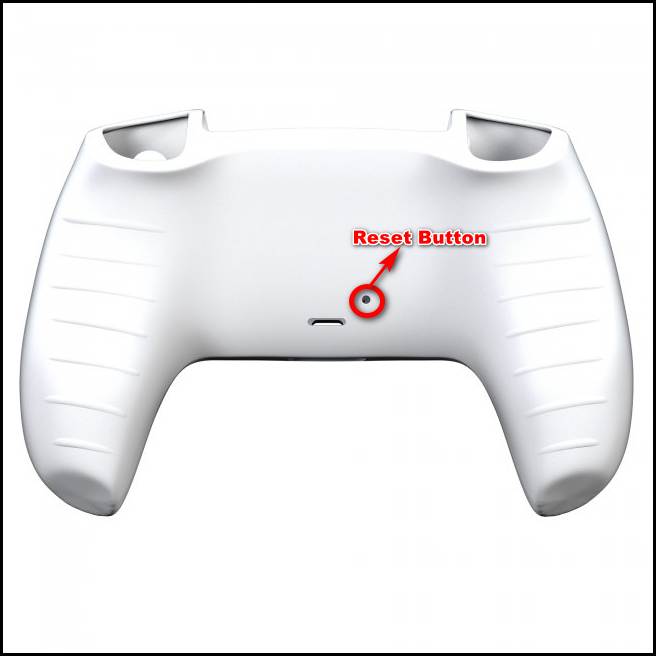 These are all great up until you see the sign-in failed text. This might happen for some reason.
Your username or password may have been entered incorrectly, causing a sign-in issue. So, double-check that you've entered your login and password correctly. If you're a gamer, it's conceivable that you've entered the wrong username and password. Trying to get into the PlayStation server with inaccurate information is possible if you've misplaced or mistyped your username or password. After three unsuccessful attempts to log in, you should try to recover your account information instead of attempting to log in again since this might result in an IP ban.
Here's a complete guide on how to fix PS5 not downloading games.
If you see the error number WS-37397-9, your IP address has been blocked from accessing the site. Your IP address has been flagged as suspicious by Ai's PlayStation Network server. Verify the security of your network connection.
It's important to remember that if you forget your Login Credentials, do your best to get them straight away so that you don't have to worry about it.
PlayStation users may already know that Sony does regular maintenance on the PlayStation server in order to keep it running at its best. Even if the server is down, you can still login in to PlayStation Network, play games, and use most programs, except for some uncertain times, but you must keep in mind that Account Management and PlayStation Video are unavailable until their maintenance period is through.
How to Fix PS4 Error WS-44949-0
The failure of the PlayStation system to sign in to the PSN is one of the most typical difficulties players confront. Playstation Network sign-in fails, and users can't log in no matter what they do to attempt to fix it.
When the "PlayStation Network Sign-In Failed" problem occurs, don't freak out. It's generally a simple solution, so don't worry.
Signing in to the PlayStation network fails for a variety of causes, from a misconfigured WiFi router to a corrupted PS4 system file, as seen by the above list. Before looking for a solution inside the PS4 system, you must first examine the operation and settings of your router.
While this may be true for some users, many others have reported that they are unable to access PSN despite having a working internet connection. If you're having trouble connecting to the internet, you may need to reset your router.
1. Set up your Internet connection
You might see that PlayStation network failure at times. This is quite normal, to be honest, but reestablishing your net connection might fix the problem.
Here are the steps to set up your internet connection on PS4:
Go to settings.

Select network.

Press x on set up internet connection.

Disconnect from your WIFI or LAN connection.

Reconnect to your previous connection.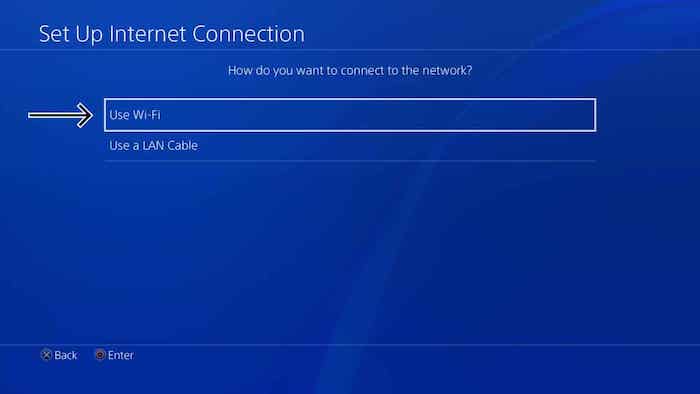 Your net connection should be established right now, and after that, test your connection to see everything is working or not.
Check our exclusive tutorial on the fastest DNS servers for PlayStation5.
2. Test your Net Connection
If you see there is an internet issue first thing you should do is test your internet connection on PS4 that way, you will see what exactly is causing the problem.
Here are the steps to test internet connection on PS4:
Go to settings.

Navigate to the network.

Select test internet connection.

Wait for the result to arrive.

After the result, you should see what is exactly the problem. If there is a DNS problem, you will see that on-screen, or if the IP is taking too long to register or there is NAT type failure when you find out the reason, work accordingly with your ISP to fix the problem.
Quickly check out our epic guide on how long do PS5 Controllers last.
3. Check Server Status
PlayStation servers can be down for maintenance, or at times, if there is a massive outage or a government protocol, the servers can be down.
Here are the steps to check PS4 server status:
Select settings from your home screen.

Go to network.

Select view status of PlayStation network service.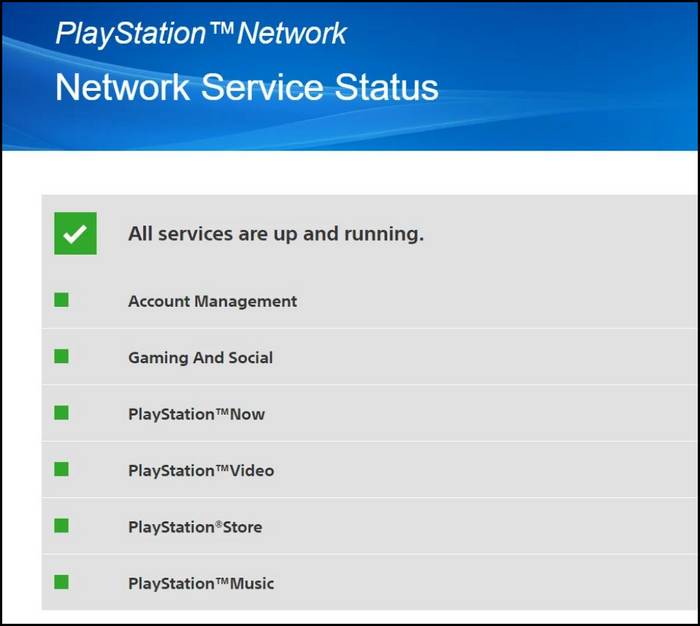 After a few seconds, you will see a webpage pop-up that will lead you to the server status page.
All the services will be marked green if the servers are up and running, but you will see red marks or green marks if the servers are down. Wait for the servers to be backed up in order to connect your account to PSN.
Have some time to spare? Check out our latest post on how to fix PS5 error code wc-365475.
4. Restart your router
Last night I had a similar issue with my PlayStation 5. All of a sudden, my PlayStation network sign-in failed. I was worried sick thinking about what to do because I had to join a FIFA pro clubs match. Then I rebooted my router, and the problem was fixed immediately.
Here are the steps to reboot your router:
Go to your router's login address.

Select advance settings.

Click on reboot.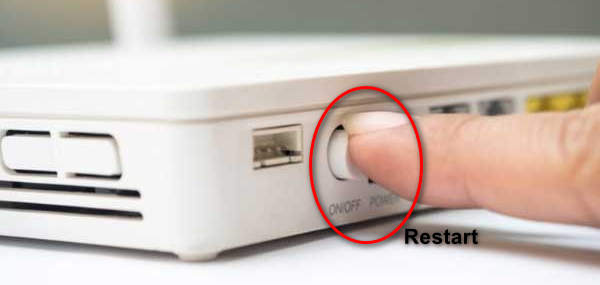 You can also reboot your router in an old-fashioned way by the direct plugin it out. But I would say, don't do that because that might brick the device. After the reboot, connect your PlayStation network with your account; hopefully, it will work.
Also, check out our top picks for the best ps5 RPG games.
5. Use LAN cable
I am someone who loves everything wireless, but when it comes to gaming or internet connection stability, WIFI is still way behind a LAN connection. I am pretty sure you can fix any internet issue if you just connect your PS4 with a LAN cable directly from your router.
Using an Ethernet cable improves the console-to-router connection. 
Directly connecting your console removes factors like distance and obstacles, improving connection and download rates. While an Ethernet connection may sometimes deliver quicker speeds than wireless, its main benefit is consistency. Modern wireless routers can nearly always provide adequate speed for PS4 online gaming. But games demand a reliable connection, not a lot of bandwidth. I saw higher download speeds, more stable connections, and lower ping rates when I corded my PS4 instead of using my wireless network.
Internet is such an essential part of this modern era. Think about a day without the internet. I will probably go back to my closet weeping about the internet all day long.
Check out this post to see how to fix PS5 Not Connecting To Tv
Having a stable internet connection is more than Important for gaming. Wifi is still unreliable, so the best option is to use a LAN cable.
But even after doing everything, you will see internet failures often. And it is more relevant when it comes to console gaming because customizing it is not an option because of the limited settings provided in the consoles.
Final Thoughts
It can be pretty annoying when you see an internet connection failure, and it gets more frustrating after a busy day of work. But you can easily fix the problem if you just follow the guideline.
Hopefully, this guideline will fix your problem. And if you still have any queries, then you can always reach out to us.