PS5 is a buggy mess right now, which is typical for a new console. The First 2 to 3 years will go by fixing the major issues. The case was pretty much the same for PS4 as well. There were bugs that would literally brick the console.
But even after eight years of this amazing console, there are still many bugs in the PlayStation 4.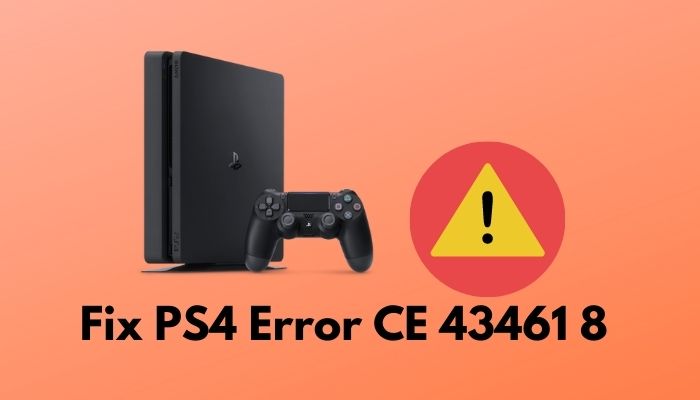 It is kind of annoying that people are still facing issues with their PS4 even in 2022. But I am here to rescue you from your frustration. You can easily fix your PS4 errors, just follow this guide thoroughly, and you will be out of the error in no time.
So keep reading till the end to get your desired fix.
What is PS4 Error Code CE 434618?
Error CE-43461-8 is an error code that occurs while updating PS4 firmware. It usually happens while attempting to upgrade the firmware through the internet. But if you try to update the software manually, you might not see the error.
PlayStation 4 had the most amazing lifespan as a console. It launched in September 2013 and is still going strong. There are still many people out there buying the PlayStation 4 slim and pro.
PS4 Fat is no longer an option as Sony ended the production of the console back in 2017, but as per Sony, PS4 slim and pro will continue its production up until PS5 is widely available in every market.
Maintaining the functionality of your PS4 requires regular application of new updates. New features, bug fixes, security upgrades, and more are all included in a new update. Make sure that your console is constantly up to date with the most recent system updates. Normally, this occurs on its own, although hiccups do occur from time to time.
The PlayStation 4 is well-served by Sony's frequent upgrades. It's comforting to know that, for the most part, your PlayStation will download any necessary system updates for you automatically. However, if an update fails, your PS4 will be frozen, and you will never be able to upgrade to the most recent system software. You may not be able to play online with your friends, etc., because of this.
Follow our guide on how to Fix PS4 Error Code CE-300227.
There might be a few reasons behind this. If you want to download games and updates without interruption, you'll need a fast internet connection for your PS4. Check your console's internet speed and make sure it is at least 5Mbps. Using a network speed test, you can determine the PS4's internet speed.

Using wifi at home?
Check to see if the signal isn't dropping or disconnecting all the time. If required, try using a network cable to connect the console to the router.
Every so often, a server may go down. If you're unable to update because of an error message, there may be an ongoing server outage. Because server issues tend to go away on their own, you should wait for the issue to be repaired before upgrading.
If you're using unauthorized PS4 software, you may be unable to get system updates from Sony. You may have to change certain settings in your modded software or re-install the original PS4 software in order to upgrade the system.
Errors in even official software might prevent new updates from being downloaded in certain circumstances. Try to restart the PlayStation 4 console. If it doesn't work, try resetting the console to its factory default settings or resetting the program.
Also, check out our separate post on how to fix PS5 error code wc-365475.
How to Fix PS4 Error Code CE 43461-8
This issue is usually caused by a bug in the notification queue. This issue might occur if the system is interrupted while preparing to install an update. Fortunately, removing the faulty update from the download queue solves the issue.
This issue may also be caused by storage device incompatibility. This issue usually arises when a user has recently switched data storage. In this situation, replacing the internal hard disk should fix the problem.
In certain circumstances, the CE-43461-8 error occurred after a failed update. This sort of problem is usually followed by additional errors. In this instance, initializing your PS4 console after backing up your data is the only solution.
If you see this problem after a prior update failed due to a power surge, that means it's probably due to database corruption. If this is the case, you may rebuild the database from the Safe Mode option.
Now that we know about this error, let's get into fixing it.
Here are the steps to fix PS4 error code CE 43461-8:
1. Delete the Update Notification
If you are facing the issue, try deleting the notification from your notification bar. Also, if the download queue is still going even after the error, delete it and then go back and try to update the console again.
Here are the steps to delete PS4 notification:
Press the PS button
Go to your notification bell.
Select the update notification.
Press the options button on your Dualshock.
Delete the notification.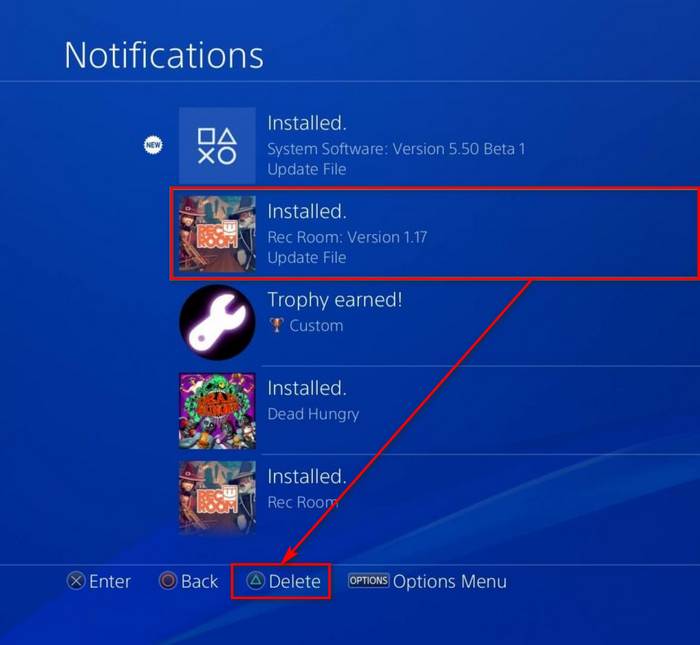 Upon deleting the notification go back and try to update the PlayStation 4 console again.
Also read, can PS5 use keyboard and mouse.
2. Restart the PS4
Rebooting your PlayStation 4 might fix the problem as well. If it is a random glitch in the system, then rebooting it is the go-to method.
Here are the steps to restart PS4:
Press the PS home button.
Navigate to the power icon.
Select restart PS4.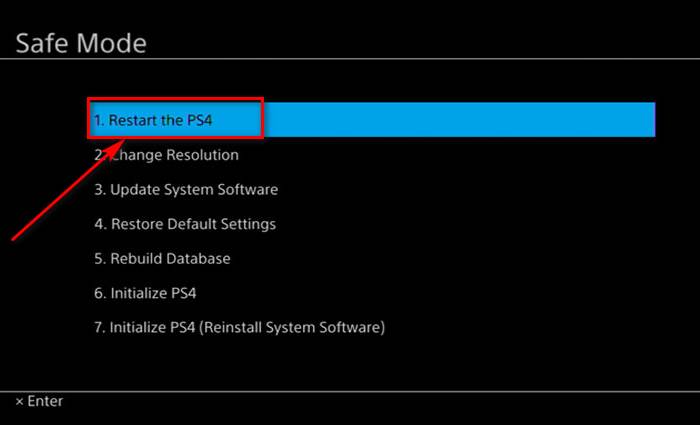 Go back to your PlayStation 4 update settings after the reboot. Hopefully, your problem will be fixed.
Read more on how long do PS5 Controllers last.
3. Check PS4 Server Status
The error might occur if the PlayStation 4 server is down. If the server is down, then you will not be able to download the update.
Here are the steps to check PS4 server status:
Go to your web browser.
Type PS4 server status.
Log in with your PSN network ID.
Locate your region.
Wait for the results.
You will see a green tick if the servers are up and running. But if you see a red or yellow sign, then you should assume that servers are down. Wait until servers are backed up online, then try to update the software again later on.
4. Rebuild PS4 Database
If there is a cache problem in your hard disk, then you might have to rebuild the database. That will fix the data corruption.
Here are the steps to rebuild the PS4 database:
Turn off your PS4.
Boot to the safe mode holding down the power button for 10 secs.
Connect your Dual shock with a USB.
Go to rebuild the database.
Wait until the process finishes.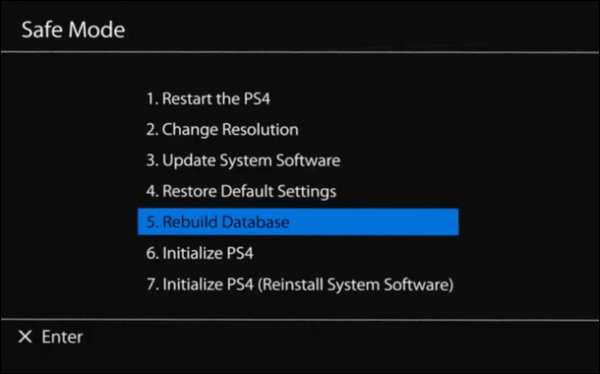 Rebuilding the database might take more time than usual. But the average time is 15 minutes. However, if it takes more than 15 minutes, don't panic and do not plug out the PS4 from the wall socket. After the rebuilding database, the PS4 will restart, then go to your update settings and update the PlayStation 4.
In terms of time, it depends on how filled your PS4 is and how frequently you add and remove games. Rebuilding reorganizes your hard disk to let the system access your data faster. A well-organized database loads data quicker, reducing the possibility of game freezes or frame rate decreases.
If you're anxious, you can always back up your PC to an external hard drive or USB storage device beforehand. Your PS4's auto-upload feature will also keep up to 100GB of your game data secure online.
Check our exclusive tutorial on the fastest DNS servers for PlayStation5.
5. Manually Update the PS4
You can also manually update your PlayStation 4 via USB storage. Any pen drive or portable Hard disk would do. You have to install the software from the PS4 safe mode.
Here are the steps to manually update PS4:
Go to the Sony website.
Download the latest PS4 software.
Make an Update folder on your USB drive.
Copy the file to your USB Pendrive.
Go to safe mode.
Select update software.
Choose via USB.
Install the update.
Hopefully after manually updating the software of your PS4 will fix the notification error on your notification bar.
Final Thoughts
A tiny notification bug can prevent you from updating your software. It might sound funny, but it is a big problem for some people. And as there is no official fix for this, that means it can happen to anyone at any time.
I hope this guideline will help you to fix the error. And if you have any more queries, you can always reach out to us.