Playing on the PS5 with friends increases excitement and fun. When playing games, you'll always need a good opponent or teammate. Who's better than your buddies to meet these criteria?
However, managing friends on PS5 might be difficult at times. Especially for those who are using the PS5 console for the first time and are unfamiliar with its settings.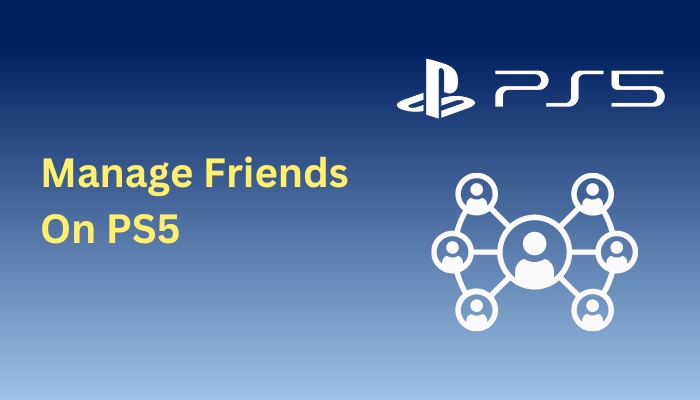 So in this post, I'll show you exactly how to manage your PlayStation 5 friends.
Let's get started.
How to Manage Friends on PS5
The PlayStation 5 settings allow you to manage your friend list. Simply press the PS button to access the Control center and select the Friends option. Then, click Search for players, select the player with whom you want to become friends, and finally, select Add Friend.
You can also remove and add friends from other platforms, such as the PC and Xbox. Additionally, the PS5 friend option has several extra functions. You can set up a custom profile photo and check their online status.
Here are the methods to manage friends on PS5:
Add Friends on PS5
The PS5 allows you to add pals to your friend list. You can send a request to your mates and have the option to accept or decline their invitations. In addition, the PS5 has various privacy options. On PS5, you can control who can give you a request and who cannot.
Here are the steps to add friends on PS5:
Turn on your PlayStation 5.
Click on the Search Icon on the top right.
Select the Players tab.
Search your preferred player name in the Search box.
Select Player and choose Add Friend button.
When you click the Add Friend button, a friend request is sent to the specified individual. After that, they must accept your friend request in order to be added to your friend list.
Check out our experts tested and reviewed the best keyboard and mouse adapter for PS5.
Remove Friends on PS5
On PS5, removing a friend from your friend list is a simple process. To delete a friend on PS5, first select the friend you want to delete from your Friends list. Then press the Options button on your controller and select Delete Friend.
Here is the process to delete friends on PS5:
Press the PS button and open Game Base.
Select Friends.
Choose a friend you want to remove under Friends.
Click on the Three dots and select Remove as Friend.
After deleting a friend, you can re-add them by pressing the Add Friends button on PlayStation 5.
Check out this post to see how to fix PS5 not connecting to Tv.
See Friends List on PS5
On the PS5, you can view your friend list by selecting the Friends option tab in the top-right corner of the main screen. You'll be able to see all of your pals and even sort them by system and title from there.
Here are the steps to see the friends list on PS5: 
Push the PS button and open Game Base.
Choose the Friends tab.
Select View All Friends under the Friends tab.
Have some time to spare? Check out our latest post on how to fix PS5 error code wc-365475.
Add Friends on PS5 From PC and Xbox
You can add friends from other platforms, such as PC or Xbox, to your PlayStation friend list. Unfortunately, you can only add friends from other platforms in cross-platform compatible games.
Note: Before adding a friend from another platform to your friend list, you must enable the cross-platform option from the game menu.
Here is the process to add friends on PS5 from a PC or Xbox:
Open the Game.
Go to the Add Friend option on the game.
Type your preferred friend name and select Add Friend.
Quickly check out our epic guide on how long do PS5 controllers last.
FAQs
Can you watch friends play on PS5?
You will be notified when a friend on your friend list Share Screen starts playing games. To watch your friends play, click the PS button on your controller and select Notifications.
How to add friends on ps5 from pc?
You cannot add friends to your PlayStation 5 directly from Facebook. You can link your PSN and Facebook accounts and manually add your preferred friends from the PS5 Friends settings.
Why can't I see my friends on PS5?
You may be unable to see your pals online on PS5 for one of two reasons. The reasons for this are primarily related to malfunctioning and unavailable servers.
Conclusion
Playing your favorite games on PS5 with friends can be more fun than playing alone. It can even boost your confidence and offer the games new significance.
So, in this guide, I've shown you every option for managing your friends on PlayStation 5.
If you have any comments or suggestions, feel free to leave them in the section below.