The New PlayStation 5 is as impressive as it can be. I mean, it supports 60 fps, at least on the 1080p!
Well, I know you guys are giving me a dead look right now. Yes, Sony promised the same thing on the last-gen console as well. But now, they have also promised 4k and 8k support as well. And that to some games supporting up to 120 FPS! I am not lying. They actually released a list of games supporting 120 FPS!
Also, they have introduced HDMI 2.1 as well. More on that later.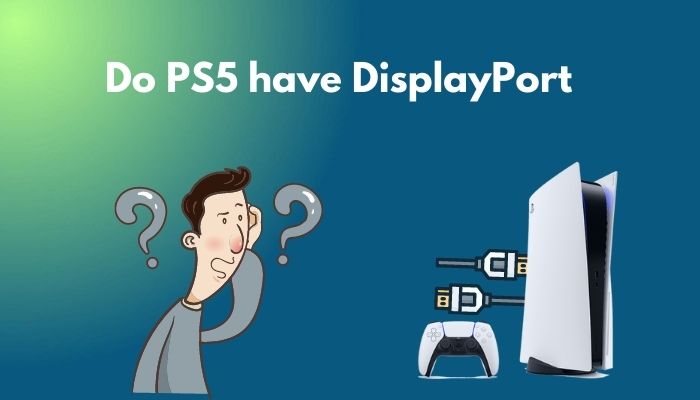 Does the ps5 have a DisplayPort?
No, the PS5 doesn't have Displayport. The New PlayStation 5 comes with HDMI 2.1 support which is superior to the current DisplayPort Technology. However, with the additional adapter, you can connect the PS5 with your monitor via the DisplayPort.
Now I get why you want to connect your PlayStation 5 with the DisplayPort. Well, don't worry about that. I have got the exact solution for that.
So, keep reading till the end to get your desired fix.
Follow our guide on how to Fix Airpod Won't Reset
Is PS5 HDMI or DisplayPort?
The PS5 doesn't come with additional DisplayPort because it comes with the new HDMI 2.1 technology, which is deemed to be more future-proof and faster than the old 1.4 DisplayPort Tech. Also, not many TVs come with a DisplayPort, so another reason to not have the port on PS5.
Before everything, you guys have to know that this is a cost-saving move by Sony because, hey, we all know that the consoles are sold for a lot less than they are supposed to. So having additional DisplayPort will cost way more if you think about the future of the PlayStation 5s lifetime. Even if the port goes for 1$ each, it is going to be a lot! Do the math.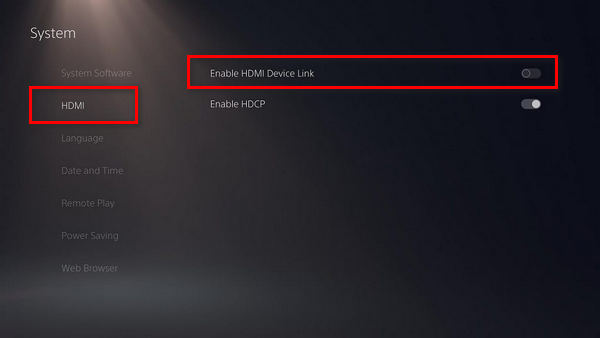 And it doesn't even make sense to go for another additional DisplayPort because many console players use their console with the TV. There are not many TVs out there with DisplayPort. Also, the DisplayPort is a rarity on the monitor as well; only some of the high-end monitors come with another DisplayPort.
Also, many gamers Hold the DisplayPort as the standard of gaming because of its 1.4 standards. In many ways, it is better than HDMI 2.0. So I fully understand why many people prefer DisplayPort over HDMI.
What is DisplayPort?
DisplayPort and HDMI achieve the same objective at a fundamental level. It is a specialized wire that can transmit audio and video connections to a display from a source.
We have seen many versions of both connections have been available over the years. Standards have steadily enhanced bandwidth to enable greater frame rates, additional features, and better compression methods.
HDMI 2.0 has a maximum bandwidth of 18 Gbps, which is sufficient for 4K resolution at up to 60Hz and 1080p at up to 240Hz. DisplayPort 1.4, on the other hand, offers a maximum bandwidth of 32.4Gbps, allowing for significantly higher resolution and frame rate possibilities.
It can handle 4K resolution at up to 120Hz without compression and 8K resolution at 30Hz, which HDMI 2.0 couldn't even do with reduced chroma subsampling.
So yes, if you want to compare HDMI 2.0 and DisplayPort 1.4, then DisplayPort 1.4 wins.
However, that scenario is likely to shift in 2021 when more devices and displays begin to support the new HDMI 2.1 standard, making DisplayPort vs. HDMI gaming comparisons considerably more interesting.
HDMI 2.1 increases the maximum bandwidth to 48Gbps, more than doubling it. This enables support for 4K resolution at 144Hz or 8K resolution at 30Hz.
The new generation consoles from Microsoft and Sony and the new generation graphics cards from Nvidia and AMD support HDMI 2.1. Although switching to any of these sources and an HDMI 2.1-capable TV isn't inexpensive, HDMI 2.1 can put an end to the DisplayPort vs. HDMI debate.
Also, check our exclusive tutorial on how to fix PS5 not downloading games
How To Use DisplayPort On PlayStation 5
As I said earlier, I completely understand why you want to use the DisplayPort instead of the HDMI port. Because Displayport 1.4 was superior to HDMI 2.0.
DisplayPort 1.4 had everything you could ask for, like Nvidia and AMD freesync 120HZ on 4k and Upto 30HZ on 8k Support.
So it is very clear why gamers would choose a DisplayPort over an HDMI. But obviously, the scenario has changed because of HDMI 2.1. You legit can do everything whatever you did on the DisplayPort, if not better. But there are still people out there with no intention to use HDMI 2.1, which can be for many reasons.
It can be because the tech is new, and you have to wait until the new Monitors or TVs that support this tech are on the market. But whatever the reason is, you want to use the DisplayPort to connect your PlayStation 5. Well, then I have news for you.
Yes, you can use the DisplayPort to connect your PlayStation 5, but before that, you need to know you need additional third-party adapters, which isn't cheap, and you will be limited to 60HZ only if you use the adapter to use the Displayport.
Here are the steps to Connect the PlayStation 5 with a DisplayPort:
1. Connect Your PS5 with Additional Adapter
So you need to buy a third-party adapter for this. Don't bother buying the direct HDMI to DisplayPort connectors. Simply not going to work. Don't waste your money there. Buy a good adapter that has good user ratings on the internet. Keep in mind that the adapters will be pricey, and please don't go for any cheap products. You will end up losing money rather than gaining any benefits out of it. Now that you got your hand on the adapter. Let's get into troubleshooting.
Here are the steps to connect the PS5 with your DisplayPort:
Connect the HDMI port of the adapter to your PS5.
Plug the USB port of the adapter into the PS5.
Insert the DisplayPort on the adapter's Female DisplayPort.
Plug the other end of the DisplayPort on your Monitor.
There you go. Your PlayStation 5 is running on via a DisplayPort now.
Want more PS5 games? Check our other round-ups on the best PS5 games for kids.
2. Change The Resolution On PS5
Now that you are done connecting your PS5 with a DisplayPort. You might see the screen flickering from time to time. To fix that, you need to change the resolution on your own. Because of a third-party adapter, the PS5 can't set the resolution automatically.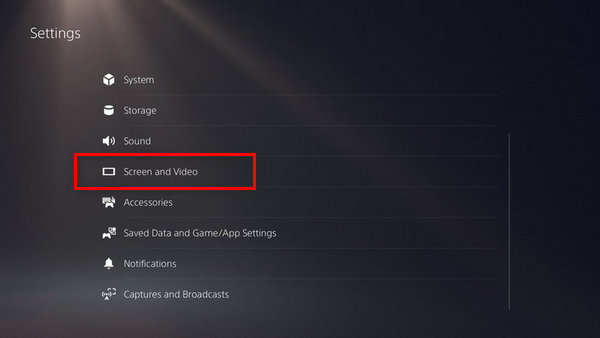 Here are the steps to change resolution on the PS5:
Go to Settings.
Navigate to Screen and Video.
Select the resolution and set the settings to 1080p if your monitor is 1080p and if it is 4k, then put it to 4k.
Turn off the HDR and Deep Color settings.
Save the settings.
Now you can game in peace and say bye-bye to screen flickering.
Can PS5 Output 1080p 120hz?
No, the PlayStation 5 cannot Output 120HZ on 1080p in DisplayPort. Mainly because of the adapter's limitation. As of now, there is no available HDMI to DisplayPort out there which can output a 120HZ refresh rate on a monitor or TV. But things might change in the future.
However, you can get a 120HZ refresh rate on your monitor or on TV  if you use the HDMI 2.1 cable.
So my suggestion would be to use the HDMI port if you want to get 120HZ on your monitor.
How to connect PlayStation 5 to monitor
You can connect your monitor through an HDMI Cable. If your monitor doesn't have any more free HDMI slots because most monitors come with one single HDMI, you can buy an HDMI splitter.
Here are the steps to connect your PlayStation 5 to monitor:
Insert one end of the HDMI cable into your monitor.
Plug the other end of the HDMI cable into the PS5.
Power up the monitor and PS5.
There you go, you are done connecting your monitor with the PS5.
Also, check out our separate post to fix headset not working in PS5
Final Thoughts
It is understandable if you want to use DisplayPort 1.4 instead of the HDMI because of the higher refresh rate and native support.
But things have changed. You can now get all of these in HDMI 2.1. But if you still want to use the DisplayPort, hopefully, this guideline will help you.
And if you still have any queries, you can always reach out to us.