Having troubles managing multiple Microsoft accounts?
If that's the case, then you landed on the correct page!
Can I Merge Two Microsoft Accounts?
You cannot merge two Microsoft accounts, however you can connect them and use within one account. You can add aliases to your Microsoft account. An alias is a nickname for your account that can be an email address, phone number, or Skype name.
Keep reading, As I am about to show you how you can easily deal with more than one accounts.
So, let's get started.
Check out the Microsoft Refund policy to get absolutely full refunds to your products.
Why to merge Microsoft accounts?
You can merge personal and work Microsoft accounts with a nickname, and you only have to remember a single password for all of them.
You might need to merge your accounts for the following reasons:
If an organization acquires another organization, then it is necessary to merge accounts to avoid any conflicts.
If you are using a business account or a personal Microsoft account, then you might need to merge accounts to use it as a single account.
There may be other reasons as well but, these are the main reasons people try to merge Microsoft accounts.
Now, let's get to know how to merge Two Microsoft accounts.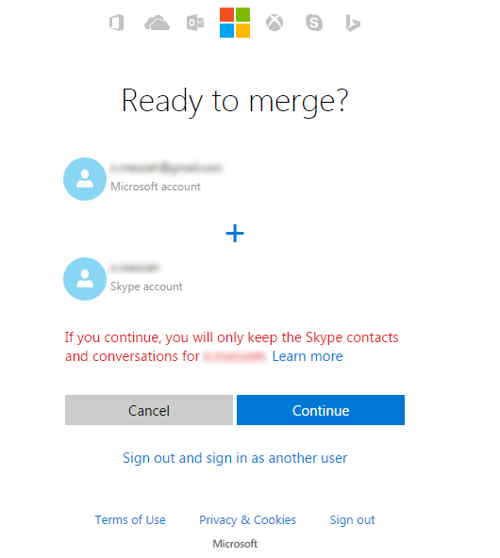 I know you have visited a lot of websites to find out how to merge Microsoft accounts. But your hard work ended up in vain.
It's true that in general, Microsoft doesn't provide any manual way to merge two accounts.
Follow our guide on how to Find and Replace Text in Microsoft Word
Alternatives to Merging Two Microsoft Accounts
How to merge two microsoft account?
You can use the following two methods to merge two Microsoft accounts:
Merging PST files
Using Skype
Here are the methods to merge microsoft accounts:
1. Connect the email to your Outlook account
Follow the steps carefully as this step is a bit tricky.
But, feel lucky because:
You can easily merge two Microsoft accounts with this method.
So, here are the steps to merge the PST files:
Configure your Microsoft accounts with MS Outlook.
Export Outlook mailboxes to PST using manual methods.
Download and install Kernel Merge PST tool once both PST files are saved.
Open the tool and click Add files to select the specific PST files.
Select Merge and choose the folders you want to merge.
Set specific filters to your PST files as your requirements and save the progress then click merge.
Open Outlook to see whether your accounts are merged or not.
Read more on how to Delete a Page in Microsoft Word
2. Use Skype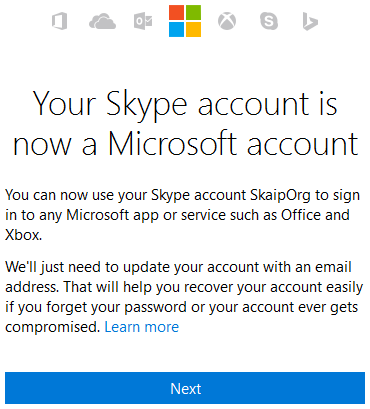 Also read, How to Double Space in Microsoft Word
Skype can merge your accounts if you have a Microsoft account like MSN Messenger, Hotmail, or Outlook.
Here are the steps to merge microsoft accounts using skype:
Click Microsoft account by opening your Skype Account.
Sign in by entering your Microsoft user name and password.
Click your main Skype account and sign in. A notification will pop up from skype letting you know that from now on, you'll need to use your Microsoft user name.
Click OK to merge your Microsoft accounts.
Adjust the sound, video settings, microphone etc. and click Continue.
Check out the easiest way to Fix Can't Sign into Microsoft Teams Error CAA2000B
How To Add an Account as Alias to another Microsoft Account?
Though you may not be able to combine Microsoft accounts, you can add one Microsoft account as the alias of another.
Here are the steps to add an alias to microsoft account:
Login to your Microsoft account from the official website.
Use the primary account to login, so that you can add the other account as an alias.
Select the Your Info option.
Click on Manage how you sign in to Microsoft option.
Select the Add email option in the Account alias section.
Click on the Add an existing email address as a Microsoft account alias circle.
Type in the email address of the account that you want to add as an alias.
Click on Add alias to complete the process.
You may also ,like to read: How to Enable Dark Mode in Microsoft Outlook
Add Other Microsoft Accounts On Windows 10
Here are the steps to add another microsoft account on Windows 10:
Go to Settings and select the Accounts option.
Click on the Email and accounts option.
Select the Add a Microsoft account option.
Enter the login credentials of the account
Also related: 6 Ways To Fix Microsoft Teams Assignments Tab Not Working
Final Thoughts
Merging Two accounts isn't for random people.
Only professional users or for business purposes, you can Merge your Microsft accounts.
The two simple methods I provided are really effective.