You excitedly unpacked your new PS4 and DualShock 4 controller, eager to start gaming. After linking up the console, you grabbed your controller to connect it, and nothing.
Dealing with this disappointing issue getting in the way of your gaming fun? We feel your pain. But take heart, this is a common bug with some easy fixes.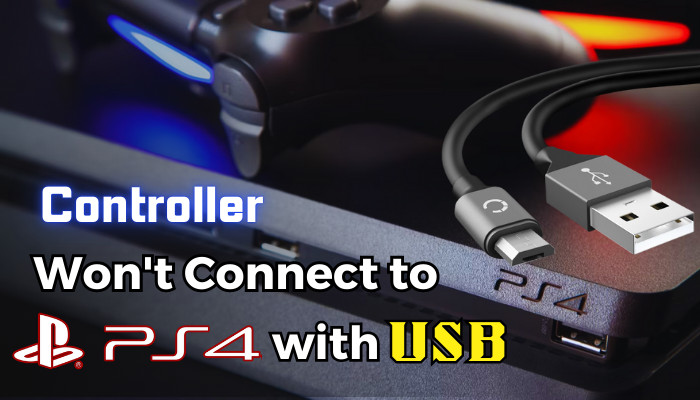 Therefore, without any more small talk, let's fix the DualShock 4 connection issue.
How to Fix PS4 Controller Won't Connect to PS4 with USB
In case you try to connect the PS4 controller with a USB cable and encounter that it doesn't work, first check the USB socket. If it's getting loose then that may be the issue, otherwise, you need to check the USB cable which can be faulty and prevent you from connecting your controller.
That being said, it's true that most users use their controllers wirelessly. However, there are times you need to connect your DualShock 4 controller via a USB cable.
Moreover, the situation sometimes gets tricky like the PS4 controller charging but not connecting, and you need to make sure the DualShock 4 not flashing any red light, otherwise first charge it properly.
At these times it's best to try different USB cables. Now let's fix the issue at hand.
Test USB Cable
A faulty USB cable might be the main culprit to raise the issue. As I always play wirelessly, my main cable gets wasted for not using it. And I charge with different cables. Therefore, I attempted to connect the controller with USB but encountered the issue of not connecting it.
Consequently, I tested the cable first by using it for data transfer and found it was still not working.
In case you are facing the same type of issue, then changing the cable would be the best choice. However, if you try a new cable but still the matter persists, then the problem might lie with the USB ports. So let's now check them.
Check for a Loose USB Connection
Plug in the USB cable and try to stir mildly. Assuming you feel the connection point is moving slightly, feels loose, or comes out easily, then the port has issues.
And try this for both ends, your PS4 socket and the controller's socket. You have to find out which port has an issue, and I believe you are not unlucky as having difficulties on both ends.
Now try canned air to clean the port of your controllers and console's socket. You can also use a small cleaning brush or toothpick to remove any rubble in the port.
Reset PS4 Controller
When your USB cable and ports are performing well, but your DualShock controller won't connect to the PS4, then it's best to reset your DualShock controller.
I also faced a similar issue, my PS4 controller failed to connect after I connected it to the phone. To solve this it's best to reset the controller and before starting the process you need to turn off your PS4 controller.
Here are the steps to reset your PS4 controller:
Switch off your PS4 and detach the Ethernet cable from the PS4, and if it connects through Wi-Fi then turn off your router.
Take your controller and turn it upside-down.
Locate the reset button beside the it button while the controller is inverted.
Press the button using a thin component like a paperclip or sim ejection tool, and hold it for around five seconds.
Connect the controller now via a USB cable to the console.
Switch on PS5, and press the PS switch off the controller. The controller then pairs with the device and you will hear a beep sound.
This will reset your controller and the fix PS4 Controller syncing problem. Additionally, you can also give a factory reset to your PS4, which also solves any bug or error that prevents you from connecting the controller.
How to Fix a PS4 Controller that Won't Connect Wirelessly
If your controller's battery is low or the controller is connected to other devices, then you will face the DualShock 4 won't connect wirelessly. To solve it, first check the controller is performing okay by checking with a USB cable, and charging it properly.
When your PS4 controller won't connect all of a sudden, you may ask why won't your PS4 recognize your controller. Also, regardless of which PlayStation you use updating your controller is necessary to stay away from issues.
Here are the methods to perform to fix the issue of the DualShock 4 controller doesn't connect wirelessly:
Charge the Controller properly. Connect the controller via a USB and keep it for fifty to sixty minutes straight to charge it.
Make sure your controller is performing okay. Try to connect it with a USB cable and hold the PS button for a couple of seconds. This will remove the prior connection settings and re-sync the controller with the console.
Re-sync your controller at startup. To do that, switch off your PS4 and connect the controller with a USB cable and hold the PS button this will prompt the controller to re-sync at startup.
Perform a soft reset on the controller, and to carry out the process you require another working controller. Using the second working controller go to the PS4 settings and choose the Devices option. From the new window select Bluetooth Devices.

You will find the devices listed in this option. The active one has a green dot beside the device and the other one has a white dot.
Now press the options button of your controller and select Forget Device. After that, turn off the PS4 and re-sync the controller with the prior method.

Give a hard reset on the controller. I already described the method in the reset PS4 controller section.
After completing these methods if the controller is not faulty then it will work okay wirelessly. In case it doesn't you should contact the DualShock 4 controller support center.
How to Connect PS4 Controller Through USB Properly
Connecting your DualShock 4 controller with the PS4 properly plays a vital role to keep you away from many annoying situations like the PS4 controller not working. Follow the below instructions to connect your Controller to your console appropriately.
Switch on your PS4 console.
Attach your controller to the PS4 console with a USB cable.
This is the most straightforward and appropriate method. However, there are some basic steps that you need to follow in order to be more successful.
Keep your controller charged properly to use it wirelessly. Remember your controller can just pair with one console at a time. Also, you can use up to 4 controllers on your PS4 at the same time. And different controllers will be marked with different colors.
Frequently Asked Questions
Why is your PS4 controller flashing but not connecting?
This can be caused by two reasons. When your PS4 is low on charge, and you're trying to connect it wirelessly it will show the white blinks. The other cause is your DualShock 4 is trying to connect with your console but can't establish any link.
What do the light colors mean on PS4?
DualShock 4 light bar shows different colors. The main job is to identify players. Controller with player one will have blue, player two have red, player 3 have green, and player 4 have pink. Disconnecting the controller from the console will show a white light. Also, when the controller has a low battery it will show a white light.
Why is your PS4 controller blinking green when trying to connect?
A green light on the light bar of your PS4 controller indicates your battery is dead, or the device is too far from the console and can't establish the connection through Bluetooth. If you connect your DualShock 4 with a different device previously, it will also show a green light.
Ending Note
Troubleshooting a PS4 controller that won't connect via USB takes some trials. But don't get discouraged. Make sure to try different cables and ports, reset the controller, and pair it again.
With persistence and working through various solutions, you'll likely find a fix. Getting your controller to connect again will be satisfying after the effort put in. Game on.