Through a unique implementation of advanced vibration feedback(haptic feedback), the PS5 controller AKA DualSense has become one of the best next-gen controllers in the current gaming market.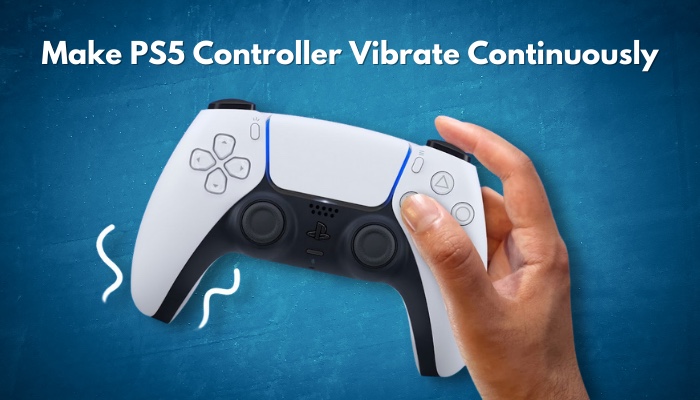 As impressive as it may be, many users have asked how to enable this feature & whether it is possible to make the controller vibrate non-stop.
Let's dive into this article as I have thoroughly discussed everything you need to know about this topic.
Can I Make PS5 Controller Vibrate Nonstop?
No. You can not make the PS5 controller vibrate nonstop. There's neither a built-in feature nor any alternative ways to make the DualSense vibrate continuously. Not on PS5, not even on PC. I have scoured the internet & tested everything that I could find, but none of the guides worked.
You can only enable or disable the haptic feedback feature, which is a fancy name for the vibration feature of DualSense. Other than that, there is no way to make PS5 controller vibrate constantly.
Additionally, you can connect the PS5 controller with a Nintendo Switch, but the haptic feedback won't work as it does on a PS5 or PC.
How to Enable PS5 Controller Vibration
Even though you can not make the PS5 controller vibrate constantly, you can enable the vibration/haptic feedback or adjust the vibration intensity. Go to your PS5's Settings> Accessibility > Controllers > Vibration Intensity & choose your preferred intensity level.
Below I have briefly discussed all the necessary steps to enable/disable or adjust the haptic feedback of the DualSense controller.
Here's how to enable/disable/adjust the PS5 controller vibration:
Turn on your console and log in to your PS5 profile.
Navigate to the gears icon at the top right corner of the screen and press the O button.
Select Accessibility.
Go to Controllers > Vibration Intensity.
Choose from the Weak/Medium/Strong(Standard) intensity options according to your preference. You can choose Off to disable the haptic feedback/vibration feature.
Now, if a game has native DualSense support, you will be able to feel the haptics during gameplay.
Keep in mind that the vibration feature will drain more battery and reduce the playtime on a single charge. Knowing how long does the PS5 controller's battery last and what to do to make the battery last longer can come in handy.
How to Enable DualSense Haptic Feedback on PC
Although the DualSense controller is made for the PS5 consoles, it works just fine on any Windows PC. You don't need any hackery or a back-door method to get DualSense support on your computer.
All the controller features are natively supported for the PC platform. But keep in mind you need to plug in the controller with a USB-C cable. Unfortunately, haptics and adaptive triggers aren't supported over Bluetooth connectivity.
Also, not all games will support advanced haptic feedback. If the PC version of a game, such as Metro Exodus, has proper DualSense implementation, you can experience adaptive triggers and haptics while playing them on your Windows PC.
Furthermore, if you play on Steam, make sure you have disabled Steam Input support for PlayStation controllers.
Since the PS5 controller has native PC support, you shouldn't face any connection errors. But in case the PS5 controller struggles to remain connected to your PC, follow this guide & you'll get back on track in no time.
FAQs
Does the haptic feedback feature of the DualSense controller work on Windows PC?
Yes. But you need to disable Steam Input support for PlayStation controllers and keep the DualSense plugged in with the PC using a USB cable.
How do I make my Playstation 5 controller vibrate?
Go to Settings > Accessibility > Controllers > Vibration Intensity & choose from Weak/Medium/Strong(Standard) options according to your liking.
Ending Remarks
That's about it. I hope this write-up has provided you with all the answers you were looking for to enjoy the next-gen features of your DualSense controller.
If you have any further questions related to PS5 controller issues, feel free to share your thoughts in the comments below.
GGWP!