Possible reasons you're seeking solutions for a PS4 reset are giving/selling it to someone or having glitches/issues in PlayStation System.
Whatever the reason, resetting the PS4 isn't that complicated unless your PS system software isn't booting or you need a clean installation via USB; you'd need some suggestions and precautions to reset your PS without breaking it.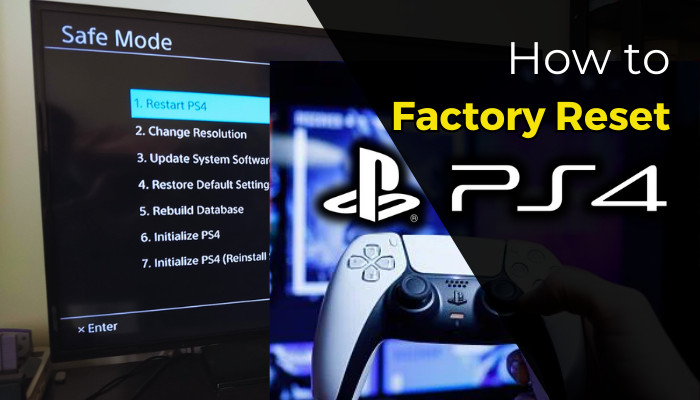 Let me drive you through each way with proprietary know-how.
How to Factory Reset a PlayStation 4 (PS4)
You can reset your PS4 easily by heading to Settings > Initialization as the last option > Initialize PS4 > Choose "Full" from the factory reset menu > Finish with Yes as confirmation. Or boot into Safe Mode > Select Initialize PS4 > choose "Full" with the USB wire-connected Controller.
You can also install a clean, updated, and bug-free system file through a USB drive if any bug or glitch bothers you. Surely the above short instructions for factory reset aren't enough for a successful operation.
Therefore, I've described three different reset methods that will meet various situations with proper examples and screenshots in the further sections.
Things You Should Know/Do Before a PS4 Reset
Before you start the factory reset operation on your PlayStation 4, you should be aware of some parameters and your PS4 account. Although a Full reset will wipe out all your data inside the console, it's good to let the PS server know that you are deactivating your account from the console you're about to reset.
But what is the difference between a Full reset and a Quick reset?
A Full Reset will eliminate every bit of your data stored in the console. You'll never be able to recover your data using any third-party application whatsoever. So, the Full reset will take much more time than a Quick reset.
Alternatively, the Quick Reset will also delete all your current data, but you can recover your previous data or files using third-party applications. And a quick reset requires much less time than a Full reset.
Both the resetting methods (Full & Quick) will make your system software like a brand new opened PlayStation. But Quick Reset your PS4 to make the system bloat-free and if you need a fresh start for better performance. Instead, perform a Full reset if you're giving/selling your console to someone because none can recover your former data after a Full Reset.
Here are three methods to reset your PS4 to erase everything from the console:
1. Reset from PlayStation OS
Resetting the console from a running PlayStation system is the easiest of all methods. You can simply do it with a few steps. But ensure your console isn't holding any of your important data because you won't get it back after a Full reset. So keep your data backed up.
Here are the simple steps to reset PS4 from its system software:
Navigate to Settings.
Select the Initialization option at the bottom.
Choose Initialize PS4.
Go for the Full option. (Or Quick if preferred)
Select Initialize button below.
Confirm with the Yes option.
Wait for some time to finish the process.
Now your PS4 will erase all of the data within a few hours to present you with a brand-new software experience. But if your system becomes too unresponsive that you can't get into the settings option, try resetting from safe mode.
Pro Tips: It's the usual method to reset your PS4 before you sell or give it to someone, and a Full reset is recommended in that case. But if you are just resetting for a fresh start for yourself, do a Quick reset to save some time.
2. Reset PS4 in Safe Mode if Not Booting
Even though the PlayStation system software is habitually responsive and nearly bug-free, things can go wrong anyway. You might need an immediate reset through the safe mode in that case. It is not that easy, but easy enough after you get into the safe mode.
Note: You can't connect your controller wirelessly while you are operating in a Safe Mode of PS4. Connect your controller via a USB cable for navigation.
Here is the step-by-step process to reset your PS4 from safe mode:
Connect your Controller with a USB wire to the Console.
Press and hold the PS4 Power Button, and release on second beep sound.
Select the 6th Option, Initialize PS4, after entering the Safe Mode.
Confirm with the Yes option, and done.
Wait for the reset process to be finished, and set your console like a first-time boot.
It will perform a Quick Reset to get your console back on track. This reset will also delete your data and will give you a new one. You can now perform a Full Reset after this safe mode reset.
3. Reinstall PlayStation System Software Using USB
Your core system file can get infected with errors, though it's rare. Then resettings the PS4 may be unsuccessful if the core file is damaged. Or you can't come out of the Safe mode on PS4 as well.
Instilling fresh firmware manually is the only way to resolve this issue. You'll need a Pendrive and a running PC to rescue your PS4.
Here is the complete process to reinstall the latest system software on the PS4 console:
Download the latest system software (PS4UPDATE.PUP) from the PlayStation website.
Choose the PS4 console reinstallation file from the website.
Format a USB drive as FAT32 or exFAT partition type.
Create a folder, and rename it "PS4."
Create another folder and rename it "UPDATE" inside the PS4 folder.
Paste the downloaded file inside the UPDATE folder and rename it as "PS4UPDATE.PUP."
Plug the USB drive into your PS4 console.
Press and hold the PS4 Power Button, and release on second beep sound to turn on the console in Safe Mode.
Select Initialize PS4 (Reinstall System Software) in the Safe Mode menu.
Choose the Yes option to confirm.
Through this process, you can fix any software glitches or issues once and for all. Meaning you can count on this method as the ultimate software fix for PS4. But if your console goes rouge drifting or is not working, you'll find what to do in the next section.
Can You Factory Reset Your PS4 Without a Controller?
To Factory Reset your PS4 without a controller, you can use any compatible mouse by plugging its USB cable back of the console. Fortunately, most USB or Wireless Bluetooth mice are compatible with PS4 consoles.
As a result, you can simply navigate and complete all the above-mentioned tasks with a mouse, keyboard, or both, but your PS4 USB must be working.
You can also control your entire PS4 with an app called PS Remote Play, but it'll only work if your PS4 is working fine and connected to the internet. So you can't access your PS4 without the internet and in Safe mode.
Therefore, the best way to factory reset your PS4 without a controller is to use a USB 2.5 GHz wireless mouse keyboard or wired mouse & Keyboard. You don't need a special mouse/keyboard to control your PS4.
FAQs
Can you restore your default settings in PS4 without losing data?
Yes, you can restore all of your PS4 settings by Restore Default settings, which won't delete any of your personal data. But be cautious about the Initialization option in PlayStation cause it will erase all your data.
Is it good to reset your PS4?
You can reset your PS4 only if you want to sell or give it to someone. Besides, you can also perform a Full reset if your system feels unresponsive and bugged, but remember to back up your data.
Can dust damage PS4?
Of course, dust can damage your PS4 console. If excessive dust accumulates between all vents and blocks the airflow, your console will overheat, and the overheating can damage your PS4 gradually.
Is it OK to leave PS4 on 24×7?
You can always keep your PS4 in the Rest Mode, but it's not ideal for your console. Because it'll still cost some electricity, turning the PS4 on 24×7 will cost you lots of electricity and gather more dust than usual.
Final Thoughts
Since your personal data privacy is essential, you must perform a Full reset of your PS4 before selling or giving it to someone. Plus, a quick reset of PS4 can cherish you faster and the bug-free system as well.
Follow our instructions thoroughly to reset your PS4, and let us know your success story in the comment box below.