Playing Zenith or Resident Evil 7: Biohazard in your recently purchased VR rig? Lagging in the game caused by the CPU stops you from getting the out-of-the-world gaming experience?
Don't get frustrated yet. You are just in the right place to clear all your doubts and throw your frustration away.
I am a hardcore gamer and developing games using an unreal engine for the past 7 years. I will guide you through VR-related problems, the reasons behind this, and how to overcome them to get the top-notch VR experience.
Don't skip any lines and try to read till the end. You will get to know the facts and clear all your doubts.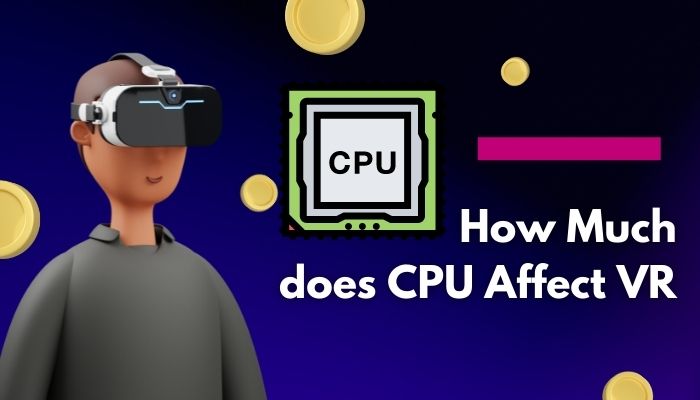 Here's a complete guide to know the difference between Gear VR vs Oculus Quest.
Does VR Rely on the CPU?
Yes, VR relies on the CPU a lot because it needs consistent performance delivery. Stable performance is needed for a smooth VR experience. VR is a simulated process that produces a completely similar or a different world. To create this hyper-realistic world CPU needs to push a lot of juice into the VR rig.
Modern Virtual reality or VR systems are using virtual reality headsets or various multi-projected rigs. These VR headsets generate hyper-realistic visuals and sounds and represent your simulated physical appearance in the virtual environment. You will feel your presence in the environment through various sensations.
To create this type of environment VR needs to be juiced up a lot from the CPU. A normal monitor requires 60fps to represent smooth visual performance but 60fps is not enough for VR.
90 fps is a minimum requirement for VR. Anything below this will give you a horrible VR experience.
Older generation CPUs like intel's i5 2500k can deliver a smooth 60fps with ease. But if you want 90fps out of it will throttle a lot. So, CPUs which are capable of pushing more powers is the perfect fit for your VR rig.
Follow our guide on how to Fix VR Headset Not Working.
Does VR Need a Good CPU?
If you are a hardcore gamer and want to play games in VR then you need a system with a good CPU. VR  headset like Oculus or HTC Vive pro requires a good CPU that can handle a heavy workload.
In terms of speaking, a good CPU plays a vital role in the VR segment. Because it has to push 90FPS (Frames per Second) for a better VR experience. Latest gen CPUs like i5-9500 or i7-9600k are a perfect fit for VR headset gaming. Games can use all the cores and threads in your CPU. Current games can use up to 8 cores and 16 threads at a time.
Game engines make VR games in such a way that they require a lot of CPU power. CPU with 6 core/12 thread or 6 Core/6 thread is good to go CPU for modern VR gaming. You can play decent games on this type of CPU.
If you want to play a high-level game like Star Citizen which is a high CPU intensive game, it is recommended to get 8 core/16 threaded CPU.  This kinda game will use CPUs with 16 threads most of the time.
So, the better the CPU the better the VR gaming experience you will get. It gives you a feel like you are sailing through another level of reality.
Also, check our exclusive tutorial on how to fix Oculus Rift S DisplayPort not working.
Is VR more CPU or GPU Intensive?
As VR requires overall system performance, it is a must to have a system that can handle all the operations with ease. To speak technically, Both the CPU and GPU are equally important.
CPU only handles all the apps which provide butter smooth performance and logical operations of the games like input, output, and loading levels of the games. Game Engines like Unreal Engines mostly depend on CPU than GPU.
But VR headsets need to run two displays at a time with a high refresh rate which requires a lot of GPU power. GPU provides the rendering power so that everything can run buttery smooth. If you are using an entry-level GPU in your system then you may face some issues while gaming.
A system with an older CPU combined with a high-end GPU can provide a better gaming experience. So GPU plays a better role than CPU in this VR segment. You can also see that a system combined with a High-end CPU and an entry-level GPU performs quite well.
Here's a complete guide on how to Fix VR Black Screen.
How Much CPU is Needed for a VR
Along with GPU, the CPU is also a crucial factor when you are talking about intense VR gaming. So, many questions regarding CPU are hovering in your mind, right?
Let me clear this fact for you. CPU will do all the application-based work while playing VR games or other VR-related segments. Inputs, outputs, and logical operations all are major concerns for the CPU. Intensive workload while playing games can only be handled by a multi-core and multi-threaded processor.
You can go for a 6c/12t or 6c/6t processor for a better VR experience. A higher core-based processor like 8c/16t will give you the best experience. But a CPU with 4c/4t can also handle VR games but you will face lag or throttle issues.
Now VR-Ready processors are available in the market from both Intel and AMD. Intel's i7-12700K and AMD's Ryzen 7 5800X will be the best option for high-end VR gaming in 2022. But with AMD you will need to buy a mid-upper range GPU like RTX 3060 or 3070 or RX 6900 or 6800 XT. The same GPU option is also applied to Intel's i7.
For entry-level VR gaming, you should go for a CPU like i5-12400 or Ryzen 5 5600G with a GTX 1660 ti or RX 580 GPU. This will deliver smooth performance in your VR rig.
All you have to do is go through our latest how-to clean VR headset foam.
FAQs
What does VR Ready CPU mean?
VR-ready CPU means that the CPU meets the least minimum requirements for running the VR applications. With a VR Ready CPU, all you just need is VR Ready GPU and a decent amount of RAM to get the most out of the VR rig. Most of the modern gen CPUs come VR Ready out of the box.
What does VR Ready GPU mean?
VR Ready GPU indicates that the particular graphics card fully supports all VR requirements. Like VR googles and applications. These VR Ready enabled graphics cards are so fast that they can perform any VR-related work from games to other applicable sources. Modern RTX, GTX series from Nvidia, and RX series from AMD support VR.
Does VR need more GPU power?
VR needs more GPU power because VR headsets come with two displays. These two display needs to provide a high refresh rate with a high resolution. In order to do this rendering job, GPU needs to do some immersive heavy work. So, a VR needs more GPU power.
What is the minimum requirement to run VR?
CPU should be Intel i5-4590 or greater, GPU should be GTX 970 or AMD R9 290 equivalent or greater, and Ram should be at least 8 GB or higher. Video output should be HDMI version 1.3 compatible, USB 3.0 or USB 2.0 is also required. With this configuration, you can run entry-level VR games.
Conclusion
VR or Virtual Reality is a modern tech. This tech can give you another level of virtual experience. But this immersive visual experience needs a lot of CPU and GPU power to run. Both the CPU and GPU are equally responsible for delivering a better visual experience.
So the final verdict is, that the CPU affects a lot while you are experiencing VR with a VR headset or VR goggles. This affects so much specially while you are gaming with a VR headset. VR applications depend on the CPU to run fluently.
I hope you have read the entire article. Let me know how this article helps you and if you failed to understand some topic or need further queries, just let me know in the comment section.