Hey Cortana, write this article! No, you can't do such a task using Microsoft's voice assistant. But there are numerous actions you can accomplish by enabling Cortana on your Windows 11.
When Cortana is in use on Windows 10, several users worry that this voice assistant is always listening to them. To eradicate this issue, on Windows 11, Cortana is disabled by default.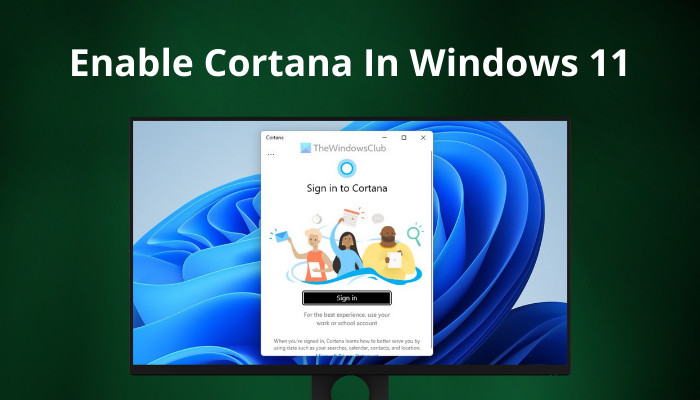 However, by applying some simple tricks, you can enable Cortana and utilize it. This article is all about those methods, so read through the last without skipping.
Also related: how to unblock websites on Windows 11.
How to Enable Cortana on Windows 11
To compete with Apple's Siri and Google Assistant, Microsoft launched Cortana in Windows 10. But due to some security concerns, this feature is disabled by default on the new Windows 11. You can easily enable it using the Search bar, Task Manager and Local Group Policy Editor.
To give you a full understanding of the enabling process, I displayed all 3 methods very simply below. Read them carefully to enable the voice assistant and make your life easy.
Here are the methods to enable Cortana voice assistance on Windows 11:
1. Use the Windows Search Bar
You can simply search for Cortana and enable it by following the procedures. The process is straightforward and the best to complete the task. Let's see that in brief.
Here are the steps to use the Windows search bar to enable Cortana:
Move into the Windows Search box.
Write Cortana and select the app.
Click on the Sign in button and choose your account.
Hit the Accept and Continue option.
Click on the Three dots (Open Menu) option.
Choose Settings from there.
Enable Microphone and Voice activation for Cortana.
Use Cortana voice assistance.
Click the Speak to Cortana microphone button to apply the voice command.
That's how you enable Cortana and use it. Isn't that pretty easy? Move to the next method to see another splendid way.
Also read, schedule Windows 11 to wake from sleep automatically.
2. Apply the Task Manager Startup
The Cortana app is pre-installed on Windows 11. To activate the application, you can use the Task Manager program. Let's find out how you can do that.
Here's the procedure to apply Task Manager startup to activate Cortana on Windows 11:
Press the Ctrl+Shift+Esc keys altogether to launch the Task Manager.
Navigate to the Startup apps section.
Right-click on the Cortana app.
Choose the Enable option.
From now on, when you start the computer, the Cortana app will also launch as a startup application.
Note: By navigating through the same steps I showed above, you can also disable Cortana. You just need to right-click the app from the Task Manager Startup and select the Disable option.
There is an excellent workaround you can apply to enable the Cortana application; see it in the following segment.
Check out our separate post: disable file compression on Windows 11/10.
3. Use Local Group Policy Editor
Using the Local Group Policy Editor, you can easily Enable or Disable Cortana in Windows 11. The process of doing so is straightforward and stated below.
Here is the method to use the Local Group Policy Editor:
Press the Windows+R keys to open the Run program.
Copy & paste gpedit.msc into the box and hit OK.
Move to:

Computer Configuration > Administrative Templates > Windows Components > Search

Double-click on Allow Cortana.
Choose the Enable option.
Press Apply & OK buttons.
That's it. You have successfully enabled the Cortana app. Now it's time for you to use it according to your demand.
Note: To disable Cortana on your Windows 11 system, you can apply the same methods from above. Just select the Disable option after double-clicking the Allow Cortana.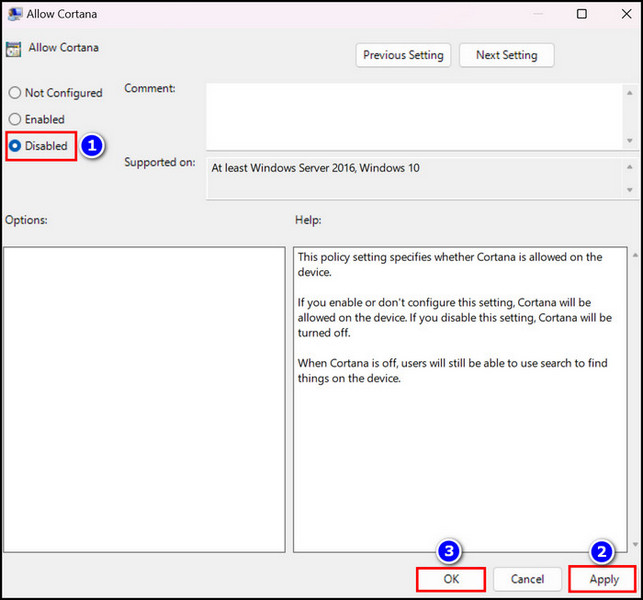 Now you know all the possible ways of enabling Cortana on your Windows 11. I also demonstrate the disabling process so you can deactivate the feature whenever you want. Let's move into the FAQ section, where I answer several interesting questions about this topic.
Related contents you should read: remove bloatware from Windows 11/10, 4 Ways to disable or enable microphone in Windows 11.
FAQs
Is Cortana available on Windows 11?
Yes, Cortana is available on Windows 11, but you must enable it first. To enable Cortana, move to the Search bar, then type Cortana and select it. Sign in with your account and use the feature to improve your productivity.
Does Windows 11 have a voice assistant?
Yes, Windows 11 has voice assistance, voice-to-text and Cortana. You can enable the voice-to-text feature by pressing the Windows+H keys. And you need to enable Cortana before using it because, by default, it is disabled.
Is Cortana disabled by default on Windows 11?
Yes, Cortana is pre-installed and disabled by default on your Windows 11 system. To activate this feature, you need to open Task Manager, move to Startup apps, right-click on Cortana, and select Enable.
Ending Remarks
Cortana can enhance your Windows user experience. And the enabling process of that feature is stated very easily in this article.
I demonstrate 3 methods with which you can enable the function. Additionally, when you feel it's time to disable it, you can do that after reading this content thoroughly.
That's it for now. Ask your related questions in the comment box.