Buying a RAM kit is no easy-peasy task.
I have been there and know what it feels like to waste money on the wrong prospect.
In a hurry, check my #1 recommended RAM.
It took me almost half a day to research and find the best aura sync compatible RAM kit. But, I assure you that you don't have to spend that much time.
As I have researched, rated, and compiled the best aura sync compatible RAM for you.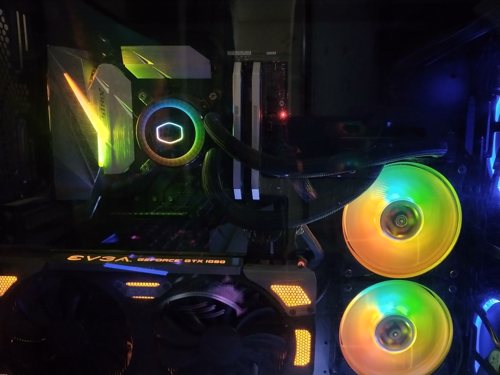 Also, check out the best aura sync keyboards for a premium feel.
Best Aura Sync RAM Reviewed
Being equipped with the best memory kits has its perks. It enables your processor to have quick access to process some crucial data.
If your RAM's memory size is greater, then be assured about the faster processing of data.
As per my research, I already filtered out the mediocre and below-average options. The ones I will be discussing in this blog are the best ones that meet all of the relevant needs that a user has.
Also, Get an aura sync compatible RGB fan for your rig!
Here is a list of the 7 best aura sync RAM:
1. Corsair Dominator Platinum RGB 32 GB
With Corsair being one of the topmost brands out there, their Dominator series of memory kits are from their top-end offerings. The Dominator Platinum RGB is one such product that can be perfect aura sync compatible RAM.
The 32 GB version of Corsair Dominator Platinum RGB has the following specs:
12 addressable ultra-bright LEDs
Memory speed of 3600 MHz
Comes with Intel XMP 2.0 support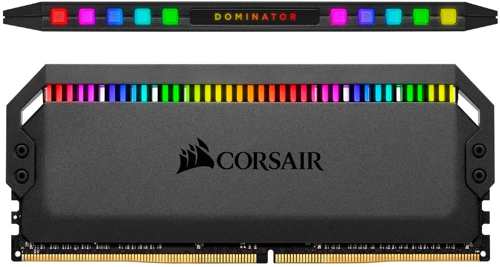 Check Today's Price of Corsair Dominator Platinum ➜➜
To start with the design, I would say that Corsair went for a much cleaner look compared to the predecessor version.
It has resemblance to the Vengeance RGB series, though a much neater version. As a RAM, it is unique in terms of size, shape, and style.
All over the body, you will find a blackish texture. The 10-layered PCB that this aura RAM has is all black. It is a bit different from the traditional Dominator series, as:
On the top of its body, you will find fins stacked up. Talking about the RGB, this model comes up with 12 ultra-bright addressable Capellix LEDs per module.
These LEDs are incredibly illuminating, which does a fine job of adding superior aesthetic value. This kit comes in 2 modules that you can sync them easily through the ASUS aura software.
I would say that this RAM has terrific overclocking potential. You reach the maximum speed smoothly without any sort of lag. The heat spreaders, in collaboration with the PCBs, does a fine job of dissipating the heat.
Though the price is one the higher side, I would still recommend this RAM to anyone. With such a unique design and top-notch output, it's something worth buying.
Why not build your whole rig  with aura sync compatibles? Find out the latest updates regarding aura sync cases and aura sync CPU coolers.
Pros
»

Superb Performance

»

Outstanding RGB lighting

»

Unique design
2. G.Skill Trident Z Neo Series 32 GB
If you have an AMD build, then the Trident Z Neo Series from G.Skill is the option you should buy. This version of G.Skill Trident Z Neo Series RGB has some exciting features:
CAS latency of 16
Memory speed of 3600 MHz
2x 16 GB modules
8-zone RGB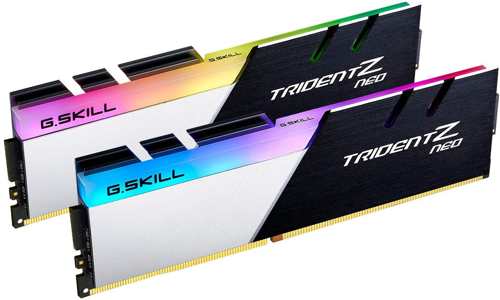 Check Today's Price of G.Skill Trident Z Neo Series ➜➜
The key feature is that it is one of the first-ever AMD optimized memory modules after Ryzen 3000 came into the market. You'll notice a dual-tone pattern has been maintained on its body. Over the aluminum brushed heat spreader, there is a portion where you will see silver-coated finishing.
Such design adds much boldness to the system, which plays a big part in enhancing aesthetics. The edges have a sportish type of outlook, inspired by the racing stripes present in most sports cars.
The 8-zone RGB lighting offers the topmost lighting quality. Around the lighting bar, you will find it glowing much smoothly. Besides the Trident Z software, you can also avail of a third party software for controlling the lighting. This feature is what makes this RAM ASUS aura sync compatible.
As far as performance is concerned, I would say it is first-class. You will find the clock speed to be decent. The latency drives it to such an extent, which always enables it to remain on top.
My thoughts regarding this RAM are that it's slightly different from other modules from the same brand. Though the price point is premium, I would still consider it for the astounding design along with superb performance.
Pros
»

Top-notch RGB

»

Best for AMD Ryzen builds

»

Decent clock speed
3. Corsair Vengeance RGB Pro 16 GB
The Corsair Vengeance RGB Pro is one of the best memory kits from the brand. The 16 GB version of the Vengeance RGB Pro comes with the following features:
Memory speed of 3600 MHz
Multi-zone RGB lighting
Custom layered PCB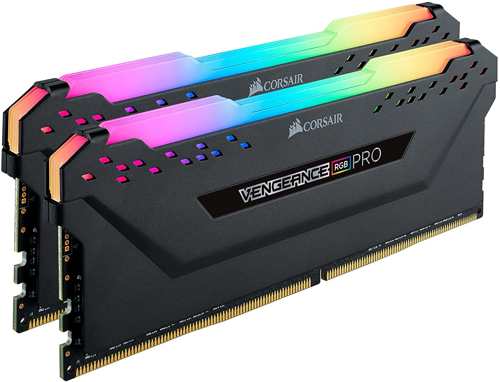 Check Today's Price of Corsair Vengeance ➜➜
This DDR4 memory has a decent amount of features to offer for the users.  With the blackish texture all over the body, I found its design to be somewhat alright.
The best part about this memory module is that it has an interesting RGB lighting pattern, something that you won't notice in most memory modules of its type. Each of the modules comprises 10 RGB LEDs, which can be synchronized like the way you want.
Other than the ICUE software from Corsair, this RAM is also compatible with ASUS Aura Sync. The wire-free design also makes it relatively easy to install. Such traits make this RAM a top choice among most users.
With the custom layered PCB, the heatspreaders do a fine in dissipating the heat. In terms of performance, I won't say that this RAM kit is groundbreaking. Yet, it does a fine job.
The aesthetics are what make this memory kit a standout among all other ASUS RGB RAM.
Fix any aura sync issues under 2 minutes with this definitive guide.
Pros
»

Superb RGB lighting

»

Easy to install
Cons
»

High Price

»

Performance is mid-tier
4. Teamgroup T-Force Xtreem ARGB 16 GB
This memory kit from Teamgroup is a top choice for any type of build as an affordable option. The Teamgroup T-Fore Xtreme ARGB has some exciting features to offer:
Dual-channeled
Memory speed of 4000 MHz
A tested voltage of 1.35 V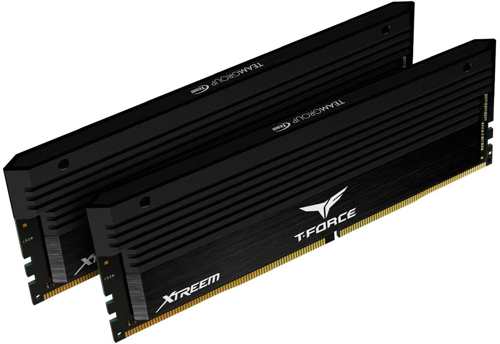 Check Today's Price of Teamgroup T-Force Xtreem ➜➜
This ARGB RAM is one of the most stylish looking options that you can find. It has an enchanting design that will attract any PC enthusiast to buying it. You will find the body to be flashy. It can be termed as an eye-candy.
It possesses mirror-like heat spreaders that get illuminated from the back. The colorful finishing on the mirror-like heat spreaders helps to create a special RGB lighting effect. Now, the output that you are going to receive from this DDR4 memory is pretty okay.
The performance level is decent enough for overclocking considering that price tag. Lighting is top-notch because of the superb ARGB and design, which you already know.
It has a low power consumption, which enables it to offer a high level of performance. Plus, the Intel XMP support allows auto overclocking, which makes the task straightforward. To conclude, it's a good RAM to have in your system, with lighting being its standout feature.
Go through our guide if you wanna know which aura sync compatible LED strips are the best.
Pros
»

Excellent Lighting

»

Affordable price

»

Intel XMP support
Cons
»

Not a high quality overclocking performance
5. HyperX Fury 16 GB
While building gaming rigs, mainly while choosing memory, the Kingston HyperX is one of gamers' trusted brands.
They have been in the market for a while now, producing some top-notch gaming products. The HyperX Fury series of memory kits is one of their best product lines to date.
The 16 GB version of HyperX Fury has some amazing features to offer:
Memory speed of 3200 MHz
Intel XMP 2.0 support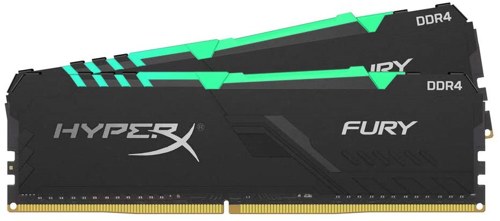 Check Today's Price of HyperX Fury ➜➜
In this version of memory kits, the brand has put much emphasis on design and aesthetics.  Aggressive styling has been done to give the memory modules a much more relaxed look.
Each of the modules is equipped with the blackish PCB, which also features a HyperX logo. You will find the RGB diffuser on each of the modules whose main task is to help RGB LEDs to diffuse adequately.
The corners are well designed, and the presentation of all the components within the body looks exceptionally enchanting. The RGB for this RAM is fully customizable. As this Ram kit is fully compatible with Asus aura sync, you can add your lighting profiles to make your system's aesthetics look cool.
It might not give you the best output. But you won't face that much of a problem due to this. Also, you won't require additional overclocking for reaching the maximum speed.
Have some time to spare? Check out our latest post to Enable Aura Sync Control for Corsair RGB Memory
Cons
»

Can't undertake high loads
6. Adata XPG Spectrix D80 16 GB
If you're looking for one of the coolest memory kits, then this model from Adata can be the perfect option for you.
The Adata XPG Spectrix D80 has the following features:
CAS latency of 19
A tested voltage of 1.4 V
Memory speed of 4133 MHz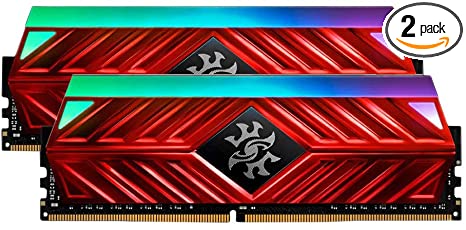 Check Today's Price of Adata XPG Spectrix D80 ➜➜
This is by far the flashiest memory module that is being introduced in the market by this brand. It comes with black PCBs with the heat spreaders having an all-red texture. There are centrical curves on the heat spreaders' surface, with the logo being right at the center.
It is called liquid-cooled, which is because of the design having a liquid capsule type of appearance. On each of the modules, you will find a section composed of fluid, and when it's illuminated, we can see the polished end of the tubes.
The lighting pattern is eye-catching, which looks kickass. It is one of the reasons behind calling it the coolest RAM available. This ASUS ROG RAM outperforms most of its competitors in terms of overclocking. The Maximum overclocking speed is achieved with almost no hassle.
It's a must-buy for those looking for a combination of looks and performance at the same level.
Check out the easiest way to overclock DDR4 RAM.
Pros
»

Good looking

»

Excellent RGB

»

Decent overclocking performance
Cons
»

The price is on the higher side.
7. Crucial Ballistix MAX RGB 16 GB
If you seek a RAM that doesn't compromise with the performance, I have got the perfect option.
The Crucial Ballistix MAX RGB has some excellent specs:
16 LEDs per module
It has a tested voltage of 1.35 V
Intel XMP 2.0 support
Memory speed of 4000 MHz

Check Today's Price of Crucial Ballistix MAX ➜➜
This memory kit was specially designed for those users who love extreme overclocking. As for the design, the heat spreaders are aluminum made with a black polishing all over. Such coating and materials used in the building help in the overall heat dissipation.
Talking about the RGB lighting, each of the modules in this kit has 16 LEDs. These are divided into 8 different zones, which are entirely ASUS aura sync compatible. As a RAM, it is a perfect option to have. I would encourage you to have this as a part of your system.
As for overclocking, you can reach the maximum speed seamlessly.
Also, check out our expert's recommended best Corsair RAM.
Pros
»

Good looking

»

Top-tier performance
Cons
»

Syncing the RGB can be problematic sometimes.
Aura Sync RAM Buying Guide
Since RAM is a crucial part of your system, you must choose the option that suits your computing needs. In choosing the right memory kit for your system, few factors are needed to be taken into account.
Here below, I have listed those factors that will surely help you make the right decision.
The memory size of RAM
The size of the RAM matters because the system consumes a hell lot of memory than ever before. With the programs getting more complex and messy day by day, it's essential to have RAM to withstand heavy multitasking.
In this case, having a RAM with a minimum capacity of 16 GB is the perfect option. Anything less than this is like making a compromise with the performance of your system.
Check out our experts tested and reviewed the best 3200 MHz DDR4 RAMs, best 2666 MHz RAM, best 3600 MHz RAMs, best 3000 MHz DDR4 RAMs for a better gaming experience.
Memory speed of RAM
The speed, which is also the frequency at which the RAM operates, matters because it does take part in a slight improvement of performance.
Like for gaming, it is one of the vital factors. Having more speed will enable you to overclock at high speed and run the high game FPS. Other than this, it's okay to have a RAM with modest speed.
Number of modules
Having a greater number of modules does help in the data processing. The process will get faster when your RAM kit has multiple modules compared to a single one.
In case of the failure of one of the modules, the other ones aren't affected. But for a memory kit with a single module, you won't get this facility.
FAQ
Question: Does the speed of the RAM matter?
Answer: Speed matters mostly in case of high overclocking and for gaming with high FPS rates. Other than this, it isn't that important.
Question: How can you buy the best ASUS aura sync compatible RAM?
Answer: To buy the best ASUS aura sync RAM, you have to consider a few factors. Among them, the notable ones are Memory size, speed, and the number of RAM modules.
Final Thoughts
So, these are the 7 best aura sync compatible RAM that you can have for your system. In this blog, I tried to cover almost all of the types of memory kits, and the list I have prepared includes the best of the best options.
In case you are looking for specific options like the RAM with the best RGB or best budget RAM, I have also clearly pointed out those ones.
I hope you get your desired memory kit. Still, if any issue arises, do let me know in the comments.