DDR5 RAM is not a super niche component category anymore in DIY PC market. As the DDR5 memory supply is now excellent, and the price is coming down, it's the right time to buy one.
But out of hundreds of variants, which memory will serve your purpose perfectly?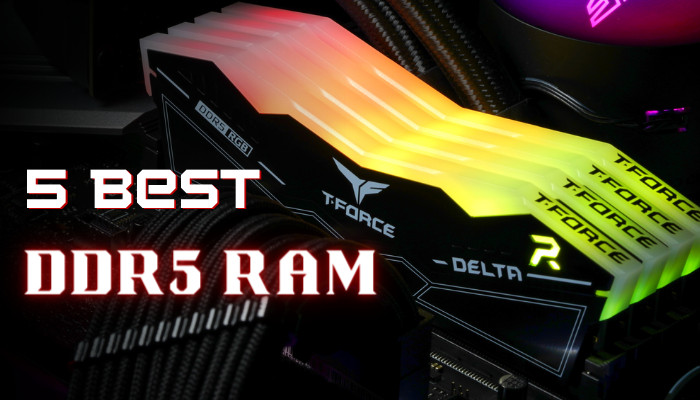 To find the answer, we've rounded up the best DDR5 memory in this article. Interestingly enough, the G.Skill Trident Z5 RGB 6400Mhz on Intel and G.Skill Trident Z5 Neo RGB 6000Mhz on AMD appeared to be the best-performing RAMs in our testing.
Best DDR5 RAM
After extensive testing and reviewing tons of kits, we awarded RAMs as per their performance and price. Below is the list of the best DDR5 memory to buy right now.
Information Disclaimer: The price and availability of the listed products are subject to change. As tons of product snoops in the market continuously, we update our list when necessary.
Best DDR5 Memory for Intel: G.Skill Trident Z5 RGB Series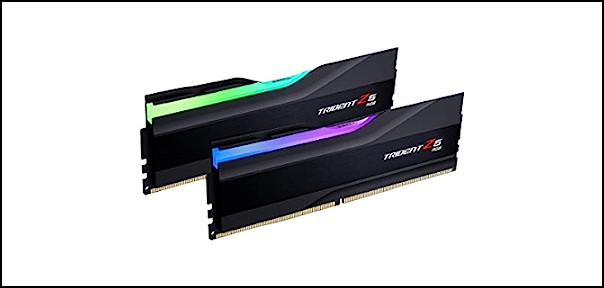 Key Specifications
Model: F5-6400J3239G16GA2-TZ5RS | Speed: 6400Mhz | CAS Latency: 32 | Timings: 32-39-39-102 | Voltage: 1.4 | Capacity: 2×16 GB
REASONS TO BUY
»

Splendid performance

»

Outstanding stability with the latest Intel processors

»

Great overclocking headroom

»

Tight timings

»

Reasonable pricing
REASONS TO AVOID
»

Some motherboards may not run these kits at the rated speed
Why We Chose It
Right off the bat, G.Skill Trident Z5 RGB CL32, 6400Mhz kit is one of the fastest memory sticks in the market right now. It ships with an elegant streamlined design with a touch of RGB effect to elevate the overall look.
Out of all the memories we tested paired with our Intel system, this G.Skill RAM posed fewer issues, with the most noticeable performance gain in memory-intensive applications such as 7-zip compression and video encoding. Games on the other hand shows improved overall performance with fewer hiccups thanks to the tighter timings.
We were also able to fine-tune these memories as they incorporate SK Hynix ICs. So we feel memory overclockers will have a lot of fun playing with these RAMs on an Intel 13th gen system. Mostly due to the amazing IMC that 13th gen CPUs have.
Who Should Buy This
At its current price of $128-$130, G.Skill Trident Z5 RGB, 6400Mhz kits are a steal. PC builders looking for fantastic, XMP 3.0 memories should go with this G.Skill RAM eyes closed.
Verdict
G.Skill Trident Z5 RGB 6400Mhz CL32 sits at the top of our list of DDR5 memories. Flawless XMP 3.0 support and superb stability make the way for the best DDR5 ram for Intel platform.
See the G.Skill Trident Z5 RGB →
Best DDR5 Memory for AMD: G.Skill Trident Z5 Neo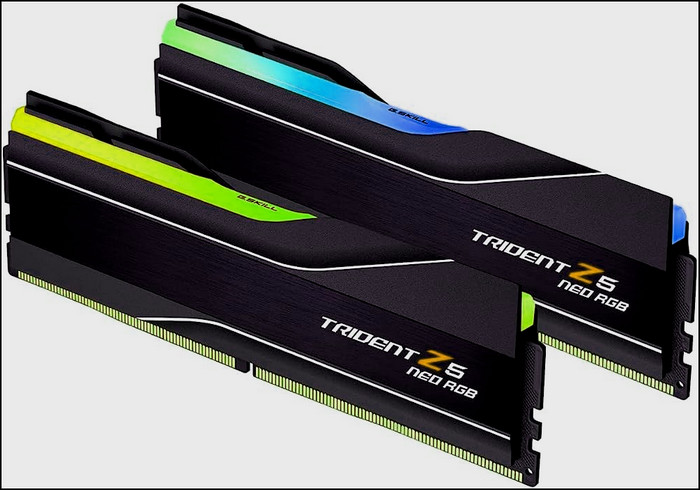 Key Specifications
Model: F5-6000J3038F16GX2-TZ5NR | Speed: 6000Mhz | CAS Latency: 30 | Timings: 30-38-38-96 | Voltage: 1.35 | Capacity: 2×16 GB
REASONS TO BUY
»

Full-on compatibility with AMD Expo

»

Low latency for DDR5 memory

»

Delivers highest performance when coupled with Zen4 CPUs

»

Competitive price in contrast to other Expo-certified RGB memories
REASONS TO AVOID
»

Some CPUs and motherboards can show occasional instability
Why We Chose It
AMD had a rocky start with Ryzen 7000 series A.K.A Zen4 CPUs, especially with memory as this is the company's first DDR5 implementation. Right when we were looking for a good set of RAM for the latest AMD CPUs, G.Skill dropped this masterpiece.
The G.Skill Trident Z5 Neo RGB is not so different from its vanilla Z5 counterpart. They share the same footprint and internals, only the Neo is attuned to the AMD Expo. That is single click memory OC on the AMD system, just like XMP on Intel. Besides, AMD announced DDR5 6000Mhz is the perfect speed for Ryzen 7000 CPUs.
And guess what? Trident Z5 Neo RGB complies on that front too!
Internally G.Skill Trident Z5 Neo RGB sports Hynix ICs, more specifically M die. Which is capable to let the memory run a bit further than its advertised speed. In our testing, we pushed it to, 6200Mhz at 1.4V before knocking on the stability door. Don't take it as a standard, however, as your mileage can vary due to the silicon lottery.
As a matter of fact, this Neo memory had no issue pairing with our Intel system as well, even though it is designed for AMD. Last but not least, we achieved the best results in every application tested on our Ryzen 7700X test bed.
Who Should Buy This
Anyone in the market for putting together an AMD 7000 build with no money constraint should go for the G.Skill Trident Z Neo RGB RAM. Also, people who like a little bit of RGB bling will find this RAM a worthy, if not the best choice.
Verdict
After testing multiple DDR5 kits, tinkering with timings and frequency, and observing the performance and value graph, the G.Skill Trident Z5 Neo RGB CL30 6000Mhz is the best RAM for AMD CPUs so far.
See the G.Skill Trident Z5 Neo →
Best Budget DDR5 Memory: TeamGroup T-Create Classic 10L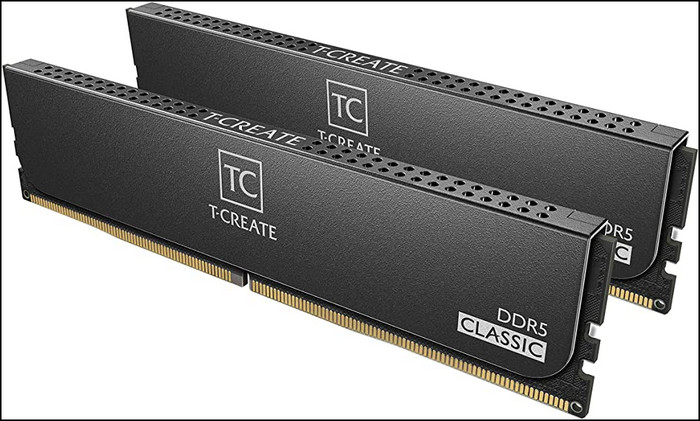 Key Specifications
Model: CTCCD532G5600HC46DC01 | Speed: 6000Mhz | CAS Latency: 46 | Timings: 46-46-46-90 | Voltage: 1.10 | Capacity: 2×16 GB
REASONS TO BUY
»

High-performant

»

Supports XMP and Expo memory profiles out of the box

»

Surprisingly low price

»

Provides rock-solid system stability

»

No clearance issue thanks to low profile classic outlook
Why We Chose It
Hunting for budget-friendly memory, we're glad to stumble upon the T-create Classic RAM from Team Group. The price for this 32GB (2X16), 5600Mhz, CL46 kit is $72.99 (when writing this article).
We slapped these RAMs on our i7 13700K and R7 7700X and both the system boot up on the first try. Later, we enabled XMP 3.0 and Expo from the BIOS and it went smoothly. No hiccups, no black screen.
Excavating a little further revealed the secret sauce — Hynix A die memory chips. What's special about this is you can push the memory even further than the XMP or Expo specs.
In our testing, we successfully achieved 6000Mhz on these T-Create memory sticks at 1.3V. This is a huge win considering the price.
Keeping the technical aspects aside, aesthetically, Team T-Create is capable to put up a stunning stealthy look in your rig. Again due to the low profile heat sink, it's compatible with any system be that even an ITX build.
What Could Be Improved
To be honest, there's literally nothing we found that can be a dealbreaker for T-Create RAM. It surpassed our expectations.
Who Should Buy This
People who are building a rig having a tight budget with a heart of no compromise in performance should go for T-Create Classic series RAM. This will be a smooth sail regardless of the platform difference — Intel or AMD.
Verdict
Speaking of a go-to DDR5 RAM, Team T-Create smashes every other memory kit out of the park thanks to its outstanding value and performance profile. So our best budget DDR5 trophy goes to the Team T-Create Classic DDR5 memory.
See the TeamGroup T-Create Classic 10L →
Honorable Mention
Corsair Vengeance DDR5-5600 CL36 is a great alternative as a good value DDR5 RAM. A refined, slender heat spreader with a smooth matte black finish gives it a stunning look. An absolute win for low-profile builds. In terms of compatibility, it is well suited for Intel & AMD out of the box; Performs similarly to other more expensive 5600Mhz DDR5 kits.
Best RGB Memory: Corsair Dominator Platinum RGB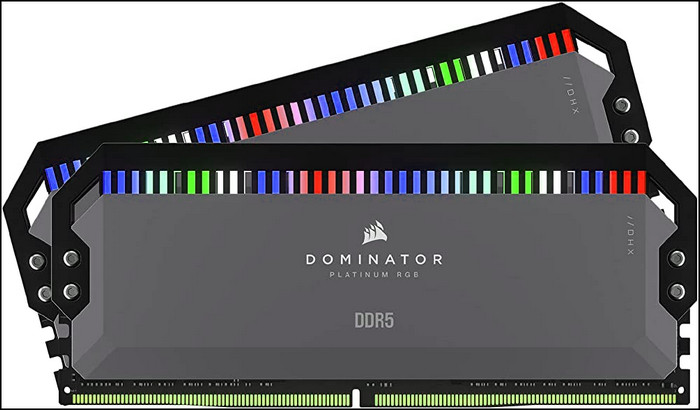 Key Specifications
Model: CMT32GX5M2D6000Z36/CMT32GX5M2X6000C36 | Speed: 6000Mhz | CAS Latency: 36 | Timings: 36-36-36-76 | Voltage: 1.25 | Capacity: 2×16 GB
REASONS TO BUY
»

Best RGB effects using iCUE software

»

Top-of-the-line memory performance

»

Magnificent heat sink design with sleek outlook

»

Good sub-timings
REASONS TO AVOID
»

The tall memory heat sink may cause clearance issues with some air coolers
Why We Chose It
The Dominator Platinum memory lineup of Corsair is the trademark of class and sophistication. The smooth matte black finish on the heat spreader aluminum gives it the look we loved from the DDR4 generation. And the little slits of RGB windows on the side of each kit still have a special place in everyone's mind. This design has embarked on the ultra-premium spectrum so well that Corsair didn't bother to make any changes, which does not even bother us.
As per performance, Corsair didn't disappoint us. Both the XMP and Expo-certified kits have zero issues with Intel and AMD test beds.
Great sub-timings produced maximum frames in games and other applications where it makes a difference. We found Corsair Dominator platinum DDR5's performance up there with other 6000Mhz kits.
But aesthetically, Dominator Platinum holds its value, especially when it comes to RGB synchronization. The iCUE software is packed with unique RGB effects and features. It bodes well with other RGB peripherals.
What Could Be Improved
Apart from all the good things said about the Corsair Dominator Platinum RGB, we have one major gripe about the design. That is the heat sink on it.
In many instances, the height of the heat sink creates a clearance issue, especially with CPU air coolers. That could be improved in this generation with slight adjustments.
Who Should Buy This
For a classic build with decent RGB effects or a color-themed build, the Dominator Platinum from Corsair is an absolute bargain. If you are someone who wants high-end performance with an exceptional appearance and great RGB software, go for this RAM.
Verdict
Considering the heat sink design, memory performance, and other aspects, we found Corsair Dominator Platinum DDR5 6600 RGB as the best RAM for RGB.
See the Corsair Dominator Platinum RGB →
Best Performance DDR5 Kit: TEAMGROUP T-Force Delta RGB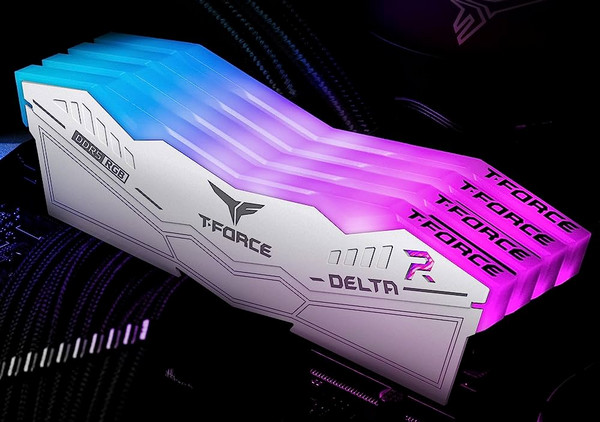 Key Specifications
Model: FF4D532G7200HC34ADC01 | Speed: 7200Mhz | CAS Latency: 34 | Timings: 34-42-42-84 | Voltage: 1.4 | Capacity: 2×16 GB
REASONS TO BUY
»

Ultra-fast data transfer rates and performance

»

Astonishingly fast memory timings

»

Incorporates Hynix A die

»

Added RGB to give a system a cool look

»

Out-of-the-box support ASUS Aura, Gigabyte RGB Fusion, MSI Mystic Light, ASRock Polychrome Sync
REASONS TO AVOID
»

Overkill for most users

»

Can't take full advantage of the fast speed on all motherboards
Why We Chose It
Crazy fast RAM module is now a reality in the DDR5 era. Hence, Team group launched the T-Force Delta RGB with a whooping 7200Mhz kit. It's not technically the fastest memory you can find, rather it is the fastest memory that runs without running into any sort of compatibility issues on Z790 motherboards.
When we tested the Team T-Force RAM with our 13th gen CPU, it topped every chart. From raw memory speed to latency dependent workloads, it tore through everything.
One important thing to note, different vendors offer up to 8000Mhz RAM modules, which are even faster. But we discovered they can be avoided.
First of all, we couldn't run any memory over 7800Mhz and that's when we were lucky. Most of the time we ended up with an unstable system causing BSOD every now and then.
Besides, such high-frequency RAM sticks are super expensive. On the other hand, Team T-Force Delta RGB DDR5 7200Mhz caused zero issues and comes at $159.99. This is unreal to even think of, after what we saw just a few months ago about the DDR5 supply issue.
What Could Be Improved
RGB implementation on the T-Force Delta is on the poor side. We found RGB hotspots, which provide a cheap look on the outside. Also, the T-Force and Delta branding on the heat sink is exorbitant.
Who Should Buy This
Enthusiasts who have the deepest desire for extreme performance should opt for Team T-force Delta RGB DDR5 7200Mhz kits indisputably.
Verdict
T-Force Delta RGB DDR5 sits among the highest performing RAMs in the market as of now with mind-blowing price point. Therefore, we awarded it the best-performance DDR5 RAM.
This is How We Picked the Best DDR5 RAM
Selecting the best PC component out of a rich pool of different manufacturers and brands is always a daunting task. Picking a specific brand often triggers fans of other brands.
But we assure you we choose the best products considering, performance, build quality, price, and availability. We put up information that we find viable in our testing. Sometimes we need to go multiple times through the results we get, to make sure everything is correct.
Now, in terms of RAM, we tested the kits in various applications and games to determine performance hierarchy. We then tinkered with frequency and timings to see which one delivered the most persistent and stable behavior. Thereafter, we analyzed the current pricing of each product and availability to create the list of the best DDR5 RAM in 2023.